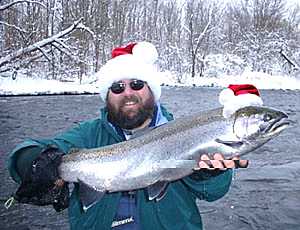 Salmon River Fishing Report for Steelhead from this Drift Boat Fishing Report Guide in Pulaski NY.
Steelhead, King Salmon, Coho Salmon and Brown Trout.
I hope you find my fishing report's, articles, tips and videos entertainingly informative or mildly educational.
The Steelhead Fishing of your Dreams….   ….We'll Mak'm Reeeeeeeeeeeeel.
With increased water flow levels, a continuation of fresh Steelhead have been entering the Salmon River for awhile now. Its going to be a good Winter and Spring. Ye-Haa!
Bright fresh Steelhead and older Steelhead Top to Bottom of the Salmon River. Not many anglers fishing now, which is normal. Great time for you to come up and fish. Lots of Prime Winter Steelhead holding spots wide open for you.
We are hitting (just arrived) bright fresh steelhead up river, along with some older ones.
A fair number of Steelhead reacted to the increased 750cfs water flow by entering the river recently. They have spread out over the entire river, top to bottom.
With our last water level increase to 1,500cfs, more have entered the River.
Dec. 16 Water Level Forecast.
Until NOON today, 750 CFS
From NOON today until NOON tomorrow, Sun, 500 CFS
From NOON tomorrow until 11:59 PM tomorrow, 335 CFS
Approx. 10% of the Fresh Steelhead are in thier Temporary Transitional Holding spots (where they rest temporarily while running the river). And Prime Transitional Holding (Where they rest at during the day).
Approx. 90% of the Fresh and Older Steelhead are in the Prime Winter Holding pools.
The above areas to steelhead fish are covered more thoroughly towards the bottom of this Blog in my EXPERT and ADVANCED Tutorial Video's @ Where is the BEST place to Fish on the Salmon River for Steelhead and Brown Trout?
There really is no bad place to fish, providing you have the correct habitat – current breaks for this water flow and water temp. There is a lot of empty water out there.
Besides anglers with drift boat guides, Im also seeing shore angler's finding some Steelhead.
That's always nice to see!
Thanks for a fun 2017 and looking forwards to a Fish ON with YOU in 2018!
Best Holiday Fish's,
Randy Jones
Over this Steelhead season my guest's have hooked-up.
1 – A few slow days of 1 to 3 steelhead.
2 – Ok – Normal days of 4 to 7 steelhead.
3 – Some AMAZING days with 10-12-14 and 17 steelhead!
4 – Most of our steelhead have been 6 to 9 lb's. With some in the teens.
SALMON RIVER FISHING REPORTS
Look who's in town to do a little Steelhead fishing with this fishing guide on the Salmon River in Pulaski NY!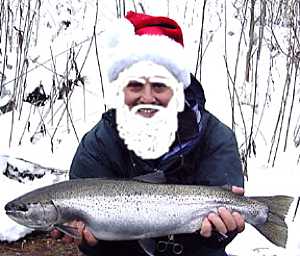 Even Santa takes a fishing break and fish's for Steelhead on the Salmon River NY. (Santa released his steelhead as a Holiday gift to you, its nice to share, the gift that keeps on given!)
Santa was last seen chasing a Rocketing Silver Bullet Steelhead down the Salmon River. Bellowing, Ho-Ho-Ho, Tight Lines to All!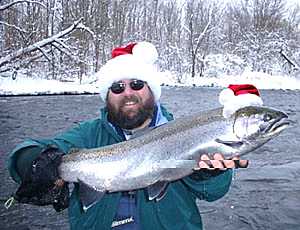 Santa's brother Dave Claus displays a nice Holiday Steelhead while fishing in Pulaski NY with this fishing guide. Congrats!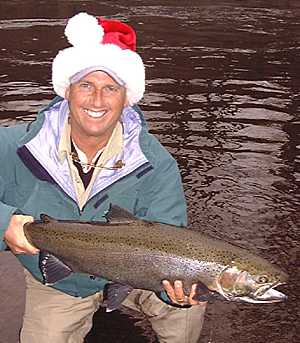 Another Great Holiday Steelhead! The ONLY way you get to wear the Santa hat is if you land a steelhead with this fishing guide. 😉
In the Holiday Spirit with a Brown Trout and Steelhead.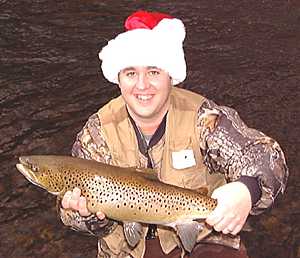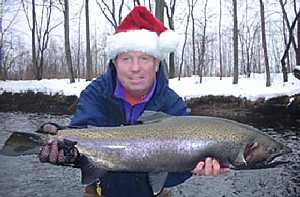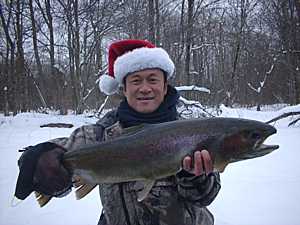 Heart Warming

Holiday

16 pd. Steelhead Fly Fishing Report from the Salmon River, Pulaski NY.
For me, certain fishing days stand out among other's on the Salmon River. Sometimes its the big fish, numbers of fish or the camaraderie we share. Today was different, it was not about numbers or size. But mostly about dad sharing his love for the great outdoors with his son.


By Mike Cavanaugh. (Mike works in DEC's Division of Public Affairs and Education.)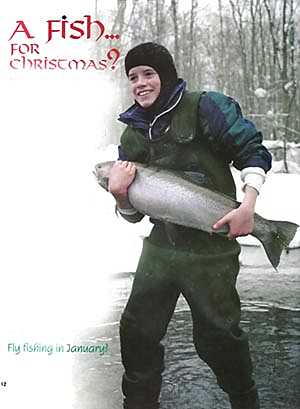 Thomas looked a little puzzled as he picked the brightly wrapped package from under the tree It wasn't heavy, it didn't rattle or anything. In fact, it felt like an empty box. A cruel trick to play on a 12-year old boy. But the sudden appearance of cameras as he unwrapped it meant that this would be something special. He was even more perplexed, however. When the box contained only a single fishing fly and a note that said January 5th.
Salmon River Fly Fishing for Steelhead in January with a Drift Boat Guide?
The drive up to the Salmon River was filled with fishing questions. What kind of fish will we be after? What's a steelhead? How will we get to the Salmon River in all the snow? What's a drift boat? What if I get cold? Why are we going with a fishing guide, Dad?
The answer to the last fishing question really shed light on all the others. My experience with winter steelhead fishing was limited, to say the least. A Salmon River fly fishing guide would help us be safe and comfortable. And most of all, he'd share his knowledge on the river. After a quick dinner in Pulaski NY, we settled in.
I had met Randy Jones at an outdoor show the previous spring. While helping with the fly casting demonstrations near Randy's booth.
After a few friendly exchanges about my fly fishing technique, or lack thereof. We started talking about Salmon River fly fishing for steelhead.
This guy seemed to have a compatible personality. The right approach to steelhead fishing and a good attitude about protection of the resource. And ethical behavior on the Salmon River. All important fishing considerations that I wanted to share with my son. More importantly, he really seemed to enjoy what he did, a quality I've found to be contagious. I had wanted to get Thomas out fishing during the winter run of steelhead on the Salmon River. But had never ventured into the cold and ice to try. A chat with Randy made up my mind.
That night, I dreamt of dancing steelhead and the excited smiles of a boy who is growing up too quickly. We hopped out of bed in the pre-dawn darkness. To find 4 inches of fresh snow and a temperature of about 20 degrees. Promptly at 6 AM, Randy, with his drift boat in tow, pulled up. We got Thomas outfitted with some 5 mm Neoprene waders, korkers (safety spikes for the slippery bottom.) And grabbed a bite to eat on our way to the drift boat launch in Altmar. Just downstream from the DEC's Salmon River NY fish Hatchery.
Before launching the drift boat, Randy and I talked about my steelhead fly fishing objectives for the day.
I told Randy that this was Thomas's fishing trip and, with that in mind. To devote most of his attention to making sure my son learned a bit of fly fishing technique. And how to be a courteous and ethical angler. While catching a steelhead was important, a good day on the water was the goal.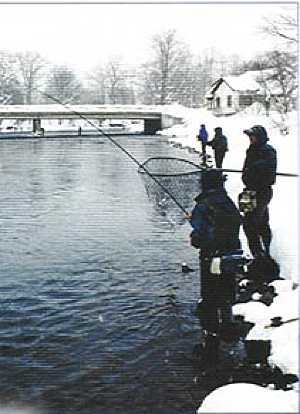 We steelhead fished for a while in the Salmon River fly fishing only area upstream of the Altmar bridge. My third cast-WHAM! A silver rocket steelhead took the fly and gave me the fight of my fishing life. For all of about 30 seconds. That is, 'til I got too aggressive and it broke the tippet. Oh well! Under our fishing guide's tutelage, Thomas was doing much better. Getting the hang of fly casting to the right spot. Feeling the drift and cooperating with the handful of other fishing anglers in the pool. When all of sudden-BAM-Fish On! Thomas managed to hang on to it and after a 5 minute battle, landed a nice Salmon River 6 lb. steelhead.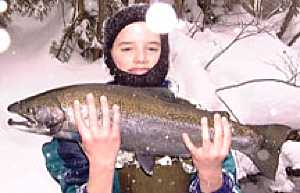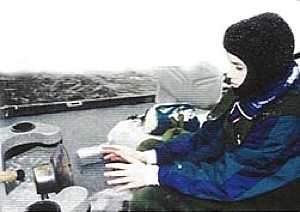 After 45 minutes, Randy decided it was time to jump in the drift boat and move downstream a bit.
Riding in the big fishing drift boat was quite an experience for both of us on the Salmon River.
Randy steered us around some rocks; we bumped over others. The fresh snow, combined with the steam rising off the Salmon River. And the bright gray of January overcast made it a surreal picture. Other anglers shivered in their waders. As we drifted past and warmed our hands in the red glow of the propane heater on the drift boat. While drifting Randy spoke to Thomas about his experiences fishing the Salmon River and his love of fishing.
We drifted for a few minutes and landed at a fishing hole just upstream from the popular trestle pool. We got out of the drift boat and waded into the icy Salmon River water. There were a few other anglers and some real promising steelhead fly fishing water.
The promise was kept within a few fishing minutes. As Thomas hooked into a large and very energetic Salmon River steelhead.
I put down my fly rod, picked up the camera. And enjoyed watching my son get dragged around 100 yards of Salmon River real estate. With Randy running close behind! The big steelhead was netted and Thomas got a close look at a 16-pound silver beauty. High-fives all around, a picture or two from the proud dad. And the steelhead was released back into the Salmon River unharmed to hopefully brighten the day of another fishing angler.
As we drifted and fished for the rest of the day, we learned about the Salmon River. We visited with other fishing anglers, we talked about the steelhead we were seeing, we had a lot of laughs. And, oh, by the way, Thomas caught another steelhead or two. Randy felt bad that the "old man" hadn't caught any steelhead, but I assured him it didn't matter.
After all, that wasn't the objective of the trip.
Just look at that smile!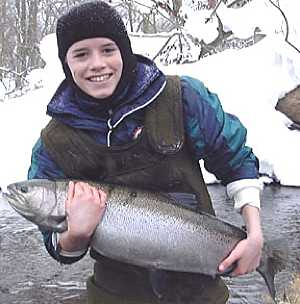 Today's Salmon River Steelhead Tip's.
Look for a current break that is effecting your spot. Could be a seem (where the fast water meets the slow water), that will hold Chrome in a hole. Or a shallow spot that creates your current break, causing the fish to sit below it. A BIG rock or boulder in the hole is always a prime holding location. This change in water speed can be as simple as where the water goes from fast to slow in a pool. If the Tail of the Pool has a Hole in it, then keep THAT spot to yourself.
THESE NEXT 2 AREA'S ARE STILL PRODUCING STEELHEAD DAILY on the Salmon River.
Another option is to fish where they rest temporarily while running the river. Like Prime pockets in the rapids. Many times, these areas are over looked by most wade anglers, providing you with incredible Steelhead fishing action.
Or fish where they stop to rest mid-day, while running the Salmon River.
The Best place to fish now is in the Pools, because they are not going anywhere anytime soon.

Anticipation

of what the Salmon River Guided Steelhead fishing day would bring?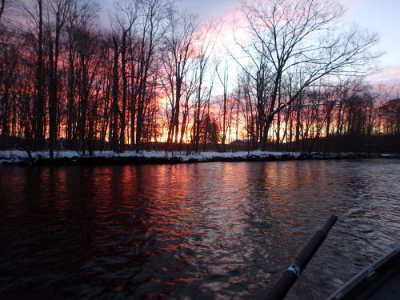 Fish ON and ON and ON!
Hi Randy, after many successful fishing trips with you as our guide. I thought it would be a perfect time to have you educate my Grandson Michael on the correct ways to fish for Steelhead on the Salmon River. As we sat in the drift boat at our chosen spot waiting for legal fishing time. You gave Mike the ins and outs of how to Steelhead fish on this water. Your explanation of technique, presentation and how to hook and land the Steelhead were clear and easy to follow.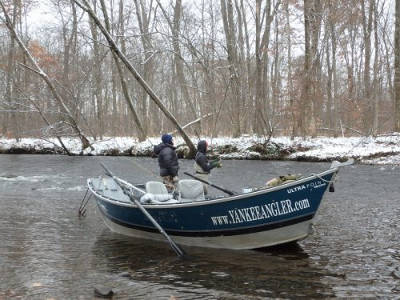 When it was time to fish you stood by him and showed him the proper way to get a good drift through the strike zone. It wasn't very long after that he was tight to his first Speeding Bullet Steelhead. The fish screamed up river and after two tail walking jumps gave the hook the slip. By the look on his face I could tell he was hooked as well.
As we floated and fished several different locations on the river you continued his education on how to read the water to achieve the best results.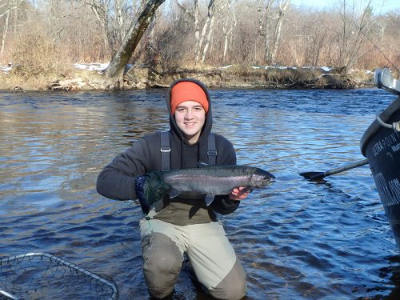 It wasn't long before Mike was tight to another acrobatic Steelhead! Because of your guide instruction he was able to bring his first Salmon River Steelhead to the net. I took this photo and by the look on his face I would say mission accomplished. Once again your knowledge given has paid off big time. Thanks for two days of SUPER Steelhead fishing, lots of humor, and bringing home the bacon. Thank you! John and Mike
Thanks John and Mike! It's always fun hooking something other than a fish. I think we succeeded with Mike! Best Fish's, Randy

Winter into Spring

– Steelhead Fly Fishing – Spin Fishing Creeks, Streams and the Salmon River. 
End of Feb., March and all of April can be "prime time" for steelhead spin or fly fishing. As there is not only leftover Winter steelhead, but also fresh runs of Spring time steelhead. Winter thaws and early spring rains generate runs of steelhead. When the Salmon River is running high due to run off. Its prime time to walk the many miles of streams and creeks in the area. Ever try to land a 10 pound Steelhead in a small creek? It's not easy, but lots of fun! Sight fishing is also and optional treat!
Amazing Spring Steelhead Fishing Video! – Spring is just around the corner!
We both felt privileged to have the opportunity to witness and experience something soooo incredible!
(Video Credit "Repeat Client" Allen K.)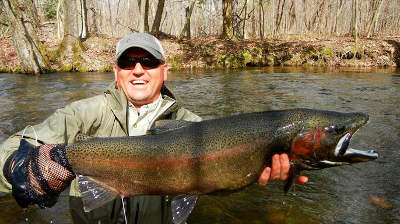 Anton's 16 lb. Spring Steelhead. Ye-Haa!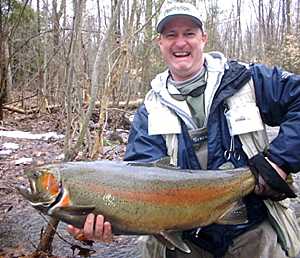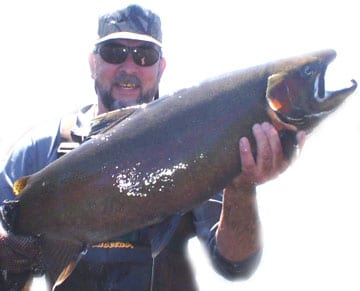 A couple of Trophy 20 lb. Spring Steelhead. Holy-Cow-A-Bunga!
Yup, time to schedule a fishing trip this Spring. Get in on some awesome steelhead fishing from the end of Feb. thru Mar. and April. I'm also taking reservations for next Salmon Season – Sept. – Oct. and Fall Steelhead – Nov.
Spring Steelhead Spawn and Drop Back Steelhead fishing on the Salmon River.
(Drop backs are Spring Steelhead that have successfully spawned. And are on their way back down the Salmon River to Lake Ontario, Feeding aggressively along the way.)
What's interesting about the Salmon River at this time of year. The Steelhead we have are spread out over 100% of the Spring habitat's thru out the entire river. Top to bottom and from 1 side to the other, within reason.
Drop back Steelhead will be in all the normal current break spots for the current water level.
The Flats will be exploding with fish! (within reason.) Sight fishing is an optional treat!
Your Best fishing opportunity is all Spring until approx. 3rd week or last week of April, normally. Maybe first – second week of May? In May, fish the lowest part of the Salmon River for your best Steelhead fishing opportunities. (From the Papermill down thru the D.S.R.)
Mother nature will decide its ending with lower water flows and warmer water temp's in the Salmon River.
Sending all the Steelhead back to Lake Ontario to return next year even BIGGER to the Salmon River! Ye-Haa!
Steelhead Fishing you success! Salmon River fishing report guide – Randy Jones.
Top Secret Guide Tip – You owe me 😉

 – Fishing for Spring Steelhead Drop Backs.
Posted for only you to read and no one else. 😉
After the Hatchery collects the eggs from the returning Steelhead in the Spring.
Normally, approx. April 15 is when you will see 1,000's of these steelhead leave the holding tanks at the Hatchery. And re-enter back into the Salmon River NY and turn into drop back Steelhead.
Adding more Steelhead for your Spring fishing pleasure. Shhhh! 😉
I hope you found my "Salmon River fishing report Guide Tips" entertainingly informative or mildly educational. – May all Your door knobs smell of BIG Steelhead!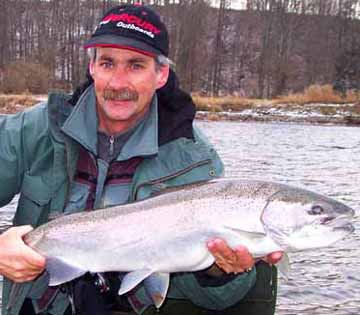 Fishing Steelhead (avg. 8 to 12 lbs.) – (Nov. thru April.)
Our Steelhead are without a doubt. One of the hardest fighting and most acrobatic fish that swims in the Salmon River in Pulaski NY. Torpedo – Silver Bullet runs and changing direction in a blink of an eye. While taking your line 100 to 200 feet out in seconds. This well surely jump start your fishing heart! Tarpon jumps, like a rocket ship 3-4 feet in the air. Somersaulting like a jugglers baton back to earths atmosphere before splash down. Sounding like a cinder block with water spraying 20 feet in all directions. Steelhead Tail Walks across the pool for 40 to 60 feet, will live in your Salmon River memory forever!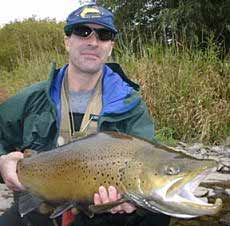 Fishing Brown Trout. (avg. 3-5 lbs.)
You can catch these Brown Trout anytime while fishing for Steelhead. Like Salmon and Steelhead you measure our Brown Trout by the pound and not by the inch. While they are not as numerous as Salmon or Steelhead.
These are an optional Trophy of a Fishing life time!

Gift certificates are available for Trips.
Good for 1 – 2 people, complimentary day of fishing, Spin or Fly.
Pick up a great fishing gift cert. for your fishing friend or fishing loved one (s).
https://www.yankeeangler.com/gift-certificates/
You work hard so you deserve it right? Maybe a nice subtle hint to your loved one will plant the seed. 🙂

When is the

BEST

time to fish for Steelhead?
Mid-week is always best, but not on or around a holiday).
There really isn't any BEST for Steelhead, its all angler personal preference.
In Dec. we start to see even more Steelhead and less anglers. Most folks are doing business and family holiday stuff. And its a lil colder = Less anglers = more opportunity for you.
The middle of the Winter can be magical with only the most die hard steelhead anglers out. During these colder Mo's. = Less anglers = more opportunity for you.
Spring Steelhead (Mar. and April) it starts to warm and we see a few more anglers out. But not as many as Nov. The Steelhead's appetites are on fire as they slowly drop back down the river to lake Ontario. Sight fishing is an optional treat.
(Salmon River NY fishing report).

Salmon River Brown Trout and Steelhead Fishing Seasons:
October 15 – November
Brown Trout. Like Salmon and Steelhead you measure these Fish by the pound and not by the inch. They have entered the river to spawn and will weight from 3-10 pounds. While they are not as numerous as the Salmon or the Steelhead, these are an optional Trophy of a Fishing life time.
October 20 – May 1
Steelhead 8-15 lbs. The Fall Steelhead is without a doubt, one of the hardest fighting Fish that swims in the Salmon River. They'll take most of your line out in seconds, then jump start your heart with tail walking antics that will live in your memory forever.
Winter Steelhead Fishing.
This is one of my favorite fishing times of the year. With colder temperatures the crowds disappear. Steelhead continue to come into the river from the lake. A winter Drift Boat trip aboard our heated Drift Boat is a great way to learn the river and experience it's beauty.
The end of February, March and April are great Steelhead Fishing days as new Fish move into and out of the river on a daily basis. As the river temperatures rise, so does the aggressiveness of the Steelhead. Often, sight fishing is possible as they move into the shallows.
We can Spin or Fly Fish for Steelhead either by wading or using the Drift Boat..
I invite you to join me and enjoy what is an unquestionably one of the finest fresh water fisheries in the eastern United States.

Where is the

BEST

place to Fish on the Salmon River for Steelhead and Brown Trout? Enjoy my

Expert

YouTube Fishing Tutorial Video's for your Guaranteed 

BEST

fishing opportunities.
3 Basic fishing ways to locate and target Your Salmon River Steelhead.
1. When the Steelhead are running the Salmon River. Fish there "Temporary Transitional Resting Spots" as they make there way up the Salmon River. Otherwise, you are fishing to Steelhead that are not stopping, decreasing your odds greatly. Tutorial Video on Temporary Transitional Resting Spots.
2. Once the Steelhead stop running the Salmon River to hold during the middle of the day. – (From approx. 9:30am. to 5:30pm.) Fish these "Prime Transitional Holding Spots".
Tutorial Video on Prime Transitional Holding Spots.
3. Once the Steelhead have stopped running the Salmon River. And have found a spot that satisfies all their survival instincts. Fish these "Prime Holding Spots" – (Pools). Normally, the most fish and they aren't going anywhere soon. Tutorial Video on Prime Holding Spots – Pools.
4

Advanced

 fishing ways to locate and target Your Salmon River Steelhead.
Tutorial Video on EXPERT Fish Locating Habitat. – (These are areas I look for on the Salmon River when guiding folks like yourself.)
4. Find a spot that is a combination of all 1 thru 3. (Or, a spot that has all 3 in close proximity. So you can jump around according to what the Steelhead are telling you to do.)
5. Combine 1 thru 4 and find a spot above a looong stretch of rapids. The fish get tired after running these Salmon River rapids and will hold here for an extended period of time.
6. Include 1 thru 5 and make sure that your spot has 98% of the Steelhead in a transitional stage. Move into it. (Funnel or Pinch point in the river.)
7. My #1 Spot! Combine 1 thru 6 and pick a spot that compresses and or concentrates them. On a dime, like a sardine can, trash can lid or the size of a Volkswagen beetle or bus. This cuts down on all the guess work. And it allows to to present your offering to all the Steelhead on every drift.
8. The VERY BEST place to Steelhead fish? Is anywhere I'm not! yukyuk
By utilizing the above. You will have the most Steelhead in front of you for the greatest period of time. In a concentrated area offering you the greatest opportunity to present your offering to ALL of them. Fish ON and ON and ON! Now you know what "This Salmon River Guide" look's for normally.


John Battles Numerous Salmon River Steelhead off the fishing guide drift boat in Pulaski NY.
Good day Randy, What a great day, just when I thought I knew a little something about steelhead fishing. I had to fish with you. You really are a class act. I really appreciate you sharing your steelhead guide expertise and patience as well as some of your Salmon River "honey" holes with me. I would encourage any steelhead fisherman, novice or expert, to fish with a drift boat guide even if it's just once.
If you can get drift boat guide Randy Jones you're in for a great day. There is so much to learn about steelhead fishing. And you can trim years off the "learning curve" by steelhead fishing with a pro. guide such as yourself. Thanks again for the fun and truly a learning steelhead fishing experience in Pulaski NY. Thanks again! John.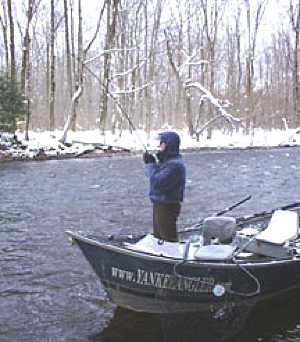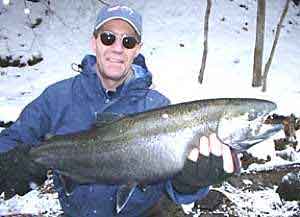 John's tight to his first Steelhead on the Salmon River and lands this Steelhead beauty!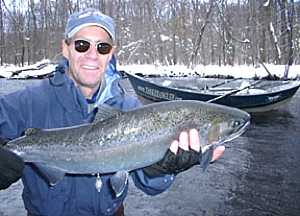 Another Salmon River NY Steelhead for John!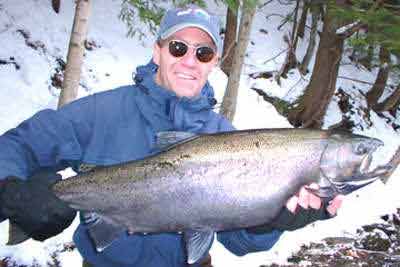 John's honk'a Steelhead off the guide drift boat! Approx. 16 lb. Steelhead! Great way to end the Steelhead Fishing Day!
Congrats John! Thanks for your many kind and generous words! My head almost didn't fit thru the front door after that one. 
 Best Fish's, Randy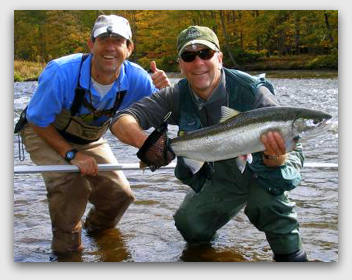 Thumbs up from this Fishing Guide with a Very Happy Salmon River Steelhead Guest.
The Steelhead fishing of your dreams……

………… we'll mak'm reeeeeeeeeeeeeel

The Salmon River, where Memories are Made!
Join me for a guided drift boat fishing trip on the World Renowned Salmon River in Pulaski NY for hard fighting Salmon or Steelhead during the splendor of our Fall, Winter and Spring seasons. Enjoy learning Advanced fishing techniques and Exact fish habitats. I always enjoy sharing my wealth of knowledge with all my guest's.
Randy Jones is a full-time professional Spin and Fly fishing guide with over 35 years of experience.
E-mail: [email protected] – Phone #315-963-2065 – Booking Form on here.
Rates:
$275 for 1 angler – Spin or Fly Fishing, Salmon or Steelhead, I supply everything but the chest waders.
$350 for 2 anglers –  Fly or Spin Fishing,  Salmon or Steelhead, I supply everything but the chest waders.
All Spin fishing equipment – All Orvis fly fishing equipment – All tackle provided. Please bring your own Lunch, Polarized Glass's and Chest Waders.
Fishing Report Testimonials: 
Randy, You Rock!! Your fishing report's resonate with so many. The humor, the professional P.O.V. and experience you share is invaluable. Hope to secure a spot with you soon. Jim – Thanks for your many kind and generous words Jim!

Author Biography –

Established in 1980

.

Randy Jones is the Owner, Author and Publisher of YankeeAngler.com. A Salmon River Pulaski NY based Guide Service and Marketing Agency. Specializing in Expert Salmon and Steelhead fishing – Professional sales and marketing of his vastly successful fishing guide business and local fishery – SEO and Social Media.
Distributed World Wide Books: Simon Gawesworth, Spey Casting, First and also Second Editions. Rich Murphy, Fly Fishing for Striped Bass.
Covers, feature articles and guide profiles: Saltwater Fly Fishing Magazine, Fly Fishing in Saltwater Magazine, Albany, Syracuse, Utica and N.Y. Times Newspapers, N.Y. Sportsmen, N.Y. Fishing and Hunting and Salmon River Success Magazines.
Many World Wide Internet Fishing Sites and News Feeds.
Paid featured guest speaker at numerous Sports Shows, Fresh and Saltwater fishing.
Guest speaker at most Trout Unlimited Chapters, fly tying, tackle and Orvis shops around New England and beyond.
Represented the Orvis Corporation as a guide and chief instructor of their 2 1/2 day Cape Cod Saltwater Fly fishing Schools.
(P.S. I don't discriminate. I also enjoy guiding you spin anglers too! – yukyuk)
Randy Jones 87 Clark Rd. Mexico, NY 13114 – Phone: 315-963-2065.