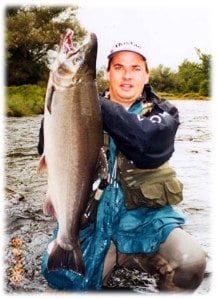 Salmon River Fishing Report for King Salmon and Coho Salmon from this Drift Boat Fishing Report Guide in Pulaski NY.
Steelhead, King Salmon, Coho Salmon and Brown Trout.
I hope you find my fishing report's, articles, tips and videos entertainingly informative or mildly educational.
The Salmon and Steelhead Fishing of your Dreams….   ….We'll Mak'm Reeeeeeeeeeeeel.
OK, Good to Reeeeeel Good #'s of King and Coho Salmon Top to Bottom of the Salmon River.
Starting Tues. evening thru Wed. we had 1,000's of King and Coho Salmon enter the Salmon River. Followed by a daily continuation of good #'s of Salmon entering the river. Recommend coming up. Ye-haa!
This last week at the mouth of the Salmon River. It's been either slow, consisting trickle, good, reeeeel good to a MAJOR RUN of both King Salmon and Coho Salmon. Still lots of Salmon in Lake Ontario and the Estuary staging, before they enter and run the Salmon River.
Seeing King and Coho Salmon running the shallow rapids while transitioning up the Salmon River during both low-light periods. Lasting for 30 minutes up to 1 to 3 hours with some moving mid-day. With varying #'s of Salmon each day.
In the Salmon's Middle of the day resting and holding locations. I'm seeing and counting a few here and there. Ok, Good to Reeel Good #'s of Salmon. Everyday this last week these #'s of Salmon have varied on a per spot basis's.
The highest concentrations of King Salmon and Coho Salmon are in the Major Salmon River Pools. Along with the highest concentrations of anglers. If you prefer fishing less crowded waters. Go for a walk above or below these major pools and I guarantee, you will find some Salmon. Couple Salmon on the Gravel Spawning. More Oct. 1st and even more mid. Oct.
What I saw this week is an exact duplication on what you will find on the rest of the Salmon River.
For Expert Analysis Video's of these Specific King and Coho Salmon Holding Locations on the Salmon River. Please see the bottom of this Blog @ Where is the BEST place to Fish on the Salmon River for Salmon, Steelhead and Brown Trout.
MY FAVORITE! – For GREAT Salmon River Fishing Reports and Lake Ontario – https://www.facebook.com/SteelHead101?ref=profile
Good luck if your coming up! Randy Jones – Salmon River Guide.
Sept. 15 Salmon River Fishing Report – https://www.yankeeangler.com/salmon-river-fishing-report-pulaski-ny-guide/
SALMON RIVER FISHING REPORTS
Latest

on Your Salmon River Steelhead and Brown Trout.
We have a few Steelhead and Brown Trout here and there being caught on the Salmon River. Nothing to get excited about this early. But you never know.
---
Matthew Laughton writes about his first experience fishing for King and Coho Salmon on the SLAM'N SALMON RIVER.
Just completed my first get away fly fishing trip to the Salmon River in Pulaski NY a tributary of Lake Ontario. I wanted to get away from the weekend crowds and planned to Salmon fish Wed and Thurs this week. There's definitely a steep learning curve but after several hours of repeated 10-2 and learning the proper drift technique I landed my first Chinook King Salmon at around 20 pounds on the Salmon River. What an incredible rush!!! With a 1x1 gear ratio the fly reel is the only way to go in my book. The average Salmon fight was about 10-15 min. I've never experienced anything like it from a fishing stand point. With the fly reel handle spinning at a knuckle busting speed. The drag screams while you're trying not to trip over wet rocks as a giant Salmon pulls you down the Salmon River. Ha! Get some!!
In all, my buddy and I had around 30 hook ups and landed 4 Salmon each. 5 King Salmon around 20-25 pounds and 3 Coho Salmon averaging 15+ pounds. Shout out to Salmon River Sports Shop for some great tips and setting us up with the gear we needed. Big thanks to a couple other guys out there that put me in the right direction.
Ive never been so sore or worked so hard to catch a fish. But if the tug is your drug, the Salmon River in Pulaski NY is the place you want to be.
---
Today's Video is on Prime Fall, Winter and Spring Holding Pools. These are Current Breaks in a Pool, that all species of fish use after they have run the river. These C.B's are often used for an extended period of time and should always be fished by you on the
Slam'n Salmon River.
They're pretty much the deeper pools and runs we have on the Salmon River. They are easy to find. Just look for the most anglers and or the angler parking lots that are all around and usually a short walk to these major pools. The internet and local shops around here also have maps of the larger, more well know pools on the Salmon River.
Typically, these areas are fished once we've had some fish enter and run the river and are starting to hold in these Prime Locations. These locations should be fished all Fall, Winter into the Spring and well normally have the largest concentrations of fish for you to catch on the Salmon River.
These Salmon River Prime Holding Locations provide the fish with everything it needs to meet and satisfy there survival instincts for an extended period of time.
A Prime Holding Location consists of:
1. Deep water for safety from predators.
2. A good enough Current Break to decrease the amount of energy it needs to expend to maintain this position.
3. Enouph food in the case of our Steelhead and Brown Trout.
One simple fishing strategy would be to just fish these Salmon River pools for the day as these fish are not going anywhere soon. And leave the Prime Transitional Resting and Holding area's and the Temporary Transitional Resting Spots to someone else.
Other areas to fish are covered more thoroughly towards the bottom of this Blog in. – Where is the BEST place to Fish on the Salmon River for Salmon, Steelhead and Brown Trout?

Day 2 The King Salmon – Entertaining Salmon River fish story.
When the Lake Ontario King Salmon come up through the Salmon River, the first couple miles are through the Douglaston Salmon Run, a privately-owned, fee-fishing area. I decided to try this on Saturday morning, maybe get lucky with a fresh run of King Salmon up the Salmon River. Fewer people spread out over a greater distance than the previous day, so I was able to find a place by myself. If you've never stood in a swift, black river on a crisp, autumn morning waiting for the sun to come up, I recommend it.
I hooked a very strong Salmon on about my third cast but lost him quickly. A half dozen more King Salmon passed me, heading upstream in short bursts of wild energy, throwing themselves up and forward towards one of two final destinations: a spawning bed or a smoke house. But by the time it was fully light out the Salmon fishing was slow and stayed that way so I headed back to the previous day's Salmon River spot, where I finally hooked and landed a decent King Salmon. It's hard to land these fish when you're by yourself, I got this one sort of beached in a shallow area and a nearby angler helped me out and then snapped the picture for me.
It was rewarding, after spending ten minutes or so fighting a Salmon, to get to hold it. And finally getting a photo of a fish was a relief, so I broke for lunch.
Going in to the afternoon I was relaxed. If I didn't catch another Salmon I had already enjoyed myself thoroughly, fought several fish, landed two and photographed one. Anything more would be icing on the cake. Well the icing came fast and furious, as I found a great spot and started hooking big salmon left and right. And people around me were hooking up too, huge fish jumping and splashing everywhere, the sound like kids cannon balling into a pool one after the other. One fish I hooked not more than ten feet from where I was standing, he bolted across the river and took 90 feet of fly line and half my backing with him. Then he charged straight back to me.
The immediate and unexpected slack in the line, coupled with my furious reeling to regain it, resulted in the backing getting tangled around the tip of my rod. This would instantly result in a shattered rod once the fish took up the slack, and that event was going to happen very quickly. So I put the reel-end of the rod down in the water behind me and quickly tried to free the rod tip before my hand became part of the equation and really ruined the rest of the weekend. Success! I got control of my equipment and the fish, and landed him in a nearby shallow cove with the help of a kid who had been watching the whole fiasco with interest and/or amusement.
My arms still burning from that one I flipped my fly into the water to rearrange some equipment and gather myself, and hooked up again. This one headed upstream and I waded upstream after it, chatting some nice guys along the way. Then the fish turns around and as I pass the same guys again it really dawns on me: these fish just have a plan, and I'm not part of it.
That afternoon marked the first time my arms ever got really, really tired from fishing. My best half day of salmon fishing yet, could it get any better?

Salmon River King Salmon Fishing Report

HUMOR

.
1 day I've got my guest sight fishing to some King Salmon in a specific spot on the Salmon River. The angler fishing across from us can't see the Salmon but hears me coaching, sees where I'm pointing too and watch's where my client is casting too. Suddenly he pulls off a bunch of line and starts blind casting to the exact same spot.
I immediately told my guest to cast 15 feet further out into the Salmon River where it was 100% VOID of any King Salmon and the same angler immediately reels in some line and begins casting to the same spot. To funny!
———————————–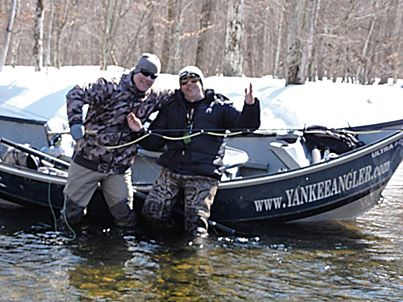 The Salmon River Fly Fishing was

SOOO

 good today. I had to stand behind a tree to tie the Steelhead fly on.
The guide says, Our Salmon River Steelhead get this BIG! My 2 guest's played with 7 or 8 Steelhead in this one lil drift boat spot. Using a fly rod, in approx. 1 hour fly fishing time.
Talk about CRAZY and EXCITING fly fishing!!!!!
———————————————-
My incredibly detailed Salmon River fishing report w/ some rock solid tips!
I went 1 for 3 on Salmon @ (edited for content) in the afternoon using (edited for content). This morning I fished the (edited for content) and was 1 for 2 on Salmon. Nothing on the (edited for content), both on (edited for content). Money back guarantee! 😉
FUNNY Salmon River King Salmon Baptism.
Todd was Honored and Flattered to receive the distinguished award of being the first person I know of to fall in the Salmon River 4 (that's not a typo) 4 times in a day while tight to a King Salmon! When interviewed at the awards ceremony afterwards he was asked, what happened? His response was, well, I fell but didn't think of the cold water up to my chin, or the cold water hitting my private parts. All I could think of was, I've got to land this Salmon River King Salmon! So I jumped up and was rewarded with the biggest King Salmon of my life!
He then added; if I had to do it all over again, I would!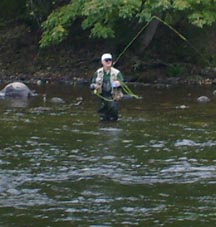 Randy, Thanks again for your instruction and patience Monday. I think I must have had at least 15 hook-ups on King Salmon and that's a conservative estimate. I do know they were too frequent to take time for lunch. Anyway, I can't thank you enough for sharing your considerable knowledge with me on the Salmon River. It was a blast! Best regards, Howard
While fighting a Monster King Salmon! Dr. Howard did a swan dive into the deep dark, Salmon filled waters of the Salmon River today. Everyone clapped and gave him scores of 6's and 7's for style and grace. Howard did feel a lil slighted on the scores. He thought it was at least a solid 10.
I snuck this picture before Howard saw me. After he noticed the flash of the camera from across the Salmon River, he hollered,
HEY RANDY, and gave me a not so flattering middle finger salute. 😉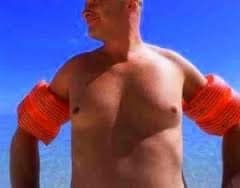 I will be offering E-Commerce products from this site. The first item will be a custom autographed pair of Salmon River Baptism – "Adult Water Wings". My guests who fell in this year will be required to wear 2 on each arm next year while fishing. 😉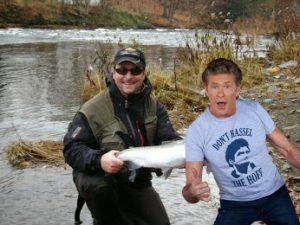 My buddy Mark gets photo bombed on the Salmon River. 😉

Will this years King and Coho Salmon Run be a

Hero or a Zero

on the Salmon River?
Lets take a look – by Salmon River Guide – Randy Jones.
A good indication for this years King and Coho Salmon Run on the Salmon River is to see how "most" of the Full-Time Charter Boat Capt's. on Lake Ontario are doing this Summer.
GREAT Salmon River NEWS This Year!
From July 1 thru July 15 – My Capt. friends were all reporting: (with Picture proof on all)
This season has been one of the best continuous Brown Trout and Salmon bites I have ever seen!
Summer is here, and the lake is fishing phenomenally. It's hard to believe but in a few short months the king and coho salmon of Lake Ontario will begin running our Salmon River once again.
That being said things are shaping up nicely and I expect to see another phenomenal year on the river.
Pretty much same story. Good numbers of kings coming over the rail daily. Well into double digits yet again
Crazy King Salmon Fishing! It is July and the Salmon bite is crazy good. It really can't get any better.
Lake Ontario is giving up large numbers of plump brown trout and hard fighting chrome Chinooks in numbers we have not seen in a long time. While last year was nothing short of banner, this season is shaping up to be even better. The bite is Red Hot!
Salmon fishing has been nothing short of incredible!!
The trout and salmon fishing is off the chart on Lake Ontario.
Lake Ontario is paved with Salmon this season! In a few months the Salmon River will also be paved with Salmon.
2017 DEC Lake Ontario Stats:
Chinook and coho salmon: Anglers reported a banner year for Chinook and coho salmon on the lake. The fishing quality for Chinooks in 2017 was the highest recorded in 30 years, primarily due to excellent fishing during July and August in all the regions.
Fishing quality for coho salmon was also superb, with 2017 being among the best in the 33 years surveyed and the highest since 2010.
From the Salmon River in Pulaski NY: The DEC stats for Salmon landed in 2018 was up substantially from 2017.
The Fall 2017 chinook king salmon egg collections at the DEC's Salmon River fish hatchery exceeded targets and survival of Chinook salmon there has been good to date.
In Closing: The above "should" be a reflection for this years Salmon River King and Coho Salmon Runs.
But – No one can 100% predict or guarantee numbers.
It won't be a ZERO. So Lets all hope for a HERO! Ye-Haa!
P.S. – No one can predict exactly when the BIG RUN of Salmon will happen.
So please stop emailing and calling me about – Randy, when is the BIG RUN going to happen! – yuk yuk 😉

When will the

BIG RUN

of King and Coho Salmon

happen this year on the Salmon River?
When fishing for King and Coho Salmon on the Salmon River. There isn't a Guarantee for when the BIG RUN of Salmon well happen. When looking at the past 40 years, it only "suggest's" what Monthly time period is normally, but not always, the most consistent year after year for the BIG RUN or Bulk of King and Coho Salmon to enter the Salmon River.
Early to mid. Sept. Salmon fishing "usually" means less anglers and normally less fish.
But last year we had a early BIG RUN mid. Sept. with the balance of Salmon entering thru the rest of Sept. into Oct.
Normally, Prime Time is the last week of Sept. and first week of Oct. for the BIG RUN to happen.
But 2 years ago, the Bulk of Salmon came in later and mid. Oct. was great on the Salmon River!
Normally, the 2nd and 3rd week of Oct. your targeting all the King and Coho Salmon that have already entered and settled into their primary Fall Habitats. Top to Bottom of the Salmon River, spread out.
So its tuff to forecast, but late Sept. and early Oct. is over all. Normally the best most consistent 2 weeks for the BIG RUN of King and Coho Salmon to happen on the Salmon River. Don't be surprised if there are a couple other anglers fishing during these 2 weeks. 😉
What helps to cause a

BIG RUN

of King and Coho Salmon?
This might help plan your Salmon River fishing trip.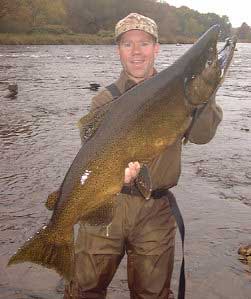 What's the

Forecast for this Salmon River Steelhead Season

? I'm glad you asked! 😉
Last Spring there were more steelhead at the Altmar Hatchery than the last 5-6 years. They easily met their egg quota.
Last Salmon River Steelhead Season and Spring the Steelhead fishing was over-all pretty good, by most standards.
The DEC stats for Steelhead landed on the Salmon River in 2018 was up substantially from 2017.
We didnt see a bunch of dying steelhead daily, like we all did a few years ago. We saw very normal #'s of 1 or 2 per day on the Salmon River.
The DEC has been working hard for the last few years to try to correct the Vitamin B deficiency that the steelhead get from eating all those alewives in Lake Ontario.
Seems to be working!
We had a Very Large # of smaller Steelhead in the 5 to 8lb. range last Season. These will all be returning this year in the 10-12lb. range, with many larger! Ye-Haa!!
In Closing:
My Crystal Ball says it will be a Good Steelhead Season. Aren't you glad you asked? 😉

Enjoy a

Scenic 

drift boat trip down the Salmon River.


Fun and Fast

– Covering 4 miles in 4 minutes during the Fall and Winter.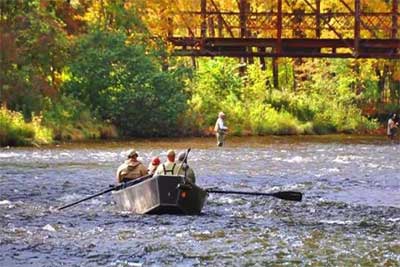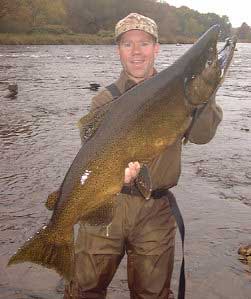 Fishing King Salmon avg. 10-20 lbs. (Sept.-Oct.)
Our tackle busting King Salmon are known for Rod Breaking EXPLODING fishing excitement! King Salmon will amaze you with their freight train runs on the Salmon River. Its like your hooked to the back of a bus, that isn't stopping! There is no Nookie like a Chinookie! 😉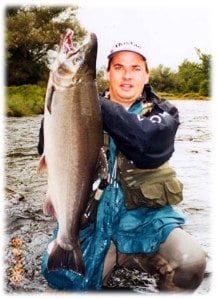 Fishing Coho Salmon avg. 8-12 lbs. (Sept.-Oct.)
Trying to harness the raw power of a zippy 12lb Coho Salmon screaming at high speeds. In 20 different directions will keep you on your fishing toes (and hopefully not on your fishing back!)
There is no HO like a Coho! 😉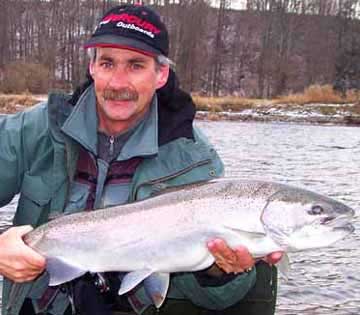 Fishing Steelhead (avg. 8 to 12 lbs.) – (Nov. thru April.)
Our Steelhead are without a doubt. One of the hardest fighting and most acrobatic fish that swims in the Salmon River in Pulaski NY. Torpedo – Silver Bullet runs and changing direction in a blink of an eye. While taking your line 100 to 200 feet out in seconds. This well surely jump start your fishing heart! Tarpon jumps, like a rocket ship 3-4 feet in the air. Somersaulting like a jugglers baton back to earths atmosphere before splash down. Sounding like a cinder block with water spraying 20 feet in all directions. Steelhead Tail Walks across the pool for 40 to 60 feet, will live in your Salmon River memory forever!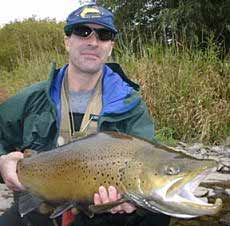 Fishing Brown Trout.
avg. 3-5 lbs.
You can catch these Brown Trout anytime while fishing for Steelhead. Like Salmon and Steelhead you measure our Brown Trout by the pound and not by the inch. While they are not as numerous as Salmon or Steelhead.
These are an optional Trophy of a Fishing life time!
Salmon River King and Coho Salmon, Brown Trout and Steelhead Fishing Seasons.
Sept. – Oct.
King and Coho Salmon. Every Fall the Salmon River sees epic runs of King Salmon and Coho Salmon from September through October when anglers can try their hand at some of the Largest freshwater game fish in the world. Our King Salmon range up to 30 pounds, with many Salmon pushing past 20 pounds. Our Coho Salmon average 8 to 12 pounds, with many larger.
Nov. Best – but also Year Round.
Brown Trout. They have entered the Salmon River to spawn in Nov. and will weight from 3-5 lbs. with some reaching 10 pounds!
October 20 – May 1.
Steelhead 8-15 lbs. The Fall Steelhead is without a doubt, one of the hardest fighting Fish that swims in the Salmon River. They'll take most of your line out in seconds, then jump start your heart with tail walking antics that will live in your memory forever.
Winter Steelhead Fishing on the Salmon River.
This is one of my favorite fishing times of the year. With colder temperatures the crowds disappear. Steelhead continue to come into the Salmon River from the lake. A Winter Drift Boat trip aboard our heated Drift Boat is a great way to learn the Salmon River and experience it's beauty.
The end of February, March and April are great Steelhead Fishing days as new Fish move into and out of the Salmon River on a daily basis. As the river temperatures rise, so does the aggressiveness of the Steelhead. Often, sight fishing is possible as they move into the shallows.
We can Spin or Fly Fish for Steelhead either by wading or using the Drift Boat.
I invite you to join me and enjoy what is an unquestionably one of the finest fresh water fisheries in the eastern United States.

When is the

BEST

time to fish for Salmon River

Steelhead?
Mid-week is always best, but not on or around a holiday.
There really isn't any BEST for Steelhead, as we always have them in the Salmon River from Oct. thru May. Its all angler personal preference.
I start guiding for them at the end of Oct. Which means Less Salmon River Anglers targeting Steelhead = more opportunity for you.
In Nov. we start to see more Steelhead and more Salmon River anglers. It's the busiest angler Month. Temps. aren't to cold yet and its also when the steelhead fight the hardest. With speeding bullet runs, tail walks and somersaults.
In Dec. we start to see even more Steelhead and less Salmon River anglers. Most folks are doing business and family holiday stuff. And its a lil colder = Less anglers = more opportunity for you.
The middle of the Winter can be magical with only the most die hard Salmon River Steelhead anglers out. During these colder Mo's. = Less anglers = more opportunity for you.
Spring Steelhead. (Feb., Mar. and April.) With higher Spring "Run-off" water levels, this brings in the balance of our Steelhead. It starts to warm and we see a few more anglers out, but not as many as November. The Steelhead's appetites are on fire as they slowly drop back down the Salmon River to lake Ontario. Sight fishing is an optional treat.

Where is the

BEST

place to Fish on the Salmon River for Salmon, Steelhead and Brown Trout? Enjoy my

Expert

YouTube Fishing Tutorial Video's for your Guaranteed 

BEST

fishing opportunities.
3 Basic fishing ways to locate and target Your Salmon River Salmon and Steelhead.
1. When the Salmon and steelhead are running the Salmon River. Fish there "Temporary Transitional Resting Spots" as they make there way up the Salmon River. Otherwise, you are fishing to Salmon or Steelhead that are not stopping, decreasing your odds greatly. Tutorial Video on Temporary Transitional Resting Spots.
2. Once the Steelhead or Salmon stop running the Salmon River to hold during the middle of the day. – (From approx. 9:30am. to 5:30pm.) Fish these "Prime Transitional Holding Spots".
Tutorial Video on Prime Transitional Holding Spots.
3. Once the Salmon or steelhead have stopped running the Salmon River. And have found a spot that satisfies all their survival instincts. Fish these "Prime Holding Spots" – (Pools). Normally, the most fish and they aren't going anywhere soon. Tutorial Video on Prime Holding Spots – Pools.
4

Advanced

 fishing ways to locate and target Your Salmon River Salmon and Steelhead.
Tutorial Video on EXPERT Fish Locating Habitat. – (These are areas I look for on the Salmon River when guiding folks like yourself.)
4. Find a spot that is a combination of all 1 thru 3. (Or, a spot that has all 3 in close proximity. So you can jump around according to what the Salmon or Steelhead are telling you to do.)
5. Combine 1 thru 4 and find a spot above a looong stretch of rapids. The fish get tired after running these Salmon River rapids and will hold here for an extended period of time.
6. Include 1 thru 5 and make sure that your spot has 98% of the Salmon or Steelhead in a transitional stage. Move into it. (Funnel or Pinch point in the river.)
7. My #1 Spot! Combine 1 thru 6 and pick a spot that compresses and or concentrates them. On a dime, like a sardine can, trash can lid or the size of a Volkswagen beetle or bus. This cuts down on all the guess work. And it allows to to present your offering to all the Steelhead and Salmon on every drift.
8. The VERY BEST place to Salmon or Steelhead fish? Is anywhere I'm not! yukyuk
By utilizing the above. You will have the most Steelhead or Salmon in front of you for the greatest period of time. In a concentrated area offering you the greatest opportunity to present your offering to ALL of them. Fish ON and ON and ON! Now you know what "This Salmon River Fishing Guide" look's for normally.


Fishing Report Testimonial: 
Randy, Your fishing report's Rock!! Your writings resonate with so many. The humor, the professional P.O.V. and experience you share is invaluable.
Hope to secure a spot with you soon. Jim – Thanks Jim! I hope other viewer's feel the same. Best fish's, Randy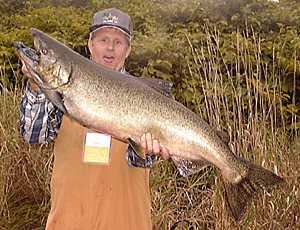 Clint's Salmon River Pulaski NY King Salmon and Steelhead Fishing Testimonial.
Randy, it was amazing how effective our fishing group was. I did not see anyone even come close to the amount of King Salmon we handled and, in many cases, landed on the Salmon River. Thanks for your patience and consistent sharing of techniques. Bottom line; best guide, best location, best dates, best gear,—big fish! See you next year if not before in Pulaski NY. Thanks! Clint Woods
Clint lands a beauty King Salmon of approx. 30 lb's. Steelhead too! Congrats!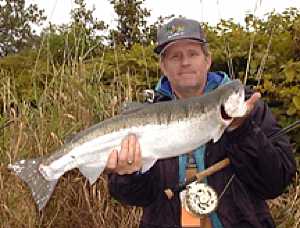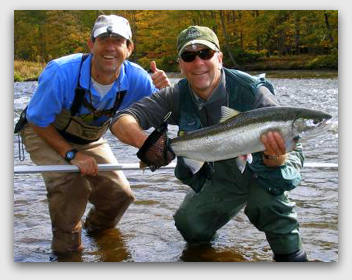 Thumbs up from this Fishing Guide with a Very Happy Salmon River Steelhead Guest.
The Steelhead and Salmon fishing of your dreams……

………… we'll mak'm reeeeeeeeeeeeeel

The Salmon River, where Memories are Made!
Join me for a guided drift boat fishing trip on the World Renowned Salmon River in Pulaski NY for hard fighting Salmon or Steelhead during the splendor of our Fall, Winter and Spring seasons. Enjoy learning Advanced fishing techniques and Exact fish habitats. I always enjoy sharing my wealth of knowledge with all my guest's.
Randy Jones is a full-time professional Spin and Fly fishing guide with over 35 years of experience.
E-mail: [email protected] – Phone #315-963-2065 – Booking Form on here.
Rates:
$275 for 1 angler – Spin or Fly Fishing, Salmon or Steelhead, I supply everything but the chest waders.
$350 for 2 anglers –  Fly or Spin Fishing,  Salmon or Steelhead, I supply everything but the chest waders.
All Spin fishing equipment – All Orvis fly fishing equipment – All tackle provided. Please bring your own Lunch, Polarized Glass's and Chest Waders.
Author Biography –

Established in 1980

.

Randy Jones is the Owner, Author and Publisher of YankeeAngler.com. A Salmon River Pulaski NY based Guide Service and Marketing Agency. Specializing in Expert Salmon and Steelhead fishing – Professional sales and marketing of his vastly successful fishing guide business and local fishery – SEO and Social Media.
Distributed World Wide Books: Simon Gawesworth, Spey Casting, First and also Second Editions. Rich Murphy, Fly Fishing for Striped Bass.
Covers, feature articles and guide profiles: Saltwater Fly Fishing Magazine, Fly Fishing in Saltwater Magazine, Albany, Syracuse, Utica and N.Y. Times Newspapers, N.Y. Sportsmen, N.Y. Fishing and Hunting and Salmon River Success Magazines.
Many World Wide Internet Fishing Sites and News Feeds.
Paid featured guest speaker at numerous Sports Shows, Fresh and Saltwater fishing.
Guest speaker at most Trout Unlimited Chapters, fly tying, tackle and Orvis shops around New England and beyond.
Represented the Orvis Corporation as a guide and chief instructor of their 2 1/2 day Cape Cod Saltwater Fly fishing Schools.
(P.S. I don't discriminate. I also enjoy guiding you spin anglers too! – yukyuk)
Randy Jones 87 Clark Rd. Mexico, NY 13114 – Phone: 315-963-2065.