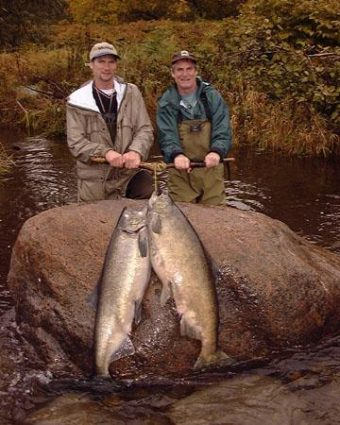 Salmon River Fishing Report for King Salmon and Coho Salmon from this Drift Boat Fishing Report Guide in Pulaski NY.
Steelhead, King Salmon, Coho Salmon and Brown Trout.
I hope you find my fishing report's, articles, tips and videos entertainingly informative or mildly educational.
The Salmon and Steelhead Fishing of your Dreams….   ….We'll Mak'm Reeeeeeeeeeeeel.
Over this last weekend was our first good "Combination" of a Trickle – Sporadic – Semi-Steady to Steady push of approx. 200-300 fresh Salmon entering and running the Salmon River.  With groups of 1-2, 5-6 up to 12 Salmon (maybe more) here and there. Not a major run, but enough to offer all anglers opportunity. From 2A down to the Estuary you'll find some Salmon sprinkled about. Look for most to be in the major holes, with this present low water flow of 185cfs.
Over July and August, the fishing on Lake Ontario for King Salmon has been good to great for most. We have seen a progression of King and Coho Salmon staging in the deeper water and shallower water in Lake Ontario, out in front of the Salmon River. With some moving and Staging in the Estuary, before running the river.
Once you get up here, get ready to yell – Fish ON!
Salmon River Water Forecast. – http://www.h2oline.com/default.aspx?pg=si&op=365123
Until 9:00 PM Thu AUG 30, 185 CFS
From 9:00 PM Thu, until 9:00 PM Fri, 350 CFS
From 9:00 PM Fri, until 6:00 PM Sun, 750 CFS
From 6:00 PM Sun, until 11:59 PM, Tue SEP 04, 335 CFS
Due to early to mid. summer mild drought conditions. They canceled several white water releases on the Salmon River to conserve what lil water they had in the reservoirs. Great News! It appears presently that we received enough rain since then, which "should" mean a normal flow of 335cfs during Salmon season. Ye-Haa!
This coming weekend they have a scheduled forecast (check before coming up) white water release of 750cfs. Salmon always react and enter during this period. But, no way to determine how many. Sometimes this weekend is a dud and sometimes its not.
I expect some Salmon to react and enter the Salmon River on Friday with an increased water flow of 350cfs. More over the weekend. Good luck if your coming up!
SALMON RIVER FISHING REPORTS
August Salmon River Steelhead and King Salmon Fishing Report

Highlights.
8/1 Salmon River Fishing Report – https://www.yankeeangler.com/salmon-river-fishing-report-salmon-river-fishing/
From 8/1 thru 8/14 during daylight hours – daily. 0 to 4 King Salmon were spotted running and or holding in the lower Salmon River.
8/14 thru 16. – After some Heavy rains the run-off caused the Salmon River to rise by 50cfs. A sprinkling of King Salmon reacted to this and entered the Salmon River and a few were landed. First 2018 Internet King Salmon landed on the Salmon River was reported by Norbert Samok who was fishing in the DSR. Enjoy the photos. – https://www.facebook.com/eddiessalmonriverlodge/posts/1643610779076815
Pulaski also received some flooding during this torrential downpour over a short amount of time. Check out the Flooding, might recognize a few places? – https://www.facebook.com/PulaskiPoliceNY/posts/238051740070584
8/22 – First 2018 Internet reported Steelhead landed on the Salmon River. – Nice Photo, Congrats! – https://www.facebook.com/douglastonsalmonrun/photos/a.215762628441652/2300286776655883/?type=3&theater
8/24 – Bunch of Salmon around the Rt. 3 bridge. A dozen, maybe a few more entered the Salmon River during first light with more entering during the evening.
8/25 – DSR Reports of good fish movement throughout the day with most anglers seeing many groups of 3 to 5 fish moving through the run with some reports of even larger numbers. Clearly the best presence of salmon on the run so far this season. All anglers that I spoke with were able to have multiple hookups and most brought multiple fish to hand.
All Seasons Sports Shop Fishing Report and Fresh Salmon Photos. – https://www.facebook.com/permalink.php?story_fbid=1903762466373456&id=479488402134210 
We have had some steady movement of fish. Personally just went out to look around and saw fish at all 3 stops. Went to the Route 3 bridge in port Ontario and seen multiple pods of 30-40 fish and watched 4 hookups, Went to the ball park and witnessed multiple hookups and seen other fish on stringers.! They are here!! No it's not a mega run by any means but there is fish in the system and many more in the estuary that could go at any moment. Lake fishing has picked up the last 3 days or so with fish anywhere from 60 foot of water to 300. Credit – Thanks to All Seasons Sports Shop.
8/26 – DSR Reports that there was fairly good salmon movement until about 10 AM when it slacked off, according to some clients – others reported constant movement of salmon – we're not talking large pods, just a constant trickle of singles, pairs, pods up to five fish – the clients coming up in the afternoon told a completely different story – almost all spoke of constant salmon movement through the run, one counted +60 fish sighted.
8/27 – Salmon entering the Salmon River slowed to a trickle with an occasional Salmon caught here and there.
Credit for some of the above – Thanks to Douglaston Salmon Run (DSR).
8/28 Salmon River King and Coho Salmon Run Article. – https://www.facebook.com/permalink.php?story_fbid=1907214836028219&id=479488402134210
Early August Salmon River fishing report

Humor

.
It was reported that 3 anglers who were fishing over a 3 mile length of the lower Salmon River on 1 day. Saw 1 King Salmon each. Its inconclusive whether it was the same single Salmon running the river that all 3 anglers saw. Or 3 separate Salmon?
There are always a "few" more Salmon in the river than what is being reported. So take the 6 Salmon that were counted in early August and double it to 12 total Salmon that are sitting someplace over 12 miles of river. Great odds! 1 Salmon per mile! Fishing's great! Come on up! – har-har.
Salmon River Sore Butt fishing report. – In early August, yer butt gets sore from sitting on yer favorite rock all day while watching and waiting for 0 to 1 Salmon to rooster tail up the rapids to your spot. – yuk-yuk.
Funny thing happened when I was writing this fishing report for you. Only in upstate NY?
I quickly glanced outside my office window into my back yard and thought I noticed a few deer that are common. On second glance, it turned out there were 4 cows that had escaped from a local farm and were happily munching on my grass. They left some fresh smelling fertilizer for the grass. Ooo' the fresh country aroma as I type these words for you. Why me!
Join in on some Steelhead and Salmon Fishing Fun! All caught on the Salmon River in Pulaski NY during our Fall, Winter and Spring fishing seasons.

Summer Salmon River Bank Erosion work in the upper and lower river.
Did they FILL IN YOUR favorite Salmon and Steelhead catching hole with BIG Boulders? – har har.
These structures are all part of Phase 1 of the Lake Ontario Natural Resource Damages funded river restoration projects.
Upper Salmon River 6 New Structures.
The work in the Upper Fly Zone is complete.
Lower Fly Zone by the Altmar bridge and drift boat ramp. New "J" hook stream restoration structure recently installed. – https://www.facebook.com/photo.php?fbid=10213275517063916&set=pcb.10213275527664181&type=3&theater
South bank Unemployment pool area. Another at the Bottom of these same South bank rapids. Down to the South and North bank Tail of the Schoolhouse pool, which was still being worked on – https://www.facebook.com/photo.php?fbid=10213435370540153&set=pcb.10213435452862211&type=3&theater
The DSR (lower river) funded project of blocking the 3 south channels below the Meadow Pool was completed earlier this week. All water now flows through the Lower Clay Hole. The contractor used "Toe Wood Structures" to secure the banks. This created some deep holes along the banks. – https://www.facebook.com/photo.php?fbid=10213420771495186&set=pcb.10213420807776093&type=3&theater
Comments: Looks like "the salmon highway". I think it may lead to less lingering of fish in the estuary. With the increased flow down the main estuary channel I think they will commit themselves to run more quickly.
I here the Tail of the Wire hole might get some work done. I'll report back to you when further work is being done.
Please use caution when walking around these new structures.
Today's Tip – Sometimes when they build these structures, they leave a nice deep excavated hole in front of them that will hold fish.
First person on the spot gets it! I'll be there at 4 am! yuk-yuk.
It will be interesting to see what minor or major changes happen to the flow, banks and rivers bottom structure after the Salmon River floods a few times.
Image Credit – Thanks to Expert Salmon River Spey angler Paul Moore. – https://www.facebook.com/paul.moore.77920526?hc_ref=ARQ-YiRk79yovkPHy1JKLnH2TL5KqJFlnwiv64RJ1m-H69Yutge8DHlszk5w_TvzJEo
My over-all Bank Erosion observations after viewing it last Sat. on foot for this report in 185cfs – Upper Salmon River.
Lower fly zone is still shallow from the drift boat ramp straight out and down below the Altmar bridge. From the drift boat ramp up river, its deeper with some deeper pockets. Watch your first step it's a doozy!!
Directly across and slightly below the Unemployment pool they put in a new wall on the South side. The hole next to and below this structure is just as long, but has narrowed a lil due to some light fill. Might open back up after some higher water?
Tail of Schoolhouse pool has 2 new walls directly across from each other. One is on the South bank, starting at the head of the diversion (which is still flowing) and running down river almost to the power lines.
On the North bank Tail. They were still working on it, so I can't really comment until the work is finished. This structure was directly on top of where the tail goes from deep into the shallower tail out. Almost directly underneath the power lines.
Great image of a drift boat passing thru the new Tail of Schoolhouse pool with the Excavator hard at work.
https://www.facebook.com/photo.php?fbid=10213732601646828&set=a.1417423593146&type=3&theater
Image Credit – Thanks to Shane Muckey who owns a Lodge and runs a fish cleaning station in Altmar.

Salmon River King and Coho Salmon Mail Bag Q's.
Hi Randy, It's Mike Greer, you have guided me a few times for Steelhead. I was hoping you could give me some helpful tips about where to Salmon fish the river for best chance of success. I know the water is low, but I also know there are a few King and Coho Salmon in the Salmon River and a few entering daily.
Again, thanks for all the teaching points of how to read the water, drift techniques, fish behavior and all those Steelhead we caught were a BONUS! Best Regards, Mike
Hi Mike, Presently, I'd recommend the lower Salmon River for King and Coho Salmon. Ball Park, down thru Town and below to the Black Hole (by the water treatment plant) and if you don't mind paying to fish, I'd recommend the DSR. Good Luck! Randy
Randy, I hear Pulaski will have a Dancing Bear when the Circus comes to town? Joe
Yes Joe! You can see it by standing on the Short Bridge over looking the Salmon River in Pulaski, during the height of King and Coho Salmon season. Its also free and should be on everyone's buck list. Randy
Randy, where is the VERY best place to fish for King and Coho Salmon during the Salmon Run on the Salmon River? Thanks, Mike
That's an easy one Mike, anywhere I'm NOT fishing!!! 🙂
So Randy, how does the rain effect the fish? Mom
They usually go under da bridge, so they don't get wet. 😉

Funny

Salmon River drift boat guide Fishing 

Humor.
First person on the spot gets it. I've been beat'n to special Salmon River fishing spots by seconds.
The funniest one was when I was floating down the Salmon River in the drift boat. Relaxed, enjoying the early morning stars and the tranquility of it all. I notice a shore angler walking on a trail thru the woods. Leading to the fishing spot I had hoped to get for my guest's.
(Sometimes where these steelhead and Salmon lay is as exact as fitting a key into a lock.)
I can see the angler walking with a flashlight as it moves to the rhythm of his stride. I start to get nervous and push the drift boat faster and faster thru the Salmon River white water rapids. As my drift boat slapped the water loudly.
I can see the rhythm of the walking angler's flashlight speed up as he increases his pace. It almost look's like a strobe light, he is walking – jogging sooooo fast.
He hears me coming……… Im pushing the drift boat fast'rrrrrrr……….. Its a race to the finish!
He lands on the spot seconds before me. First person on the spot….. gets it.
Turns out we were both drift boat guides and knew each other well. We both laughed out loud until our stomach's hurt at what had just transpired.
He was nice enough to share his fishing spot with my guest's and everyone caught some fish.
So much, for floating down the Salmon River in the drift boat. Relaxed, enjoying the early morning stars and the tranquility of it all.
Want to Book a Drift Boat Trip? Be careful who you hire 😉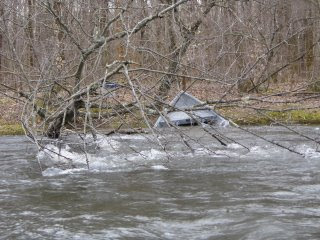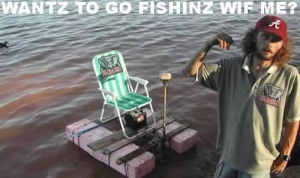 Where is the

BEST

place to Fish on the Salmon River for Salmon, Steelhead and Brown Trout? Enjoy my

Expert

YouTube Fishing Tutorial Video's for your Guaranteed 

BEST

fishing opportunities.
3 Basic fishing ways to locate and target Your Salmon River Salmon and Steelhead.
1. When the Salmon and steelhead are running the Salmon River. Fish there "Temporary Transitional Resting Spots" as they make there way up the Salmon River. Otherwise, you are fishing to Salmon or Steelhead that are not stopping, decreasing your odds greatly. Tutorial Video on Temporary Transitional Resting Spots.
2. Once the Steelhead or Salmon stop running the Salmon River to hold during the middle of the day. – (From approx. 9:30am. to 5:30pm.) Fish these "Prime Transitional Holding Spots".
Tutorial Video on Prime Transitional Holding Spots.
3. Once the Salmon or steelhead have stopped running the Salmon River. And have found a spot that satisfies all their survival instincts. Fish these "Prime Holding Spots" – (Pools). Normally, the most fish and they aren't going anywhere soon. Tutorial Video on Prime Holding Spots – Pools.
4

Advanced

 fishing ways to locate and target Your Salmon River Salmon and Steelhead.
Tutorial Video on EXPERT Fish Locating Habitat. – (These are areas I look for on the Salmon River when guiding folks like yourself.)
4. Find a spot that is a combination of all 1 thru 3. (Or, a spot that has all 3 in close proximity. So you can jump around according to what the Salmon or Steelhead are telling you to do.)
5. Combine 1 thru 4 and find a spot above a looong stretch of rapids. The fish get tired after running these Salmon River rapids and will hold here for an extended period of time.
6. Include 1 thru 5 and make sure that your spot has 98% of the Salmon or Steelhead in a transitional stage. Move into it. (Funnel or Pinch point in the river.)
7. My #1 Spot! Combine 1 thru 6 and pick a spot that compresses and or concentrates them. On a dime, like a sardine can, trash can lid or the size of a Volkswagen beetle or bus. This cuts down on all the guess work. And it allows to to present your offering to all the Steelhead and Salmon on every drift.
8. The VERY BEST place to Salmon or Steelhead fish? Is anywhere I'm not! yukyuk
By utilizing the above. You will have the most Steelhead or Salmon in front of you for the greatest period of time. In a concentrated area offering you the greatest opportunity to present your offering to ALL of them. Fish ON and ON and ON! Now you know what "This Salmon River Fishing Guide" look's for normally.

We Interrupt this program to bring you.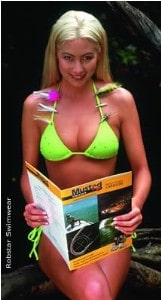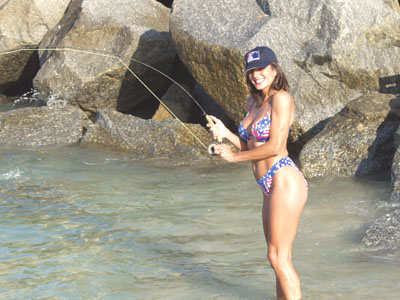 Now, back to our regularly scheduled programming. 😉

Places the Salmon stop and rest at while running the Salmon River – Current Breaks.
1 Head of the hole.
2 The seams on either side of the main flow in the hole. (Thats where the fast water meets the slow or what we call frog water)
3 Any big boulders or large rocks in the hole.
4 Deepest part of the hole will hold Salmon.
5 Tail of the hole.
6 The seam on the inside bend of the Salmon River.
7 Behind a shallow area that breaks the current.
8 Any big rocks or boulders that are in the deepest part of the Salmon River that the Salmon use to navigate it.
9 A lil 4 to 6 inch drop in the Salmon Rivers bottom.
10 Tree's that have fallen into the Salmon River that are creating a seam.
To simplify all this, the Salmon use all the current breaks in the Salmon River. BUT, probably 90% of the river they simply swim thru it and don't stop. These areas should be avoided like the plague. As Lou Tabory once said, There is a LOT of empty water out there.
What makes all Salmon River Current Breaks so

interesting and challenging

to understand as a angler are.
1 Some CBs are only used by the fish while in a Trans. Stage while running up the Salmon River or down it. Some for only a few seconds, minutes to all day.
2 Some CBs are used for several days, an entire Month to 5-6 months on the Salmon River.
3 Some CBs are only used in the Fall before the water temp. drops. Some CBs are only used during the Winter, after the water temp. has dropped. And finally some CBs are only used during the Fall for Salmon, November for Brown Trout and the Spring for Steelhead. So some CBs are only used during certain stages of the fish's life.
4. Some CBs are only used during certain Salmon River water flow levels. Low, medium and high water changes the CBs that the fish key in on and use. Our Salmon River water levels are always changing and the fish change along with it and so should you.
Folks, What makes an experienced steelhead or salmon angler on the Salmon River?
One of the most critically important things is to have is a complete and thorough understanding of is Current Breaks, and when and how the Salmon and Steelhead use them. This knowledge will definitely put YOU into the 10% of the anglers that catch 90% of the fish, here on the Salmon River.
I sincerely hope you found my Salmon and steelhead "Guide Tips"  Entertainingly Informative or Mildly Education. And helps you to better understand these productive fishing Current Breaks on the Salmon River and helps you, to catch more fish.
May all YOUR doorknobs smell of BIG Salmon, Steelhead and Brown Trout!

Will this years King and Coho Salmon Run be a

Hero or a Zero

on the Salmon River?
Lets take a look – by Salmon River Guide – Randy Jones.
A good indication for this years King and Coho Salmon Run on the Salmon River is to see how "most" of the Full-Time Charter Boat Capt's. on Lake Ontario are doing this Summer.
GREAT Salmon River NEWS This Year!
From July 1 thru July 15 – My Capt. friends were all reporting: (with Picture proof on all)
This season has been one of the best continuous Brown Trout and Salmon bites I have ever seen!
Summer is here, and the lake is fishing phenomenally. It's hard to believe but in a few short months the king and coho salmon of Lake Ontario will begin running our Salmon River once again.
That being said things are shaping up nicely and I expect to see another phenomenal year on the river.
Pretty much same story. Good numbers of kings coming over the rail daily. Well into double digits yet again
Crazy King Salmon Fishing! It is July and the Salmon bite is crazy good. It really can't get any better.
Lake Ontario is giving up large numbers of plump brown trout and hard fighting chrome Chinooks in numbers we have not seen in a long time. While last year was nothing short of banner, this season is shaping up to be even better. The bite is Red Hot!
Salmon fishing has been nothing short of incredible!!
The trout and salmon fishing is off the chart on Lake Ontario.
Lake Ontario is paved with Salmon this season! In a few months the Salmon River will also be paved with Salmon.
2017 DEC Lake Ontario Stats:
Chinook and coho salmon: Anglers reported a banner year for Chinook and coho salmon on the lake. The fishing quality for Chinooks in 2017 was the highest recorded in 30 years, primarily due to excellent fishing during July and August in all the regions.
Fishing quality for coho salmon was also superb, with 2017 being among the best in the 33 years surveyed and the highest since 2010.
From the Salmon River in Pulaski NY: The DEC stats for Salmon landed in 2018 was up substantially from 2017.
The Fall 2017 chinook king salmon egg collections at the DEC's Salmon River fish hatchery exceeded targets and survival of Chinook salmon there has been good to date.
In Closing: The above "should" be a reflection for this years Salmon River King and Coho Salmon Runs.
But – No one can 100% predict or guarantee numbers.
It won't be a ZERO. So Lets all hope for a HERO! Ye-Haa!
P.S. – No one can predict exactly when the BIG RUN of Salmon will happen.
So please stop emailing and calling me about – Randy, when is the BIG RUN going to happen! – yuk yuk 😉

When will the

BIG RUN

of King and Coho Salmon

happen this year on the Salmon River?
When fishing for King and Coho Salmon on the Salmon River. There isn't a Guarantee for when the BIG RUN of Salmon well happen. When looking at the past 40 years, it only "suggest's" what Monthly time period is normally, but not always, the most consistent year after year for the BIG RUN or Bulk of King and Coho Salmon to enter the Salmon River.
Early to mid. Sept. Salmon fishing "usually" means less anglers and normally less fish.
But last year we had a early BIG RUN mid. Sept. with the balance of Salmon entering thru the rest of Sept. into Oct.
Normally, Prime Time is the last week of Sept. and first week of Oct. for the BIG RUN to happen.
But 2 years ago, the Bulk of Salmon came in later and mid. Oct. was great on the Salmon River!
Normally, the 2nd and 3rd week of Oct. your targeting all the King and Coho Salmon that have already entered and settled into their primary Fall Habitats. Top to Bottom of the Salmon River, spread out.
So its tuff to forecast, but late Sept. and early Oct. is over all. Normally the best most consistent 2 weeks for the BIG RUN of King and Coho Salmon to happen on the Salmon River. Don't be surprised if there are a couple other anglers fishing during these 2 weeks. 😉
What helps to cause a

BIG RUN

of King and Coho Salmon?
This might help plan your Salmon River fishing trip.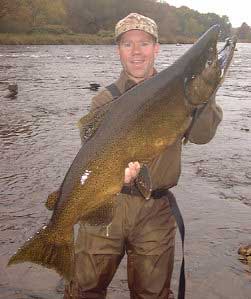 What's the

Forecast for this Salmon River Steelhead Season

? I'm glad you asked! 😉
Last Spring there were more steelhead at the Altmar Hatchery than the last 5-6 years. They easily met their egg quota.
Last Salmon River Steelhead Season and Spring the Steelhead fishing was over-all pretty good, by most standards.
The DEC stats for Steelhead landed on the Salmon River in 2018 was up substantially from 2017.
We didnt see a bunch of dying steelhead daily, like we all did a few years ago. We saw very normal #'s of 1 or 2 per day on the Salmon River.
The DEC has been working hard for the last few years to try to correct the Vitamin B deficiency that the steelhead get from eating all those alewives in Lake Ontario.
Seems to be working!
We had a Very Large # of smaller Steelhead in the 5 to 8lb. range last Season. These will all be returning this year in the 10-12lb. range, with many larger! Ye-Haa!!
In Closing:
My Crystal Ball says it will be a Good Steelhead Season. Aren't you glad you asked? 😉

Enjoy a

Scenic 

drift boat trip down the Salmon River.


Fun and Fast

– Covering 4 miles in 4 minutes during the Fall and Winter.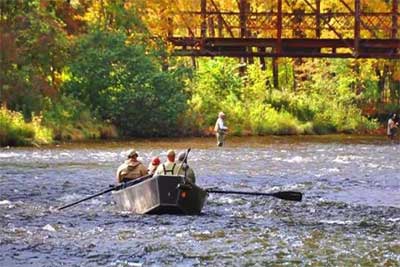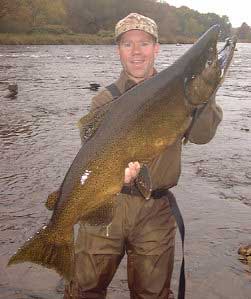 Fishing King Salmon avg. 10-20 lbs. (Sept.-Oct.)
Our tackle busting King Salmon are known for Rod Breaking EXPLODING fishing excitement! King Salmon will amaze you with their freight train runs on the Salmon River. Its like your hooked to the back of a bus, that isn't stopping! There is no Nookie like a Chinookie! 😉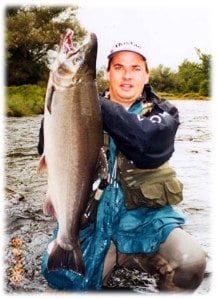 Fishing Coho Salmon avg. 8-12 lbs. (Sept.-Oct.)
Trying to harness the raw power of a zippy 12lb Coho Salmon screaming at high speeds. In 20 different directions will keep you on your fishing toes (and hopefully not on your fishing back!)
There is no HO like a Coho! 😉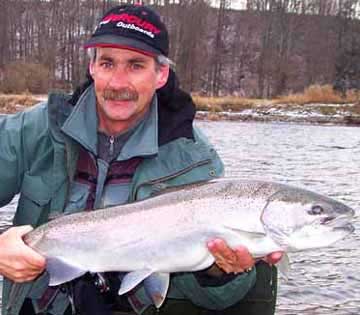 Fishing Steelhead (avg. 8 to 12 lbs.) – (Nov. thru April.)
Our Steelhead are without a doubt. One of the hardest fighting and most acrobatic fish that swims in the Salmon River in Pulaski NY. Torpedo – Silver Bullet runs and changing direction in a blink of an eye. While taking your line 100 to 200 feet out in seconds. This well surely jump start your fishing heart! Tarpon jumps, like a rocket ship 3-4 feet in the air. Somersaulting like a jugglers baton back to earths atmosphere before splash down. Sounding like a cinder block with water spraying 20 feet in all directions. Steelhead Tail Walks across the pool for 40 to 60 feet, will live in your Salmon River memory forever!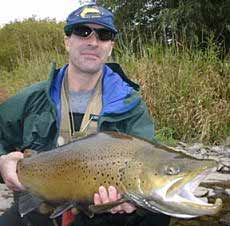 Fishing Brown Trout.
avg. 3-5 lbs.
You can catch these Brown Trout anytime while fishing for Steelhead. Like Salmon and Steelhead you measure our Brown Trout by the pound and not by the inch. While they are not as numerous as Salmon or Steelhead.
These are an optional Trophy of a Fishing life time!
Salmon River King and Coho Salmon, Brown Trout and Steelhead Fishing Seasons.
Sept. – Oct.
King and Coho Salmon. Every Fall the Salmon River sees epic runs of King Salmon and Coho Salmon from September through October when anglers can try their hand at some of the Largest freshwater game fish in the world. Our King Salmon range up to 30 pounds, with many Salmon pushing past 20 pounds. Our Coho Salmon average 8 to 12 pounds, with many larger.
Nov. Best – but also Year Round.
Brown Trout. They have entered the Salmon River to spawn in Nov. and will weight from 3-5 lbs. with some reaching 10 pounds!
October 20 – May 1.
Steelhead 8-15 lbs. The Fall Steelhead is without a doubt, one of the hardest fighting Fish that swims in the Salmon River. They'll take most of your line out in seconds, then jump start your heart with tail walking antics that will live in your memory forever.
Winter Steelhead Fishing on the Salmon River.
This is one of my favorite fishing times of the year. With colder temperatures the crowds disappear. Steelhead continue to come into the Salmon River from the lake. A Winter Drift Boat trip aboard our heated Drift Boat is a great way to learn the Salmon River and experience it's beauty.
The end of February, March and April are great Steelhead Fishing days as new Fish move into and out of the Salmon River on a daily basis. As the river temperatures rise, so does the aggressiveness of the Steelhead. Often, sight fishing is possible as they move into the shallows.
We can Spin or Fly Fish for Steelhead either by wading or using the Drift Boat.
I invite you to join me and enjoy what is an unquestionably one of the finest fresh water fisheries in the eastern United States.

When is the

BEST

time to fish for Salmon River

Steelhead?
Mid-week is always best, but not on or around a holiday.
There really isn't any BEST for Steelhead, as we always have them in the Salmon River from Oct. thru May. Its all angler personal preference.
I start guiding for them at the end of Oct. Which means Less Salmon River Anglers targeting Steelhead = more opportunity for you.
In Nov. we start to see more Steelhead and more Salmon River anglers. It's the busiest angler Month. Temps. aren't to cold yet and its also when the steelhead fight the hardest. With speeding bullet runs, tail walks and somersaults.
In Dec. we start to see even more Steelhead and less Salmon River anglers. Most folks are doing business and family holiday stuff. And its a lil colder = Less anglers = more opportunity for you.
The middle of the Winter can be magical with only the most die hard Salmon River Steelhead anglers out. During these colder Mo's. = Less anglers = more opportunity for you.
Spring Steelhead. (Feb., Mar. and April.) With higher Spring "Run-off" water levels, this brings in the balance of our Steelhead. It starts to warm and we see a few more anglers out, but not as many as November. The Steelhead's appetites are on fire as they slowly drop back down the Salmon River to lake Ontario. Sight fishing is an optional treat.


Fishing Report Testimonial: 
Randy, Your fishing report's Rock!! Your writings resonate with so many. The humor, the professional P.O.V. and experience you share is invaluable.
Hope to secure a spot with you soon. Jim – Thanks Jim! I hope other viewer's feel the same. Best fish's, Randy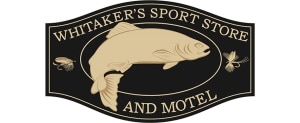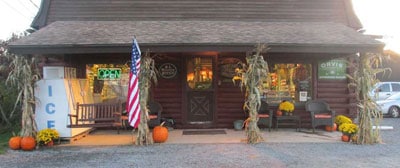 Salmon River Drift Boat Fishing Guide Testimonial – Dear Whitakers Sports Store and Motel,
Rob Martinsen and I engaged Randy Jones' Drift Boat Guide services to fish for Salmon on the Salmon River. This was the second time this year we had been guided by Randy, the first time was for steelhead. Both drift boat outings proved very productive in regards to both fish hooked and fishing knowledge gained. We can count on one hand how many fish we would have caught on our own. Most importantly were the fishing skills we were taught and the insights into the Salmon River and its fish.
Randy was both professional and knowledgeable. He intimately understood the topography of the Salmon River and the fish's behavior within it. And was open in sharing his knowledge with us. He tailored his help to our individual skill levels. He was prompt and dedicated to teaching us as much as we could absorb. We enjoyed your accommodations and plan on staying with you next spring. Best regards, William Au
( https://whitakers.com/blogs/daily-report )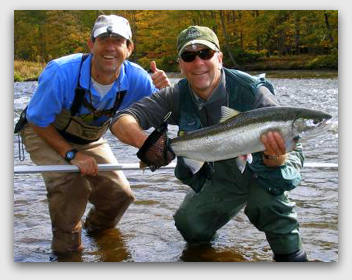 Thumbs up from this Fishing Guide with a Very Happy Salmon River Steelhead Guest.
The Steelhead and Salmon fishing of your dreams……

………… we'll mak'm reeeeeeeeeeeeeel

The Salmon River, where Memories are Made!
Join me for a guided drift boat fishing trip on the World Renowned Salmon River in Pulaski NY for hard fighting Salmon or Steelhead during the splendor of our Fall, Winter and Spring seasons. Enjoy learning Advanced fishing techniques and Exact fish habitats. I always enjoy sharing my wealth of knowledge with all my guest's.
Randy Jones is a full-time professional Spin and Fly fishing guide with over 35 years of experience.
E-mail: [email protected] – Phone #315-963-2065 – Booking Form on here.
Rates:
$275 for 1 angler – Spin or Fly Fishing, Salmon or Steelhead, I supply everything but the chest waders.
$350 for 2 anglers –  Fly or Spin Fishing,  Salmon or Steelhead, I supply everything but the chest waders.
All Spin fishing equipment – All Orvis fly fishing equipment – All tackle provided. Please bring your own Lunch, Polarized Glass's and Chest Waders.
Author Biography –

Established in 1980

.

Randy Jones is the Owner, Author and Publisher of YankeeAngler.com. A Salmon River Pulaski NY based Guide Service and Marketing Agency. Specializing in Expert Salmon and Steelhead fishing – Professional sales and marketing of his vastly successful fishing guide business and local fishery – SEO and Social Media.
Distributed World Wide Books: Simon Gawesworth, Spey Casting, First and also Second Editions. Rich Murphy, Fly Fishing for Striped Bass.
Covers, feature articles and guide profiles: Saltwater Fly Fishing Magazine, Fly Fishing in Saltwater Magazine, Albany, Syracuse, Utica and N.Y. Times Newspapers, N.Y. Sportsmen, N.Y. Fishing and Hunting and Salmon River Success Magazines.
Many World Wide Internet Fishing Sites and News Feeds.
Paid featured guest speaker at numerous Sports Shows, Fresh and Saltwater fishing.
Guest speaker at most Trout Unlimited Chapters, fly tying, tackle and Orvis shops around New England and beyond.
Represented the Orvis Corporation as a guide and chief instructor of their 2 1/2 day Cape Cod Saltwater Fly fishing Schools.
(P.S. I don't discriminate. I also enjoy guiding you spin anglers too! – yukyuk)
Randy Jones 87 Clark Rd. Mexico, NY 13114 – Phone: 315-963-2065.