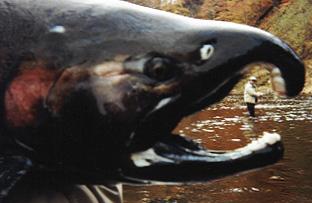 A brightly colored up Male Coho Salmon, ready to eat an angler. They get That BIG up here!
I took the picture and my client ended up submitting it in a magazine photo contest and won first prize!
He kept the BMW and all I got was this picture. Darn!
Salmon River Fishing Report for Steelhead from this Drift Boat Guide in Pulaski NY.
Steelhead, King Salmon, Coho Salmon and Brown Trout.
I hope you find my fishing report entertainingly informative or mildly educational.
The Steelhead Fishing of your Dreams….   ….We'll Mak'm Reeeeeeeeeeeeel.
Most King and Coho Salmon are in the Holes or Spawning. Increased #'s of  Steelhead and Brown Trout running and holding in the Salmon River.
We continue to see some fresh King and Coho Salmon entering and running the Salmon River.
A few in Transition. A few holding in the mid. day resting spots. Some in the pools. Some on that special rock. Some dead from spawning – P-U! It's a fun time of year, walk anywhere along the Salmon River and the odds are good you'll hit some. These are the "Salad Days".
Your Steelhead season is starting right on schedule!
Nice Push of Steelhead just entered the Salmon River, with many more to come!
We currently have some Steelhead and Brown trout in Transition (Running the Salmon River). Some holding in the mid. day resting spots. Some are Holding in their Prime Fall Habitats. And some sitting behind the Spawning Salmon eating their eggs.
These areas are covered more thoroughly towards the bottom of this Blog in my EXPERT and ADVANCED Tutorial Video's @ Where is the BEST place to Fish on the Salmon River for Steelhead and Brown Trout.
Prime Spring Steelhead Open Dates. Mar. 2-3, 5-6, 9-10, 12-13, 16-17,19-20, 24, 26. April – 2-3, 9-10, 13-14, 20-21, 23-24, 27-28, 30.
SALMON RIVER FISHING REPORTS
Pre-Spawn and Spawning King and Coho Salmon on the Salmon River.
We always have fresh run's of King and Coho Salmon into the Salmon River at this time of the year. Their biological clock is ticking and telling them its that time in there life to re-produce. Causing fresh Salmon to enter, run and spread out over the entire length of the Salmon River.
Pre-Spawn with King and Coho Salmon Pairing up in the Holes. – Often at this time of the year where you are blind casting, you will tie into 1 Salmon. There will often be a second or a third in the exact same spot, as they find a mate and pair up.
So normally where there is one King or Coho Salmon, there is often another one or two. So cover your water thoroughly to increase your odds. (Almost every female Salmon in the Salmon River will have 1 to 5 males in very close proximity).
This tip comes with a $ back guarantee! My guest's and myself have all bought that T shirt. It happens more than you would think!
Spawner's – If you fish the Salmon River long enough for King and Coho Salmon. You will notice a mass exodus of Salmon from the Pools onto the spawning gravel, starting approx. Oct. 1 thru Mid-Oct.
Spreading out – From the shallows, to the edges of the pools to the pools themselves.
You'll be able to find Salmon from the Top of the Salmon River to the Bottom. From one side of the river to the other, within reason.
The Entire Salmon River comes Alive! Ye-HAA!!!!
---
Some Trophy Steelhead are awaiting your arrival this Fall, Winter and Spring!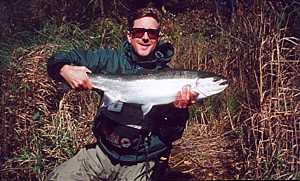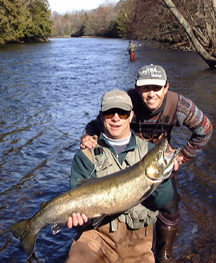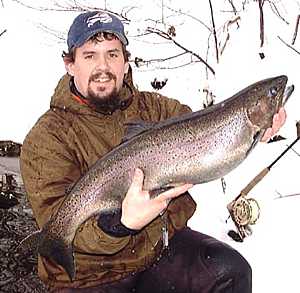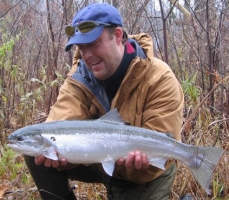 Latest

on Your Salmon River Steelhead and Brown Trout.
With Spawning Salmon dropping TONS of eggs in the River, it  has become a smorgasbord for your Steelhead and Brown Trout.
Causing them to leave Lake Ontario and enter – run the river.
Nice Push of Steelhead just entered the Salmon River, with many more to come! Seeing a few more Brown Trout around.
The Browns are also entering the River to Spawn in Nov.
Today's

Salmon, Steelhead and Brown Trout

Tip.
Fish any deep water that has a Major Gravel influence above, even with or below it. When Spawning Salmon get spooked, they 100% go into the closest deep water. Many of your Steelhead and Brown Trout will often hold in this same area, while feeding on the Salmon Eggs. If the deeper water, pocket or run has a chop or is rippled on the surface. It makes it even more conducive for a Steelhead or Brown Trout to hold in it.
With a Few Steelhead and Brown Trout around. Its a good time to try for a Grand Slam on the Salmon River!
(Grand Slam = All by yourself in a single day. You land a Brown Trout, Steelhead, Coho Salmon and King Salmon). 
Not easy to do, but FUN Salmon River fishing to try!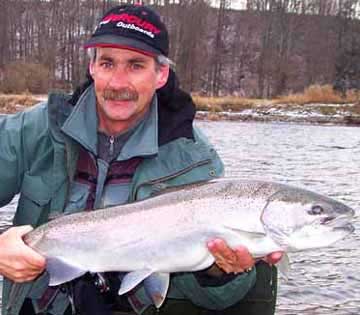 Fishing Steelhead (avg. 8 to 12 lbs.) – (Nov. thru April.)
Our Steelhead are without a doubt. One of the hardest fighting and most acrobatic fish that swims in the Salmon River in Pulaski NY. Torpedo – Silver Bullet runs and changing direction in a blink of an eye. While taking your line 100 to 200 feet out in seconds. This well surely jump start your fishing heart! Tarpon jumps, like a rocket ship 3-4 feet in the air. Somersaulting like a jugglers baton back to earths atmosphere before splash down. Sounding like a cinder block with water spraying 20 feet in all directions. Steelhead Tail Walks across the pool for 40 to 60 feet, will live in your Salmon River memory forever!
What's the Forecast

for this Salmon River

Steelhead Season? I'm glad you asked!
Good #'s in Lake Ontario this Summer!
They easily met their egg quota last Spring at the Salmon River Altmar fish hatchery with an over abundance of returning Steelhead.
Last Steelhead Season (Nov. thru April) the fishing was over-all pretty good, by most standards.
We didn't see a bunch of dying steelhead daily, like we all did a few years ago. We saw very normal #'s of 0, 1 or 2 per day on the Salmon River.
The DEC has been working hard for the last few years to try to correct the Vitamin B deficiency that the steelhead get from eating all those alewives in Lake Ontario.
Seems to be working!
In Closing: My Crystal Ball says it will be a Good Steelhead Season. Aren't you glad you asked?
When is the

BEST

time to fish for Salmon River

Steelhead?
Mid-week is always best, but not on or around a holiday.
There really isn't any BEST for Steelhead, as we always have them in the Salmon River from Oct. thru May. Its all angler personal preference.
I start guiding for them at the end of Oct. Which means Less Salmon River Anglers targeting Steelhead = more opportunity for you.
In Nov. we start to see more Steelhead and more Salmon River anglers. It's the busiest angler Month. Temps. aren't to cold yet and its also when the steelhead fight the hardest. With speeding bullet runs, tail walks and somersaults.
In Dec. we start to see even more Steelhead and less anglers. Most folks are doing business and family holiday stuff. And its a lil colder = Less anglers = more opportunity for you.
The middle of the Winter can be magical with only the most die hard Steelhead anglers out. During these colder Mo's. = Less anglers = more opportunity for you.
Spring Steelhead. (Feb., Mar. and April.) With higher Spring "Run-off" water levels, this brings in the balance of our Steelhead. Adding even MORE steelhead into the river. It starts to warm and we see a few more anglers out, but not as many as November. The Steelhead's appetites are on fire as they slowly drop back down the River to lake Ontario. Sight fishing is an optional treat.

Salmon River Fishing

HUMOR

.
A local Salmon River fly fishing sports shop has about 40 sign's out front stating that they DO NOT clean fish! So almost everyday they have an angler (who doesn't see there 40 sign's that say they DO NOT clean fish) walk into there shop and ask them if they clean fish. They usually say… Why, is your fish dirty?
Funniest Steelhead Fly Story I've Ever Heard!
John likes to tie his own Steelhead flies. He tied up a fly and laid it on his kitchen counter. His wife walk's into the kitchen and sees it on the counter. The only thing was, she didn't know it was a fly. It looked so reeeel that she thought it was a bug on here kitchen counter. She ran and got a fly swatter and hammered the piss out'a that fly. The moral of the story – John said that his fly was wife approved. That if she thought is was reeel, then the Steelhead would also. Next time John went steelhead fishing he caught a bunch of Steelhead on that fly! I laughed and said I'd never heard of such a thing and would share the story with all of you. Thanks John!
"Kids" Salmon River Fishing Test.
Ok, you adults can play too. Smarter than a kid? Don't feel tooooooo… bad if your not, I got them ALL wrong. 
What do we call a 1 year old Salmon?
What do we call a 1 year old Steelhead?
When I say, "special rock". What type of rock am I referring too?
What do you call a fishing guide who gives you a test, when ALL you reeeelly wanted was a fishing report? No foul language, please!
Answer's:
Jack.
Skipper.
Gravel, where they will spawn.
Salmon River Fishing Report Guide – Randy Jones with over 35 years guiding experience.

Test your Steelhead and Brown Trout Fly-Spin Fishing Knowledge.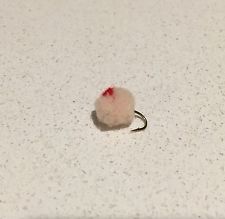 What is an Oregon Cheese Egg Fly?
Answer – You roll a piece of Oregon cheese into a ball. And place it on a hook and wing it out there. If you don't catch a Steelhead or Brown Trout on it, then you can always eat the cheese!
Actually, its called an Oregon Cheese (color) Glow Bug fly. It's a type of fly that imitates a reel egg that the Steelhead and Brown Trout like. One of the BEST flies for'm!
This Tip comes with a Money Back Guarantee! – So you owe me! The VERY BEST color glow bug fly for Steelhead and Brown Trout day in and day out. Is a cream colored glow bug.
Why are

100%

of the Steelhead Current Breaks so important to you as a Salmon River angler?
I'm glad you asked!
First off – A Current Break is a speed of water change, caused by structure or water flow.
All the steelhead in the Salmon River use Current Breaks to conserve energy and rest. Whether they are running the Salmon River, holding mid-day, holding in a pool, spawning or for Spring Steelhead dropping back down the Salmon River to Lake Ontario.
Primarily as steelhead angler's we are hunters. Our goal when steelhead fishing is to find our quarries weaknesses and then exploit them. Since all the steelhead in the Salmon River use these critically important Prime Structural – speed of water Current Breaks, then so should you for Best Results.
Prime Examples of Resting C.B.s that our Salmon River steelhead will use.
Head of the Pool.
The seams on either side of the main flow in the Pool. (A seam is where the fast water meets the slow water).
Any big boulders or large rocks in the Pool.
Deepest part of the Pool.
Tail of the Pool or Run. (If the deepest part of the Pool or Run is in the tail, then keep that spot to yourself!)
A change of the main water flow speed in the larger Salmon River Steelhead pools.
Normally
Low water – fish the head of the pool.
Medium – fish the middle of the pool.
High water – fish the tail of the pool.
—
The seam on the inside bend of the Salmon River.
Behind a shallow area that breaks the current.
Behind any big rocks or boulders that are in the Rapids creating a pocket that is in the deepest part of the Salmon River that the Steelhead use to navigate it.
Did you know that normally, all Steelhead use the current and the deepest part of the Salmon River to navigate it? It's like a road map and rarely changes. By studying this road map, it will provide you with Lots of optional steelhead fishing opportunities.
A lil 4 to 6 inch drop in the Salmon Rivers bottom.
Tree's that have fallen into the Salmon River that are creating a seam.
Today's Steelhead Current Break Test Q.
What's the #1 determining factor for how long a Steelhead will Hold on a Current Break?
It's the quality of the CB.
Other factors – Weather, bright sun or dark rainy over cast day. Time of day. A change in the water Temperature. A change in the depth and speed of water. What the Steelhead had to go thru to get there. Spawning or not.
Angler fishing pressure, which includes visual and audible noise by Steelhead anglers.
What makes many

 Steelhead, Salmon and Brown Trout

Current Breaks

challenging to understand

as a Salmon River angler?
Some CBs are only used by the fish while in a Transitional Stage while running up the River. Some for only a few seconds, minutes to all day.
Some CBs are only used for several days, an entire Month to 5-6 months.
Some CBs are only used in the Fall before the water temp. drops. Some CBs are only used during the Winter, after the water temp. has dropped.
Some CBs are only used during the Fall for Salmon, November for Brown Trout and the Spring for Steelhead.
Some CBs are only used during certain water flow levels. Low, medium and high water changes the CBs that the Salmon and Steelhead key in on and use. Our water levels are always changing and the fish change along with it and so should you for Best Results.
So our CBs are used during certain water temps., certain water flow levels, when running the Salmon River and stages of the fish's life.
Folks, what makes an Experienced Steelhead Salmon angler or a Salmon River Guide on the Salmon River?
One of the most critically important things to have is a Complete and Thorough understanding of is CBs and when and how the fish use them.
This knowledge will definitely help put YOU into the 10% of the anglers that catch 90% of the Steelhead and Salmon, here on the Salmon River.
Mike's Steelhead Fishing Report.
Hi Randy, No amount of words can express my gratitude for a very enjoyable steelhead fishing trip filled with patience and the knowledge gained of the fish and habitat. The steelhead we caught was a bonus!
Here is our Fishing Report – After our drift boat trip ended, my son and I went back to the first hole we fished with you in the morning and he landed (on his first cast) a gorgeous 32 inch male steelhead that was a nice silver/chrome. I watched in amazement as he was flawlessly doing everything you taught him during our Steelhead trip….from the cast placement, drift technique, to playing the fish into the calmer water. We fished that hole for an hour and had 5 more hook ups with 2 more steelhead landed, all of which were very bright colored. We moved to the second hole we had fished with you and played with another 3 steelhead over a 30 minute period, but didn't land them. Over the course of the day with you and by ourselves we played with a total of 16 steelhead!
You are truly in a class of your own with knowledge and patience. I am looking forward to our April Steelhead trip for my father's 75th birthday…Thanks again for everything. Mike Greer
HI Mike, Thanks very much for your kind, generous words and fishing report. I had a blast! Glad you went back to where you knew the water the best and had much Steelhead success! That's about the highest form of an unspoken compliment that any guide could ask for. We will try to leave a few steelhead in the River for your return trip here in April.
Best fish's, Randy
Salmon River Brown Trout and Steelhead Fishing Seasons.
Nov. Best – but also Year Round.
Brown Trout. They have entered the Salmon River to spawn in Nov. and will weight from 3 to 5 pounds, with some Larger!
October 20 – May 1.
Steelhead 8-15 lbs. The Fall Steelhead is without a doubt, one of the hardest fighting Fish that swims in the Salmon River. They'll take most of your line out in seconds, then jump start your heart with tail walking antics that will live in your memory forever.
Winter Steelhead Fishing on the Salmon River.
This is one of my favorite fishing times of the year. With colder temperatures the crowds disappear. Steelhead continue to come into the Salmon River from the lake. A Winter Drift Boat trip aboard our heated Drift Boat is a great way to learn the Salmon River and experience it's beauty.
The end of February, March and April are great Steelhead Fishing days as new Fish move into and out of the Salmon River on a daily basis. As the river temperatures rise, so does the aggressiveness of the Steelhead. Often, sight fishing is possible as they move into the shallows.
We can Spin or Fly Fish for Steelhead either by wading or using the Drift Boat.
I invite you to join me and enjoy what is an unquestionably one of the finest fresh water fisheries in the eastern United States.
---
Where is the

BEST

place to Fish on the Salmon River for Steelhead and Brown Trout? Enjoy my

Expert

YouTube Fishing Tutorial Video's for your Guaranteed 

BEST

fishing opportunities.
3 Basic fishing ways to locate and target Your Salmon River Steelhead.
1. When the Steelhead are running the Salmon River. Fish there "Temporary Transitional Resting Spots" as they make there way up the Salmon River. Otherwise, you are fishing to Steelhead that are not stopping, decreasing your odds greatly. Tutorial Video on Temporary Transitional Resting Spots.
2. Once the Steelhead stop running the Salmon River to hold during the middle of the day. – (From approx. 9:30am. to 5:30pm.) Fish these "Prime Transitional Holding Spots".
Tutorial Video on Prime Transitional Holding Spots.
3. Once the Steelhead have stopped running the Salmon River. And have found a spot that satisfies all their survival instincts. Fish these "Prime Holding Spots" – (Pools). Normally, the most fish and they aren't going anywhere soon. Tutorial Video on Prime Holding Spots – Pools.
---
4

Advanced

 fishing ways to locate and target Your Salmon River Steelhead.
Tutorial Video on EXPERT Fish Locating Habitat. – (These are areas I look for on the Salmon River when guiding folks like yourself.)
4. Find a spot that is a combination of all 1 thru 3. (Or, a spot that has all 3 in close proximity. So you can jump around according to what the Steelhead are telling you to do.)
5. Combine 1 thru 4 and find a spot above a looong stretch of rapids. The fish get tired after running these Salmon River rapids and will hold here for an extended period of time.
6. Include 1 thru 5 and make sure that your spot has 98% of the Steelhead in a transitional stage. Move into it. (Funnel or Pinch point in the river.)
7. My #1 Spot! Combine 1 thru 6 and pick a spot that compresses and or concentrates them. On a dime, like a sardine can, trash can lid or the size of a Volkswagen beetle or bus. This cuts down on all the guess work. And it allows to to present your offering to all the Steelhead on every drift.
8. The VERY BEST place to Steelhead fish? Is anywhere I'm not! yukyuk
By utilizing the above. You will have the most Steelhead in front of you for the greatest period of time. In a concentrated area offering you the greatest opportunity to present your offering to ALL of them. Fish ON and ON and ON! Now you know what "This Salmon River Guide" look's for normally.
Steve's Salmon and Steelhead Fishing Report and Testimonial.
Randy: Just wanted to let you know that we all had a good time Salmon and Steelhead fishing while being Guided by you off the drift boat. We learned a lot too. We went back to where we fished with you yesterday and hooked a lot of fish! I hooked a bunch of king salmon (over 10) and I landed two steelhead. One of which was 30 inches and perfectly silver! Thanks for all your help! Steve Saliga – Steve's Steelhead is as bright fresh as they get. Now you know why we call them Silver Bullets. Congrats Steve!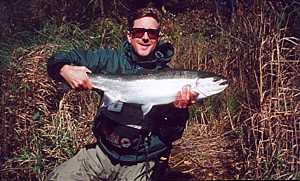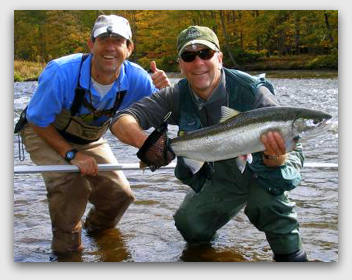 Thumbs up from this Fishing Guide with a Very Happy Salmon River Steelhead Guest.
The Steelhead fishing of your dreams……

………… we'll mak'm reeeeeeeeeeeeeel

The Salmon River, where Memories are Made!
Join me for a guided drift boat fishing trip on the World Renowned Salmon River in Pulaski NY for hard fighting Salmon or Steelhead during the splendor of our Fall, Winter and Spring seasons. Enjoy learning Advanced fishing techniques and Exact fish habitats. I always enjoy sharing my wealth of knowledge with all my guest's.
Randy Jones is a full-time professional Spin and Fly fishing guide with over 35 years of experience.
E-mail: [email protected] – Phone #315-963-2065 – Booking Form on here.
Rates:
$275 for 1 angler – Spin or Fly Fishing, Salmon or Steelhead, I supply everything but the chest waders.
$350 for 2 anglers –  Fly or Spin Fishing,  Salmon or Steelhead, I supply everything but the chest waders.
All Spin fishing equipment – All Orvis fly fishing equipment – All tackle provided. Please bring your own Lunch, Polarized Glass's and Chest Waders.
Author Biography –

Established in 1980

.

Randy Jones is the Owner, Author and Publisher of YankeeAngler.com. A Salmon River Pulaski NY based Guide Service and Marketing Agency. Specializing in Expert Salmon and Steelhead fishing – Professional sales and marketing of his vastly successful fishing guide business and local fishery – SEO and Social Media.
Distributed World Wide Books: Simon Gawesworth, Spey Casting, First and also Second Editions. Rich Murphy, Fly Fishing for Striped Bass.
Covers, feature articles and guide profiles: Saltwater Fly Fishing Magazine, Fly Fishing in Saltwater Magazine, Albany, Syracuse, Utica and N.Y. Times Newspapers, N.Y. Sportsmen, N.Y. Fishing and Hunting and Salmon River Success Magazines.
Many World Wide Internet Fishing Sites and News Feeds.
Paid featured guest speaker at numerous Sports Shows, Fresh and Saltwater fishing.
Guest speaker at most Trout Unlimited Chapters, fly tying, tackle and Orvis shops around New England and beyond.
Represented the Orvis Corporation as a guide and chief instructor of their 2 1/2 day Cape Cod Saltwater Fly fishing Schools.
(P.S. I don't discriminate. I also enjoy guiding you spin anglers too! – yukyuk)
Randy Jones 87 Clark Rd. Mexico, NY 13114 – Phone: 315-963-2065.