Salmon River Fishing Report for King Salmon and Coho Salmon from this Drift Boat Fishing Report Guide in Pulaski NY.
Steelhead, King Salmon, Coho Salmon and Brown Trout.
I hope you find my fishing report's, articles, tips and videos entertainingly informative or mildly educational.
The Salmon and Steelhead Fishing of your Dreams….   ….We'll Mak'm Reeeeeeeeeeeeel.
Largest concentrations of Salmon are presently in the Major Prime Holding Pools.
(Best bet presently, but will also be the most crowded.)
I'm seeing 20-30 Salmon rolling and or splashing in the morn'n in all the major pools. Only a small percentage (approx. 5%) of the Salmon in the pool do this, so there are always A LOT MORE in the pool then what you see on the surface.
I always enjoy seeing them splash and or roll in the hole as it gives you hope, excitement and opportunity. FISH ON – BABY!
Major Salmon Prime Holding Pools Video – https://www.youtube.com/watch?v=9GTv_FSz8mY&list=PLlWqnCjYul-QrKK15mfz7iTwkuOXGR83o&index=6
If you prefer fishing less crowded waters. Go for a walk above or below these major pools and I guarantee, you will find some Salmon.
—–
Seeing Salmon running the shallow rapids while transitioning up the river during both low-light periods. Lasting for 30 minutes, up to 1 to 3 hours. With varying #'s of Salmon each day.
Temporary Transitional Salmon Holding Video.
https://www.youtube.com/watch?v=TrEc4-cC3oA&list=PLlWqnCjYul-QrKK15mfz7iTwkuOXGR83o&index=4
——-
Mid. to up river Im noticing 1-2-3 Salmon, small to medium sized pods to 40-50 salmon holding mid-day in some of the Prime Transitional Holding spots. (where they rest mid. day)
All waiting for the next low-light period to continue their journey up river. Everyday this last week these #'s of Salmon have varied on a per spot basis's.
Prime Salmon Transitional Holding Video. 
https://www.youtube.com/watch?v=-ZuxHmiZcmg&index=5&list=PLlWqnCjYul-QrKK15mfz7iTwkuOXGR83o
——–
What we saw this week is an exact duplication on what you will find on the rest of the River.
——
For additional Video's, please see my Video Page @ https://www.yankeeangler.com/salmon-river-fishing-report/salmon-river-fishing-videos/
Or my YouTube Page @ https://www.youtube.com/channel/UClgsjJbH_nloBgp7eIWrwyg
---
Fresh Run's of King and Coho Salmon continue to Enter the Salmon River this Last Week.
Over all – The Bulk of Salmon have been entering the River during the evening low-light Rush Hour. With some entering during the Morning low-light Rush Hour. Over all – Trickle, ok, Good to REEEEEEL GOOD #s.
Often at this time of the year, you will find more entering during the Evenings Low-light period. Why? Im glad you asked!
If you were to cross a street with VERY heavy traffic. Would you be more cautious? Same with the fish.
In the am. in the Estuary, you will find an increase off boats fishing. Putting the fish on edge and causing them to not feel all that comfortable to enter the river.
Throw in the anglers standing where the fish first enter the River in the am., Causing the same effect.
Evening time there will be less boats in the Estuary and less anglers standing at the mouth of the river. Making the Salmon feel more comfortable to enter and run the river.
With the above being said. Once the Salmon's Biological Clock Demands that they run the river to enter into the next stage of their life. None of the above matters.
Aren't you glad to asked?
---
Latest

on Your Steelhead and Brown Trout.
We are seeing a few more caught here and there. Still early, but you never know. These #'s of Steelhead and Brown Trout will increase as the month proceeds. I switch over from Salmon to Steelhead starting the last week of Oct. I still have openings for you. 🙂
---
Why do Salmon and Steelhead Roll in the Hole?
What's reeeelly funny. Ask 100 people up here that Q and I bet you will get a 100 different answers. jus say'n 😉
No one knows for sure, not even fish biologist's. I've heard there has never been a study done. 1 fish biologist says he thinks the females roll to loosen there skein as there body is going thru a change as the eggs develop. Same with the Males. Ever stretch in the morning after a sound sleep?
Another seasoned expert salmon angler says, they are jus looking around. While another say's these are fish on the move.
I say, they are just happy fish and checking out the Fall Foliage. :)
Who knows for sure…. but, what it does tell you is you have a presence of fish. Which all anglers are happy to see and gives you an indication on where you might try fishing.
Another critical thing that most anglers dont realize (because they dont know there habitat or cant see the bottom) is that normally there is a current break they are sitting on or below these rolling fish. Could be a seam, depression, tail of a hole, change in water speed or big boulder, etc….
Regardless, it pays to remember where these rolling fish are at so in future trips, even if they are not rolling, you will know there is a current change or structural change in the river bottom that holds fish that you should target.
In closing – Why do fish roll? Who really cares. But, what you should care about is they are plainly showing you where to target. I use them as an indicator.
There is a structural or current change (current break) in the rivers bottom that they use to hold whether in a transitional holding state or prime holding lye – (Pool).
By paying close attention to mother natures signature clues, you'll be on your way to FISH ON!!
---
"Repeat" Client Recent Fishing Report:
Hi Randy. It was a really good day on the river…I landed 2 Kings and played with 11 others. I fished the afternoon only and had steady action from 1 pm until I left at 5:30pm (my arms got sore from trying to land freight trains). Going back in the morning for an all day trip. I saw over 40 salmon in the spot I was at….not sure about other places, but only 1 other guy and me were hooking up constantly while others got nothing. I attribute that to what you taught me on the guided trips in the past. Best fishes, Mike Greer
Randy, That big pod of Kings moved Sat. so I fished another spot today and landed a Coho and 2 Browns. Mike Greer Thanks for the Report's and Congrats Mike!

Today's Video is on Foundational and

ADVANCED Fish Locations

for locating and targeting the most fish on your trip up here.
This is one of my favorites and its critically important for your fishing interest's!
You'll normally only get this type of advanced fishing info. by paying a guide for it. So this one is on the house! – You guys owe me BIG TIME for this BOULDER! – How about remembering me when you want to hire a guide up here or your referring some friends for a guide here?
By the way, These tips comes with a money back guarantee! – Please SHARE and Subscribe.
By utilizing everything in my video, you will have the most fish in front of you for the greatest period of time in a concentrated area offering you the greatest opportunity to present your offering to ALL of them. Fish ON and ON and ON! – Baby!!
Now you know what I look for when guiding folks like yourself.
Other areas to fish are covered more thoroughly towards the bottom of this Blog in. – Where is the BEST place to Fish on the Salmon River for Salmon, Steelhead and Brown Trout?

Celebrity Sighting on the Salmon River this week.
Dave Marciano from the TV Show Wicked Tuna. The below pic. was taken last steelhead season when he was up.



BIG SALMON RUN! I made this Video for you. It explains what helps and encourages the Salmon to make a BIG RUN! – (Might help you plan your trip?) 
(Salmon River NY fishing report).

Salmon River Day Three: Salmon and The Steelhead.
A friend of mine, Ed, joined me for a day of fishing. We we're on the river at dawn. The nice thing about this spot is that it is almost exclusively accessible from one side of the river. You can cross the river and there's a path on the other side, but it's hard to fish this spot from there. So it's scenic, you're just watching the river and the woods on the far side.
And on this day, the river in front of us looked like a salmon parade route. Fish after fish after fish, leaping and splashing their way up stream. Huge, grey, heavy Kings. Dark red, acrobatic Cohos. Some jumping along the far bank, some so close you get wet from the splash. Even a few in the shallow water behind us. A truly memorable spectacle. As I'm watching the salmonid fireworks, I look over and notice Ed's still tying a fly on, messing with weights, etc., and I've already been fishing for ten minutes. Just as I'm about to give him grief about that, he drops his line in the water to strip out some fly line, and sure enough he gets a fish. One cast. Truthfully, I don't think this fish knew he was hooked, he just muscled his way upstream, slow and steady. Fly line. Backing. The fish eventually broke off, but I was psyched Ed got to feel the strength of a big fish so early.
But the fishing slowed down and people started to clear out, leaving a really nice stretch of river to just a handful of anglers. I moved downstream to the end of the big, quiet pool we spent the morning, and started fishing some riffles. Standard stuff, a pair of salmon visible in the current. Smaller, lighter female, larger, darker male. Throw the fly upstream and drift it to them. No takers? let it drift out, you never know when a brown or steelhead might be hanging behind the salmon, waiting for a meal of eggs.
Sometimes when a salmon takes your fly, you think it's a snag. They're so heavy and can be quite still, you just tug until you feel it move, then the game is on. But when I drifted this fly past those salmon and hooked something behind them, it was instantly, most certainly, NOT a salmon. This was a steelhead, and a beauty. Ed and I both got several good looks at her as she, lightning fast, shot towards me into shallow water, then back across the river, always in different angles but always at the same velocity: Full. Every glimpse I got filled me with the feeling that I was truly privileged to be connected to such a cool and beautiful fish. I really, REALLY, wanted this one, and said so.
But it was not to be. I was ill equipped to land it. I didn't have the skill, and we didn't have a net. My heart was still racing as I reeled in the empty line, and when I pulled some fly line back out to re-rig it, I realized I had made a critical mistake that I will never make again. The drag was still set very high from a previous salmon fight. Slow and steady, you can use a good amount of drag in that situation. But the steelhead was super fast and athletic, and I needed to give her more line faster. Too much pressure, and the tippet broke. All of the sudden, those seminars at the fly fishing shows with names like "Playing and Landing Big Fish" are sounding pretty good to me. This was not a trophy fish, maybe 24″, maybe a bit more. Maybe eight pounds, maybe ten. But it would have been my favorite by far, and I vow to be better prepared next time I encounter a fish that special.
Next time, I'll have better skills. And a net.
Credit – http://flyfishin.blogspot.com/2006/10/salmon-river-day-three-steelhead.html
---
Salmon River Drift Boat Ramblings:
As I floated by several anglers in the drift boat last week, they kiddingly ribbed me for not posting a more current fishing report. We laughed! I'll normally do 1 update a week now, instead of once a day, since I'm guiding almost daily.
All the anglers I said HI to on the river this past week as I float by them in the drift boat were all smiles and having fun.
---
Fishing Report Mail Bag:
Hey Randy , thanks for the insight and update. It's a sat mid morning during peak season and your not fishing? Strange
Yup, I'm very fortunate to be running a very busy – profitable guide biz. for over 30 years. When your new, its easiest to work and or book all weekends, holidays and peek times.
When your an old fart like me (and some of you – yukyuk), you can work when you want too, not because you have too.
I'm lucky to not have to work during these peek times and enjoy working all my M-F's all season and helping 4-5 local referal guides out with my massive over flow of trips.
Plus, like you, we all need a day off now and again, so why not take them during the busiest day's on the river and only guide your guest's when there are the least # of anglers fishing, offering them greater opportunity. Not bragging, but…… 😉 Best Fish's, Randy
---
Client Fishing Testimonial:
Randy, Thanks for another great fishing outing. I appreciate your extensive knowledge and experience that you so willingly share. It was a great day and netting and releasing a BIG 30 lb. beautiful King Salmon was the icing on the cake! Looking forward to fishing with you in November. Bill Newton.
Thanks for your kind and generous words Bill! Ill see you in Nov. for our Steelhead trip.

ENJOY a fast forward and fun guide drift boat trip down the Salmon River in Pulaski NY. Covering 4 miles in 4 minutes during the Splendor of our Winter and Fall Salmon and Steelhead fishing seasons. CHECK OUT the World Record Steelhead we caught that day @ end of Salmon River drift boat video! 😉
(Salmon River NY fishing report).

With a Few Steelhead and Brown Trout around. Its a good time to try for a Grand Slam!
(Grand Slam = All by yourself in a single day. You land a Brown Trout, Steelhead, Coho Salmon and King Salmon). 
Not easy to do, but FUN Salmon River fishing to try!
Sorry, your WORLD RECORD TROPHY Suckers and Dace don't count. 😉
Latest on our Steelhead and Brown Trout.
We have a few Steelhead and Brown Trout here and there being caught. Nothing to get excited about this early. But you never know.
Shane Muckey who runs a lodge in Altmar and also runs a fish fillet station reported. – Already cleaning steelhead, and with stockings numbers up for salmon river 3 years ago, and more guys targeting salmon on the lake this past summer, expect a very good October threw December steelhead run, mostly cookies probably 4-7lb fish, but they should be plentiful.
Once again, the Capt's on the Lake are reporting decent #'s. Better than the last 2 summers. Should see mostly 6 to 10 lb. Steelhead in the river this season. From the big stocking they did a few years back. Fingers crossed! 🙂
Lots of Steelhead Open Dates presently – Starting the Last Week of Oct. thru the Winter into April.
When is the

BEST

time to fish for Steelhead?
Mid-week is always best, but not on or around a holiday).
There really isn't any BEST for Steelhead, its all angler personal preference.
I start guiding for them at the end of Oct. Which usually means less anglers and normally less fish. Later in Nov. it means more anglers and more fish, so it all sort'a even out's.
In Nov. we start to see more Steelhead and more anglers. It's the busiest angler Mo.. Temps. aren't to cold yet and its also when the steelhead fight the hardest. With speeding bullet runs, tail walks and somersaults.
In Dec. we start to see even more Steelhead and less anglers. Most folks are doing business and family holiday stuff. And its a lil colder = Less anglers = more opportunity for you.
The middle of the Winter can be magical with only the most die hard steelhead anglers out. During these colder Mo's. = Less anglers = more opportunity for you.
Spring Steelhead (Mar. and April) it starts to warm and we see a few more anglers out. But not as many as Nov. The Steelhead's appetites are on fire as they slowly drop back down the river to lake Ontario. Sight fishing is an optional treat.
(Salmon River NY fishing report).

Where is the

BEST

place to Fish on the Salmon River for Salmon, Steelhead and Brown Trout? Enjoy my

Expert

YouTube Fishing Tutorial Video's for your Guaranteed 

BEST

fishing opportunities.
3 Basic fishing ways to locate and target Your Salmon River Salmon and Steelhead.
1. When the Salmon and steelhead are running the Salmon River. Fish there "Temporary Transitional Resting Spots" as they make there way up the Salmon River. Otherwise, you are fishing to Salmon or Steelhead that are not stopping, decreasing your odds greatly. Tutorial Video on Temporary Transitional Resting Spots.
2. Once the Steelhead or Salmon stop running the Salmon River to hold during the middle of the day. – (From approx. 9:30am. to 5:30pm.) Fish these "Prime Transitional Holding Spots".
Tutorial Video on Prime Transitional Holding Spots.
3. Once the Salmon or steelhead have stopped running the Salmon River. And have found a spot that satisfies all their survival instincts. Fish these "Prime Holding Spots" – (Pools). Normally, the most fish and they aren't going anywhere soon. Tutorial Video on Prime Holding Spots – Pools.
4

Advanced

 fishing ways to locate and target Your Salmon River Salmon and Steelhead.
Tutorial Video on EXPERT Fish Locating Habitat. – (These are areas I look for on the Salmon River when guiding folks like yourself.)
4. Find a spot that is a combination of all 1 thru 3. (Or, a spot that has all 3 in close proximity. So you can jump around according to what the Salmon or Steelhead are telling you to do.)
5. Combine 1 thru 4 and find a spot above a looong stretch of rapids. The fish get tired after running these Salmon River rapids and will hold here for an extended period of time.
6. Include 1 thru 5 and make sure that your spot has 98% of the Salmon or Steelhead in a transitional stage. Move into it. (Funnel or Pinch point in the river.)
7. My #1 Spot! Combine 1 thru 6 and pick a spot that compresses and or concentrates them. On a dime, like a sardine can, trash can lid or the size of a Volkswagen beetle or bus. This cuts down on all the guess work. And it allows to to present your offering to all the Steelhead and Salmon on every drift.
8. The VERY BEST place to Salmon or Steelhead fish? Is anywhere I'm not! yukyuk
By utilizing the above. You will have the most Steelhead or Salmon in front of you for the greatest period of time. In a concentrated area offering you the greatest opportunity to present your offering to ALL of them. Fish ON and ON and ON! Now you know what "This Salmon River Fishing Guide" look's for normally.

Fishing Report Testimonial: 
Randy, You Rock!! Your writings resonate with so many. The humor, the professional P.O.V. and experience you share is invaluable. Hope to secure a spot with you soon. Jim
Thanks for your many kind and generous words Jim! Randy
Looking for a place to Stay in Pulaski NY?
Pulaski Condo Lodging Avaiable from Sept 15 thru Nov. 15. for Anglers.
Fully Furnished, 200 yards from the Ball Park, sleeps 4.
Phone – Laurdon Heights 315-450-4800.
(Salmon River NY fishing report).
Randy Jones the Yankee Angler.
35+years of Pro. Fishing Guide Experience.
Author and Publisher-Salmon River NY Fishing Report.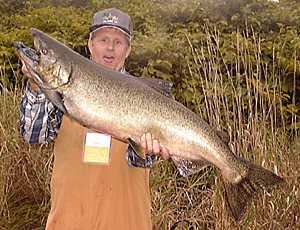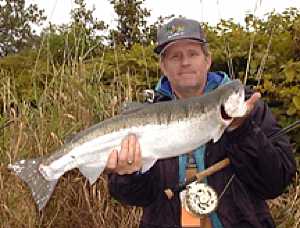 Guest Testimonial.
Randy, it was amazing how effective our group was. I did not see anyone even come close to the amount of fish we handled and, in many cases, landed. Thanks for your patience and consistent sharing of techniques. Bottom line; best guide, best location, best dates, best gear,—big fish! See you next year if not before in Pulaski NY. Thanks! Clint Woods
Clint lands a beauty King Salmon of approx. 30 lb's. Steelhead too! Congrats!

Thumbs up from this Fishing Guide with a Very Happy Salmon River Steelhead Guest.
The Steelhead and Salmon fishing of your dreams……

………… we'll mak'm reeeeeeeeeeeeeel

The Salmon River, where Memories are Made!
Join me for a guided drift boat fishing trip on the World Renowned Salmon River in Pulaski NY for hard fighting Salmon or Steelhead during the splendor of our Fall, Winter and Spring seasons. Enjoy learning Advanced fishing techniques and Exact fish habitats. I always enjoy sharing my wealth of knowledge with all my guest's.
Randy Jones is a full-time professional Spin and Fly fishing guide with over 35 years of experience.
E-mail: randysjones@earthlink.net – Phone #315-963-2065 – Booking Form on here.
Rates:
$275 for 1 angler – Spin or Fly Fishing, Salmon or Steelhead, I supply everything but the chest waders.
$350 for 2 anglers –  Fly or Spin Fishing,  Salmon or Steelhead, I supply everything but the chest waders.
All Spin fishing equipment – All Orvis fly fishing equipment – All tackle provided. Please bring your own Lunch, Polarized Glass's and Chest Waders.