Salmon River Fishing Report for Steelhead from this Drift Boat Guide in Pulaski NY. By Randy Jones The Yankee Angler w/35 yrs. Pro. fishing Guide EXP.
Enjoy my Salmon River fishing report from Pulaski NY for Steelhead, King Salmon, Coho Salmon and Brown Trout. With Current Steelhead Fishing Conditions, Local fishing News, Fishing Videos, Fishing Articles and Tips. For Salmon River Steelhead Float fishing, spin fishing and fly fishing Pulaski NY.
I hope you find my Salmon River Steelhead fishing report from Pulaski NY entertainingly informative.
The Steelhead and Salmon Fishing of your Dreams….   ….We'll Mak'm Reeeeel. Best fish's, Randy.
I'm happy to report, now is one of the Best Times for Salmon River steelhead fishing in Pulaski NY.
We are seeing MORE Fresh Steelhead enter and run the Salmon River for your December Steelhead fishing pleasures in Pulaski NY!
———–edit?———————–The Salmon River Water Temp. is approx. 38 – 40 degrees so your Prime Winter Holding Steelhead Habitats are producing Best.
Today's Salmon River Steelhead Tip. – I've been using beads, egg sacks and aquatic insect and egg fly imitations all dead drifted to match the middle to bottom current speed. So it will look natural to the steelhead. Combined with perfect presentations and rigging according to the education level of the fish.
2nd Salmon River Steelhead fishing report Tip. – All of my Steelhead have come from different Exact as fitting a key into a Lock Spots. Using Daily Water Temperature, Daily Water Flow levels while Combining these to decipher what Current Breaks the steelhead would be 100% using for each individual day.
———edit?—————–3rd Salmon River Steelhead Tip. – Approx. % of Steelhead in all 3 Prime and Unique Habitats.
70% Prime Winter holding habitats.
20% Prime Fall holding habitats.
10% in Transition running the Salmon River.
—————edit?————– Winter Salmon River NY Steelhead fishing report Tip –

To help you catch MORE! – 

Cold Water (below 42 degrees).
Most of the Steelhead will be in the Pools, Larger Runs and Channels.
1 – Steelhead want. Deep water for safety from predators.
2 – A food source.
3 – Less current to conserve their energy.
(You can find our Salmon River NY Steelhead fishing mapped named pools, parking and access roads. By doing a search on the internet or most of the Local Salmon River Shops up here have them).
For MORE – Salmon River Steelhead and Salmon Fishing Pulaski NY.
---
What's the #1 question I'm asked by Booking steelhead anglers for my Salmon River Guide drift boat fishing service in Pulaski NY?
Randy, When is the BEST time to fish for Salmon River Steelhead.
If I have to pick one of my favorite times to Steelhead fish the Salmon River it would be December.
In Dec. we see even more Steelhead that have come into the Salmon River in Pulaski NY from Lake Ontario.
Most folks are doing business and family holiday stuff and With colder temperatures the crowds disappear = Less anglers – Less drift boat guides = more opportunity for you! (I'll bring the BIG drift boat Heater for you!)
EDIT THIS SECTION
Open Dates to Take you Steelhead Fishing. – Nov. – 5, 9-10, 12, 24, 30. Dec. – 2, 7, 9, 11, 16, 18.
Randy Jones is a Pro. fishing guide w/35 yrs. EXP.
Salmon River Steelhead Guide Drift Boat Rates for 1 person $300. Rates for 2 people $400.
Included in Guide Rates – All Salmon River Steelhead Spin and Fly fishing equipment, gear and tackle.
(2 person Max. on boat. Steelhead Trips are 8 hours from the time we meet).
BOOK Your Steelhead Fishing Trip – With Additional Steelhead Booking Info.
Email: [email protected]
Phone: 1-315-963-2065 CLICK TO CALL.
Randy Jones, 87 Clark Rd., Mexico, NY 13114.
SALMON RIVER FISHING REPORTS
Today's Salmon River Steelhead Tip's.
Look for a current break that is effecting your spot. Could be a seem (where the fast water meets the slow water), that will hold Steelhead in a hole. Or a shallow spot that creates your current break, causing the Steelhead to sit below it. A BIG boulder in the current will often have Steelhead below it. The change in water speed can be as simple as where the Salmon River water goes from fast to slow in a pool.
Another option is to fish where they rest temporarily while running the Salmon River. Like Prime pockets in the rapids. Many times these are over looked by the Salmon River wade angler, providing you with incredible Steelhead fishing action.
Or fish where they stop to rest mid-day, while running the Salmon River.
Another great Steelhead fishing option would be to fish over and below any gravel areas where their could be Brown Trout spawning and dropping eggs for your steelhead to eat. A great Salmon River Steelhead fishing location can often be below the gravel where their is a hole, where the steelhead will hold.
Where is the #1 Best Steelhead Spot to Fish? It's anywhere I'm not. yuk-yuk.
The above areas to steelhead fish are covered more thoroughly towards the bottom of this Blog in my EXPERT and ADVANCED Tutorial Video's @ Where is the BEST place to Fish on the Salmon River for Steelhead and Brown Trout?
---
Whats the difference between a fresh Steelhead and one that's been in the Salmon River for over 2 weeks?


Its the color.
Dime bright silver would be a steelhead that has just entered the Salmon River or has just made it to your spot recently. If the Steelhead's color is more of a silver grey, then its been in the Salmon River for at least 2 weeks or more.
---
Gift certificates are available for Trips.
Good for 1 – 2 people, complimentary day of fishing, Spin or Fly.
Pick up a great fishing gift certificate for your fishing friend or fishing loved one (s).
https://www.yankeeangler.com/gift-certificates/
You work hard so you deserve it right? Maybe a nice subtle hint to your loved one will plant the seed.

Enjoy my

Fun Fishing Stories,

"Expert" Fish Fighting Article

and

BONUS

Steelhead Fishing Report's.
This Salmon River Steelhead trip was

AMAZING

with 14 Steelhead fought off the Guide drift boat in Pulaski NY.
Credit – Expert fly rod angler Dr. Ron who has been out with me numerous times over these last 20 years.
We launched the drift boat, with a few early bank anglers head lamps shinning about. We floated down the Salmon River in the early morning crisp darkness with light snow flurries accompanying us. Anchoring the drift boat on a Dime, in what I knew – hoped? would be a hot spot, combined with a possible (probable?) record setting Steelhead day for this season.
After going over why this was Prime Steelhead Habitat, Rigging and most importantly Presentation, it was time to see if I was to be a Salmon River guide Hero or a Zero?
The answer came quickly on Ron's first drift with a somewhat surprised – FISH ON! We both looked at each other with a chuckle and a grin.
Ron continued to work our Window of Opportunity – Cover our water, 3 feet at a time. Working his way to the Exact as fitting a key into a lock HOT spot. FISH ON and ON and on and on and on. Approx. 6 Steelhead came from this one spot without moving the guide drift boat an inch.
Since we had just hit 6 Steelhead, I suggested we re-work the same water methodically all over again. Ron was rewarded with 1 more steelhead from this spot. After a short lull, I let out 5 feet of anchor rope from the drift boat so we could fish the bottom 1/2 of this Silver Metal Missile Magnet Hot Spot. Did it Work?
Ron's first drift in tight was Fish On with a couple more coming from this spot. Hit a short lull, so I re-anchored 15 feet further down river. I told Ron that normally every time I move the boat, the rest of these spots will give up 2-3 Steelhead. Was I right?
Ron's first drift came up empty? But the following 2nd and 6th drift came with some leaping Chrome and Silver bullet runs! Hit a lull and re-anchored 15 feet further down river. Worked it good with nothing to show for our efforts.
Time for a new spot!
Anchored the drift boat on a dime in some new Prime Steelhead Habitat and on Ron's 1st cast and 10th cast, he was once again rewarded with Fish On.
Guess we just got lucky?
We fished this spot for another 1/2 hour with no results, which surprised me. Guess Steelhead fishing is like a box of chocolates sometimes, never know what your gonna get.
Ron hit a total of 14 Steelhead for the day, setting this seasons record (so far).
Whats Ron's RECORD Steelhead day after being guided by me for over 20 years? 23 Steelhead played with off the drift boat and we didn't move more than 25 feet all day.
Disclaimer – The above Steelhead #'s are Highlight's, not the norm, but you never "box of chocolate" know.

Fly Fishing for Steelhead and Coho Salmon on the Salmon River.
One memorable Salmon River day was shared with Derick and Sally from Aspen, Colorado. Derrick's passion is fly fishing the incredible waters that the West has to offer. Mostly trout measured in inch's. Sally has wet a line on several occasions, but never for Coho Salmon or Steelhead.
Derick had one of the best acrobatic Steelhead on in a while. It was 100 Yds. into that orange stringy stuff (backing) in a blink of an eye. Low in the Salmon River hole, before the Steelhead decided to do a little dance for us all. Jumps, somersaults, 15-ft. tail walks, topped the show before giving us an encore performance with some more speeding bullet torpedo runs across the Salmon River.
I don't think I have ever seen a smile that big!
Sally was the only woman in the pool when the tip of her fly rod started pulsating up and down as if attached to a ball bouncing down the street. Sally yelled, "I think I've got one?" All the men in the pool politely reeled up and watched. As I think they all knew this could be one of the better Salmon River shows of the day. Every guy in the pool gave out a cheer of encouragement! 
Finally at her feet laid a handsome 15 lb. Male Coho Salmon, bright with spawning colors aglow.

Jud and his girlfriend Theresa had a few Salmon River Steelhead fishing goals for today.
1. An introduction to the Salmon River in Pulaski NY.
2. Have some fishing fun.
3. Stay warm on the drift boat.
4. Learn the basics of fishing for Steelhead. This was Theresa's first time ever fishing in her entire life!
5. Catch some Steelhead.
Did we succeeded on all of the above goals?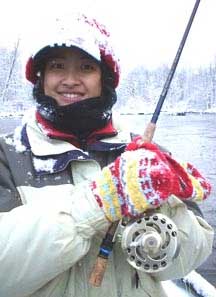 Theresa with a (lake effect) snow covered hat and a great smile, while fishing the Salmon River.
Theresa's first question was, Randy, how will I know when I get a Steelhead on? Jud and myself both said in unison, you'll know.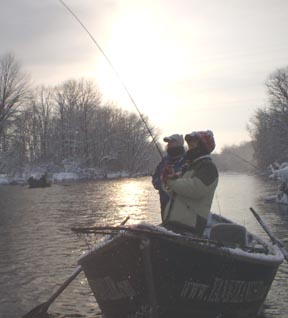 Shortly there after she was tight to her first fish – Steelhead EVER!
She yelled WOW! – Oh SH-T! – What is happening! – What do I do!
As the drag started to scream The Fisherman's National Anthem. And her Steelhead made an
Incredible, Heart Stopping, Adrenaline Rush, Bullet Run!
She did a great job of fighting the fish,
BUT did she land it?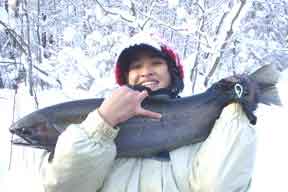 WOW! A 16 lb. Salmon River Steelhead!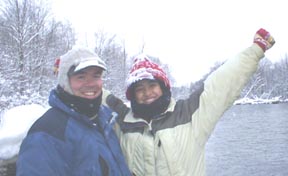 Theresa yells out VICTORY!!
Throwing her arms in the air to make a cheerleader V. Her boyfriend Jud was tickled pink and very proud of her Steelhead fishing success. I think Jud has found a new Steelhead fishing buddy.
Jud mumbles under his breath,

beginner's luck

. 
Today's tally – We hit Steelhead in 1 out of 3 spots, playing with 5. Another memorable day of many.
"On the Salmon River, Where memories are made."

Expert

 

Fish Fighting Techniques for your Salmon River Steelhead.

 These may surprise you!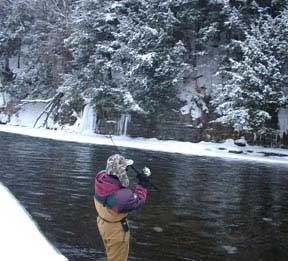 The first thing I did upon hooking up was to immediately get even or below the Steelhead. This tires the Steelhead out sooner by knocking it off balance, and causing it to work harder to stay upright. It also vastly cuts down on the length of the fight. So its better for you and the fish!
I see 90% of the angler's on the Salmon River never really load their rod properly, when fighting a Steelhead. Most angler's only pull back 1/4 to 1/2 way back. In this photo I am about 1/2 of the way back with the rod. Before I stop pulling back, the rod is pointed directly behind me. With the rod horizontal and next to my ear. The butt (very bottom) of the rod is pointed at the far bank. It's Salmon River Steelhead hammer time!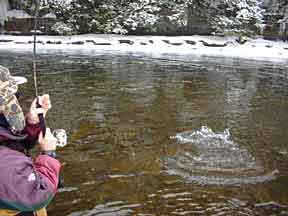 This is an example on how many Steelhead are lost with the rod tip up.
Notice the splash?
Miss Steelhead did not like it when I pulled her head out of the water.
Many fish are lost-broken off at this point.
When fighting your Salmon River Steelhead. Try holding your rod upside down with rod tip in the water or just above it. (Example – next pic.)
The Steelhead will normally, slowly and quietly come in without much fuss. By keeping it's head under the water the Steelhead feel's much more comfortable and tends not to freak out. This at times can also be used as a stalling tactic. You will notice some of the more experienced Salmon River anglers inverting their fishing rod shortly after the hook up. This greatly increases the odds for your Steelhead to remain in the hole-pool and not speed off down the Salmon River. It also helps by controlling the fish's attitude by keeping your Steelhead from thrashing around and breaking off.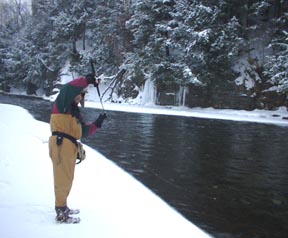 The funniest thing about this Salmon River fish picture and the above photo was as I was playing the Steelhead.
Anytime I had my rod tip up, I lost total control over the Steelhead. It pretty much went anywhere it wanted to. This Steelhead had a VERY negative reaction to me pulling its head out of the water. It also took much longer to tire it out. But, as soon as I put the tip low (down and dirty) or in the water. The Steelhead came straight in at me, with in reason while keeping its head sub-surface. This lower rod position combined with standing below your Steelhead. Will put approx. 3 times more pressure on the fish when it is within 60 feet or so. Tiring it out sooner and gaining much more control over your Salmon River Steelhead.
If you listen to your Steelhead, it will pretty much tell you at what angle to hold your rod. When the fish is on the other side of the river, I always hold my tip high. If I held it low then the full amount of the Salmon Rrivers current, would put an awful lot of additional pressure on my line and leader – tippet as it bow's. Many times resulting in breaking the Steelhead off. If my Steelhead is approx. from the middle of the Salmon River towards me. Then I always hold my rod tip just off the surface of the water down low or IN the water. (Providing I don't have any real fast currents or snags.)
In Closing:

When Reeling in your Steelhead with your Rod Tip Up. There are 2 things wrong with this sentence.
#1. I will always hold my rod upside down with the tip in the water when bringing in a steelhead. Steelhead don't breath air and with your tip up. The Steelhead feel's as if your trying to pull it's head out of the water. (which you are.) This creates a havoc, wrecking ball of nerves that many times ends with Fish Off. I breathe air. So if you put my head under the water you can be assured I would not be happy. (Same with the fish.) By holding your rod upside down with the rod tip in the water or just above it. Your Steelhead will normally slowly and quietly (within reason) come in without much fuss.
#2 Whenever targeting large species of fish the rod becomes a flexible lever. We never reel the fish in; we PULL the fish in. The reel is only used to recover slack line. Pull with rod tip low, reel-down. Now combine #1 with #2 and by George, you've got it!
I hope you found my Article entertainingly informative or mildly educational.
This knowledge will definitely help put YOU into the 10% of the anglers that catch 90% of the fish, here on the Salmon River.
Thanks for stopping in, Salmon River Fishing Report Guide, Randy Jones.

Complementary Steelhead stalling tactic tip's.
80% of the time these Steelhead fish fighting techniques and stalling tactics will help. So don't blame me if you hit the 20%!
Throwing your Salmon River Steelhead Slack:
We all love to see the somersaults, jumps, tail walks and torpedo runs the Salmon River Steelhead make. But, 50% of the time that show ends with no curtain call or encore performance of a landed Steelhead. I prefer, after hooking-up. If the steelhead decides to show its colors and race down the Salmon River where I can't follow. To throw it slack. (Pull line fast off the fly reel or open your spinning bail A.S.A.P.)
If hook set is good, the Steelhead won't throw it and the fish will normally quite down. The action your Steelhead takes is due to the pressure it feel's. So by releasing the pressure on your Steelhead, it no longer feel's threatened and will tend to stop on a dime. This allows you to regroup and take control. Throwing it slack is also a great way to stop it's screaming run down the Salmon River into snags or deep water. (where you can't go) Or at least slow your Steelhead down so you can catch up.
Another effect that throwing it slack has is from where you are standing. Your line (down stream) will form a bow in the water's current back to the fish. The Steelhead will feel the pressure of the current against your bow'd line. And feel as if it is being pulled down the Salmon River. This normally results in your Steelhead slowly swimming back up the River. To where you had initially hooked it up. (These "happy fish" really do not want to leave that prime lye where you had hooked it up.) Then simply reel up your slack line and you'll be surprised, when at times, your Steelhead will be back. Almost at your feet!
Walking the Dog.
Here's another technique that has worked for me. If I'm working a piece of fast, deep water that is not easily waded. Upon hooking-up, I immediately lighten up and only bend the tip of the rod slightly. Remember what I said earlier about pressure? With only a slight bend in the rod tip, the fish feels little to no pressure and maintains its position in the river. I then slowly move to a safer area and believe it or not, normally it will follow. Once I'm in a safe position, I give it to'em. It's Miller Time!
Best Fish's, Salmon River Fishing Report Guide, Randy Jones.

What's the Forecast

for this

 Steelhead Season? I'm glad you asked!
Good #'s in Lake Ontario this Summer!
They easily met their egg quota last Spring at the Salmon River Altmar fish hatchery with an over abundance of returning Steelhead.
Last Steelhead Season (Nov. thru April) the fishing was over-all pretty good, by most standards.
We didn't see a bunch of dying steelhead daily, like we all did a few years ago. We saw very normal #'s of 0, 1 or 2 per day on the Salmon River.
The DEC has been working hard for the last few years to try to correct the Vitamin B deficiency that the steelhead get from eating all those alewives in Lake Ontario.
Seems to be working!
In Closing: My Crystal Ball says it will be a Good Steelhead Season. Aren't you glad you asked?
When is the

BEST

time to fish for Salmon River

Steelhead?
Mid-week is always best, but not on or around a holiday.
There really isn't any BEST for Steelhead, as we always have them in the Salmon River from Oct. thru May. Its all angler personal preference.
In Dec. we see even MORE Steelhead and less Salmon River anglers. Most folks are doing business and family holiday stuff.
And its a lil colder = Less anglers = more opportunity for you.
The middle of the Winter can be magical with only the most die hard Salmon River Steelhead anglers out.
During these colder Mo's. = Less anglers = more opportunity for you.
Spring Steelhead. (Feb., Mar. and April.) With higher Spring "Run-off" water levels, this brings in the balance of our Steelhead. Adding even MORE steelhead into the river. It starts to warm and we see a few more anglers out, but not as many as November. The Steelhead's appetites are on fire as they slowly drop back down the Salmon River to lake Ontario. Sight fishing is an optional treat.
Past Salmon River Fishing Reports

BONUS

Steelhead Content from Pulaski NY. (Late Nov. thru Dec.)
Please note – The year this was written the water temperature was above 43 degrees until Nov. 26, when it dropped below 43 degrees. Moving the steelhead from their Fall spots to their Winter spots.
Salmon River Fishing Report – Steelhead – Nov. 23.
Ron and his Brother Dave are very Experienced. 7 steelhead, fished 2 Salmon River spots, 2 in the first spot and finished strong with 5 in last spot. It was interesting how we fished 2 entirely different habitats (current breaks) that were right next to each other and are effected positively or negatively by water temp. Which helped explain to us where the highest concentrations of steelhead would be at, presently. We were 100% on hitting Steelhead in each Salmon River spot today! Ye-Haa!
Today's Steelhead Fishing Tip. –  Look for more fish to transition from Fall to Winter habitats as the water temp's drop. Spreading them out, putting 1/2 the fish in Fall Habitats and the other 1/2 in Winter habitats. Just like one year when the Salmon River's water temp. hovered around 43 degrees for an approx. 1 month period. We continue to have a number of steelhead in a Transitional stage (running the river), so their middle of the day resting spots will continue to produce. Best Steelhead fish's, Salmon River fishing report Guide Randy Jones.
Salmon River Fishing Report – Steelhead – Nov. 24. 
Ron and his Brother Dave from yesterday, joined me for another "Day for Kings!" We fished a secluded spot that allowed my friends to play with 8 steelhead. We would work this area, covering ONLY the most productive Prime part or parts. And then we would move the drift boat down the Salmon River 30 feet and re-work the next part of this productive steelhead hold'n location. Then we would move back up and repeat this entire sequence. Worked like a charm as there were steelhead holding thru out and every time we moved, we would tangle with some more! Ye-Haa! Had to work for'm, most came easy, but only by covering our water thoroughly and with perfect presentations by my friends.
Next spot fish's great in 750 cfs, but not 350 cfs. First time fishing it this season with this new and exciting 750 cfs flow. Figured there should be a at least 1 or 2 (maybe more) in this Salmon River spot. We hit it fast and hard as we were only looking for some McDonald's fish, fast and easy. Dave found 1 hard fighting Chromer right off the bat! Last spot of the day we fished for a very short time and didn't find any steelhead.
Found 9 total for the day! Ye-Haa! Guess we jus got lucky! Ron and Dave's Testimonial. Randy, Was great fishing buddy!! We both had a good time. Want to keep this going on a yearly basis. Want to book April 12th, Oct 4 and 5th, Nov 15 and 16th. Please let me know if I can have these Salmon River dates!! Ron Hi Ron, I'm sorry, but all your preferred dates are already booked. Ill send you the few I still have open. Thanks for your kind words! I had a blast! Randy. Stop back tomorrow for more Salmon River Steelhead Fishing Report's.
Salmon River Fishing Report – Nov. 25. Approx. % of Steelhead we are visually seeing, counting and catching in each type of Habitat, over most of the Salmon River, almost daily. 15% of the steelhead are hold'n in the Prime Winter Spots, while 85% are still in the Prime Fall Area's hold'n. Spread out! These %'s will change as the water temperature drops. So approx. 90% are spread out and in both Prime Fall and Prime Winter Holding Locations, while we have approx. 10% in a transitional state, running the Salmon River. So those Prime Transitional Holding spots are still producing and worth a few cast's. These Prime Transitional Holding spots normally will produce well into Dec. After that, I normally do best by sticking to the Prime Winter holding locations.
90% of the fish are caught by 10% of the anglers. 90% of the fish go through 10% of the Salmon River. As Lou Tabory once said, there is a lot of empty water out there.
What's interesting about the above %'s presently. – Due to the Salmon River water temp., these Steelhead are spread out and holding in BOTH Prime Holding locations. If the water was warmer, they would ALL be in a Prime Fall Holding location. If the water was colder, they would ALL be in a Prime Winter Holding area. Being that they are in both, means they are less concentrated and more spread out. Sometimes causing you to play with less fish and or having to cover and work all of these Prime Salmon River Holding locations. That's what we have been doing successfully. See ya later for more Salmon River fishing report's.
Salmon River Fishing Report – Steelhead – Nov. 26.
Perfect Water Temperature time to re-use this golden oldy TIP from the Salmon River fishing report Archives. – This is a great example of what happened to me one Nov. when the water temp's were dropping and the Steelhead were moving from there Prime Fall Holding Habitat into there Prime Winter Holding Habitat's. Hope it helps! ———–
For the first 2 hour's skunk, nothing, nada, not even a sucker in this Prime Fall Holding spot where the Salmon River steelhead had been LOADED the day before.
I looked towards the heavens and asked the Lord, Why ME?
I was getting nervous. I knew that most of these Steelhead were residents who had set up shop in this prime lye. But, where were they?
We pulled the drift boat anchor and left this Prime Fall Holding spot and slide down the Salmon River approx. 50 feet into a Prime Winter Holding spot.
Was I right????? We HAMMERED over 20 Steelhead! Dam, I love this job!
I was happy it only took me 2 hours of sweat'n bullet's to figure this one out. **I also found it interesting that with just a couple of degrees drop in the water temp. from the previous day, it had caused 100% of them to move. Stop back for more Salmon River Steelhead fishing report's.
Salmon River Fishing Report – Nov. 27. Salmon River Water Ramblings: Water is up to 750 cfs. This new and exciting flow has many positive qualities. Spreads the Steelhead out, so they are not as pressured and spreads the anglers out. It also opens up new waters (current breaks) for everyone. Lastly, it will continue to bring in some fresh Salmon River Steelhead and Brown Trout for ya! Ye-Haa! The only negative thing is….. it makes landing your Trophy Steelhead of a Lifetime a lil harder with more current. Watch your step, the water is getting colder.
Looks like Mondays Salmon River forecasted water flow is 335cfs. (FYI – This is only a forecast, please check for actual.) May the wind be at your back, Salmon River fishing report guide Randy Jones.
Salmon River Fishing Report – Steelhead – Nov. 28.
Fresh Steelhead entering and running up the Salmon River daily. Spread out, top to bottom of the Salmon River. Steelhead fishing has been sloooow, so-so, ok to pretty good depending on the day, who you ask, the spot your in, fish movement, etc… etc… We have had a couple of noticeable push's of fresh steelhead over the last coupl'a week's with more to come! Ye-Haa! Water temp. is dropping, so you know what that means. Some Steelhead and Brown Trout are in Prime Transitional Holding mid. day spots. Some in Prime Fall Holding and Prime Winter Holding spots. Spread out. Presently 70% of the Steelhead are bright fresh Chromers and 30% a lil older, darker Steelhead, that Im seeing. After a coupl'a weeks these Steelhead darken up a tad and thats how you can tell if your fish is fresh or a lil older. May all your door knobs smell off big fish, Salmon River fishing report guide Randy Jones.
Salmon River Fishing Report – Nov. 29. – Mouth of the River. Last coupl'a weeks we have had an even mix of slow (meaning 1 here and there), ok to pretty good #'s of fresh Steelhead entering the mouth of the Salmon River. After looking at the last coupl'a weeks down there, the lower Salmon River looks to be a roll of the dice, feel'n lucky?
Pete used a fly rod today and played with 8 hard fighting Chromers! (Guess we jus got lucky) Thanks for viewing my Salmon River Fishing Report's!
Salmon River Fishing Report – Nov. 30. Most Challenging Day. –  2 anglers played w/2, none landed, slowest day yet this steelhead season. (Why me Lord) Steelhead fishing you ALL the best of Luck! Salmon River fishing report Guide Randy Jones.
Salmon River Fishing Report – Steelhead – Dec. 1.
The higher water (750 cfs plus run-off) has brought in some fresh Steelhead into the Salmon River. They are running the Salmon River and spreading out as I type this. So your Transitional Holding spot's will be producing. The Winter spots are all with Steelhead and would be my top choice. I noticed that some of the MANY Steelhead that had been holding in there Winter lyes @ 350 cfs have moved back to a lil slower water with this exciting new water level! Spreading out. Preparing for the long Winter, wanting to conserve energy. Where they hold at is normally determined by the relationship between the water level – speeds and current breaks. Sometimes its as simple as where the water moves from fast to slow, which is a current break in itself. Add in some deep water and Bingo!
Local streams and creeks are running high and off color due to run-off. You know what that means! Tons of optional area's to fish for Steelhead and Brown Trout. These local creeks and streams are with fresh fish. Fish ON! The BONUS presently, is you dont have to trudge thru 5 feet of snow to fish them. You also dont have to break off large junks of sheet ice covering the holes, so you can fish them. Or, worry about falling thru any shelf ice you might be standing on while fishing. The Salmon River Water is forecast @ 750 cfs. Heard a rumor that they may raise it? Never know. I'm extremely happy with this higher level. Hope it stays for awhile! It's perfect if your com'n up! For the next 7 days, we are forecast to get either a lil snow or rain. Nothing major…. yet! Air temp's look reeeel nice, if your com'n up!
These steelhead are patiently waiting for you. There really is no bad place to fish, providing you have the correct Salmon River habitat. Please be careful as the river is not crossable in many area's with this new flow, plus run-off. Also, taking a chance in crossing and risk going for a swim is not recommended in these water temp's. Best fish's, Salmon River Steelhead fishing report Guide Randy Jones.
Fishing Report – Steelhead – Dec. 2.
So so, Fair and Good#'s of bright fresh steelhead making their presence known in different Salmon River area's that we were fish'n. All Dime Bright Freshies! Today I saw more steelhead being played with (Drift boat guide clients and wade anglers) in several locations, than at any other time this Steelhead season. Saw more steelhead on stringers than at any other time this Steelhead season. (Most were all dime bright Chromer's!)
Biggest Salmon River Steelhead Yet! 16 yr. old Ryan was all smiles after fighting and landing his first steelhead ever. It was all of 16 lb's of bright fresh Chrome, what a fight! Holy Cow-a-Bunga Dude!
Made me remember the adrenaline rush of my first fish on this river and reminded me of why I love this job sooooo much! Dad Mike was all smiles, proud and a very happy father and said that today's trip was mostly for his son. He is planning to book another trip for this April and next Salmon season. Ye-haa! If 16 year old Ryan can catch these steelhead, then there is hope for the rest of us old farts! (yukyuk)
Looks like its going to be a good December on the Salmon River! Ye-Haa!
Salmon River Ramblings. Enjoyed watching a wade angler battle and land a 17 lb. (weighed) Steelhead recently. Holy Cow! As I drifted by them in the drift boat, I jokingly asked them if they were for higher. Everyone laughed! See ya next week, Salmon River fishing report Guide Randy Jones.
Salmon River Fishing Report – Dec. 7. Our past and present high water flows, combined with run off has brought some more fresh Steelhead into and up the Salmon River. Some older and fresher steelhead around, with some in transition, running up the river. Optional local waters are also with fish. Steelhead, Brown Trout and BIG Domestic Rainbows. Steelhead fishing has been sloow, so-so, ok to good. With a few anglers hitting it just right with AMAZING results! The best fishing has happened when you find a pod of'm. Suggest covering your water thoroughly in the better spots and then move to the next. Since we have some fresh ones running the river presently. You also might try fishing some of our "transitional' middle of the day resting spots.
The high water current break Pools are fishing best! Tight lines, Salmon River fishing report Guide Randy Jones.
Fishing Report – Steelhead – Dec. 24.
The steelhead have been entering the Salmon River since Sept. and we have Steelhead top to bottom of the Salmon River. Older and fresher. All Prime Holding Current Break areas for this water flow and temperature of water is with Steelhead. Steelhead are in both Prime Transitional Holding and Prime Winter Holding spot's.
Approx. % – 15% Prime Transitional Holding (Where they start to rest at approx. 9:30am. All day, before leaving at approx. 5:30pm.) and 85% Prime Winter Holding Pools.
There really is no bad place to fish on the Salmon River, providing you have the correct habitat – current breaks, for this flow. Besides anglers with drift boat guides, Im also seeing shore angler's finding some fish. That's always nice to see!
Steelhead fishing you ALL the BEST of Luck!
Salmon River Steelhead fishing report Guide Randy Jones.
After 35+ years of guiding, nothing reeeeeeelly ever changes that much.
Stay tuned for more Entertainingly Informative and Mildly Educational reports on this never-ending virtual fishing trip with your host Randy "The Yankee Angler" and friends.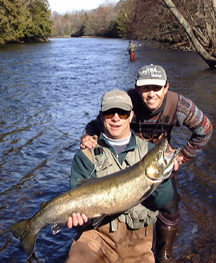 Trophy Salmon River Steelhead Fishing Report of a fishing life-time.
I will remember this day for the rest of my life. It started out crisp and clear in the morning. As we started our Steelhead Fishing Trip down the Salmon River. My companions were Drift Boat Guide Randy Jones of Yankee Angler and my best friend Jim Ciantar.
We stopped at a couple of holes to fish but with little success, and I mean little. The second place we stopped Jim and I teamed up to take six fish ranging from 3-6 inches long. We all got a pretty good chuckle out of that. However it gave Randy an opportunity to work on our techniques. The proper cast and drift is crucial when Steelhead fishing the Salmon River.
Randy is one of the finest teachers I have come across. He has an uncommon blend of humor, patience and knowledge which is rare. He explained his tactics and why he uses them. Steelhead location and why they are there. Also seasonal changes regarding Steelhead location, all invaluable Salmon River fishing information.
The third Salmon River spot we hit was awesome! Which by the way, Randy was rushing to because he knew some Steelhead were there. Within a couple of minutes after dropping the Drift Boat anchor.  I hooked up with a real burner Salmon River Steelhead, but lost him. The Fishing had been slow up to that point. But Jim and I managed to hook up five more Steelhead in the next couple of hours. We worked the hole from both sides of the Salmon River, in and out of the Drift Boat. All the while Randy was coaching us on how to properly fish the hole and where the Steelhead lay up.
Before we left that hole I managed to hook and land this 17.5 pound beautiful male steelhead. (Who will spend the rest of his days on my wall) It has taken me nine years and a lot of time and money to get that fish. My first good steelhead. Truly a fish of a lifetime. Jim also hooked a nice silver bullet Steelhead about 12 pounds but lost him at the net.
I have been fishing for a long time, for many different species from marlin to pan fish. In those years I have had some really great days. This certainly was one of the best. The combination of beautiful weather, great people, cooperative Steelhead on the scenic Salmon River, well that is pretty hard to beat.
For those of you just getting started in salmon and steelhead fishing, do yourself a favor. Hire a Guide. It does not have to take nine years like it took me. I highly recommend Randy, he is a true professional and a real good guy. Ron and Jim
Ron, Congrats again on your Trophy Steelhead of a fishing life-time! Thanks for your many kind and generous words! My head almost didn't fit thru the front door after that one. 
Best Steelhead Fish's, Randy

Brown Trout and Steelhead Fishing Seasons.
Nov. Best – but also Year Round.
Brown Trout. They have entered the Salmon River to spawn in Nov. and will weight from 3-5 lbs. with some reaching 10 pounds!
October 20 – May 1.
Steelhead 8-15 lbs. The Fall Steelhead is without a doubt, one of the hardest fighting Fish that swims in the Salmon River. They'll take most of your line out in seconds, then jump start your heart with tail walking antics that will live in your memory forever.
Winter Steelhead Fishing.
This is one of my favorite fishing times of the year. With colder temperatures the crowds disappear. Steelhead continue to come into the Salmon River from the lake. A Winter Drift Boat trip aboard our heated Drift Boat is a great way to learn the Salmon River and experience it's beauty.
The end of February, March and April are great Steelhead Fishing days as new Fish move into and out of the Salmon River on a daily basis. As the river temperatures rise, so does the aggressiveness of the Steelhead. Often, sight fishing is possible as they move into the shallows.
We can Spin or Fly Fish for Steelhead either by wading or using the Drift Boat.
I invite you to join me and enjoy what is an unquestionably one of the finest fresh water fisheries in the eastern United States.
---
Where is the

BEST

place to Fish on the Salmon River for Steelhead and Brown Trout? Enjoy my

Expert

YouTube Fishing Tutorial Video's for your Guaranteed 

BEST

fishing opportunities.
3 Basic fishing ways to locate and target Your Salmon River Steelhead.
1. When the Steelhead are running the Salmon River. Fish there "Temporary Transitional Resting Spots" as they make there way up the Salmon River. Otherwise, you are fishing to Steelhead that are not stopping, decreasing your odds greatly. Tutorial Video on Temporary Transitional Resting Spots.
2. Once the Steelhead stop running the Salmon River to hold during the middle of the day. – (From approx. 9:30am. to 5:30pm.) Fish these "Prime Transitional Holding Spots".
Tutorial Video on Prime Transitional Holding Spots.
3. Once the Steelhead have stopped running the Salmon River. And have found a spot that satisfies all their survival instincts. Fish these "Prime Holding Spots" – (Pools). Normally, the most fish and they aren't going anywhere soon. Tutorial Video on Prime Holding Spots – Pools.
---
4

Advanced

 fishing ways to locate and target Your Salmon River Steelhead.
Tutorial Video on EXPERT Fish Locating Habitat. – (These are areas I look for on the Salmon River when guiding folks like yourself.)
4. Find a spot that is a combination of all 1 thru 3. (Or, a spot that has all 3 in close proximity. So you can jump around according to what the Steelhead are telling you to do.)
5. Combine 1 thru 4 and find a spot above a looong stretch of rapids. The fish get tired after running these Salmon River rapids and will hold here for an extended period of time.
6. Include 1 thru 5 and make sure that your spot has 98% of the Steelhead in a transitional stage. Move into it. (Funnel or Pinch point in the river.)
7. My #1 Spot! Combine 1 thru 6 and pick a spot that compresses and or concentrates them. On a dime, like a sardine can, trash can lid or the size of a Volkswagen beetle or bus. This cuts down on all the guess work. And it allows to to present your offering to all the Steelhead on every drift.
8. The VERY BEST place to Steelhead fish? Is anywhere I'm not! yukyuk
By utilizing the above. You will have the most Steelhead in front of you for the greatest period of time. In a concentrated area offering you the greatest opportunity to present your offering to ALL of them. Fish ON and ON and ON! Now you know what "This Salmon River Guide" look's for normally.
Something New for You. – NEW NY D.E.C. Regs. NOW in effect for Steelhead and Brown Trout fishing State Wide.
The new stream limit will be no more than one Steelhead with a minimum size of 25 inches and no more than one Brown Trout per person per day.
*Increasing the minimum size limit for rainbow trout/steelhead to 25 inches (it was 21 inches) to prolong high quality rainbow trout/steelhead fishing opportunities through the winter months on Lake Ontario tributaries.
*Decreasing the brown trout daily creel limit on Lake Ontario tributaries (excluding the Lower Niagara River) to one fish/day (down from three) to maintain high quality brown trout fishing opportunities from fall through the spring. https://www.newyorkupstate.com/outdoors/2020/03/dec-announces-4-new-fishing-regulations-for-lake-ontario-lake-erie-and-tributaries.html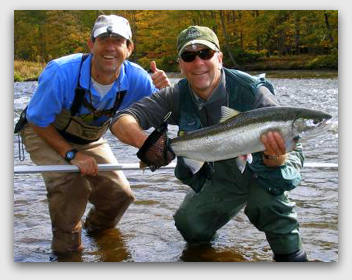 Thumbs up from this Fishing Guide with a Very Happy Salmon River Steelhead Guest.
The Steelhead fishing of your dreams……

………… we'll mak'm reeeeeeeeeeeeeel

The Salmon River, where Memories are Made!
Join me for a guided drift boat fishing trip on the World Renowned Salmon River in Pulaski NY for hard fighting Salmon or Steelhead during our Fall, Winter and Spring.
Enjoy learning Advanced fishing techniques and Exact fish habitats. I always enjoy sharing my wealth of knowledge with all my guest's.
Salmon River Guide Rates for 1 person $300. Rates for 2 people $400.
Book Your Fishing Trip
Email: [email protected]
Phone: 1-315-963-2065 CLICK TO CALL
Trips are 8 hours from the time we meet – 2 person Max. on boat. – Please bring your own Lunch, Polarized Glass's and Chest Waders. – Final payment preferred in cash. – Fishing License and Chest Waders required. – Please make your local lodging reservation A.S.A.P. – Spikes, Korkers, cleats or chains are ok in the Boat.
Reservation and Deposits – Your Reservation is confirmed upon receipt of a $150 Check deposit (per day). It MUST be received within 7 business days from time of Booking.
Check payable and Mailed too: – Randy Jones, 87 Clark Rd., Mexico, NY 13114. (Sorry, no credit cards excepted).
I'll confirm receipt of Deposit with you by email.
Then 1 to 2 Months before your fishing trip, I'll email you with meeting time and place. Usually Whitakers Sports Shop and Motel (Rt. 13 in Pulaski) in the dark.
Additional Booking Info. for: Reservation and Deposits. – Canceling your Trip – Rescheduling your Trip – Deposit Return. – Dangerous Wind Chills and Extreme High Water Cancellations. – Disclaimer.

Author Biography – Established in 1980.
Randy Jones has over 35 yrs. of Pro. Fishing Guide Experience. He is also the Owner, Author and Publisher of Salmon River Fishing Reports of YankeeAngler.com. A Salmon River Pulaski NY based Guide Service and Marketing Agency. Specializing in Expert Salmon and Steelhead fishing. Professional sales and marketing of his vastly successful Salmon River fishing guide business and local fishery. S.E.O. and Social Media. Randy Jones, 87 Clark Rd., Mexico, NY 13114.
Google My Business.
Distributed World Wide Books: Simon Gawesworth, Spey Casting, First and also Second Editions. Rich Murphy, Fly Fishing for Striped Bass.
Covers, feature articles and guide profiles: Saltwater Fly Fishing Magazine, Fly Fishing in Saltwater Magazine, Albany, Syracuse, Utica and N.Y. Times Newspapers, N.Y. Sportsmen, N.Y. Fishing and Hunting and Salmon River Success Magazines.
Many World Wide Internet Fishing Sites and News Feeds.
Paid featured guest speaker at numerous Sports Shows, Fresh and Saltwater fishing.
Guest speaker at most Trout Unlimited Chapters, fly tying, tackle and Orvis shops around New England and beyond.
Represented the Orvis Corporation as a guide and chief instructor of their 2 1/2 day Cape Cod Saltwater Fly fishing Schools.
(P.S. I don't discriminate. I also enjoy guiding you spin anglers too! – yukyuk)