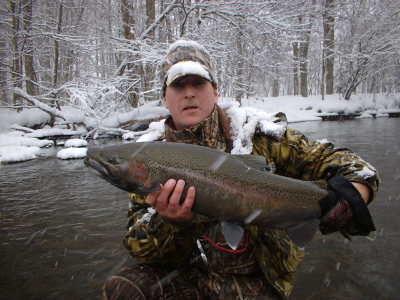 Salmon River Fishing Report for Steelhead from this Drift Boat Fishing Report Guide in Pulaski NY.
Steelhead, King Salmon, Coho Salmon and Brown Trout.
I hope you find my fishing report's, articles, tips and videos entertainingly informative or mildly educational.
The Steelhead Fishing of your Dreams….   ….We'll Mak'm Reeeeeeeeeeeeel.
Past Salmon River water flows of 1,500cfs to the present water flow of 750cfs. Has continued to bring in bright fresh Spring Steelhead that are spread out in all your favorite Salmon River fish'n holes. Older Steelhead are also Top to Bottom of the Salmon River. A continuation of the Spring Steelhead Run "Prime Time" will last well into March. The later part of March and all of April is "Prime Time" Drop Back Steelhead fishing. Add in ALL the steelhead that have been entering the Salmon River since Sept. and it's going to be a good Spring!
Not many anglers fishing now, which is normal. Great time for you to come up and fish with lots of Prime Winter Steelhead holding spots wide open for you. Presently, the largest concentrations of steelhead are in the Prime Winter Pools with some in Transition – running the river. Most folks are tangling with a few steelhead. Sometimes more and sometimes less, as usual.
Seeing a few "early" steelhead Spawning and also a few "early" Drop Back Steelhead, which is normal. All of the Steelhead in the Salmon River have their biological clock ticking and telling them its time to enter into the next stage of their life, with the Spring Spawn just around the corner.
All in all, things are shaping up very nicely for some SUPERB Spring steelhead fishing!
Looking forwards to a Fish ON with YOU!
Best Fish's,
Randy Jones
SALMON RIVER FISHING REPORTS
Possible April 1 2020 D.E.C. Tributary and Lake Ontario Regulation Changes.
They are considering 3 changes that should be of interest to you. – http://www.dec.ny.gov/outdoor/115977.html
* Lower the daily creel limit for Brown Trout on the tributaries from 3 to 1.
* Increasing the size limit for Steelhead on the tributaries from 21″ to 25″.
* Lowering the daily creel limit for steelhead on the lake from 3 to 2.
If you care to comment on these proposed changes you can do so on the above DEC Link.
Salmon River Steelhead fishing Advantages after a Extreme cold spell.
1. Wicked cold temps have kept many a Salmon River steelhead fishing angler away. Providing you presently with numerous un-pressured steelhead with some fresh ones around.
2. Past extreme cold temps. caused un-fishable Slush from Mid. River down. Leaving you now with unpressured, uneducated, easy to catch steelhead anywhere below Pineville to the mouth of the Salmon River.
Past Salmon River Steelhead Fishing Trip Report.
The highlight's for the day besides the beautiful weather and fishing company. Was both of my guest's played with more Salmon River Steelhead in a single day then they had ever before! Congrats gentlemen!
I always enjoy being a part of a record setting day and over exceeding my professional and guest's expectations and goals! We were 100 % on hitting steelhead in every Salmon River spot! Another one of many "Day's for King's" this steelhead season!
Another past trip. We were 3 for 4 on Steelhead. 1 came from a deep water, tail of a hole, soft water current break. The other 3 we were using floats off a spinning rod with a lil salmon egg juice put on bead for scent, blind casting in a soft water current break. That bead was the only one they wanted as we had previously tried all the other normal stuff first. After we hit 2 on that bead, I switched my other guest over to the same bead and he hit one! Seeing some droppies. We fished 4 Salmon River spots and hit steelhead in 2. (50% on spots, cant complain). Ya-Hoo!
Funny Story with 

20 Steelhead in the Hole

– Never limit yourself by limiting your options.
I was guiding a fly fishing angler one day, with 20 steelhead in a hole. No luck, suggested a blue egg sack, he said no.
After an hour of no luck, with 20 steelhead in the hole, I politely suggested an egg sack again, he finally "half heartedly" agreed.
On his first cast, FISH ON! We laughed our arses off after that one! Never limit yourself by limiting your options. Ye-Haa!

There is a Drift Boat seat reserved and waiting for

you

……. This Salmon River Steelhead fish catching machine awaits

you

.
Out on Your 16 foot heated drift boat. Enjoying a Fish filled day during the Fall, Winter and Spring on the Salmon River in Pulaski NY.
We will continue to see even more Steelhead enter the Salmon River this Winter into Spring. Should make for some fun Spring Steelhead fishing. Ye-Haa!
Spring is just around the corner! Recommend Mid. Feb. Mar. or April.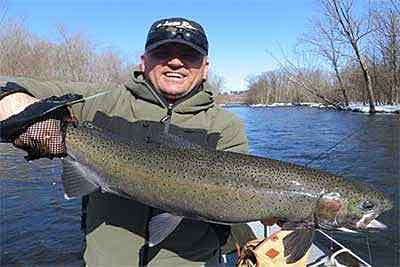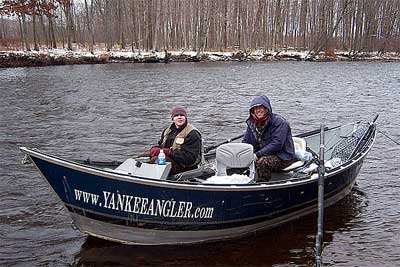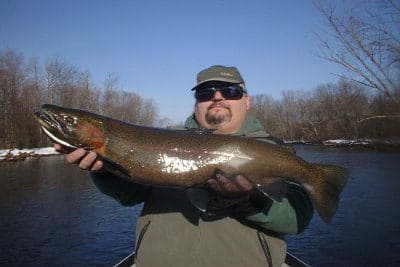 Enjoy my Salmon River fishing report 

Humorous Guide Fish Tails 

from Pulaski NY.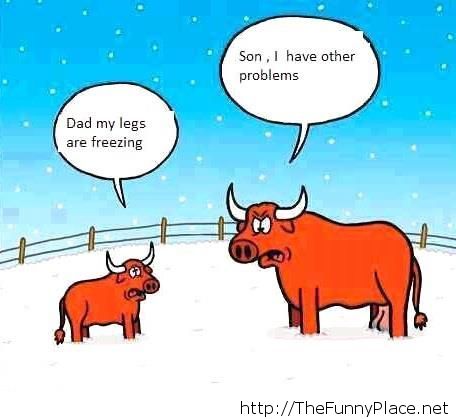 Jim was very excited to go King Salmon fly fishing today on the Salmon River.
He had been out celebrating the night before in anticipation of a great day of Salmon fly fishing. As we walked to the hopeful Salmon River honey hole. He told me he had tied on a brand new fly line late last night. And was interested to see how it performed. It cost him $69.
Shortly there after Jim was tight to a fresh run "honka" of a 30 lb. silver Salmon River King Salmon. As the King Salmon ran, he pulled with all his might. The fly rod was almost doubled over. When all of a sudden his backing knot separated from his brand new $69 fly line. "King Salmon attached to fly line" were last seen headed down the Salmon River at a fast rate of speed. I asked Jim what knot he had used to tie his fly line on with. And basically got a blank stare in return. His blood shot eyes and late night partying told me everything I needed to know. At days end I gave Jim a knot tying demonstration.
Moral of the story? Wait until you've HAD a good day of salmon fishing, before going out to celebrate it.
The Life of a Salmon River Drift Boat Steelhead Fishing Guide.
Tim and Gert had a number of fishing goals for the day. Besides the usual Salmon River fishing, drift boat and trying to hook into a few steelhead. They also wanted to spend a little time driving around and look at some of the local streams and creeks that hold steelhead. We visited about 7 different bodies of water which probably gave both of them a lifetime of additional area's to steelhead fish.
The last 1/2 of the day sort of went like this:
Do you see those tree's and bushes on the bank?
Yes, Randy.
Those tree's and bush's are not going to move all morning. They wont jump out at you, I promise. So please don't throw into them.
Ok, Randy.
Now, land it just short of those tree's and bush's.
Ok Randy.
Hey Gert, what are you doing stuck in all those tree's I told you about? Hey Tim, what are doing stuck in all those bush's I told you about?
Why me lord.
I need a day off BAD!
We had a lot of laughs today. I got a big kick out of the fact that in a half a day of steelhead fishing on the Salmon River off the drift boat we tied into 9 steelhead. The other big kicker was out of the 4 Salmon River spots we fished, we hit steelhead in every hole. We went 100% on all spots! Ye-Haaaa!
——————-
Both of my guest's were some what new to the Salmon River.
Carl explained to me that after hooking up several steelhead in several different locations today that he now had the "Confidence" to fish the Salmon River on his own. I agreed and said that "Knowledge" is truly the only thing a Professional "full-time" guide can really ever guarantee. And with this knowledge of habitat, rigging, flies, bait, presentation comes confidence. With out saying it, Carl had just paid me one of the highest compliments a guide could ever ask for.
Paul on the other hand was an entirely different story. (Ahemmmm) After spending the morning talking and talking and then talking some more about "How To Run A Proper 100% Drift" with your Rod Tip held high. We moved to another location. I watched Paul cast and hold his rod tip a few inch's above the water's level on his drift. I jokingly asked Paul if he had been listening to me at all during the morning or had he forgotten the hours of conversations we had had on drift fishing. His explanation was pretty weak and he mentioned something about "Old Dogs".
The first thing I "politely" mentioned was that in a 8 hour day of steelhead fishing. If you only are fishing 50% of your drift with your rod tip held low. Then that equates into only 4 hours of fishing. But, I would still be charging him for a full day. (har-har)
Anyway, after that I "politely" asked him to try running a drift with his rod tip high. This would give him more of a drag free drift, get his fly or bait to the bottom sooner, cut down on drag, give him a better feel for the bottom and also he would be able to detect the subtle biters. (Pauses and hesitations) Most folks that steelhead fish the Salmon River are all waiting for the BIG BANG, YA WHO. I explained that 10% of the anglers that catch 90% of the fish are always trying to detect the pauses and hesitations on the drift. And by holding you tip high on the drift it would enable you to feel those.
His response was "Tip Who?"
On Paul's very next drift with his rod tip held high. It worked like a charm and soon after a bright fresh Steelhead came to Paul's hand. – Ye-Haa! 
I just looked in the mirror tonight and noticed a few more gray hairs. Be careful out there or YOU could be my next "Fish Tail"
I hope you all enjoyed my Humorous Fish Tails, which were written in Good Humor Fishing Fun!

Guide Tips

– Staying warm on the Salmon River while steelhead fishing during the Winter.
Cold Hands while steelhead fishing on the Salmon River?
Don't be like me and spend 30 years trying all the high tec. latest-greatest cold weather gloves.
Old reliable thick wool with thinsulate keeps my hands warmer than all the rest! (by at least a few degrees).
100g Thinsulate™ insulation with tricot lining. 85% ragg wool / 15% nylon outershell.
https://www.refrigiwear.com/product/gloves-wool/convertible-mitt-0304rbrnlar – Tip – Cut, so your thumb can be exposed or tucked away. Glue Velcro to back of thumb extension and glove, so the thumb extension doesn't get in your way when tying.
Since I guide in cold conditions. Here is how I layer to stay comfy warm on even the coldest Salmon River steelhead fishing days.
Thick Wool Socks.
Orvis Icebreaker Oasis Long-Sleeved Crew.
Made with 200 gram and 100% merino wool. Very pricey @ $100.
http://www.orvis.com/p/icebreaker-oasis-long-sleeved-crew/15sh
Orvis Icebreaker® Tech Men's Half-Zip Pullover.
100% merino wool. Pricey @ $100.
http://www.orvis.com/p/icebreaker-tech-half-zip/15sj
Arctic – Extreme Performance Thick Fleece Full body (1 piece) Undersuit for Diving.
This 1 piece wicks away moisture from entire body, breaths good and has nice thick fleece inside. It's what I use daily during the Winter on the Salmon River. Lil pricey @ $300 when I bought it years ago. LOVE IT!
It's actually made to be worn under a dry suit when diving under the arctic ice. Or a wet suit when diving in cold water temps.
https://fourthelement.com/arctic-2/
Cabela's Men's 5 m.m. Neoprene SuperMag™ Boot Foots with 1600-Gram Thinsulate in Boot – Hunting Chest Waders – Regular.
My feet perspire slightly in 10 below air temps while sitting still in the drift boat and standing in 33 deg. water all day during a windy Lake Effect white out. They sell for around $225 and replaced my Simms extreme waders that sold for $500. They are 100% as warm as the Simms were. Many of the guides on the Salmon River wear these. (These are not suitable if you do looong walks, they are to warm).
http://www.cabelas.com/product/footwear/mens-footwear/mens-waders/mens-hunting-waders/pc/104797980/c/104747580/sc/104674680/i/103895280/cabelas-supermag-waders-reg/2308947.uts?slotId=0

Guide Tips

– Salmon River Steelhead Habitat Current Breaks.

To help you catch more fish.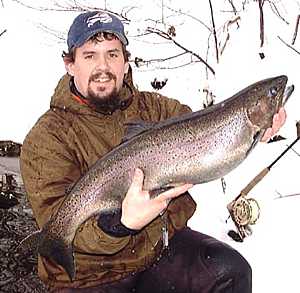 One of the most important aspects of Habitat on the Salmon River, is to figure out the relationship between all of the different water levels and all of the individual and different current break's. How each current break effect's the water movement and then how the fish relate to each current break.
By having a clear and precise understanding of this, allows the knowledgeable angler to understand our steelhead's survival instincts and then exploit them.
The reason a current break is so important to the fish is that it decreases the amount of energy they need to expend to maintain it's position in the Salmon River, creek or stream. If the steelhead has to expend to much energy they will die. You can see how these current breaks can be the difference between life or death for a steelhead and why it is critical for them to use them and for us the angler, to understand this relationship.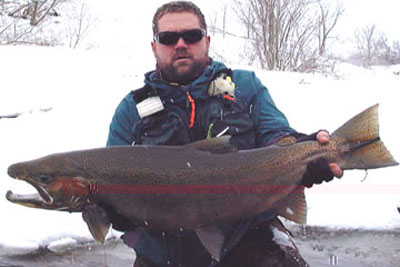 The steelhead change their lies every time there is a major change in the Salmon River's water flow in most holes. Due to the effects that the current break has or does not have on this new flow of water. (The steelhead will also change their preferences due to time of year, fishing pressure, temperature of water and their biological clock to name just a few.) When the water flow increases, their current break change could be as little as moving from the head of the hole to the middle of the hole where the Salmon River's current is not as strong. Or, when the water flow increases even more. The steelhead can move to the tail of the hole, the deepest part of the hole or to the seams of the hole. During extreme water flows they can position themselves directly along the bank of the Salmon River. You can simply reverse this order of movement when the water flows decrease.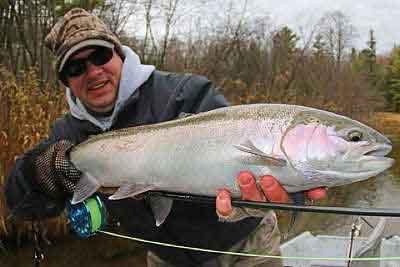 We have low water current breaks and high water current breaks. Many times a current break is not large enough to effect the high water and the steelhead's relationship to it becomes useless. Just the opposite can be said for larger current breaks during low water. A prime example of this would be Snaggers Hole. During low water this large Salmon River hole is normally not used by the steelhead because the water moves so slowly that there is no current for the fish to need it. But, during high water when the current is really moving, this spot is used by the fish because it provides shelter (a current break) for the steelhead to conserve their energy as they move up or down the Salmon River or hold in it. So, we have high water spots (current breaks) that we only fish during high water and low water spot's that we only fish during low water.
The small island you stand on to fish the hole in low water is now the current break for the steelhead in much higher water flows. The small boulder on the bottom of the Salmon River holds fish behind it in low water flows, but becomes useless during high water.
So the trick is to know when each spot (or part of the spot) is productive and only fish these target area's during the correct water flow.
I hope you found my "Salmon River fishing report Guide Article" entertainingly informative or mildly educational. – May all Your door knobs smell of BIG Steelhead!

Winter into Spring

– Steelhead Fishing Creeks, Streams and the Salmon River. 
End of Feb., March and all of April is "Prime Time" for steelhead fishing on the Salmon River and other optional local creeks and streams.
(Mid-week is always best, but not on or around a holiday).
Feb. and March – There are not only leftover Winter steelhead, but also fresh runs of Spring time steelhead.
March into April – You will see a transition of Steelhead from the holes onto the gravel, where they will spawn. If they survive the spawning ritual, they will then turn into drop-back Steelhead. The Steelhead's appetites are on fire as they slowly drop back down the Salmon River into lake Ontario.
When the Salmon River is running high due to run off. Its prime time to walk and fish the many miles of streams and creeks in the area. Ever try to land a 10 pound Steelhead in a small creek? It's not easy, but lots of fun! Sight fishing is also and optional treat!
Amazing Spring Steelhead Video!
Spring is just around the corner!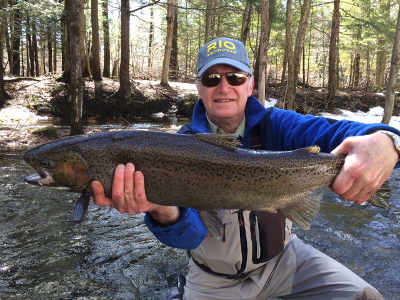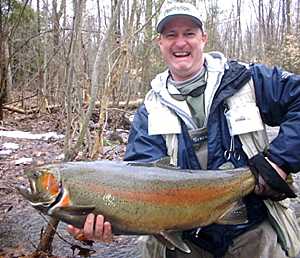 A Trophy 20 lb. Spring Steelhead.
Holy-Cow-A-Bunga!
Very Rare – But you never know!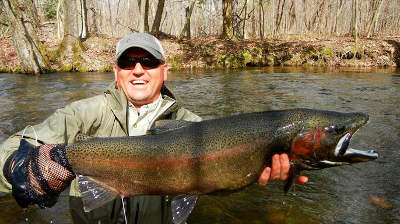 Anton's 16 lb. Spring Steelhead. Ye-Haa!
Yup, time to schedule a fishing trip this Spring. Get in on some awesome steelhead fishing from the end of Feb. thru Mar. and April.
Rates:
$275 for 1 angler – Spin or Fly Fishing, Salmon or Steelhead, I supply everything but the chest waders.
$350 for 2 anglers –  Fly or Spin Fishing,  Salmon or Steelhead, I supply everything but the chest waders.
All Spin fishing equipment – All Orvis fly fishing equipment – All tackle provided. Please bring your own Lunch, Polarized Glass's and Chest Waders.
Spring Steelhead Spawn and Drop Back Steelhead fishing on the Salmon River.
(Drop backs are Spring Steelhead that have successfully spawned. And are on their way back down the Salmon River to Lake Ontario, Feeding aggressively along the way.)
What's interesting about the Salmon River at this time of year. The Steelhead we have are spread out over 100% of the Spring habitat's thru out the entire river. Top to bottom and from 1 side to the other, within reason.
Drop back Steelhead will be in all the normal current break spots for the current water level.
The Flats will be exploding with fish! (within reason.) Sight fishing is an optional treat!
Your Best fishing opportunity is all Spring until approx. 3rd week or last week of April, normally. Maybe first – second week of May? In May, fish the lowest part of the Salmon River for your best Steelhead fishing opportunities. (From the Papermill down thru the D.S.R.)
Mother nature will decide its ending with lower water flows and warmer water temp's in the Salmon River.
Sending all the Steelhead back to Lake Ontario to return next year even BIGGER to the Salmon River! Ye-Haa!
Steelhead Fishing you success! Salmon River fishing report guide – Randy Jones.
Top Secret Guide Tip – You owe me

 – Fishing for Spring Steelhead Drop Backs.
Posted for only you to read and no one else. After the Hatchery collects the eggs from the returning Steelhead in the Spring. Normally, approx. April 15 is when you will see 1,000's of these steelhead leave the holding tanks at the Hatchery. And re-enter back into the Salmon River and turn into drop back Steelhead. Adding more Steelhead for your Spring fishing pleasure. Shhhh!


Where is the

BEST

place to Fish on the Salmon River for Steelhead and Brown Trout? Enjoy my

Expert

YouTube Fishing Tutorial Video's for your Guaranteed 

BEST

fishing opportunities.
3 Basic fishing ways to locate and target Your Salmon River Steelhead.
1. When the Steelhead are running the Salmon River. Fish there "Temporary Transitional Resting Spots" as they make there way up the Salmon River. Otherwise, you are fishing to Steelhead that are not stopping, decreasing your odds greatly. Tutorial Video on Temporary Transitional Resting Spots.
2. Once the Steelhead stop running the Salmon River to hold during the middle of the day. – (From approx. 9:30am. to 5:30pm.) Fish these "Prime Transitional Holding Spots".
Tutorial Video on Prime Transitional Holding Spots.
3. Once the Steelhead have stopped running the Salmon River. And have found a spot that satisfies all their survival instincts. Fish these "Prime Holding Spots" – (Pools). Normally, the most fish and they aren't going anywhere soon. Tutorial Video on Prime Holding Spots – Pools.
---
4

Advanced

 fishing ways to locate and target Your Salmon River Steelhead.
Tutorial Video on EXPERT Fish Locating Habitat. – (These are areas I look for on the Salmon River when guiding folks like yourself.)
4. Find a spot that is a combination of all 1 thru 3. (Or, a spot that has all 3 in close proximity. So you can jump around according to what the Steelhead are telling you to do.)
5. Combine 1 thru 4 and find a spot above a looong stretch of rapids. The fish get tired after running these Salmon River rapids and will hold here for an extended period of time.
6. Include 1 thru 5 and make sure that your spot has 98% of the Steelhead in a transitional stage. Move into it. (Funnel or Pinch point in the river.)
7. My #1 Spot! Combine 1 thru 6 and pick a spot that compresses and or concentrates them. On a dime, like a sardine can, trash can lid or the size of a Volkswagen beetle or bus. This cuts down on all the guess work. And it allows to to present your offering to all the Steelhead on every drift.
8. The VERY BEST place to Steelhead fish? Is anywhere I'm not! yukyuk
By utilizing the above. You will have the most Steelhead in front of you for the greatest period of time. In a concentrated area offering you the greatest opportunity to present your offering to ALL of them. Fish ON and ON and ON! Now you know what "This Salmon River Guide" look's for normally.


Salmon River Brown Trout and Steelhead Fishing Seasons:
All Season
Brown Trout. You can catch these anytime while fishing the Salmon River. They average 3 to 5 pounds with some Larger!
October 20 – May 1
Steelhead 8-15 lbs. The Fall Steelhead is without a doubt, one of the hardest fighting Fish that swims in the Salmon River. They'll take most of your line out in seconds, then jump start your heart with tail walking antics that will live in your memory forever.
Winter Steelhead Fishing on the Salmon River.
This is one of my favorite fishing times of the year. With colder temperatures the crowds disappear. Steelhead continue to come into the river from the lake. A winter Drift Boat trip aboard our heated Drift Boat is a great way to learn the river and experience it's beauty.
The end of February, March and April are great Steelhead Fishing days as new Fish move into and out of the river on a daily basis. As the river temperatures rise, so does the aggressiveness of the Steelhead. Often, sight fishing is possible as they move into the shallows.
We can Spin or Fly Fish for Steelhead either by wading or using the Drift Boat..
I invite you to join me and enjoy what is an unquestionably one of the finest fresh water fisheries in the eastern United States.

Fishing Report Testimonial: 
Randy, You Rock!! Your writings resonate with so many. The humor, the professional P.O.V. and experience you share is invaluable.
Hope to secure a spot with you soon. Jim – Thanks Jim! I hope other viewer's feel the same. Best fish's, Randy

John Battles Numerous Salmon River Steelhead off the fishing guide drift boat in Pulaski NY.
Good day Randy, What a great day, just when I thought I knew a little something about steelhead fishing. I had to fish with you. You really are a class act. I really appreciate you sharing your steelhead guide expertise and patience as well as some of your Salmon River "honey" holes with me. I would encourage any steelhead fisherman, novice or expert, to fish with a drift boat guide even if it's just once.
If you can get drift boat guide Randy Jones you're in for a great day. There is so much to learn about steelhead fishing. And you can trim years off the "learning curve" by steelhead fishing with a pro. guide such as yourself. Thanks again for the fun and truly a learning steelhead fishing experience in Pulaski NY. Thanks again! John.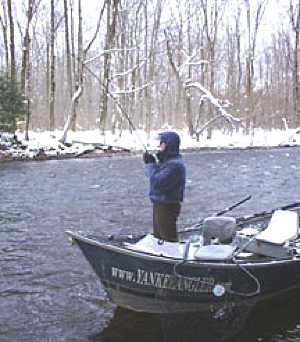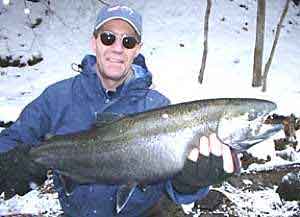 John's tight to his first Steelhead on the Salmon River and lands this Steelhead beauty!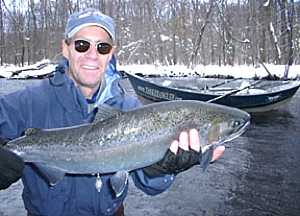 Another Salmon River NY Steelhead for John!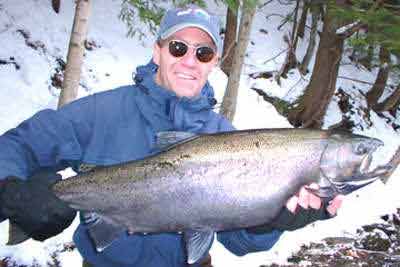 John's honk'a Steelhead off the guide drift boat! Approx. 16 lb. Steelhead! Great way to end the Steelhead Fishing Day!
Congrats John! Thanks for your many kind and generous words! My head almost didn't fit thru the front door after that one. Best Fish's, Randy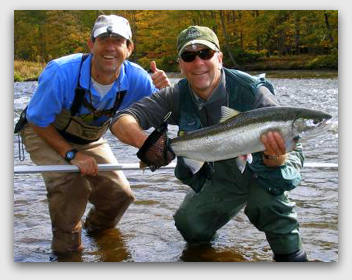 Thumbs up from this Fishing Guide with a Very Happy Salmon River Steelhead Guest.
The Steelhead fishing of your dreams……

………… we'll mak'm reeeeeeeeeeeeeel

The Salmon River, where Memories are Made!
Join me for a guided drift boat fishing trip on the World Renowned Salmon River in Pulaski NY for hard fighting Salmon or Steelhead during the splendor of our Fall, Winter and Spring seasons. Enjoy learning Advanced fishing techniques and Exact fish habitats. I always enjoy sharing my wealth of knowledge with all my guest's.
Randy Jones is a full-time professional Spin and Fly fishing guide with over 35 years of experience.
E-mail: [email protected] – Phone #315-963-2065 – Booking Form on here.
Rates:
$275 for 1 angler – Spin or Fly Fishing, Salmon or Steelhead, I supply everything but the chest waders.
$350 for 2 anglers –  Fly or Spin Fishing,  Salmon or Steelhead, I supply everything but the chest waders.
All Spin fishing equipment – All Orvis fly fishing equipment – All tackle provided. Please bring your own Lunch, Polarized Glass's and Chest Waders.
Author Biography –

Established in 1980

.

Randy Jones is the Owner, Author and Publisher of YankeeAngler.com. A Salmon River Pulaski NY based Guide Service and Marketing Agency. Specializing in Expert Salmon and Steelhead fishing – Professional sales and marketing of his vastly successful fishing guide business and local fishery – SEO and Social Media.
Distributed World Wide Books: Simon Gawesworth, Spey Casting, First and also Second Editions. Rich Murphy, Fly Fishing for Striped Bass.
Covers, feature articles and guide profiles: Saltwater Fly Fishing Magazine, Fly Fishing in Saltwater Magazine, Albany, Syracuse, Utica and N.Y. Times Newspapers, N.Y. Sportsmen, N.Y. Fishing and Hunting and Salmon River Success Magazines.
Many World Wide Internet Fishing Sites and News Feeds.
Paid featured guest speaker at numerous Sports Shows, Fresh and Saltwater fishing.
Guest speaker at most Trout Unlimited Chapters, fly tying, tackle and Orvis shops around New England and beyond.
Represented the Orvis Corporation as a guide and chief instructor of their 2 1/2 day Cape Cod Saltwater Fly fishing Schools.
(P.S. I don't discriminate. I also enjoy guiding you spin anglers too! – yukyuk)
Randy Jones 87 Clark Rd. Mexico, NY 13114 – Phone: 315-963-2065.