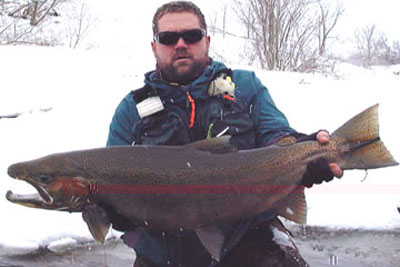 Salmon River Fishing Report for Steelhead from this Drift Boat Fishing Report Guide in Pulaski NY.
Steelhead, King Salmon, Coho Salmon and Brown Trout.
I hope you find my fishing report's, articles, tips and videos entertainingly informative or mildly educational.
The Steelhead Fishing of your Dreams….   ….We'll Mak'm Reeeeeeeeeeeeel.
Your Spring Salmon River Steelhead RUN is ON! There are decent numbers of Steelhead in the Salmon River Pulaski NY area now. We continue to see some reeeel nice steelhead fishing action from the top of the Salmon River to the bottom. Optional Local Steelhead creeks and streams are with fresh Steelhead!
Presently, our Salmon River steelhead are in all stages of the Spawn. Most Pre-spawn, with a few spawning and post spawn-(Drop Backs). All the steelhead are in all the normal places for the stage of life they are in. Which relates directly to the current water flow level and its relationship to the current breaks on the Salmon River.
Your Mar. – April Salmon River Fishing Report Forecast. – Your Steelhead fishing opportunities will be good, due to all the steelhead we have in the Salmon River. A continuation of the Salmon River Spring Steelhead Run will last well into March. The later part of March and all of April is "Prime Time" Drop Back Steelhead fishing on the Salmon River. Our Spring steelhead season will normally last into early May. Other Local steelhead creeks and streams will continue to produce good steelhead opportunities for you all March into April.
We are seeing a few more Salmon River drop back steelhead daily.
Drop back steelhead are ones that have successfully spawned, survived and are now transitioning down the Salmon River back to Lake Ontario. Stopping along the way, holding in different locations to feed and re-build their strength. These drop back steelhead would eat the kitchen sink, if you threw it at'm. They are not the fussiest eaters and can be some of the easiest steelhead to catch all season. EVEN I could probably catch one?
Thanks for spending your fishing dollars up here! The local Salmon River economy and myself, Thanks You All!! 
It's time to get your Fish ON! Best Steelhead Fish's, Randy Jones
SALMON RIVER FISHING REPORTS
Winter into Spring

– Steelhead Fishing the Salmon River. 
March and all of April is "Prime Time" for steelhead fishing on the Salmon River. (Mid-week is always best, but not on or around a holiday).
March – There are not only leftover Winter steelhead, but also fresh runs of Spring time Steelhead.
March into All of April – You will see a transition of Steelhead from the holes onto the gravel, where they will spawn. They will then turn into drop-back Steelhead. The Steelhead's appetites are on fire as they slowly drop back down the Salmon River into Lake Ontario. Returning to the Salmon River even BIGGER next season – Ye-Haa!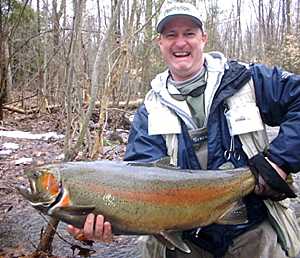 A Trophy 20 lb. Spring Steelhead.


Salmon River Fishing Report

HUMOR

.
The Salmon River Fly Fishing was SOOO good today. I had to stand behind a tree to tie the Steelhead fly on.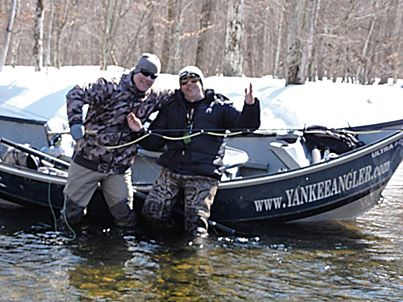 The guide says, Our Salmon River Steelhead get this BIG! My 2 guest's played with 7 or 8 Steelhead in this one lil drift boat spot. Using a fly rod, in approx. 1 hour fly fishing time.
Talk about CRAZY and EXCITING fly fishing!!!!!
Today's Salmon River NY News!
A/P Wire – WORLD RECORD Striped Bass caught in the Salmon River NY this Winter!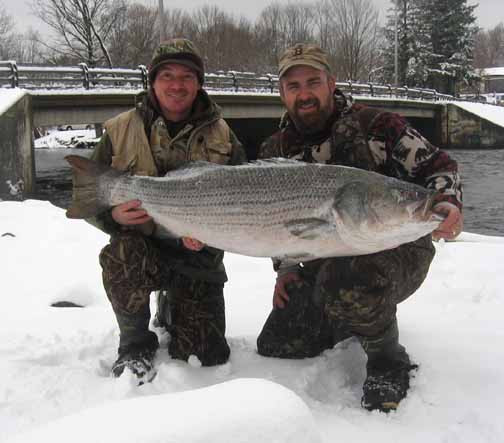 NY State Fish Biologists have determined by Scale samples that this fish started in the Pacific Ocean. Crossed the Panama Canal, swam up the Atlantic East coast shoreline. Entered the Hudson River, crossed the Erie Canal using a Easy Pass. Entered Lake Ontario and then swam up the Salmon River.
I hope you enjoyed Today's Salmon River fishing report HUMOR!
---
Don't Miss this Link – Salmon River Fishing Report Steelhead Highlights – Mar. April.
Humor. – I Sunk my Drift Boat!
FUNNY Steelhead Sight Fishing Story on the Salmon River.
My incredibly Detailed Salmon River fishing report w/ some ROCK SOLID TIPS!
Articles. – 100% Spring Steelhead Guarantee! – March April Calendar of Events – Salmon River Fishing Report. Fresh Steelhead Runs, Pre-spawn, Spawn and Drop Back Steelhead. With Guide Tips, to help you catch MORE Steelhead.
Top Secret Guide Tip – Fishing for Spring Steelhead Drop Backs.
Expert Fishing Video's made just for you.
---
Salmon River Fishing Report Steelhead 

TIPS

.
April Steelhead Fishing Tip.
With Suckers starting to spawn. Try some yellow egg sacks, yellow glow bugs (flies) or beads to imitate their eggs. The Steelhead will be eating them. The Drop Back Steelhead will also be eating other Spawning Steelhead eggs. So try some of those fishing colors in sacks, flies or beads when fishing the Salmon River.
If the Salmon River gets Flooded this Spring. 
When the water is rip'n and chocolate on the Salmon River or our local smaller steelhead hold'n waters. Many times a drive up to the head waters or the first impassible barrier will be fish-able. Due to less run-off, dirty water and Tributary impute. Also, many times you can spin or fly fish the smaller tributaries that feed into these larger creeks, brooks or streams. That will be hold'n steelhead. Sight fishing is an optional treat and also on the Salmon River!
High Water Steelhead fishing report Tip.
Sometimes this high  water flow spreads the Steelhead out. While other times it concentrates the Steelhead. Fish behind any high water current breaks or speed of water changes on the River.
Fish behind any BIG boulders or Large current breaks. On the seams (where the fast water meets the slow water). And tails of holes (water moves slower) combined with deep water. We call them high water spots.
We have low water fishing spots, medium water fishing spots and high water fishing spots. The Steelhead change where they hold according to the water level. Combined with the effect of its current breaks.
When the Steelhead change where they hold due to higher water flows, then so should you, for Best Results!
Seaguar Fluorocarbon Grand Max. – Like nothing you'll ever see.
If you want to use the exact same leader – tippet material that I do for steelhead, then this is the exclusive floro. I use. I think it is also the most expensive. I get paid to guide anglers like yourself and feel its my responsibility to offer you the best shot at catching fish. That's why I only use the best materials, etc.. made, simple. It is not brittle in the Winter time like some other really good floro.'s are. The diameter beat's ALL other's for its strength. (Just compare your's to mine). As I've always said, anytime you can disguise what your fly, bait, etc.. is tied too, any species of fish, anywhere in the world, the odds are pretty good that you will play with a few more. If you want to use the same floro. as most of the World's TOP guides, then Seaguar is the ticket.
I could type all day long on the advantages you'll have, type all day long about all of the experiment's Ive run. All day long about, well, you get my drift. I only use the best materials, etc.. in my guide business.
In many many cases, this one product can make the difference between no fish and a dozen. Been there, done that, I've bought the T-shirt. I like my side of the fence better than the other side. We have all been on the other side, but no more with Seaguar Fluorocarbon Grand Max.
https://seaguar.com/shop-direct/shop_seaguar/grand-max.html
FYI – It's a lil pricey @ $20 for 30 meter spoil. But hey! If it will help you to play with more steelhead, its a small cost.
P.S. I'm happy to share my Brand with you, if it will help you to catch more Steelhead.
BUT – I am hesitantly posting my endorsement of this fine product because if you use it, I will no longer have an advantage over you!
I hope you enjoyed Today's Salmon River fishing report TIPS!

Lull

in the Salmon River Steelhead Fishing Action with a

Presence of Fish.

Most everyone feels a Lull is a negative thing while steelhead fishing on the Salmon River. I look at this completely opposite and feel it is very positive. It's not to hard to know if you have a presence of steelhead or not. If you feel there are fish present and your having a lull, the steelhead are simply trying to tell you something. They are normally not off the bite, they simply want and need you to adjust.

There could be 10 or so different variables to consider when experiencing a lull on the Salmon River. If you can adjust, understand, acknowledge and implement this important 1, maybe 2, 3 step process of changing your format to meet the fish's request's. You will soon be on your way to "Fish On." (This is providing the basic skills of steelhead fishing are being accomplished).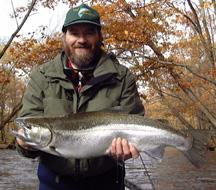 Maybe the Salmon River steelhead are suspended and you are fishing below them, like in Nov. (To much weight?)
Are the steelhead on the bottom and you are not reaching them, like in the Winter. (To lil weight?)
Maybe you are not running 100% drift. Only fishing 50% of your drift means in 8 hours you only actually fished for 4 hours.
Is your presentation swinging and not dead drifting to imitate something naturally drifting in the Salmon River's current?
Maybe its a fly or bait concern. Color? Size? Rigging? Presentation? Habitat?
Maybe………….. As you can see their are approx. 10 or so things that can cause the steelhead to ask you to change and or adjust. Again, I see this as VERY positive and welcome a short lull. Learn from it, be flexible, change up, switch things around.
I do this on an almost daily basis on our Salmon River steelhead, its that normal. The trick is having a complete and thorough understanding of it all and correct presentation for whatever fishing tool you enjoy using.
One day we experienced a "Short lull in the action" while steelhead fishing the Salmon River. Made 1 quick and simple change to our presentation and on the first cast (and the following 2) my guest's were tight to another bright fresh acrobatic steelhead. During the next lull, we made a rigging change and hooked up a couple more steelhead. Next lull, we changed our habitat by moving 15 feet further down into this Salmon River hole to find some fresher chrome and hooked up a few more. Then, after the 4th lull, we made a color change over these "now" educated steelhead with several more rewarding us all.
We experienced another short lull the other day, as usual. We made 1 change with one of my guest's and 2 changes with the other.
One was rigging. 2nd was color. 3rd was presentation.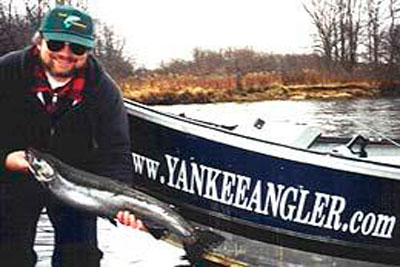 Within 1-2 cast's both of my client's were hooked up immediately and we did not experience any more lulls for the entire day. Actually, and Im not bragging, they had one of those "Days for KINGS!"
While all the other anglers stayed with that lull. We actually got to play with MORE fish AFTER we listened to them, then before the lull.
So again, a lull is a very positive thing providing you can read it, learn from it and understand what the fish are plainly trying to tell you. By listening to the fish, you'll be on your way to yelling "Fish ON and ON again! 
I hope you found this post entertainingly informative or even slightly educational. Best fish's, Randy Jones.

Was I a Salmon River Steelhead 

Hero or

a Zero? – Reading Water 101.
This Salmon River steelhead spot had changed since the last time I had fished it. Would it be for better or for worse?
Listen in…. while I discuss what had changed and how we were able to determine (before we fished it) whether this spot would hold good numbers of steelhead and what were the distinguishing features that told us so.
1. The small pool or large pocket was approx. only 40 feet long by about 20 feet wide. I love and specifically look for these tight Salmon River steelhead holding spots. Not much guess work. They are either there or they are not.
2. This location also had deepened by a substantial amount. Approx. 9 feet deep! Depth of water can play a very important role in any type of steelhead fishing. The depth of water makes the steelhead feel safer from predators.
3. Many times when the water comes up, if the steelhead are not in a very good current break for that flow. They will slowly slide down the Salmon River looking for a more suitable, comfortable current break to help them to conserve energy and feel safe.
This is a life saving move. This particular Salmon River spot is known to hold steelhead that have slide down from up river when the water level rises. Since the level of water had just jumped to 1,800cfs, I knew (hoped) this spot would be hot as it had been before, under the same scenario.
4. This spot also had a seam running right over the top of the hole. (A seam is where the fast water meets the slow water.) It allows the steelhead to conserve its energy in the slower water while never being far from the source of food, faster water.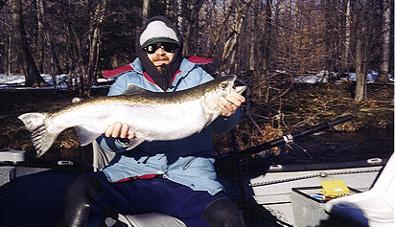 This location had 5 current breaks working for it.
1. The head of the hole where it was shallower, breaking the current.
2. The actual hole. 3. The seam running over the hole. 4. The tail of the hole, where the water moves slower.
5. And the "hole within the hole". This is like a magnet for the fish and can be exact as fitting a key into a lock.
The more current breaks the better.
This area (current break) was exactly on the steelhead's transitional, migration route that they take year after year. The Rt. that they normally take is the deepest part of the Salmon River and where there is the most current. This is what they use to navigate their way up the Salmon River. A holding or transitional holding area (current break) for the steelhead will normally always be in this Rt.
Finally, this steelhead spot was one of those triple your pleasure, triple your fun places.
1. It was a prime lye holding area.
2. A transitional holding area
3. A place for those steelhead that didn't have a quality current break above this spot, in this increased water flow of 1,800cfs. To slide down the Salmon River into it.
This spot had all the marking's of a good magnet to hold a lil or a lot of Metal.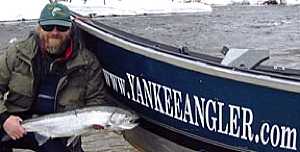 So, was I to be a Hero or a Zero?
Sure enough, it was not long before we had our answer. "Fish ON!" This continued on for the remainder of our stay.
Eric's one goal was to land a steelhead on the Salmon River, we accomplished that easily. Guess we didn't need the extra 7 steelhead. (yukyuk) Yesterday Eric used a fly rod set-up for high-sticking (deep nymphing-dead drifting-drift fishing) and hit 8 total steelhead when the water was at a high 1,800cfs. Congrats Dr. Eric!

Why are

100%

of the Steelhead Current Breaks so important to you as a angler?
I'm glad you asked!
First off – A Current Break is a speed of water change, caused by structure or water flow.
All the steelhead in the River use Current Breaks to conserve energy and rest. Whether they are running the River, holding mid-day, holding in a pool, spawning or for Spring Steelhead dropping back down the River to Lake Ontario.
Primarily as steelhead angler's we are hunters. Our goal when steelhead fishing is to find our quarries weaknesses and then exploit them. Since all the steelhead in the Salmon River use these critically important Prime Structural – speed of water Current Breaks, then so should you for Best Results.
Prime Examples of Resting C.B.s that our Salmon River steelhead will use.
Head of the Pool. The seams on either side of the main flow in the Pool. (A seam is where the fast water meets the slow water). Any big boulders or large rocks in the Pool. Deepest part of the Pool. Tail of the Pool or Run. (If the deepest part of the Pool or Run is in the tail, then keep that spot to yourself!)
A change of the main water flow speed in the larger pools. Normally Low water – fish the head of the pool. Medium – fish the middle of the pool. High water – fish the tail of the pool.
A lil 4 to 6 inch drop in the rivers bottom. Behind any big rocks or boulders that are in the Rapids creating a pocket that is in the deepest part of the Salmon River that the fish use to navigate it. Did you know that normally, all fish use the current and the deepest part of the Salmon River to navigate it? It's like a road map and rarely changes. By studying this road map, it will provide you with Lots of optional steelhead fishing opportunities.
Today's Salmon River Current Break Test Q. What's the #1 determining factor for how long a Steelhead will Hold on a Current Break?
It's the quality of the CB. Other factors – Weather – bright sun or dark rainy over cast day. Time of day. A change in water Temperature. A change in the depth and speed of water. What it had to go thru to get there. Spawning or not. Angler fishing pressure, which includes visual and audible noise by anglers.
What makes many

 Steelhead, Salmon and Brown Trout

Current Breaks

challenging to understand

as a angler?
Some CBs are only used by the fish while in a Transitional Stage while running up the Salmon River. Some for only a few seconds, minutes to all day.
While other CBs are only used for several days, an entire Month to 5-6 months.
Some CBs are primarily used in the Fall before the water temp. drops.
While other CBs are only used during the Winter, after the water temp. has dropped.
Some CBs are only used during the Fall for Salmon, November for Brown Trout and the Spring for Steelhead.
And finally some CBs are only used during certain water flow levels. Low, medium and high water changes the CBs that the fish key in on and use. Our Salmon River water levels are always changing and the fish change along with it and so should you for Best Results.
So our CBs are used during certain water temps., certain water flow levels, when running the river and stages of the fish's life.
Folks, what makes an Experienced Steelhead or Salmon angler on the Salmon River?
One of the most critically important things to have is a Complete and Thorough understanding of is CBs and when and how the fish use them.
This knowledge will definitely help put YOU into the 10% of the anglers that catch 90% of the fish, here on the Salmon River.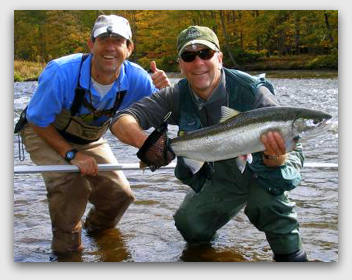 Thumbs up from this Fishing Guide with a Very Happy Salmon River Steelhead Guest.
The Steelhead fishing of your dreams……

………… we'll mak'm reeeeeeeeeeeeeel

The Salmon River, where Memories are Made!
If your looking to book a Salmon River drift boat fishing trip for next Fall Salmon or Nov. Steelhead, I've still got some prime dates open.
Join me for a guided drift boat fishing trip on the World Renowned Salmon River in Pulaski NY for hard fighting Salmon or Steelhead during the splendor of our Fall, Winter and Spring seasons. Enjoy learning Advanced fishing techniques and Exact fish habitats. I always enjoy sharing my wealth of knowledge with all my guest's.
Randy Jones is a full-time professional Spin and Fly fishing guide with over 35 years of experience.
E-mail: [email protected] – Phone #315-963-2065 – Booking Form on here.
Rates:
$275 for 1 angler – Spin or Fly Fishing, Salmon or Steelhead, I supply everything but the chest waders.
$350 for 2 anglers –  Fly or Spin Fishing,  Salmon or Steelhead, I supply everything but the chest waders.
All Spin fishing equipment – All Orvis fly fishing equipment – All tackle provided. Please bring your own Lunch, Polarized Glass's and Chest Waders.
Author Biography –

Established in 1980

.

Randy Jones is the Owner, Author and Publisher of YankeeAngler.com. A Salmon River Pulaski NY based Guide Service and Marketing Agency. Specializing in Expert Salmon and Steelhead fishing – Professional sales and marketing of his vastly successful fishing guide business and local fishery – SEO and Social Media.
Distributed World Wide Books: Simon Gawesworth, Spey Casting, First and also Second Editions. Rich Murphy, Fly Fishing for Striped Bass.
Covers, feature articles and guide profiles: Saltwater Fly Fishing Magazine, Fly Fishing in Saltwater Magazine, Albany, Syracuse, Utica and N.Y. Times Newspapers, N.Y. Sportsmen, N.Y. Fishing and Hunting and Salmon River Success Magazines.
Many World Wide Internet Fishing Sites and News Feeds.
Paid featured guest speaker at numerous Sports Shows, Fresh and Saltwater fishing.
Guest speaker at most Trout Unlimited Chapters, fly tying, tackle and Orvis shops around New England and beyond.
Represented the Orvis Corporation as a guide and chief instructor of their 2 1/2 day Cape Cod Saltwater Fly fishing Schools.
(P.S. I don't discriminate. I also enjoy guiding you spin anglers too! – yukyuk)
Randy Jones 87 Clark Rd. Mexico, NY 13114 – Phone: 315-963-2065.