Salmon River Fishing Report for Steelhead from this Drift Boat Fishing Report Guide in Pulaski NY.
Steelhead, King Salmon, Coho Salmon and Brown Trout.
I hope you find my fishing report's, articles, tips and videos entertainingly informative or mildly educational.
The Steelhead Fishing of your Dreams….   ….We'll Mak'm Reeeeeeeeeeeeel.
Flood waters and Current high water levels bring in more Steelhead and Brown Trout on the Salmon River in Pulaski NY. Including all other local steelhead waters. Ye-Haa!
Reviewing the Salmon River Fishing Week.
10/25
After a lot of rain during the storm. It caused run-off and the Salmon River water level jumped by 50 cfs. This one factor will normally induce a nice run of fresh Steelhead and Brown Trout into the Salmon River.
DSR fishing report (editted). A guide reported that the town pool had non-stop Steelhead action starting at 2:00 PM yesterday, until he left an hour later.
Another client just came up from a few hours fishing. "Great fishing!" (he hooked six Steelhead)
Respectable numbers of Steelhead, with Kings mixed in – (one client went 4 / 9 on Steelhead). At the mouth (steady, with fish moving into the run).
Quite a few Steelhead being landed, and a "slow push" of fish moving through. At the mouth a "fair amount" of fish pushing into the run, a mix of Steelhead and King salmon.
Whitakers Fishing Report – Bright colored egg patterns have worked well in the lower end of the river, while pale colors have seemed to worked better in the upper end of the river.
Funny DSR Fishing Report – (edited)
Kings – Coho's and Steelhead – nothing "non-stop", just periods of fast action interspersed with longer stretches of "casting practice.
This lucky angler got a Grand Slam on the Salmon River! (Steelhead, Brown Trout, Coho and King Salmon)
https://www.facebook.com/WelcomeToTheWoodsLlc/photos/pcb.1369027556553034/1369027393219717/?type=3&theater
---
10/27
If you haven't heard, we are getting a good # of Steelhead into the river. Better than the last 2 years! Ye-Haa!
---
10/28
Higher water flows, the up-coming weather pattern and major egg hatch will continue to help bring in some fresh steelhead. Ye-Haa!
Since its almost Nov., look for an increase of Brown Trout.
This higher flow will wash down river most of the dead and or almost dead Salmon, to your favorite spot. P-U! 😉
Fishing this week?
Water levels could and probably will go much higher. Causing cloudy water above Orwell and chocolate milk below Orwell down river. If so, fish above Orwell.
Expect other creeks and streams to get blown out. If so, try fishing the head waters for the best water clarity and the least amount of water.
Chartreuse colors are your best bet!
Recent Steelhead Photo Collage and Fishing Report from the DSR – https://www.facebook.com/douglastonsalmonrun/photos/pcb.1840922172592348/1840921475925751/?type=3&theater
While numbers of fresh steelhead moving into the run aren't as absurd as they were last weekend… steelhead fishing remains "pretty darn good"!
---
Today's Inspirational Pic. (Credit – Capt. and S.R. Guide Steve Kowalski).

Mobile users,

Please scroll past links for Rest of Fishing Report. Thanks!

Randy Jones the Yankee Angler.
35+years of Pro. Fishing Guide Experience.
Author and Publisher-Salmon River NY Fishing Report.
10/29 and 30.
Approx. 2,000cfs water release from the dam., Approx. 1,800cfs in run-off recorded at Pineville gauge = almost 4,000cfs. With Higher flows down river. Optional local Steelhead waters are blown out presently.
Check out the graph showing you all this. – https://waterdata.usgs.gov/ny/nwis/uv/?site_no=04250200
Shane Muckey Reports – Got 4.9 inches of rain, most since flood of 2010.
https://www.facebook.com/shane.muckey/videos/10211603280295125/
With this reeeel nice high water period, it well continue to bring in more fresh Steelhead and Brown Trout for you. Including other local Steelhead waters.
The only dead Salmon left on the river, will be the ones hanging in the tree branches from the flood. 😉
---
10/31.
Just back from Pulaski – Water clarity looks great in Altmar and ok at Pineville for Today. Didn't look below Trout Brook.
Water levels are starting to recede in other local creeks, streams and brooks for Today.
Soft water gravel and adjacent soft water holes looked great, if looking for Salmon or steelhead.
Today's High Water Email Tips.
Randy, thanks for your reply. I'm up here wading for the week, rain or shine. Can you send me a few tips given the high river water. Where? How,? Ect. Sure would appreciate the tips given the high waters. Thank you, Mark
–
Hi Mark,
1. Be safe, no fish is worth it.
2. Try parking at Ellis Cove parking lot and walk down stairs to trail. Its about 300 feet long to corner hole. Safe and easy to fish. Directly off the Ellis cover parking lot, take another set of stairs (20 feet) to rock wall. Deep hole at your feet off rock wall.
3. When the water is dirty or cloudy, use Chartreuse in your fly, beads or eggs sack colors. (hot pink is also bright and good for fresh steelhead, which most are.
4. Try fishing any deep water that isn't ripping. Side channels-divertions, tails of pools. Steelhead will go into these places when the water jumps like this.
Best Fish's, Randy
---
11/1.
Some good fishing tips if your fishing now. Why they went to 1,650cfs and future rain forecast totals. River could go back up!
High waters on Salmon River impact steelhead fishing, anglers' safety (videos)
http://www.newyorkupstate.com/outdoors/2017/11/post_14.html#incart_river_home
---
11/4
With the past, present and future rain totals, I expect the Water Level on the Salmon River to remain at 2,300cfs or maybe go higher short term. Good amount of Rain thru Monday.
2 Good thing's about this higher water release.
1. It will continue to bring in fresh Steelhead and Brown Trout.
2. All the Steelhead and Brown Trout will be on my line and not yours. Because your waiting for the water to drop. yuk-yuk 😉
Today's Humorous Observational Spin and Another way to look at it. 😉
If the normal flow on the river was 1,500cfs to 2,500cfs. You would have become accustomed to fishing it years ago and you'd be up here fishing now.
Then, if the water dropped to a 335cfs flow, you'd be scratching your head and canceling your trip up here.  😉
We currently have some Steelhead and Brown trout in Transition (Running the River). Some holding in the mid. day resting spots. Some are Holding in their Prime Fall Habitats. Many are holding behind our High Water Current Breaks. And some sitting behind the Spawning Salmon eating their eggs.
These areas are covered more thoroughly towards the bottom of this Blog in my

EXPERT and ADVANCED

Tutorial Video's @ Where is the

BEST

place to Fish on the Salmon River for Steelhead and Brown Trout?


Today's

EXPERT

 Fall – Float, Fly, Spin Fishing Steelhead Tip.
Where to fish for Steelhead in the Water Column at this Time of the Year?
(FYI – First try at a Tutorial Video. A+ for effort, D minus over all. 😉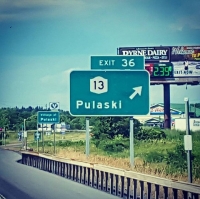 If your driving here and you see this Pulaski NY sign.
 Life is
GOOD
, once you take the Salmon River 
Fishing Right!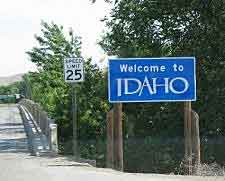 If your driving here and you see this sign, your going to the
WRONG
Salmon River. 😉
Fishing for a World Record Monster 30lb. Brown Trout?
At one point during the fishing day Bill said, Hey Randy, come here quick. I see a BIG Monster Brown Trout. I walked over and peered into the crystal clear water and looked at what Bill was excitedly pointing at. Look at the size of that one! Bill yelled!
I said, Hmmmm, Bill I don't see it.
Right there, right off the tip of my rod, don't you see it? It's a Monster 30lb. Brown Trout, could be a NEW WORLD RECORD!
As Bill was pointing at it with his rod tip. I noticed his hands were trembling with excitement. At the possibility of bragging rights to his fishing buddies for years to come. If he was able to catch it?
I said, O, now I see it, yes, that is one of the largest Brown Trout I have ever seen! Could be a NEW Fishing WORLD RECORD! That would be a real nice wall hanger! Bragging rights for years. Boy, wont your fly fishing buddies be jealous!
Both Chris and I started to snicker. Because what Bill was pointing at was a very dead and very severely decaying King Salmon. Just laying happily on the bottom of the pool.
We both egged him on and suggested he make a cast for that MONST'A Brown Trout. But shortly there after we explained to him what he was really seeing. His face turned a little red and we all laughed. Of course we were laughing with him and not at him. How long you been fishing this river Bill? Had your eye's checked lately Bill? 🙂
Countless people have been guided by me and most (excluding Bill) have gone on to live normal lives. 😉
Be careful out there or YOU could be this guides next "Fish Tale" 😉

Today's

Helpful

Salmon River

Tip that some Steelhead anglers don't realize.
If your New or Semi-Experienced Steelhead angler. I see many of you fishing the wrong Habitat (Pools) for Steelhead in the Fall and early Winter.
I sincerely hope this helps you to catch more steelhead!
Fall Steelhead fishing Tip – Warm Water (above 43 degrees.) 
Most of the Steelhead will be in rippled – choppy water 3 to 6 feet deep or the Rapids (heat). Our Steelhead don't show up in the Pools until the Water Temp. has dropped below approx. 43 degrees.
Winter Salmon River NY Steelhead fishing Tip – Cold Water (below 42 degrees.) 
Most of the Steelhead will be in the Pools.
1 – Steelhead want. Deep water for safety from predators.
2 – A food source.
3 – Less current to conserve their energy.
(You can find our Salmon River NY Steelhead mapped named pools, parking and access roads. By doing a search on the internet or most of the Local Shops up here have them.)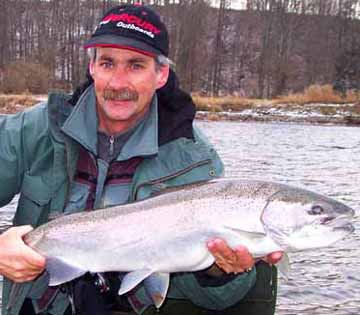 Fishing Steelhead (avg. 8 to 12 lbs.) – (Nov. thru April.)
Our Steelhead are without a doubt. One of the hardest fighting and most acrobatic fish that swims in the Salmon River in Pulaski NY. Torpedo – Silver Bullet runs and changing direction in a blink of an eye. While taking your line 100 to 200 feet out in seconds. This well surely jump start your fishing heart! Tarpon jumps, like a rocket ship 3-4 feet in the air. Somersaulting like a jugglers baton back to earths atmosphere before splash down. Sounding like a cinder block with water spraying 20 feet in all directions. Steelhead Tail Walks across the pool for 40 to 60 feet, will live in your Salmon River memory forever!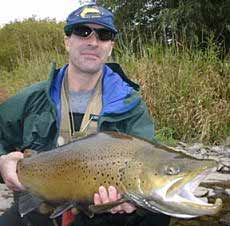 Fishing Brown Trout. (avg. 3-5 lbs.)
You can catch these Brown Trout anytime while fishing for Steelhead. Like Salmon and Steelhead you measure our Brown Trout by the pound and not by the inch. While they are not as numerous as Salmon or Steelhead.
These are an optional Trophy of a Fishing life time!
Trophy Salmon River Steelhead are anxiously awaiting for your arrival!
Steelhead Open Dates:
Nov. 27, 29.
Dec. 4-5, 8, 14-15, 19-22, 25-29.
Jan. 1-4.
When is the

BEST

time to fish for Steelhead?
Mid-week is always best, but not on or around a holiday).
There really isn't any BEST for Steelhead, its all angler personal preference.
In Nov. we start to see more Steelhead and more anglers. It's the busiest angler Mo.. Temps. aren't to cold yet and its also when the steelhead fight the hardest. With speeding bullet runs, tail walks and somersaults.
In Dec. we start to see even more Steelhead and less anglers. Most folks are doing business and family holiday stuff. And its a lil colder = Less anglers = more opportunity for you.
The middle of the Winter can be magical with only the most die hard steelhead anglers out. During these colder Mo's. = Less anglers = more opportunity for you.
Spring Steelhead (Mar. and April) it starts to warm and we see a few more anglers out. But not as many as Nov. The Steelhead's appetites are on fire as they slowly drop back down the river to lake Ontario. Sight fishing is an optional treat.
(Salmon River NY fishing report).

Salmon River Brown Trout and Steelhead Fishing Seasons:
October 15 – November
Brown Trout. Like Salmon and Steelhead you measure these Fish by the pound and not by the inch. They have entered the river to spawn and will weight from 3-10 pounds. While they are not as numerous as the Salmon or the Steelhead, these are an optional Trophy of a Fishing life time.
October 20 – May 1
Steelhead 8-15 lbs. The Fall Steelhead is without a doubt, one of the hardest fighting Fish that swims in the Salmon River. They'll take most of your line out in seconds, then jump start your heart with tail walking antics that will live in your memory forever.
Winter Steelhead Fishing.
This is one of my favorite fishing times of the year. With colder temperatures the crowds disappear. Steelhead continue to come into the river from the lake. A winter Drift Boat trip aboard our heated Drift Boat is a great way to learn the river and experience it's beauty.
The end of February, March and April are great Steelhead Fishing days as new Fish move into and out of the river on a daily basis. As the river temperatures rise, so does the aggressiveness of the Steelhead. Often, sight fishing is possible as they move into the shallows.
We can Spin or Fly Fish for Steelhead either by wading or using the Drift Boat..
I invite you to join me and enjoy what is an unquestionably one of the finest fresh water fisheries in the eastern United States.

Where is the

BEST

place to Fish on the Salmon River for Steelhead and Brown Trout? Enjoy my

Expert

YouTube Fishing Tutorial Video's for your Guaranteed 

BEST

fishing opportunities.
3 Basic fishing ways to locate and target Your Salmon River Steelhead.
1. When the Steelhead are running the Salmon River. Fish there "Temporary Transitional Resting Spots" as they make there way up the Salmon River. Otherwise, you are fishing to Steelhead that are not stopping, decreasing your odds greatly. Tutorial Video on Temporary Transitional Resting Spots.
2. Once the Steelhead stop running the Salmon River to hold during the middle of the day. – (From approx. 9:30am. to 5:30pm.) Fish these "Prime Transitional Holding Spots".
Tutorial Video on Prime Transitional Holding Spots.
3. Once the Steelhead have stopped running the Salmon River. And have found a spot that satisfies all their survival instincts. Fish these "Prime Holding Spots" – (Pools). Normally, the most fish and they aren't going anywhere soon. Tutorial Video on Prime Holding Spots – Pools.
4

Advanced

 fishing ways to locate and target Your Salmon River Steelhead.
Tutorial Video on EXPERT Fish Locating Habitat. – (These are areas I look for on the Salmon River when guiding folks like yourself.)
4. Find a spot that is a combination of all 1 thru 3. (Or, a spot that has all 3 in close proximity. So you can jump around according to what the Steelhead are telling you to do.)
5. Combine 1 thru 4 and find a spot above a looong stretch of rapids. The fish get tired after running these Salmon River rapids and will hold here for an extended period of time.
6. Include 1 thru 5 and make sure that your spot has 98% of the Steelhead in a transitional stage. Move into it. (Funnel or Pinch point in the river.)
7. My #1 Spot! Combine 1 thru 6 and pick a spot that compresses and or concentrates them. On a dime, like a sardine can, trash can lid or the size of a Volkswagen beetle or bus. This cuts down on all the guess work. And it allows to to present your offering to all the Steelhead on every drift.
8. The VERY BEST place to Steelhead fish? Is anywhere I'm not! yukyuk
By utilizing the above. You will have the most Steelhead in front of you for the greatest period of time. In a concentrated area offering you the greatest opportunity to present your offering to ALL of them. Fish ON and ON and ON! Now you know what "This Salmon River Guide" look's for normally.

Guest Fishing Report and Testimonial:
Randy,
I just wanted to thank you for sharing your experience and knowledge to make our trip an unbelievable experience for us. With me having 8 to 9 hookups, and my friend Tim with somewhere between 5 to 6 that is more fish on in a single day than some people have for an entire season. I'm a true believer in that hot spot on "Pucker Brush Creek 🙂
As a matter of fact Tim and I went back on our own the next day and the fish were there waiting for us just like you said they would be. Again we had a combined count of over 10 hookups and Tim had the hot hand that day with his 6 weight fly rod. Our only regret was that we did not have enough days left to explore some of the other high percentage areas you showed us as we had to go back to work sometime.
Who says old dogs can't learn new tricks?:) Tim and I have been coming up there for over 15 years, and yet we still learned a few valuable lessons from you, thanks again.
I would highly recommend you to anyone, beginner or experienced steelheader, it's the combination of little things and techniques that make all the difference in the world. Feel free to pass on my contact information if you need any references for anglers, I would be more than happy to vouch for your professionalism, knowledge, and stream courtesy to fellow anglers anytime.
Thank You, Ted
Ted, Thanks for your many kind and generous words! My head almost didn't fit thru the front door after that one 🙂 Randy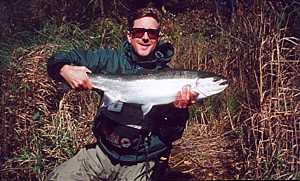 Guest Fishing Testimonial.
Randy: Just wanted to let you know that we all had a good time Fishing. And being Guided by you off the drift boat. We learned a lot too. Went back to where we fished yesterday and hooked a lot of fish! I hooked a bunch of kings (over 10) and I landed two steelhead. One of which was 30 inches and perfectly silver! Thanks for all your help! Steve Saliga
Steve's Steelhead is as bright fresh as they get. Now you know why we call them Silver Bullets. Congrats Steve!
(Fishing Report)

Thumbs up from this Fishing Guide with a Very Happy Salmon River Steelhead Guest.
The Steelhead fishing of your dreams……

………… we'll mak'm reeeeeeeeeeeeeel

The Salmon River, where Memories are Made!
Join me for a guided drift boat fishing trip on the World Renowned Salmon River in Pulaski NY for hard fighting Salmon or Steelhead during the splendor of our Fall, Winter and Spring seasons. Enjoy learning Advanced fishing techniques and Exact fish habitats. I always enjoy sharing my wealth of knowledge with all my guest's.
Randy Jones is a full-time professional Spin and Fly fishing guide with over 35 years of experience.
E-mail: randysjones@earthlink.net – Phone #315-963-2065 – Booking Form on here.
Rates:
$275 for 1 angler – Spin or Fly Fishing, Salmon or Steelhead, I supply everything but the chest waders.
$350 for 2 anglers –  Fly or Spin Fishing,  Salmon or Steelhead, I supply everything but the chest waders.
All Spin fishing equipment – All Orvis fly fishing equipment – All tackle provided. Please bring your own Lunch, Polarized Glass's and Chest Waders.
Fishing Report Testimonial: 
Randy, You Rock!! Your writings resonate with so many. The humor, the professional P.O.V. and experience you share is invaluable. Hope to secure a spot with you soon. Jim
Thanks for your many kind and generous words Jim! Randy
Looking for a place to Stay in Pulaski NY?
Pulaski Condo Lodging Avaiable from Sept 15 thru Nov. 15. for Anglers.
Fully Furnished, 200 yards from the Ball Park, sleeps 4.
Phone – Laurdon Heights 315-450-4800.
(Salmon River NY fishing report).