Salmon River Fishing Report for King Salmon and Coho Salmon from this Drift Boat Fishing Report Guide in Pulaski NY.
Steelhead, King Salmon, Coho Salmon and Brown Trout.
I hope you find my fishing report's, articles, tips and videos entertainingly informative or mildly educational.
The Salmon and Steelhead Fishing of your Dreams….   ….We'll Mak'm Reeeeeeeeeeeeel.
Increased #'s of early King and Coho Salmon have entered the Salmon River this last week.  by Randy Jones
Short Fishing Report.
Better than the last few years at this time. Best Labor day in many years. We have recieved better then the average #'s that would normally run during this past week. Biggest early push of Cohos that I can remember.
Salmon are staging closer to the mouth of the Salmon River in Lake Ontario, before they enter the Estuary. The Estuary is loaded up, which is where they stage before running the river. Anticipation – Ye-Haa!!
Throw in a good rain, low-light and an increase in water levels. And a VERY Good Run could happen!
This will "probably" be the best Salmon season we seen in awhile.
Salmon River Water Release Increase Thurs. night to 500cfs with some run-off. Add in the forecasted rain and low-light thru tonight. And we could see a good push of fresh running Salmon enter the river today. (Fingers crossed for anyone coming up this weekend. Hope you hit'm GOOD!)
We have Coho and King Salmon top to bottom of the river. BUT – not in any big #'s yet. BUT, you would have rock solid fishing opportunity.
If you set your expectation level on low. And would be happy with 0 to 3-4 fish in a day. Then I'd say come on up! Never know, if you hit it just right, you could do a LOT better!
Long Fishing Report – Hope yer in a comfortable chair. 😉
The past week on a slow – normal day for this early. We've seen 1 or 2 salmon from time to time running the Salmon River. Just enouph to keep your interest. (Approx. 20-40 during both our low light periods.)
Or, a lil better day with 1's and 2's more often, with some pods of 5 or 6 Salmon. (Approx. 75-100 during both our low light periods)
To ALL HELL is breaking lose with a steady flow of Kings and a Good # of Coho's for this early in the season. And that's only with a handful of anglers fishing. (Approx. 200-600 or a few more during both low light periods).
Presently, with the # of fish we have gotten earlier than normal over this last week. The consistent runs of Salmon seem to be about 1 week ahead of schedule. This last week we were doing comparative #'s of fish to a normal Mid. to Late Sept. average.
Normally during Mid. Sept. you will start to see a probable average of 25 – 50 to 75 Salmon enter the river each day during both low-light periods.
Following week, normally, you'll start to see a probable average of 50 – 75 – 100 Salmon each day.
Last week of Sept., normally on average 150 to 300 Salmon each day.
—
Some anglers left the river wanting, saying I saw some fish, had shots at some fish, but didnt catch any. While others have had double digit hook-ups on a couple-few of our better days. 1 angler excitedly exclaimed, it was the best 4 hours of fishing in my entire life!
As usual, right spot, right day, right time of day and with some experience. You left the river with your limit of Salmon and a bunch of hook-ups, on several of our better days this last week.
As usual, the best time to target running fish is during either of our low-light periods. Approx. 9:30am they stop and hold until approx. 5:30pm. They will stop running the river completely, once all there survival instincts have been met. These are the pools. They wont leave these pools until approx. Oct. 1. Then moving to that special rock.
When we have rain and low-light all day. Many times they will run the entire day. We had one of our better runs of Salmon on a day like this recently.
Did you know your Coho Salmon can run the river in a day. And King Salmon travel 1-3 miles per day?
Some Recent King and Coho Salmon Catches.
http://www.newyorkupstate.com/outdoors/2017/09/lunker_fall_salmon_from_lake_ontario_tributaries_2017_angler_photos.html
Local Fishing News Update on Stocking and Bait in the Lake for 2018.
Survey results in 2016 revealed poor survival of Alewife produced in 2013 and 2014, which will result in negative impacts on the adult population of this important prey species in future years. To protect the valuable fishery, the DEC and the Ontario Ministry of Natural Resources and Forestry (OMNRF) adjusted stocking levels for Chinook Salmon and Lake Trout down 20 percent in 2017 to reduce predator demand on adult Alewife.
Alewife survey results from 2017 confirmed the ongoing impacts of poor Alewife production in 2013 and 2014 on the overall population, but also revealed record numbers of young Alewife produced in 2016. The record numbers of Alewife produced in 2016 is promising, but additional strong Alewife reproduction and survival is needed in upcoming years to rebuild the adult population.
In an ongoing effort to effectively manage Lake Ontario fisheries for long-term benefits, DEC and OMNRF will maintain the 2017 stocking targets in 2018. The combined 2018 salmon and trout stocking total will exceed 4.6 million fish, and managers are optimistic that good fishing will continue.
http://www.dec.ny.gov/press/111262.html
Want to receive my Fishing Report Updates by Email?
Subscribe to my Salmon River Newsletter. Includes: Current Fishing Conditions, Local News, Articles, Videos, Tips and More.
Our best fishing days so far have happened when.
We had an increased water flow from the Dam.
Natural run-off brought the water level up approx. 75cfs.
Low light and rainy days and nights.
The fish's biological clock invited them to enter into the next stage of their life.
Please see the below Video – What helps to cause a BIG RUN – which explains all this in much greater detail. By viewing it, it might help you plan your fishing trip and help you to catch more fish!
Presently on the Salmon River.
We have fish running the river and holding temporarily, before continuing up the river. Fish holding in their middle of the day resting spots and some are in the Pools.
For MORE on where your fish are at in all Stages of the run presently. Please see my below Expert and Advanced Fishing Tutorial Video's. Which explains all this in much greater detail @ Where is the BEST place to Fish on the Salmon River for Salmon, Steelhead and Brown Trout? By viewing them, it might help you to catch more fish!
Salmon River NY Fishing Countdown Article.
In four days I will head north to the Salmon River in New York to try and catch salmon, steelhead, big brown trout or any combination of those three. I've already started packing: 8-weight rod and reel, waders, studded boots, lucky hat, beer, cigars, advil, camera. A year ago I went for the first time and had some success, thanks to my friend Steve who brought me there and showed me how to catch – and land – fish that were larger than any fish I had ever seen, let alone hooked.
I caught only salmon last year. The serious anglers up there all want steelhead, and many of them don't like hooking into salmon because it takes a long time to land one and that's time that could be spent fishing for steelhead. Me? I think it will be quite a long time before I get tired of hooking a 25- or 30-pound Chinook and watching – and, more importantly, hearing – ninety feet of fly line leave my reel in a matter of seconds. That's fun. Something that surprised me about my previous trip there was how much fun it was to just watch other anglers catch and land fish. Something about seeing an 8-weight fly rod bent over in an upside down 'U,' accompanied by the sound of a screaming reel, whether it belongs to you or the guy next to you.
Credit – http://flyfishin.blogspot.com/2006/10/salmon-river-countdown.html
TODAY'S VIDEO – Might help ya catch more fish.
Whether its a:
1. Temporary Transitional Resting Spot – Which is where the fish stops at temporarily while in a Transitional mode (running the river)
2. Prime Transitional Resting Area – Which is where the fish stops to rest mid day.
3. Prime Holding Location – Which is where the fish holds for an extended period of time. Days, a month and for Steelhead and Brown Trout all Fall, Winter and into the Spring.
They ALL have 1 main and critically important thing in common. They all are Current Breaks.
A Current Break is a structural – change of water speed in the river.
The #1 determining factor on how long a fish will sit on these Current Breaks, is solely determined by the qaulity of the Current Break
Because all fish in the Salmon River use these C. B.'s to conserve energy and rest, then so should you when your fishing here.
The fish normally use the deepest water in the river and the current to navigate it. Its like a road map and rarely changes. By studying fish movement up the river it well also provide you with a detailed road map for your optional fishing locations and fishing strategies.
So any Current Break that is on this path is normally used by the fish. Whenever we have fish that are in a transitional stage running the Salmon River, then these locations should always be fished by you.
Todays Video is on Temporary Transitional Resting Current breaks that all species of fish use for a very short amount of time while running up or down the Salmon River.
These special C.B.s are used in the exact same way by the fish as you or I would when climbing a long steep Mountain or 500 flights of stairs. We would take short lil breaks along our route, which is exactly what our Salmon River fish do when running it.
A prime example of this would be any long stretch of rapids. These are like climbing a long flight of stairs to the fish. Stopping behind the boulders in the pockets to rest until they decide to continue on to the next pocket. They can sit in these pockets for a few seconds to a few minutes, depending on how much energy that had jus used to get there.
Remember what I said earlier about the qaulity of the C.B. determines the length of time a fish will hold on it? These Temp. Trans. Resting Spots do not provide a good enouph current break for them to hold on it for an extended period of time. So they just use them temporarily while steadily transitioning up the river.
Typically, these areas are fished during low light periods, mornings and evenings. When the fish feel safer and we have fish running up the river. Or, all day if we have a lot of low-light, rainy, stormy weather or the water level in the river has come up. Once your run has ended, then your next strategy would be to fish the Prime Transitional Resting and Holding area's where the fish will rest mid-day or the Prime Holding Locations (Pools) where they will sit for an extended period of time.
These other areas are covered more thoroughly towards the bottom of this Blog in. – Where is the BEST place to Fish on the Salmon River for Salmon, Steelhead and Brown Trout?

The Fishing was SOOO good today. I had to stand behind a tree to tie the Salmon fly on. 😉

BIG SALMON RUN! I made this Video for you. It explains what helps and encourages the Salmon to make a BIG RUN! – (Might help you plan your trip?) 
(Salmon River NY fishing report).

ENJOY a fast forward and fun guide drift boat trip down the Salmon River in Pulaski NY. Covering 4 miles in 4 minutes during the Splendor of our Winter and Fall Salmon and Steelhead fishing seasons. CHECK OUT the World Record Steelhead we caught that day @ end of Salmon River drift boat video! 😉
(Salmon River NY fishing report).

AMAZING

Spring Steelhead Video.
Sometimes its nice just to watch and admire these 10 steelhead in there natural environment without fishing for them. We both felt privileged to have the opportunity to witness and experience something soooo incredible! (Video Credit "Repeat Client" Allen K).
Latest on our Steelhead:
Once again, the Capt's on the Lake are reporting decent #'s. Better than the last 2 summers. Should see mostly 6 to 10 lb. Steelhead in the river this season. From the big stocking they did a few years back. Fingers crossed! 🙂
Lots of Steelhead Open Dates presently – Starting the Last Week of Oct. thru the Winter into April.
When is the

BEST

time to fish for Steelhead?
Mid-week is always best, but not on or around a holiday).
There really isn't any BEST for Steelhead, its all angler personal preference.
I start guiding for them at the end of Oct. Which usually means less anglers and normally less fish. Later in Nov. it means more anglers and more fish, so it all sort'a even out's.
In Nov. we start to see more Steelhead and more anglers. It's the busiest angler Mo.. Temps. aren't to cold yet and its also when the steelhead fight the hardest. With speeding bullet runs, tail walks and somersaults.
In Dec. we start to see even more Steelhead and less anglers. Most folks are doing business and family holiday stuff. And its a lil colder = Less anglers = more opportunity for you.
The middle of the Winter can be magical with only the most die hard steelhead anglers out. During these colder Mo's. = Less anglers = more opportunity for you.
Spring Steelhead (Mar. and April) it starts to warm and we see a few more anglers out. But not as many as Nov. The Steelhead's appetites are on fire as they slowly drop back down the river to lake Ontario. Sight fishing is an optional treat.
(Salmon River NY fishing report).

Where is the

BEST

place to Fish on the Salmon River for Salmon, Steelhead and Brown Trout? Enjoy my

Expert

YouTube Fishing Tutorial Video's for your Guaranteed 

BEST

fishing opportunities.
3 Basic fishing ways to locate and target Your Salmon River Salmon and Steelhead.
1. When the Salmon and steelhead are running the Salmon River. Fish there "Temporary Transitional Resting Spots" as they make there way up the Salmon River. Otherwise, you are fishing to Salmon or Steelhead that are not stopping, decreasing your odds greatly. Tutorial Video on Temporary Transitional Resting Spots.
2. Once the Steelhead or Salmon stop running the Salmon River to hold during the middle of the day. – (From approx. 9:30am. to 5:30pm.) Fish these "Prime Transitional Holding Spots".
Tutorial Video on Prime Transitional Holding Spots.
3. Once the Salmon or steelhead have stopped running the Salmon River. And have found a spot that satisfies all their survival instincts. Fish these "Prime Holding Spots" – (Pools). Normally, the most fish and they aren't going anywhere soon. Tutorial Video on Prime Holding Spots – Pools.
4

Advanced

 fishing ways to locate and target Your Salmon River Salmon and Steelhead.
Tutorial Video on EXPERT Fish Locating Habitat. – (These are areas I look for on the Salmon River when guiding folks like yourself.)
4. Find a spot that is a combination of all 1 thru 3. (Or, a spot that has all 3 in close proximity. So you can jump around according to what the Salmon or Steelhead are telling you to do.)
5. Combine 1 thru 4 and find a spot above a looong stretch of rapids. The fish get tired after running these Salmon River rapids and will hold here for an extended period of time.
6. Include 1 thru 5 and make sure that your spot has 98% of the Salmon or Steelhead in a transitional stage. Move into it. (Funnel or Pinch point in the river.)
7. My #1 Spot! Combine 1 thru 6 and pick a spot that compresses and or concentrates them. On a dime, like a sardine can, trash can lid or the size of a Volkswagen beetle or bus. This cuts down on all the guess work. And it allows to to present your offering to all the Steelhead and Salmon on every drift.
8. The VERY BEST place to Salmon or Steelhead fish? Is anywhere I'm not! yukyuk
By utilizing the above. You will have the most Steelhead or Salmon in front of you for the greatest period of time. In a concentrated area offering you the greatest opportunity to present your offering to ALL of them. Fish ON and ON and ON! Now you know what "This Salmon River Fishing Guide" look's for normally.
Places the Fish stop and rest at while running the river – Current Breaks.
1 Head of the hole.
2 The seams on either side of the main flow in the hole. (Thats where the fast water meets the slow or what we call frog water)
3 Any big boulders or large rocks in the hole.
4 Deepest part of the hole.
5 Tail of the hole.
6 The seam on the inside bend of the river.
7 Behind a shallow area that breaks the current.
8 Any big rocks or boulders that are in the deepest part of the river that the fish use to navigate it.
9 A lil 4 to 6 inch drop in the rivers bottom.
10 Tree's that have fallen into the river that are creating a seam.
To simplify all this, the fish use all the current breaks in the river. BUT, probably 90% of the river they simply swim thru it and dont stop. These areas should be avoided like the plague. As Lou Tabory once said, There is a LOT of empty water out there.
What makes all Current Breaks so

interesting and challenging

to understand as an angler is:
1 Some CBs are only used by the fish while in a Trans. Stage while running up the river or down it. Some for only a few seconds, minutes to all day.
2 Some CBs are used for several days, an entire Month to 5-6 months.
3 Some CBs are only used in the Fall before the water temp. drops. Some CBs are only used during the Winter, after the water temp. has dropped. And finally some CBs are only used during the Fall for Salmon, November for Brown Trout and the Spring for Steelhead. So some CBs are only used during certain stages of the fish's life.
4. Some CBs are only used during certain water flow levels. Low, medium and high water changes the CBs that the fish key in on and use. Our water levels are always changing and the fish change along with it and so should you.
Folks, What makes an experienced steelhead or salmon angler on the Salmon River?
One of the most critically important things is to have is a complete and thorough understanding of is Current Breaks, and when and how the fish use them. This knowledge will definitely put YOU into the 10% of the anglers that catch 90% of the fish, here on the Salmon River.
I sincerely hope you found my "Guide Tips"  Entertainingly Informative or Mildly Education. And helps you to better understand these productive fishing Current Breaks on the Salmon River and helps you, to catch more fish.
May all YOUR doorknobs smell of BIG Salmon, Steelhead and Brown Trout!
Randy Jones the Yankee Angler.
35+years of Pro. Fishing Guide Experience.
Author and Publisher-Salmon River NY Fishing Report.

When is

Your BEST

Guaranteed Salmon

Fishing on the Salmon River?
Mid-week is always best, but not on or around a holiday.
First off, when fishing for Salmon on the Salmon River there is no such thing as Guaranteed or Best. Only what Monthly time period is normally, but not always, the most consistent year after year. Included in this would be angler personal preference.
Early to mid. Sept. Salmon fishing "usually" means less anglers and normally less fish. Later in the Mo. and Oct., it means more anglers and more fish, so it all sort'a even out's.
Normally, prime time is last week of Sept. and first week of Oct.
Last year, the Salmon came in late and mid. Oct. was great!
So its tuff to forecast, but late Sept. and early Oct. is over all. Normally the best most consistent, but also with the most anglers.

Want to get in on a Salmon Contest with Prizes awarded? (Click on the link for more details)
http://www.salmontime.com/index.php?threads/salmontime-fall-2017-salmon-contest.2014/
Fishing Report Testimonial: 
Randy, I recently discovered you and your writings. You Rock!! Your writings resonate with so many. The humor, the professional POV and experience you share is invaluable. Hope to secure a spot with you soon. Jim
Thanks for your many kind and generous words Jim! My head almost didn't fit thru the front door after that one. 🙂 Randy
Looking for a place to Stay in Pulaski NY?
Pulaski Condo Lodging Avaiable from Sept 15 thru Nov. 15. for Anglers.
Fully Furnished, 200 yards from the Ball Park, sleeps 4.
Phone – Laurdon Heights 315-450-4800.
(Salmon River NY fishing report).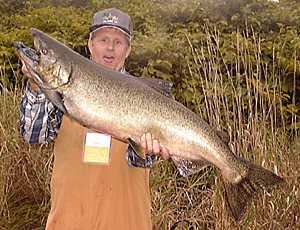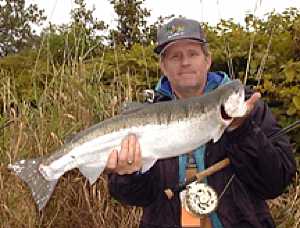 Guest Testimonial.
Randy, even though there were relatively few fish caught up and down the river by others. Due to low water and fish volumes, it was amazing how effective our group was. I did not see anyone even come close to the amount of fish we handled and, in many cases, landed. Thanks for your patience and consistent sharing of techniques. Bottom line; best guide, best location, best dates, best gear,—big fish! See you next year if not before in Pulaski NY. Thanks! Clint Woods
Clint lands a beauty King Salmon of approx. 30 lb's. Steelhead too! Congrats!

A lil HUMOR to End this Blog 😉
If you have any Complaints about my Blog. Criticism is always welcome! Please click on the below image and fill-out the Complaint Form. 😉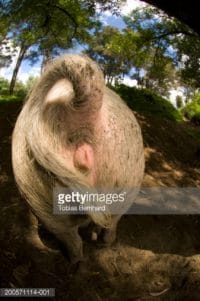 Try double clicking on it or Re-Fresh the page, if it didn't work.

Thumbs up from this Fishing Guide with a Very Happy Salmon River Steelhead Guest.
The Steelhead and Salmon fishing of your dreams……

………… we'll mak'm reeeeeeeeeeeeeel

The Salmon River, where Memories are Made!
Join me for a guided drift boat fishing trip on the World Renowned Salmon River in Pulaski NY for hard fighting Salmon or Steelhead during the splendor of our Fall, Winter and Spring seasons. Enjoy learning Advanced fishing techniques and Exact fish habitats. I always enjoy sharing my wealth of knowledge with all my guest's.
INFORMATION| The Yankee Angler
Randy Jones is a Full-Time Professional Drift Boat Spin - Fly fishing Guide with over 35 years of Experience.
Yankee Angler
Phone: 315-963-2065
87 Clark Road
Mexico, NY 13114

Rates, Reservations and Deposits:
$275 for 1 angler $350 for 2 anglers Your reservation is confirmed upon receipt of a $100 check deposit (per day) within 7 days of booking to hold your date. Check Payable and Mailed to: Randy Jones 87 Clark Rd. Mexico, NY 13114  No credit cards being excepted at this time.