Salmon River Guide Drift Boat Fishing Pulaski NY
Enjoy a Salmon River guide drift boat fishing trip for Trophy Steelhead or Salmon in Pulaski NY. I'm Randy Jones who has 35 years of Pro. guide fish experience.
Steelhead, King Salmon, Coho Salmon and Brown Trout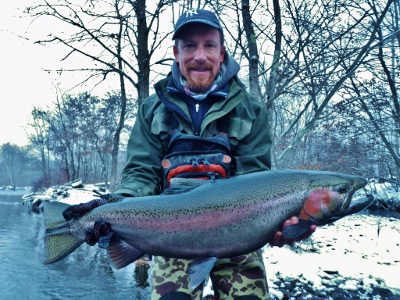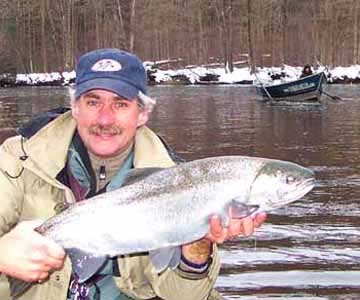 Join this Salmon River Guide for a drift boat fishing trip on the World Renowned Salmon River in Pulaski NY for hard fighting Salmon or Steelhead during the splendor of our Fall, Winter and Spring fishing seasons. Its reputation for large runs of Salmon and Steelhead and Incredible Average Size of all species is unsurpassed by any other fishery in New England.
Whether it is Trophy sized Steelhead or Salmon that you want. This Salmon River Guide is dedicated to introducing both new and experienced anglers to the exciting world of fishing for Steelhead or Salmon.
We can Spin fish, Fly fish or Float fish off the Salmon River Guide drift boat. Enjoy learning Advanced fishing techniques and Exact fish habitats. I always enjoy sharing my wealth of knowledge with all my guest's. Especially if you are planning a return fishing trip on your own.
The Steelhead and Salmon fishing of your dreams…….                      ……..well mak'm reeeeeeeeeeel! 
Sincerely, Salmon River guide Randy Jones.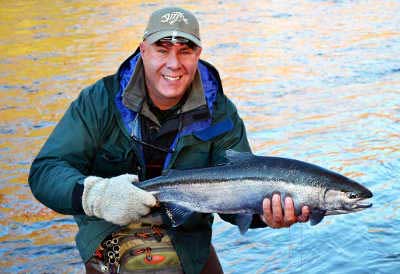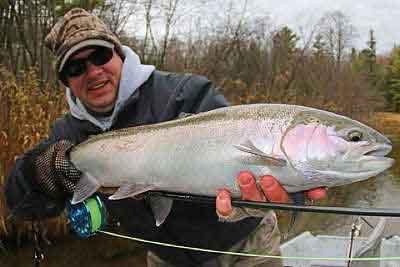 Salmon River Guide fishing for Steelhead, King Salmon, Coho Salmon and Brown Trout in Pulaski NY.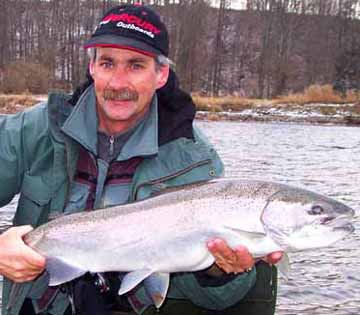 Fishing Steelhead (avg. 8 to 12 lbs.) – (Nov. thru April.) Our Steelhead are without a doubt, one of the hardest fighting and most acrobatic fish that swims in the Salmon River in Pulaski NY. Torpedo – Silver Bullet runs and changing direction in a blink of an eye. While taking your line 100 to 200 feet out in seconds. This well surely jump start your fishing heart! Tarpon jumps, like a rocket ship 3-4 feet in the air. Somersaulting like a jugglers baton back to earths atmosphere before splash down. Sounding like a cinder block with water spraying 20 feet in all directions. Steelhead Tail Walks across the pool for 40 to 60 feet, will live in your Salmon River memory forever!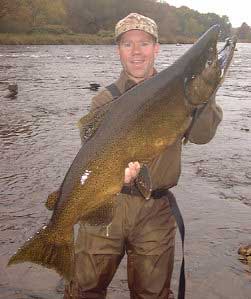 Fishing King Salmon (Chinook Salmon) avg. 10-20 lbs. (Sept.-Oct.)
Our tackle busting King Salmon are known for Rod Breaking EXPLODING fishing excitement! King Salmon will amaze you with their freight train runs on the Salmon River.
Its like your hooked to the back of a bus, that isn't stopping!
There is no Nookie like a Chinookie! 😉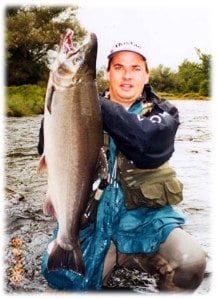 Fishing Coho Salmon avg. 8-12 lbs. (Sept.-Oct.)
Trying to harness the raw power of a zippy 12lb Coho Salmon screaming at high speeds. In 20 different directions will keep you on your fishing toes (and hopefully not on your fishing back!)
There is no HO like a Coho! 😉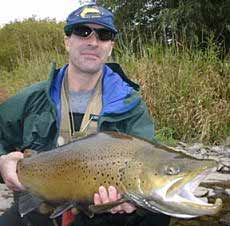 Fishing Brown Trout avg. 3-5 lbs.
You can catch these Brown Trout anytime while fishing for Steelhead. Like Salmon and Steelhead you measure our Brown Trout by the pound and not by the inch. While they are not as numerous as Salmon or Steelhead. These are an optional Trophy of a Fishing life time!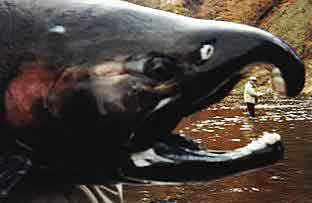 A brightly colored up Male Coho Salmon, ready to eat an angler. They get That BIG up here! 😉 I took the picture and my client ended up submitting it in a magazine photo contest and won first prize!
He kept the BMW and all this Salmon River guide got was this picture. Dam!
What helps to cause a

BIG RUN

of Salmon or Steelhead?
This might help plan your Salmon River fishing trip.
FOR MORE

Salmon River guide Steelhead and Salmon Fishing.

Salmon River Drift Boat Fishing with your Salmon and Steelhead Salmon River Guide.
There is a drift boat seat reserved and waiting for you.…… This Salmon River Guide drift boat fish catching machine awaits you.
The Guide Drift Boat allows you to Spin or Fly Fish a great deal of water for Salmon or Steelhead on the Salmon River in Pulaski NY.
Often when the Steelhead or Salmon are scattered. The drift boat is a fabulous water chariot to get you to the best fishing spots quickly. We can either spin fish or fly fish from the drift boat. Or many times its best to get out of the drift boat and wade fish a productive run for Steelhead or Salmon with this Salmon River Guide.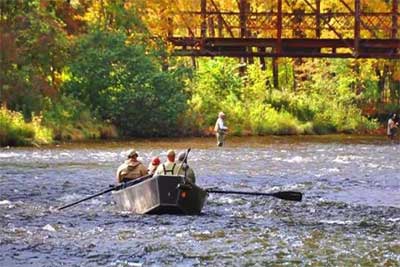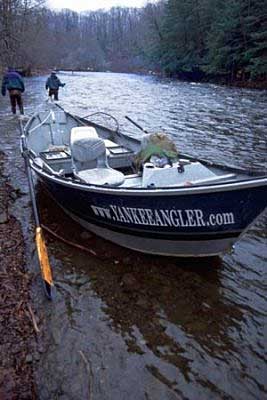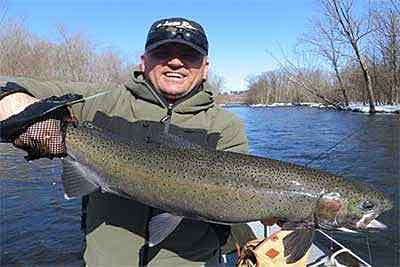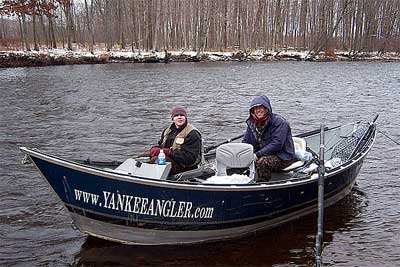 Out on your 16 foot heated Salmon River Guides drift boat. Enjoying a Fish filled day during the Fall, Winter and Spring on the Salmon River in Pulaski NY.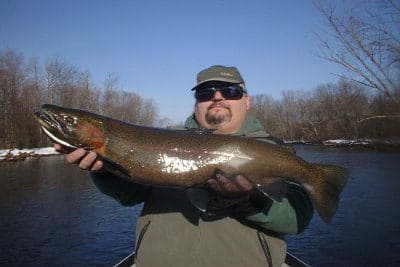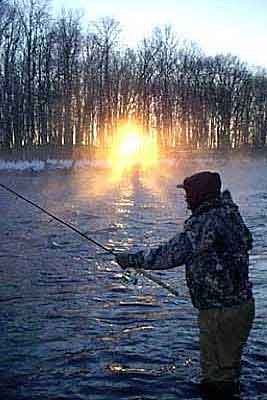 Enjoy a

Scenic 

drift boat trip down the Salmon River.


Fun and Fast

– Covering 4 miles in 4 minutes during the Fall and Winter.
FOR MORE

Salmon River guide Drift Boat Fishing.

3 Basic fishing ways to locate and target Your Salmon River Salmon and Steelhead.
1. When the Salmon and steelhead are running the Salmon River. Fish there "Temporary Transitional Resting Spots" as they make there way up the Salmon River. Otherwise, you are fishing to Salmon or Steelhead that are not stopping, decreasing your odds greatly. Tutorial Video on Temporary Transitional Resting Spots.
2. Once the Steelhead or Salmon stop running the Salmon River to hold during the middle of the day. – (From approx. 9:30am. to 5:30pm.) Fish these "Prime Transitional Holding Spots".
Tutorial Video on Prime Transitional Holding Spots.
3. Once the Salmon or steelhead have stopped running the Salmon River. And have found a spot that satisfies all their survival instincts. Fish these "Prime Holding Spots" – (Pools). Normally, the most fish and they aren't going anywhere soon. Tutorial Video on Prime Holding Spots – Pools.
4

Advanced

 fishing ways to locate and target Your Salmon River Salmon and Steelhead.
Tutorial Video on EXPERT Fish Locating Habitat. – (These are areas I look for on the Salmon River when guiding folks like yourself.)
4. Find a spot that is a combination of all 1 thru 3. (Or, a spot that has all 3 in close proximity. So you can jump around according to what the Salmon or Steelhead are telling you to do.)
5. Combine 1 thru 4 and find a spot above a looong stretch of rapids. The fish get tired after running these Salmon River rapids and will hold here for an extended period of time.
6. Include 1 thru 5 and make sure that your spot has 98% of the Salmon or Steelhead in a transitional stage. Move into it. (Funnel or Pinch point in the river.)
7. My #1 Spot! Combine 1 thru 6 and pick a spot that compresses and or concentrates them. On a dime, like a sardine can, trash can lid or the size of a Volkswagen beetle or bus. This cuts down on all the guess work. And it allows to to present your offering to all the Steelhead and Salmon on every drift.
8. The VERY BEST place to Salmon or Steelhead fish? Is anywhere I'm not! yukyuk
By utilizing the above. You will have the most Steelhead or Salmon in front of you for the greatest period of time. In a concentrated area offering you the greatest opportunity to present your offering to ALL of them. Fish ON and ON and ON! Now you know what "This Salmon River Fishing Guide" look's for normally.
I hope you found my "Guide Tips" entertainingly informative or mildly educational. – May all Your door knobs smell of BIG Salmon and Steelhead!
Best Fish's, Salmon River guide Randy Jones.

The

Life of a Successful Salmon River Guide

drift boat fishing for Steelhead and Salmon in Pulaski NY. (About Randy Jones the Yankee Angler).
by Morgan Lyle For The Daily Gazette.
Want an idea of the demand for a good "Full-Time" Salmon and Steelhead Salmon River guide?
"I have already had to start scheduling my days off. A year in advance, believe it or not" said Randy Jones, aka, "the Yankee Angler". One of only a handful of "Full-Time" Salmon River guides who take people Steelhead and Salmon fishing. From the start of salmon season in September right through to the end of steelhead season in the Spring.
There are good reasons to envy the lives of a Salmon River guide. They make a living doing what the rest of us do for fun. Their workplace is a drift boat on a river, and their only boss is Mother Nature.
But most fishers also realize it can be a tough life. One that could burn a person out on fishing altogether. Jones used to work every weekend and holiday. Now, because his Salmon River guide business is so successful and popular. He takes those days off and only guides mid-week. He's in bed every night at 8 and up every morning at 3.
All through the winter. Long before most people have clicked their remote car starters and sat down to a cup of coffee. He's backing his drift boat trailer into the inky Salmon River in the frigid dawn in Pulaski NY. With anxious, bundled-up fishing client's dreaming of leaping silver Steelhead.
Even at the slowest times of the year. Salmon River guide Randy Jones is competing with dozens or hundreds of fishing anglers for fish. Steelhead are tricky to find, difficult to fool and very challenging to land on the Salmon River.
When he's not out with clients (some of whom have precious little Salmon or Steelhead fishing experience). He's working on his fishing web site's or lining up speaking engagements at Trout Unlimited functions and other gatherings that help promote his Salmon River guide business and keep his guide schedule full.
So it was nice to learn that the daily fishing guide grind hasn't blunted Jones' passion for the sport. When I asked him when would be a good time to get some pictures of him on the Salmon River. He said,"I've got a day off scheduled Wednesday. Let's go out in the drift boat."
"It takes an enormous amount of time and energy," he said. "But what originally got me into the sport as an angler is still there. The love of being outdoors, the excitement of the Steelhead and Salmon fight, the challenge of it all. Basically just having a love of the sport that I haven't lost after 35 years and sharing that passion with others, who have the same Salmon and Steelhead fishing interest's as I do.
Jones, 58, an Iowa native who lived and guided in Vermont and Cape Cod for 12 years before moving to Pulaski NY. May be one of the best-known of the hardy Salmon River guide corps. Randy has 35 plus years of experience as a fishing guide. Which has helped him to acquire a vast and diverse Steelhead and Salmon fishing knowledge base. While he's relaxed and good natured with his clients, as a good Salmon River guide should be. He is also very much a hard-nosed businessman, always on the lookout for an advantage or a new way to promote his Salmon River guide service.
His Social Media sites offer expert Salmon and Steelhead Salmon River guide fishing informative articles. Based on Jones' years of daily guide experience on the Salmon River. About flies, spin fishing, fly fishing, float fishing, rigging, techniques, fishing habitats and finding fish.
As free as he is with general spin and fly fishing advice. Jones keeps things like Steelhead and Salmon honey-holes and productive bait, bead and fly-patterns secret, to be shared only with his fishing clients. He doesn't waste a client's time on a Salmon River hole that was pounded the day before. And he watches each cast carefully. To make sure the sport has covered a good fishing lie thoroughly before moving on.
Most of Jones' clients seem to land Salmon and Steelhead. But of course, there is more value to fishing with a Salmon River guide than simply being chauffeured to a good fishing spot in a heated drift boat. You learn things it would have taken you years to learn by yourself and you can come back confident and informed on your own.
What's it like to be a Salmon and Steelhead Salmon River guide?
"It can be a variety of different things. From total satisfaction that you've taken someone with lots of Salmon and steelhead fishing experience to no fishing experience. And brought their fishing ability level up to meet their expectations or above. The same way a teacher would feel when their students get an A on a test. To the thrill and the excitement of the Salmon or Steelhead fight. The rewards of running a profitable Salmon River guide business. To sometimes the feeling of inadequacy when you have a slow fishing day on the Salmon River," he said.
His Salmon River Guide Social Media Sites. Facebook, YouTube and Google+ draw thousands of Salmon and Steelhead fishing visitors a day.

They are worth a fishing visit:
Jones can be reached at (315) 963 – 2065. Along with his own Salmon River guide fishing business, he offers a referral service to 6 other local top fishing guides. That he keeps busy while taking his client over flow. The Schenectady Gazette.,Schenectady, NY. All rights reserved. Reprinted with permission.
Salmon River Guide Steelhead and Salmon

– Related Content.
1. Want a Good Laugh? Enjoy my Salmon River Guide Humor.
2. Gigantic – Galvanic Steelhead Story!
3. Join the 10% of the Salmon River anglers that catch 90% of the Salmon and Steelhead club!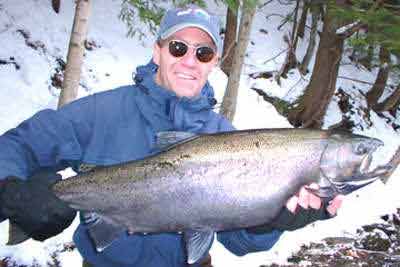 Salmon River

 Guide

Trophy Steelhead Fishing Testimonial:
Randy, What a great day! Just when I thought I knew a little something about steelhead fishing I had to fish with you. You really are a class act. I really appreciate you sharing your expertise and patience. As well as some of your Salmon river "honey" holes with me. I would encourage any steelhead fisherman, novice or expert, to fish with a guide even if it's just once. And if they can get Salmon River guide Randy Jones they're in for a great day. There is so much to learn about steelhead fishing. You can trim years off the "learning curve" by steelhead fishing with a real pro such as yourself. Thanks again for the fun and truly a learning steelhead fishing experience on the Salmon River. Thanks again! John
John's honk'a off the drift boat! Approx. 16 lb. Steelhead!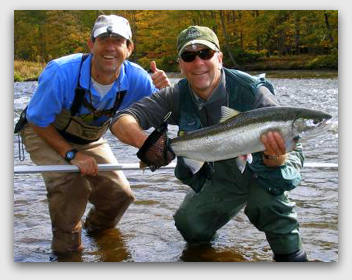 Thumbs up from this Salmon River Guide with a Very Happy Steelhead Fishing Guest.
The Steelhead and Salmon fishing of your dreams……

………… we'll mak'm reeeeeeeeeeeeeel

The Salmon River, where Memories are Made!
SALMON RIVER FISHING REPORTS
EXPERT Salmon River Fishing Videos
Salmon River Fish Pictures Photos
Book a Salmon River Fishing Trip
INFORMATION| The Yankee Angler
Randy Jones is a Full-Time Professional Drift Boat Spin - Fly fishing Guide with over 35 years of Experience.
Yankee Angler
Phone: 315-963-2065
87 Clark Road
Mexico, NY 13114

Rates, Reservations and Deposits:
$275 for 1 angler $350 for 2 anglers Your reservation is confirmed upon receipt of a $100 check deposit (per day) within 7 days of booking to hold your date. Check Payable and Mailed to: Randy Jones 87 Clark Rd. Mexico, NY 13114  No credit cards being excepted at this time.