Salmon River Fishing Guide Drift Boat Fishing Pulaski NY
Enjoy a Salmon River fishing guide drift boat trip for Trophy Steelhead or Salmon in Pulaski NY. I'm Randy Jones who has 35 years of Pro. guide fish experience.
Steelhead, King Salmon, Coho Salmon and Brown Trout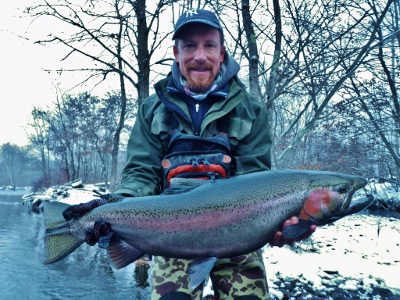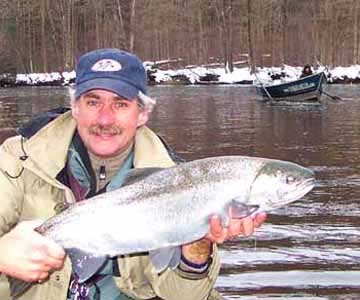 Join this Salmon River Fishing Guide for a drift boat trip on the World Renowned Salmon River in Pulaski NY for hard fighting Salmon or Steelhead during the splendor of our Fall, Winter and Spring fishing seasons. Its reputation for large runs of Salmon and Steelhead and Incredible Average Size of all species is unsurpassed by any other fishery in New England.
Whether it is Trophy sized Steelhead or Salmon that you want. I am dedicated to introducing both new and experienced anglers to the exciting world of fishing for Steelhead or Salmon.
We can Spin fish, Fly fish or Float fish off the drift boat. Enjoy learning Advanced fishing techniques and Exact fish habitats. I always enjoy sharing my wealth of knowledge with all my guest's. Especially if you are planning a return fishing trip on your own.
The Steelhead and Salmon fishing of your dreams…….                      ……..well mak'm reeeeeeeeeeel! 
Sincerely, Salmon River fishing guide Randy Jones.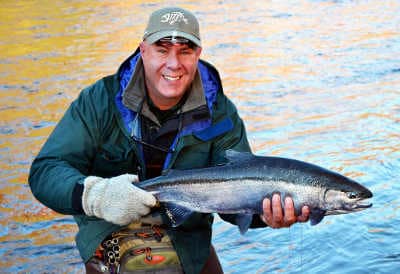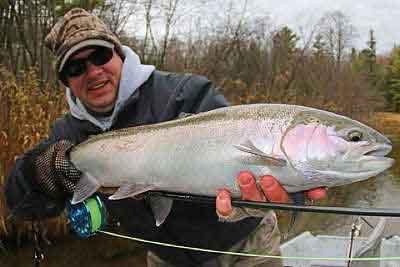 Salmon River Fishing Guide fishing for Steelhead, King Salmon, Coho Salmon and Brown Trout in Pulaski NY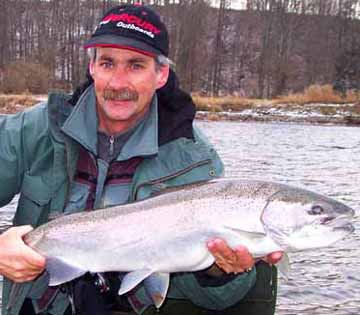 Fishing Steelhead (avg. 8 to 12 lbs.) – (Nov. thru April.) Our Steelhead are without a doubt. One of the hardest fighting and most acrobatic fish that swims in the Salmon River in Pulaski NY. Torpedo – Silver Bullet runs and changing direction in a blink of an eye. While taking your line 100 to 200 feet out in seconds. This well surely jump start your fishing heart! Tarpon jumps, like a rocket ship 3-4 feet in the air. Somersaulting like a jugglers baton back to earths atmosphere before splash down. Sounding like a cinder block with water spraying 20 feet in all directions. Steelhead Tail Walks across the pool for 40 to 60 feet, will live in your Salmon River memory forever!
Fishing King Salmon (Chinook Salmon) avg. 10-20 lbs. (Sept.-Oct.)
Our tackle busting King Salmon are known for Rod Breaking EXPLODING fishing excitement! King Salmon will amaze you with their freight train runs on the Salmon River.
Its like your hooked to the back of a bus, that isn't stopping!
There is no Nookie like a Chinookie! 😉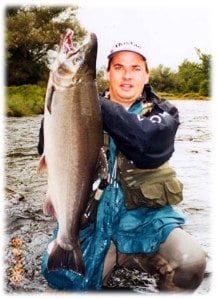 Fishing Coho Salmon avg. 8-12 lbs. (Sept.-Oct.)
Trying to harness the raw power of a zippy 12lb Coho Salmon screaming at high speeds. In 20 different directions will keep you on your fishing toes (and hopefully not on your fishing back!)
There is no HO like a Coho! 😉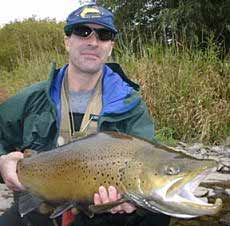 Fishing Brown Trout avg. 3-5 lbs.
You can catch these Brown Trout anytime while fishing for Steelhead. Like Salmon and Steelhead you measure our Brown Trout by the pound and not by the inch. While they are not as numerous as Salmon or Steelhead. These are an optional Trophy of a Fishing life time!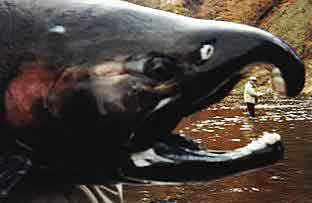 A brightly colored up Male Coho Salmon, ready to eat an angler. They get That BIG up here! 😉 I took the picture and my client ended up submitting it in a magazine photo contest and won first prize!
He kept the BMW and all this Salmon River fishing guide got was this picture. Dam!
FOR MORE Salmon River fishing guide Steelhead and Salmon Fishing.

Salmon River Drift Boat Fishing with your Salmon and Steelhead Salmon River Guide.
There is a drift boat seat reserved and waiting for you.…… This drift boat fish catching machine awaits you.
The Guide Drift Boat allows you to Spin or Fly Fish a great deal of water for Salmon or Steelhead on the Salmon River in Pulaski NY.
Often when the Steelhead or Salmon are scattered. The drift boat is a fabulous water chariot to get you to the best fishing spots quickly. We can either spin fish or fly fish from the drift boat. Or many times its best to get out of the drift boat. And wade fish a productive run for Steelhead or Salmon on the Salmon River.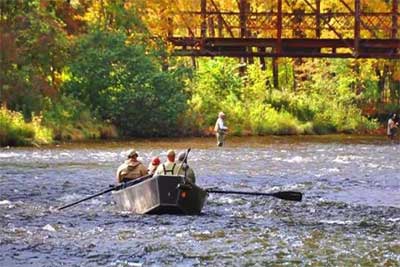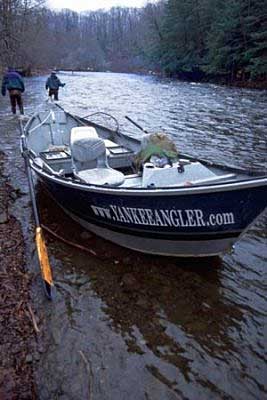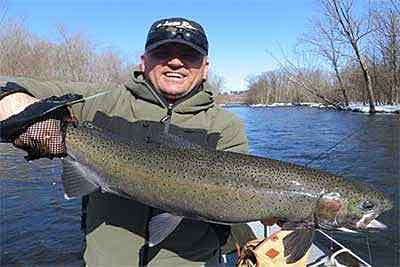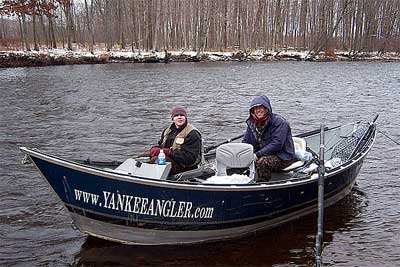 Out on your 16 foot heated drift boat. Enjoying a Fish filled day during the Fall, Winter and Spring on the Salmon River in Pulaski NY.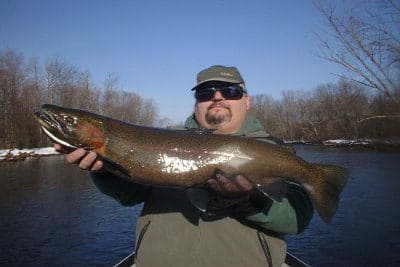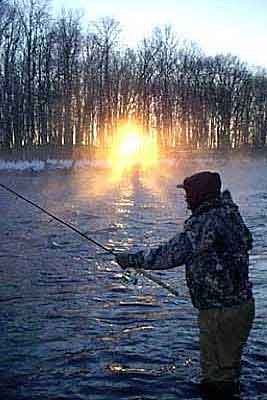 Enjoy a
fast forward and fun

 Salmon River fishing guide drift boat trip video. Covering 4 miles in 4 minutes during the Splendor of our Fall and Winter Steelhead and Salmon fishing seasons.

😉 CHECK OUT the World Record Steelhead we caught that day @ end of Salmon River drift boat video. 😉
FOR MORE Salmon River fishing guide Drift Boat Fishing

Enjoy my Salmon River Fishing Guide Tips, Humor, Fun Fishing Story and

"Expert Fish Fighting Article."

 For Steelhead and Salmon fishing in Pulaski NY.
What helps to cause a BIG RUN of Steelhead or Salmon on the Salmon River?
This might help you plan your Salmon River NY Salmon or Steelhead fishing trip.
Fishing you Good Salmon and Steelhead fishing Luck! Salmon River fishing guide, Randy Jones.
3 Basic fishing ways to locate and target Your Salmon River Salmon and Steelhead.
1. When the Salmon and steelhead are running the Salmon River. Fish there "Temporary Transitional Resting Spots" as they make there way up the Salmon River. Otherwise, you are fishing to Salmon or Steelhead that are not stopping, decreasing your odds greatly. Tutorial Video on Temporary Transitional Resting Spots.
2. Once the Steelhead or Salmon stop running the Salmon River to hold during the middle of the day. – (From approx. 9:30am. to 5:30pm.) Fish these "Prime Transitional Holding Spots".
Tutorial Video on Prime Transitional Holding Spots.
3. Once the Salmon or steelhead have stopped running the Salmon River. And have found a spot that satisfies all their survival instincts. Fish these "Prime Holding Spots" – (Pools). Normally, the most fish and they aren't going anywhere soon. Tutorial Video on Prime Holding Spots – Pools.
4

Advanced

 fishing ways to locate and target Your Salmon River Salmon and Steelhead.
Tutorial Video on EXPERT Fish Locating Habitat. – (These are areas I look for on the Salmon River when guiding folks like yourself.)
4. Find a spot that is a combination of all 1 thru 3. (Or, a spot that has all 3 in close proximity. So you can jump around according to what the Salmon or Steelhead are telling you to do.)
5. Combine 1 thru 4 and find a spot above a looong stretch of rapids. The fish get tired after running these Salmon River rapids and will hold here for an extended period of time.
6. Include 1 thru 5 and make sure that your spot has 98% of the Salmon or Steelhead in a transitional stage. Move into it. (Funnel or Pinch point in the river.)
7. My #1 Spot! Combine 1 thru 6 and pick a spot that compresses and or concentrates them. On a dime, like a sardine can, trash can lid or the size of a Volkswagen beetle or bus. This cuts down on all the guess work. And it allows to to present your offering to all the Steelhead and Salmon on every drift.
8. The VERY BEST place to Salmon or Steelhead fish? Is anywhere I'm not! yukyuk
By utilizing the above. You will have the most Steelhead or Salmon in front of you for the greatest period of time. In a concentrated area offering you the greatest opportunity to present your offering to ALL of them. Fish ON and ON and ON! Now you know what "This Salmon River Fishing Guide" look's for normally.
I hope you found my "Guide Tips" entertainingly informative or mildly educational. – May all Your door knobs smell of BIG Salmon and Steelhead!
Best Fish's, Salmon River fishing guide Randy Jones.

Salmon and Steelhead Salmon River Fishing Guide

HUMOR.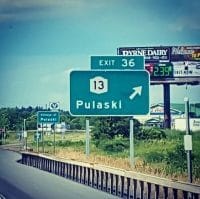 If your driving here and you see this Pulaski NY sign. Life is GOOD, once you take the Salmon River Fishing Right!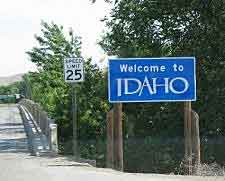 If your driving here and you see this sign, your going to the WRONG Salmon River. 😉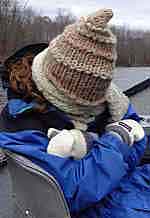 Jen decided to spend some "Quality Steelhead Fishing Time" with her boyfriend. While he fished off the guide drift boat for steelhead during a cold Winters day.  😉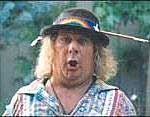 When someone stands uncomfortably to close to you while Salmon or Steelhead fishing, say this. You know sir, if you stand any closer to me, we will have to get married.
These Salmon are BIG Fish! – So don't bring your lil and or old nets when fishing the Salmon River. 😉
Up here, if you Salmon fish here long enough, you will see anglers using a small or old net. The netter usually takes 20 swipes at the Salmon before they get it into the net. And that's ONLY if they don't fall in the water while trying. – sound familiar? 😉
Then, the nets are soooo small and our Salmon are sooooo BIG. That normally they can only fit the head of the fish in the net.
Then, sometimes the Salmon will break the old mess netting and fall completely thru it back into the water. Losing it and then you get to listen to the angler LOUDLY curse out his fishing buddy. For ——– it all up! – Sorry, this site is rated PG 😉
Or, what I find even funnier. When they do finally scoop up that Salmon and are as proud as a peacock! Due to the weight of the fish, the net handle breaks in two. Losing it and then you get to listen to the angler LOUDLY curse out his fishing buddy. For ——– it all up!
Never a dull moment on this river!
(This Salmon River Fishing Guide was new once too and the above was written in fun. I use (linked) Cumming Nets for our Monster sized Salmon)
Fly Fishing for a World Record Monster 20lb. Brown Trout?
At one point during the fly fishing day Bill said, Hey Randy, come here quick. I see a BIG Monster Brown Trout. I walked over and peered into the crystal clear water and looked at what Bill was excitedly pointing at. Look at the size of that one! Bill yelled!
I said, Hmmmm, Bill I don't see it.
Right there, right off the tip of my fly rod, don't you see it? It's a Monster 20lb. Brown Trout, could be a NEW WORLD RECORD!
As Bill was pointing at it with his fly rod. I noticed his hands were trembling with excitement. At the possibility of bragging rights to his fishing buddies for years to come. If he was able to catch it?
I said, O, now I see it, yes, that is one of the largest Brown Trout I have ever seen! Could be a NEW Fly Fishing WORLD RECORD! That would be a real nice wall hanger! Bragging rights for years. Boy, wont your fly fishing buddies be jealous!
Both Chris and I started to snicker. Because what Bill was pointing at was a very dead and very severely decaying King Salmon. Just laying happily on the bottom of the pool.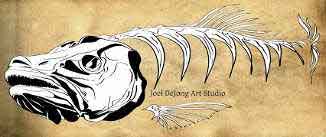 We both egged him on and suggested he make a cast for that MONST'A Brown Trout. But shortly there after we explained to him what he was really seeing. His face turned a little red and we all laughed. Of course we were laughing with him and not at him. How long you been fly fishing this river Bill? Had your eye's checked lately Bill? 🙂
Countless people have been guided by me and most (excluding Bill) have gone on to live normal lives. 😉
Be careful out there or YOU could be this Salmon River fishing guide next "Fish Tale" 😉

Salmon River Fishing Guide –

FUN FISHING STORY. 

–

 Jud and his girlfriend Theresa had a few Steelhead fishing goals for today.
1. An introduction to the Salmon River in Pulaski NY.
2. Have some fishing fun.
3. Stay warm on the drift boat.
4. Learn the basics of fishing for Steelhead. This was Theresa's first time ever fishing in her entire life!
5. Catch some fish.
Did we succeeded on all of the above goals?
Theresa with a (lake effect) snow covered hat and a great smile, while fishing the Salmon River.
Theresa's first question was, Randy, how will I know when I get a Steelhead on? Jud and myself both said in unison, you'll know.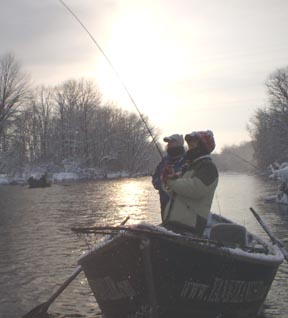 Shortly there after she was tight to her first fish – Steelhead EVER!
She yelled WOW! – Oh SH-T! – What is happening! – What do I do! As the drag started to scream The Fisherman's National Anthem. And her Steelhead made an Incredible, Heart Stopping, Adrenaline Rush, Bullet Run!
She did a great job of fighting the fish, BUT did she land it?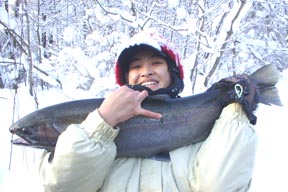 WOW! A 16 lb. Salmon River Steelhead!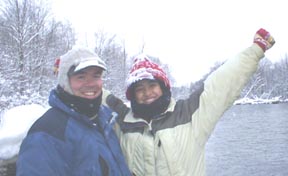 Theresa yells out VICTORY!! Throwing her arms in the air to make a cheerleader V. Her boyfriend Jud was tickled pink and very proud of her Steelhead fishing success. I think Jud has found a new Steelhead fishing buddy.
Jud mumbles under his breath, beginner's luck. Today's tally – We hit Steelhead in 1 out of 3 spots, playing with 5. Another memorable day of many.
"On the Salmon River, Where memories are made."  Sincerely, Salmon River fishing guide Randy Jones.

Salmon River Fishing Guide ARTICLE

 

–

Expert 

Fish Fighting Techniques for Steelhead or Salmon:

These may surprise you!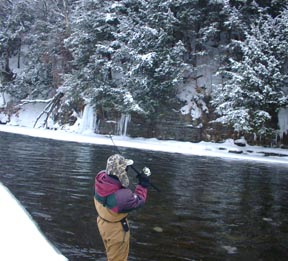 The first thing I did upon hooking up was to immediately get even or below the Steelhead. This tires the Salmon or Steelhead out sooner by knocking it off balance. And causing it to work harder to stay upright. It also vastly cuts down on the length of the fight. So its better for you and the fish!
I see 95% of the angler's on the Salmon River never really load their rod properly. When fighting a Steelhead or Salmon. Most angler's only pull back 1/4 to 1/2 way back. In this photo I am about 1/2 of the way back with the rod. Before I stop pulling back, the rod is pointed directly behind me. With the rod horizontal and next to my ear. The butt (very bottom) of the rod is pointed at the far bank. It's hammer time!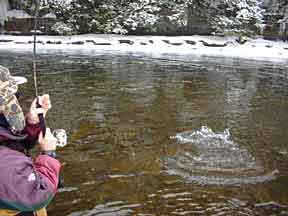 This is an example on how many Steelhead and Salmon are lost with the rod tip up. (If snag's or strong current's are around you then this would be the correct way.) Notice the splash? Miss Steelhead did not like it when I pulled her head out of the water. Many fish are lost-broken off at this point.
When fighting your Salmon or Steelhead. Try holding your rod upside down with rod tip in the water or just above it. (Example – next pic.)
The fish will normally, slowly and quietly come in without much fuss. By keeping it's head under the water the fish feel's much more comfortable and tends not to freak out. This at times can also be used as a stalling tactic. You will notice some of the more experienced Salmon River anglers inverting their fishing rod shortly after the hook up. This greatly increases the odds for your Steelhead or Salmon. To remain in the hole-pool and not speed off down river. It also helps by hopefully controlling the fish's attitude. Keeping your Salmon or Steelhead from thrashing around and breaking off.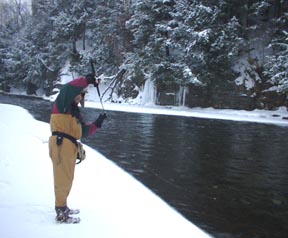 The funniest thing about this fish picture and the above photo was as I was playing the Steelhead.
Anytime I had my rod tip up I lost total control over the fish. It pretty much went anywhere it wanted to. This Steelhead had a VERY negative reaction to me pulling its head out of the water. It also took much longer to tire it out. But, as soon as I put the tip low (down and dirty) or in the water. The Steelhead came straight in at me, with in reason. While keeping its head sub-surface. This lower rod position combined with standing below your Steelhead or Salmon. Will put approx. 3 times more pressure on the fish when it is within 60 feet or so. Tiring it out sooner and gaining much more control over the fish.
If you listen to your Steelhead or Salmon. It will pretty much tell you at what angle to hold your rod. When the fish is on the other side of the river, I always hold my tip high. If I held it low then the full amount of the rivers current. Would put an awful lot of additional pressure on my line and leader – tippet as it bow's. Many times resulting in breaking the fish off. If my Steelhead is approx. from the middle of the river towards me. Then I always hold my rod tip just off the surface of the water down low or IN the water. (Providing I don't have any real fast currents or snags.)
In Closing:

When Reeling in the Fish with your Rod Tip Up. There are 2 things wrong with this sentence.
#1. I will always hold my rod upside down with the tip in the water when bringing in a steelhead. Fish don't breath air and with your tip up. The fish feel's as if your trying to pull it's head out of the water. (which you are.) This creates a havoc, wrecking ball of nerves that many times ends with Fish Off. I breathe air. So if you put my head under the water you can be assured I would not be happy. (Same with the fish.) By holding your rod upside down with the rod tip in the water or just above it. The fish will normally slowly and quietly (within reason) come in without much fuss.
#2 Whenever targeting large species of fish the rod becomes a flexible lever. We never reel the fish in; we PULL the fish in. The reel is only used to recover slack line. Pull with rod tip low, reel-down. Now combine #1 with #2 and by George, you've got it!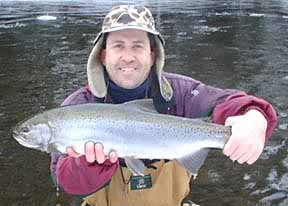 Nice lil 6lb Female Steelhead along with my Elmer Fud Hat. Whirrs that cwazy wabbit!
Thanks for stopping in, Salmon River Fishing Guide Randy Jones.
Complementary Salmon River Fishing Guide Steelhead stalling tactic tip's:
80% of the time these Steelhead fish fighting techniques and stalling tactics will help. So don't blame me if you hit the 20%!
Throwing your Salmon River Steelhead Slack:
We all love to see the somersaults, jumps, tail walks and torpedo runs the Steelhead make. But, 50% of the time that show ends with no curtain call or encore performance of a landed fish. I prefer, after hooking-up. If the steelhead decides to show its colors and race down stream where I can't follow. To throw it slack. (Pull line fast off the fly reel or open your spinning bail A.S.A.P.)
If hook set is good, the Steelhead won't throw it and the fish will normally quite down. The action your Steelhead takes is due to the pressure it feel's. So by releasing the pressure on your Steelhead. it no longer feel's threatened and will tend to stop on a dime. This allows you to regroup and take control. Throwing it slack is also a great way to stop it's screaming run downstream into snags or deep water. (where you can't go) Or at least slow your Steelhead down so you can catch up.
Another effect that throwing it slack has is from where you are standing. Your line (down stream) will form a bow in the water's current back to the fish. The Steelhead will feel the pressure of the current against your bow'd line. And feel as if it is being pulled down river. This normally results in your Steelhead slowly swimming back up the Salmon River. To where you had initially hooked it up. (These "happy fish" really do not want to leave that prime lye where you had hooked it up.) Then simply reel up your slack line and you'll be surprised, when at times, your Steelhead will be back. Almost at your feet.
Walking your Salmon River fish:
Here's another technique that has worked for me. If I'm working a piece of fast, deep water that is not easily waded. Upon hooking-up, I immediately lighten up and only bend the tip of the rod slightly. Remember what I said earlier about pressure? With only a slight bend in the rod tip. The fish feels little to no pressure and maintains its position in the river. I then slowly move to a safer area and believe it or not, normally it will follow. Once I'm in a safe position, I give it to'em. It's Miller Time!
I hope you found my Salmon River fishing Guide Article entertainingly informative or mildly educational. – This knowledge will definitely help put YOU into the 10% of the anglers that catch 90% of the fish, Here on the Salmon River. Best Fish's, Salmon River Fishing Guide Randy Jones.

Salmon River

Fishing Guide

Trophy Steelhead Fishing Testimonial:
Randy, What a great day! Just when I thought I knew a little something about steelhead fishing I had to fish with you. You really are a class act. I really appreciate you sharing your expertise and patience. As well as some of your Salmon river "honey" holes with me. I would encourage any steelhead fisherman, novice or expert, to fish with a guide even if it's just once. And if they can get Salmon River fishing guide Randy Jones they're in for a great day. There is so much to learn about steelhead fishing. You can trim years off the "learning curve" by steelhead fishing with a real pro such as yourself. Thanks again for the fun and truly a learning steelhead fishing experience on the Salmon River. Thanks again! John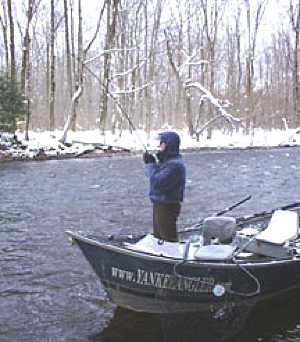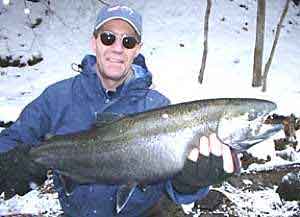 John's tight to his first Steelhead and lands this beauty!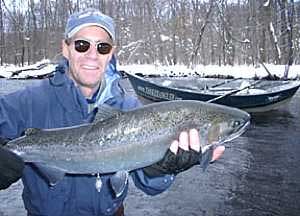 Another Steelhead landed by John!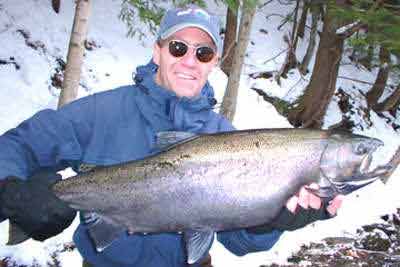 John's honk'a off the drift boat! Approx. 16 lb. Steelhead! Great way to end the Fishing Day!
(Salmon River Fishing Guide.)

Salmon River Guide – Steelhead Fishing in Lake Ontario Tributaries. Washington Steelhead. Skamania Steelhead. The Steelhead Rivers. Spin Fishing Tackle. Float Fishing Tackle. Fly Fishing Tackle. Effective Flies, Baits and Lures. Steelhead Behavior. Drift Fishing and Playing and Landing the Steelhead.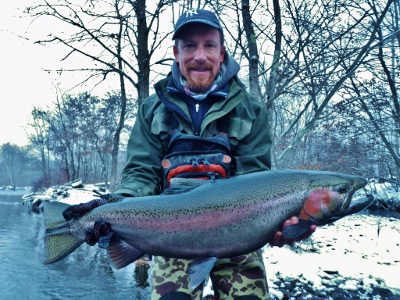 Two distinct strains of migratory rainbow trout called "steelhead" are stocked into Lake Ontario. These are Washington (a winter run strain) and Skamania (a summer run strain); both originally came from the State of Washington. All rainbow trout strains are native to Pacific coast watersheds of North America and Asia.
Washington Steelhead
Mature Washington steelhead begin to enter Lake Ontario tributaries in small numbers as early as mid-September. By mid-October the run has intensified as the water temperatures of the streams drop to the optimum range of 45-58 degrees F for migration. The late October thru November period, before water temperatures get cooler than 40 degrees F, is typically one of the best times to fish for Washington steelhead in the tributaries as they are aggressively feeding. As water temperatures drop into the 30's, the run will slow considerably; however brief warming periods will bring new fish into the tributaries throughout the winter months of January and February. Spawning usually begins in Mid-March and continues through late April. After spawning, the fish begin to drop back downstream to the lake. Hungry and no longer distracted by the spawning ritual, these "drop-back" fish begin to feed heavily and can provide excellent fishing on some tributaries into mid-May.
Skamania Steelhead
Skamania are a summer run/spring spawning strain of steelhead which was developed by the State of Washington from wild stocks on the Washougal River. Currently Skamania strain steelhead are only stocked in the Salmon and Little Salmon River's. These fish can enter the river as early as May with the bulk of the run coming in the June – September period. Skamania fishing tends to be "hit or miss" and is very dependent on the river condition. Conditions which can stimulate a run on the Salmon River are special recreational water releases or rising water levels caused by heavy rain showers. Skamania tend to race up the river quickly, so timing is critical. Your best chance of catching one of these powerful fish is during and immediately following one of these periods of increased flow. Even though Skamania enter the river during the summer, they will not be sexually mature and ready to spawn until late February through early April.
The Steelhead Rivers
Yearling steelhead are currently stocked in 22 tributaries of Lake Ontario: Black River, Stony Creek, South Sandy Creek, Salmon River, Grindstone Creek, Oswego River, Sterling Creek, Sterling Valley Creek, Maxwell Creek, Irondequoit Creek, Genesee River, Salmon Creek, Sandy Creek, Oak Orchard Creek, Marsh Creek, Johnson Creek, Keg Creek, Eighteen Mile Creek, E.Br.of Twelve Mile Creek, Four Mile Creek, and Lower Niagara River. They range from small brush lined creeks to large powerful rivers. To become a highly successful steelhead angler, it pays to spend a lot of time getting to know intimately one or two rivers of the size and type you prefer to fish.
Spin Fishing Tackle
Most anglers using spinning tackle on the tributaries for steelhead are using "drift fishing" techniques. For this type of fishing, the spinning rod should be long to keep line off the water and sensitive enough to detect the often soft bite of the steelhead. Spinning rods should be 8 ½ to 10 feet in length, have a light to medium action, and be rated for 6-12 pound test line. Some anglers prefer the ultra long and slow action "noodle rods" which can be up to 14 feet long and rated for 2-4 pound test line. The advantage of these rods is they allow for delicate presentations of small baits on very light leaders which are needed when fishing to spooky fish in clear water. Since they bend all the way to the butt they act like shock absorbers making it more difficult for fish to break the line. The spinning reel should have enough spool capacity to hold at least 150 yards of 8-10 pound test line. It is essential that it have a perfectly smooth drag with no sticking or fish will be lost on the initial run. Leaders used by spin fishermen average 2-3 feet in length and 6 pound test.
Float Fishing Tackle
Float fishing has gained popularity on the tributaries and is a very affective method of catching steelhead. This technique allows an angler to make long snag free drifts with the bait remaining in the strike zone. Rods are generally long, 11 ½ to 14 feet, to keep line off the water, to help cast the float and to allow for a solid hook set with large amounts of line out. A spinning reel or centerpin reel can be used. A centerpin reel is free spinning and should hold 250 -300 yards of 8-10 pound test line. Having a properly weighted float is critical for proper bait presentation. Various size split shot are used from as small as BB to size 6. The shot is positioned on the line with the heaviest on top and smallest on bottom (hook end). Shot can be positioned in many ways from grouping the shot to spacing it 6 inches apart. Make sure you follow the special regulations for using weights on Lake Ontario streams. You want to use enough weight to sink 3/4 of the float and to obtain a drift that presents the bait before the float (J shaped drift). A 1-3 foot leader of 6-8 pound test is used and attached to the main line with a barrel swivel.
Fly Fishing Tackle
It is important to have a rod with enough length to hold line off the water, make quick mends and control the swing of the fly. The ideal steelhead rod for New York's Lake Ontario tributaries would be 10 foot long for 7 weight line; however any rod 9-11 foot for 6-8 weight line could be used effectively. The fly reel is very important in controlling the first lightning fast runs of a steelhead and protecting the light 4-6 pound test tippets commonly used. It should have a smooth disc drag with enough capacity to hold the line and a minimum of 100 yards of 20 pound test backing. The backing should be a bright color which contrasts with the fly line color. This helps you estimate how much line you have out when a steelhead makes a long run and allows other anglers to see where your line is going so hopefully they won't cast over it. In over 90% of fishing situations, your choice of fly line should either be a weight forward floating line or a floating running line. This latter type of line is commonly used when drift fishing with a fly rod. Leaders don't have to be fancy like those used for trout fishing. Usually they are at least as long as the rod (9′- 12′) and composed of a butt section with 6- 8 feet of 8 or 10 pound test and a 2- 3 foot tippet section of 4 or 6 pound test.
Effective Flies, Baits and Lures
Unlike pacific salmon which no longer need to feed once they enter streams on their spawning run, steelhead trout will continue to feed to a certain degree when they are in the tributaries. Most of the effective flies, baits and lures represent some type of natural food found in the stream, such as fish eggs, mayfly and stonefly nymphs, caddisfly larvae, leeches, sculpins and small minnows. Some lures are designed to stimulate the curiosity of the fish or trigger its aggressiveness.
Flies
Artificial flies are one of the most popular and effective baits used to catch steelhead in the tributaries. Because unlimited combinations of hook size, color and type of material can be put together, they can represent just about any of the natural foods present in the stream. They can also be designed to stimulate the fishes natural curiosity or trigger an aggressive response in a fish trying to protect its territory. Steelhead flies can be classified into four main types. These are egg imitating patterns, nymphs, wetfly/streamer types and attractor patterns. Different patterns and sizes are used at various times depending on season, water temperature, water clarity and flow conditions.
Natural Baits
The most popular natural bait used when fishing for steelhead in the tributaries is trout or salmon eggs. They should be tied up in sacks about the size of a dime. Try using various colors of nylon mesh when making your sacks. Blue is often a very effective color. Worms are a natural bait that is often overlooked by anglers. Garden size seems to work better than large night crawlers. Caution is required when using worms since juvenile trout and salmon may swallow the bait, increasing hooking mortality. This is especially important in May when there are many smolts moving down the rivers. Colored mini marshmallows, cheese balls, small crayfish, leeches, canned corn, and minnows (alive and salted) have all been used successfully to catch steelhead in the tributaries.
Lures
Artificial eggs are the most commonly used lure on the tributaries. They come in a variety of colors from hot florescent to natural tones. Some are in the shape of clusters, others are impregnated with scent and a few have tails that wiggle in the current. They are all fished dead drifted with a single hook just off the bottom. Small plastic worms are becoming a popular lure on many of the tributaries. They come in a variety of sizes and colors. Several styles of floating plugs can be used on steelhead. They are most effective on the larger rivers when fished out of a drift boat using a back-trolling technique. In this method, plugs are let out behind the boat as the operator maneuvers it to work the plugs through the holding water.
Steelhead Behavior
Understanding steelhead behavior while they are in the tributaries is important if the angler wants to be successful in pursuing this species. This behavior changes with water conditions, weather conditions, the season and the length of time the fish has been in the stream. Just when you think you have the fish figured out, they will surprise you by doing something new. However, all steelhead seem to have a few traits in common which have been observed and recorded by many dedicated anglers pursuing them. Below are listed some of the most important ones.
Steelhead prefer to hold in areas with a moderate to fast flow and of medium depth (3′ – 4′).
Areas where two currents come together to form a "seam" are prime holding lies.
Pocket water formed by boulders in fast current is another area which will hold fish.
Steelhead often hold above or below structure such as large boulders or logs which buffer the current and provide security.
In a large pool, steelhead usually hold in the head and also in the tail out.
Unless faced with low water conditions, low water temperatures or heavy angling pressure, steelhead do not prefer the bottoms of deep holes like Chinook salmon do.
Optimum stream temperatures for steelhead (when they will be most active) are 45 to 58 F.
Steelhead tend to move upstream on rising and falling water and hold steady in low flows or flooding conditions.
Steelhead have an aversion to bright light, so on sunny days fishing is best at first light and again during the last hour of daylight.
On overcast, rainy days steelhead will remain active and moving all day.
Fish that have only been in the river a few days and those lower in the river are usually the most aggressive and easiest to catch.
The longer the steelhead has been in the river, the darker in color it will become. A fish with a mint silver color or "chromer" is a fresh run fish that recently left the lake.
Drift Fishing
Drift fishing is a method of presenting your bait or fly in a free floating manner along the stream just off the bottom. Ideally it should be moving at slightly less than the current speed and appear unattached. Position yourself across from or across and slightly upstream from the suspected holding lie. Cast across or across and upstream. Have the least amount of weight added to your line that is necessary to get your bait down to near the bottom without constantly hanging up. As your rig drifts back to a position opposite you, raise your rod tip up towards the vertical to minimize the amount of line on the water. You want to just maintain contact with your bait without causing drag or pulling it towards the surface. You should occasionally feel the weight ticking along the bottom. During the drift watch your line where it enters the water. Hits can be detected by any slight hesitations, upstream movement or slight tug on the line. If you see or feel any thing strange raise the rod quickly about 6 inches in a pre-hook set to determine if a steelhead has taken the bait. If you feel the fish set the hook.
Playing and Landing the Steelhead
Most steelhead are lost within the first 10 seconds after the hookup. The explosive power and speed of these fish when first hooked is amazing! During these first crucial seconds of the battle, any little mistake made by the angler or flaw in his equipment usually results in a lost fish. It is important to get any loose line back on the reel as quickly as possible. Don't try to stop or turn the fish on the first long run: you can't. Just hold the rod tip up and let the reel's drag do the work. It should be set tight enough to put some pressure on the fish and prevent the spool from over running, but not strong enough to break your leader. If the steelhead gets a great distance downstream from you in the fast water, you usually have to follow it and try to get below it. Keep the pressure on the fish and fight it by holding the rod low to the water and switching from one side to the other. This will keep the fish off balance, and you will be able to turn and tire it more quickly. Don't play the fish to exhaustion, especially if you intend to release it. If the fish is to be released try to keep it in the water while you remove the hook. To release the fish, hold it upright facing into the current until it regains its strength and can swim away.
Credit – http://www.dec.ny.gov/outdoor/62202.html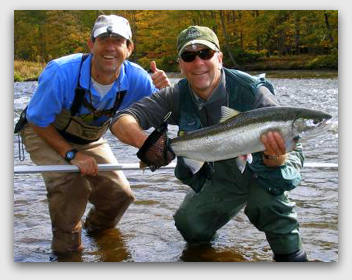 Thumbs up from this Salmon River Fishing Guide with a Very Happy Steelhead Guest.
The Steelhead and Salmon fishing of your dreams……

………… we'll mak'm reeeeeeeeeeeeeel

The Salmon River, where Memories are Made!
SALMON RIVER FISHING REPORTS
EXPERT Salmon River Fishing Videos
Salmon River Fish Pictures Photos
Book a Salmon River Fishing Trip
INFORMATION| The Yankee Angler
Randy Jones is a Full-Time Professional Drift Boat Spin - Fly fishing Guide with over 35 years of Experience.
Yankee Angler
Phone: 315-963-2065
87 Clark Road
Mexico, NY 13114

Rates, Reservations and Deposits:
$275 for 1 angler $350 for 2 anglers Your reservation is confirmed upon receipt of a $100 check deposit (per day) within 7 days of booking to hold your date. Check Payable and Mailed to: Randy Jones 87 Clark Rd. Mexico, NY 13114  No credit cards being excepted at this time.