Salmon River Fly Fishing Guide fly fishing Pulaski NY
Salmon River Fly Fishing Guide offers fly fishing guide drift boat trips for Salmon or Steelhead in Pulaski NY.
Steelhead, King Salmon, Coho Salmon and Brown Trout
Some Nice Salmon River Fly Fishing Steelhead! (8 to 12 lb. average size)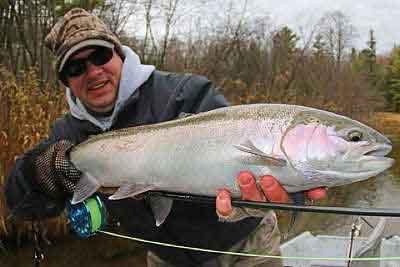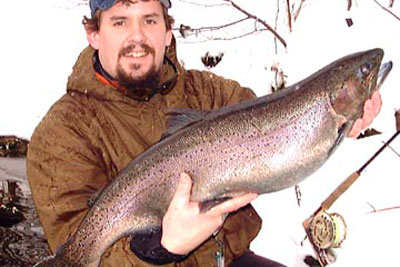 TROPHY 20lb. Salmon River Fly Fishing Steelhead from Pulaski NY. – Ye-haa! – Very rare, but you never know. 🙂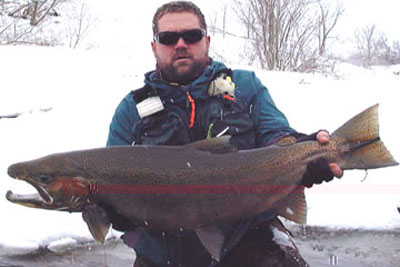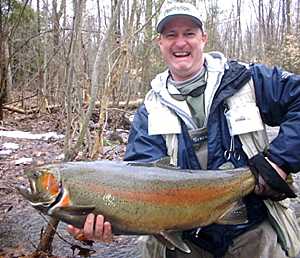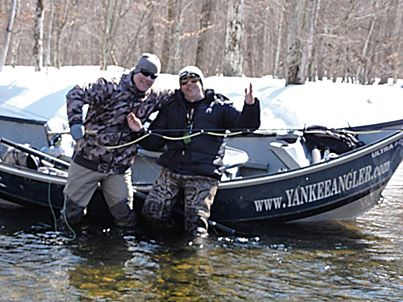 The guide says, Our Salmon River Steelhead get this BIG! My 2 guest's played with 7 or 8 Steelhead in this one lil drift boat spot. Using a fly rod, in approx. 1 hour fly fishing time.
Talk about CRAZY and EXCITING fly fishing!!!!!
The Salmon River Fly Fishing was SOOO good today. I had to stand behind a tree to tie the Steelhead fly on.

Photo Collage

– Salmon River Fly Fishing one day in the Fall. For King Salmon, Coho Salmon, Steelhead and Brown Trout.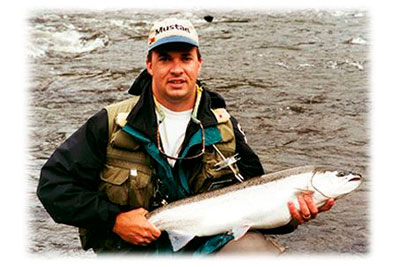 Jeff Pierce hit a "Rare" fly fishing Grand Slam on the day this Steelhead photo was taken.
(Grand Slam = All by yourself in a single day. You land a Brown Trout, Steelhead, Coho Salmon and King Salmon.) 
Not easy to do, but FUN Salmon River fly fishing to try!
Sorry, your WORLD RECORD TROPHY Suckers don't count. 😉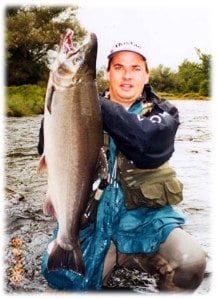 Jeff also would have had a NEW Salmon River fly fishing line class record for this 22 pd. Coho Salmon he landed. But didn't have his I.G.F.A. hand book with him to know it qualified.
There is no HO like a Coho 😉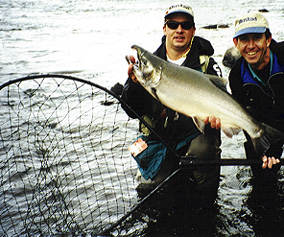 Another small 😉 21 lb. Coho Salmon landed by Jeff on this day.
(average 8 to 12 lb's.)
I think I need a Bigger Net!! 😉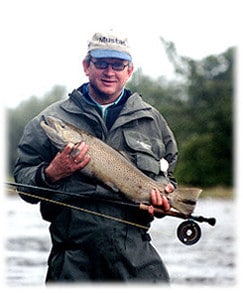 Nice Salmon River fly fishing Brown Trout for Geir Sivertzen. (average 3-5 lb's.)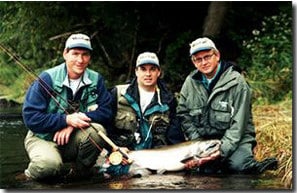 Group Salmon River fly fishing photo of Gier, Bob and Jeff with a Big Coho Salmon. Congrats!
Today was one of those Magical Days we all wish and fly fish for. BIG RUN of Coho Salmon and King Salmon, with a few Steelhead and Brown Trout in the mix.
Check out the – BIG RUN Video. Its exactly what happened for us on this AMAZING Salmon River fly fishing day!
What helps to cause a BIG RUN of Steelhead or Salmon?
This might help plan your Salmon River fly fishing trip for Salmon or Steelhead.

FUN SALMON RIVER FLY FISHING STORY.

 – Fly Fishing Steelhead during the Fall, Winter and Spring off the drift boat in Pulaski NY.
Anton was my 1 guest fly fishing off the drift boat today on the Salmon River. He Hammered the Steelhead! Ye-haaaa!
It wasn't long before Anton had his first Steelhead on for the day, of many. After the next 15 minutes of no Steelhead for us to play with. We decided to get out of the drift boat and wade fish this productive spot. 5-6 feet at a time. Working our 30 foot window of fly fishing opportunity. We picked away at them with 1 here and 1 there. After Anton and I had moved down approx. 100 feet from where we had started off the drift boat. We found a pod of Steelhead in this normally productive fishing area. I watched Anton's fly fishing presentation thru out the day and suggested a few reminders and tips.
Try this, then like magic, "FISH ON" – We both would chuckle. 🙂
At one point we were hitting Steelhead on almost every drift. WOW!
Then, all of a sudden nothing! We poked around for the next hour with not'a nibble. Looked at my watch and it was time to hit the drift boat ramp.
All the other drift boats and shore anglers were all smiles. As we slowly drifted down the Salmon River past them, joking and laughing. It was nice to see everyone out enjoying this World Class fishery!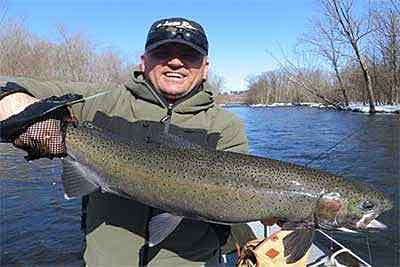 Another one of many, Day for Kings!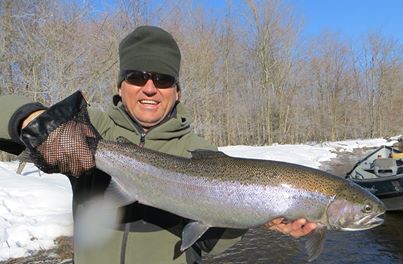 Anton's Nice Silver Bullet Steelhead!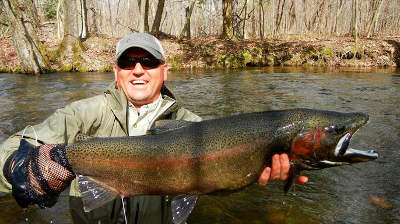 Nice Spring 16 lb. Trophy Male Steelhead!
Enjoy a

fast forward fun

drift boat fly fishing trip video down the Salmon River NY. Covering 4 miles in 4 minutes during the Splendor of our Fall and Winter Salmon and Steelhead fishing seasons.
😉 CHECK OUT the World Record Steelhead we caught that day @ end of drift boat video. 😉
RELATED CONTENT
1. Want a Good Laugh? Enjoy my Salmon River Humor.
2.  Superb fly fishing TIPS to help you catch more Steelhead!
ARTICLE
Galvanic Salmon River fly fishing story.
Trophy Salmon and Steelhead

Salmon River Fly Fishing Testimonial:
Randy, even though there were relatively few salmon and steelhead caught up and down the Salmon River by others. Due to low water and Salmon and Steelhead volumes. It was amazing how effective our fly fishing group was! I did not see anyone even come close to the amount of fish we handled. And, in many cases, landed. Thanks for your patience and consistent sharing of fly fishing techniques. Bottom line; best guide, best location, best dates, best gear,—big fish! See you next year if not before. Thanks! Clint Woods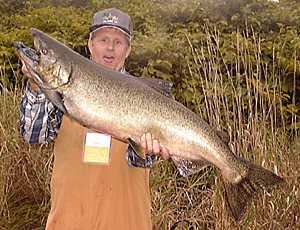 Clint lands a fly fishing beauty King Salmon of approx. 30 lb's!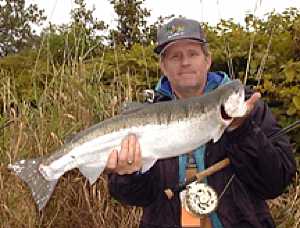 Salmon River Steelhead too! Congrats!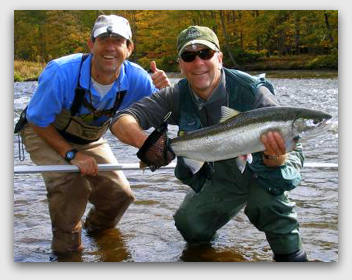 Thumbs up from this Fishing Guide with a Very Happy Salmon River Fly Fishing Steelhead Guest.
The Steelhead and Salmon fly fishing of your dreams……

………… we'll mak'm reeeeeeeeeeeeeel.

The Salmon River, where Memories are Made!
SALMON RIVER FISHING REPORTS
EXPERT Salmon River Fishing Videos
Salmon River Fish Pictures Photos
Book a Salmon River Fishing Trip
INFORMATION| The Yankee Angler
Randy Jones is a Full-Time Professional Drift Boat Spin - Fly fishing Guide with over 35 years of Experience.
Yankee Angler
Phone: 315-963-2065
87 Clark Road
Mexico, NY 13114

Rates, Reservations and Deposits:
$275 for 1 angler $350 for 2 anglers Your reservation is confirmed upon receipt of a $100 check deposit (per day) within 7 days of booking to hold your date. Check Payable and Mailed to: Randy Jones 87 Clark Rd. Mexico, NY 13114  No credit cards being excepted at this time.