Salmon River Fly Fishing Guide fly fishing Pulaski NY
Salmon River Fly Fishing Guide offers fly fishing guide drift boat trips for Salmon or Steelhead in Pulaski NY.
Steelhead, King Salmon, Coho Salmon and Brown Trout
Some Nice Salmon River Fly Fishing Steelhead! (8 to 12 lb. average size)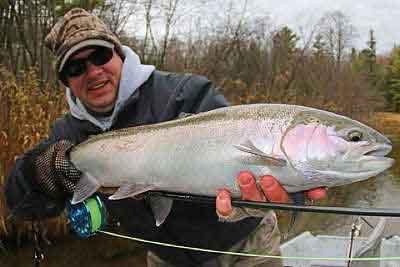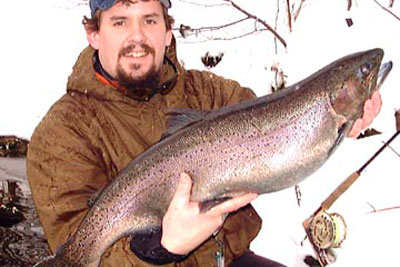 TROPHY 20lb. Salmon River Fly Fishing Steelhead from Pulaski NY. – Ye-haa! – Very rare, but you never know. 🙂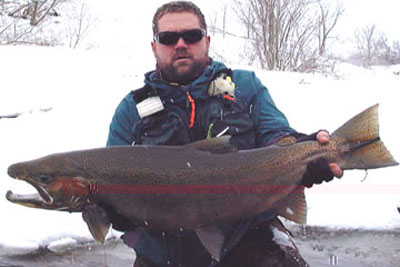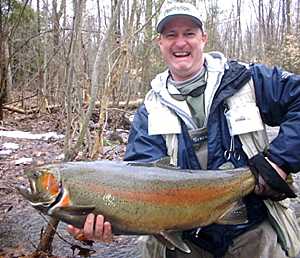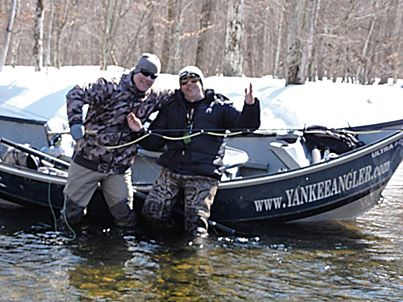 The guide says, Our Salmon River Steelhead get this BIG! My 2 guest's played with 7 or 8 Steelhead in this one lil drift boat spot. Using a fly rod, in approx. 1 hour fly fishing time.
Talk about CRAZY and EXCITING fly fishing!!!!!
The Salmon River Fly Fishing was SOOO good today. I had to stand behind a tree to tie the Steelhead fly on.

Photo Collage

– Salmon River Fly Fishing one day in the Fall. For King Salmon, Coho Salmon, Steelhead and Brown Trout.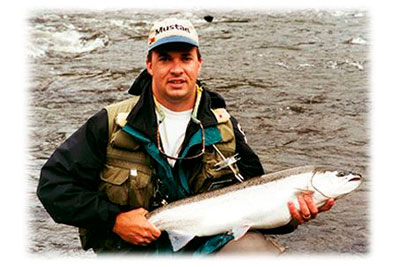 Jeff Pierce hit a "Rare" fly fishing Grand Slam on the day this Steelhead photo was taken.
(Grand Slam = All by yourself in a single day. You land a Brown Trout, Steelhead, Coho Salmon and King Salmon.) 
Not easy to do, but FUN Salmon River fly fishing to try!
Sorry, your WORLD RECORD TROPHY Suckers don't count. 😉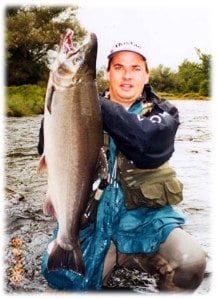 Jeff also would have had a NEW Salmon River fly fishing line class record for this 22 pd. Coho Salmon he landed. But didn't have his I.G.F.A. hand book with him to know it qualified.
There is no HO like a Coho 😉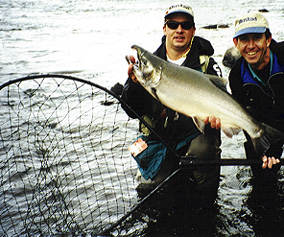 Another small 😉 21 lb. Coho Salmon landed by Jeff on this day.
(average 8 to 12 lb's.)
I think I need a Bigger Net!! 😉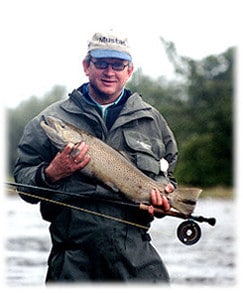 Nice Salmon River fly fishing Brown Trout for Geir Sivertzen. (average 3-5 lb's.)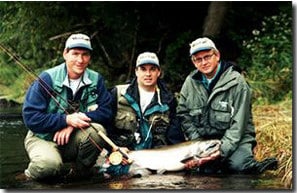 Group Salmon River fly fishing photo of Gier, Bob and Jeff with a Big Coho Salmon. Congrats!
Today was one of those Magical Days we all wish and fly fish for. BIG RUN of Coho Salmon and King Salmon, with a few Steelhead and Brown Trout in the mix.
Check out the Below – BIG RUN Video. Its exactly what happened for us on this AMAZING Salmon River fly fishing day!

Enjoy my Complementary Salmon River Fly Fishing Guide

Tips, Humor and Fun Fly Fishing Stories.

 For Steelhead and Salmon from the Salmon River, Pulaski NY.
What helps to cause a BIG RUN of Steelhead or Salmon?
This might help plan your Salmon River fly fishing trip for Salmon or Steelhead.
Winter Salmon River Fly Fishing Tip for a Fly to try for Steelhead.
Matching the fly Hatch – One of mother natures many signature Salmon River fly fishing clues.
During the Winter time (normally) when ever it gets above freezing. Look at the banks of the Salmon River and try to imitate what fly you see crawling on the snow.
Here is a prime example.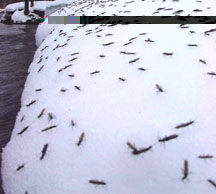 I wonder what the Steelhead are eating?
I wonder what fly I should try? 😉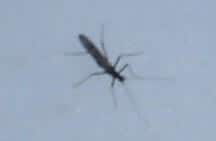 Lil Winter Stone Fly on the snow. Notice the very slender body, which is not like the normal stone flies you tie or fish?
Your normal Stone flies will work also, we have a LOT of them on the Salmon River. The Steelhead and Brown Trout love'm!
This is called (a family member of) a black stone fly. It's probably the #1 fly imitation used by most experienced Salmon River fly fishing anglers targeting Steelhead, and rightly so. Sometimes you will notice thousands upon thousands of these on the snow covered banks of the Salmon River. This aquatic insect is one of the most abundant. And is a primary source of food for the steelhead during the Winter time. There are also other insect's in different stages of their lives that the Steelhead key in on.
That's another Salmon River fly fishing article. 🙂
Test your Steelhead and Brown Trout Salmon River Fly Fishing Knowledge.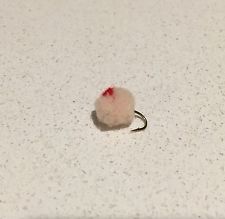 What is an Oregon Cheese Egg Fly?
Answer – You roll a piece of Oregon cheese into a ball. And place it on a hook and wing it out there. If you don't catch a Steelhead or Brown Trout on it, then you can always eat the cheese! 😉
Actually, its called an Oregon Cheese (color) Glow Bug fly. It's a type of fly that imitates a reel egg that the Steelhead and Brown Trout like. One of the BEST flies for'm!
This Tip comes with a Money Back Guarantee! – So you owe me! 😉
The VERY BEST color glow bug fly for Steelhead and Brown Trout day in and day out. Is a cream colored glow bug on the Salmon River. (pic. L)

Fly Fishing HUMOR.
A local fly fishing sports shop has about 40 sign's out front stating that they DO NOT clean fish!
So almost everyday they have an angler (who doesn't see there 40 sign's that say they DO NOT clean fish) walk into there shop and ask them if they clean fish. They usually say… Why, is your fish dirty?
Funniest Fly Story I've Ever Heard!
John likes to tie his own flies. He tied up a fly and laid it on his kitchen counter.
His wife walk's into the kitchen and sees it on the counter. The only thing was, she didn't know it was a fly. It looked so reeeel that she thought it was a bug on here kitchen counter.
She ran and got a fly swatter and hammered the piss out'a that fly.
The moral of the story – John said that his fly was wife approved. That if she thought is was reeel, then the fish would also.
Next time John went steelhead fishing he caught a bunch of Steelhead on that fly!
I laughed and said I'd never heard of such a thing and would share the story with all of you. Thanks John!
Enjoy a

fast forward fun

drift boat fly fishing trip video down the Salmon River NY. Covering 4 miles in 4 minutes during the Splendor of our Fall and Winter Salmon and Steelhead fishing seasons.
😉 CHECK OUT the World Record Steelhead we caught that day @ end of drift boat video. 😉

FUN SALMON RIVER FLY FISHING STORIES.

 – Fly Fishing Steelhead during the Fall, Winter and Spring off the drift boat in Pulaski NY.
Anton was my 1 guest fly fishing off the drift boat today on the Salmon River. He Hammered the Steelhead! Ye-haaaa!
It wasn't long before Anton had his first Steelhead on for the day, of many. After the next 15 minutes of no Steelhead for us to play with. We decided to get out of the drift boat and wade fish this productive spot. 5-6 feet at a time. Working our 30 foot window of fly fishing opportunity. We picked away at them with 1 here and 1 there. After Anton and I had moved down approx. 100 feet from where we had started off the drift boat. We found a pod of Steelhead in this normally productive fishing area. I watched Anton's fly fishing presentation thru out the day and suggested a few reminders and tips.
Try this, then like magic, "FISH ON" – We both would chuckle. 🙂
At one point we were hitting Steelhead on almost every drift. WOW!
Then, all of a sudden nothing! We poked around for the next hour with not'a nibble. Looked at my watch and it was time to hit the drift boat ramp.
All the other drift boats and shore anglers were all smiles. As we slowly drifted down the Salmon River past them, joking and laughing. It was nice to see everyone out enjoying this World Class fishery!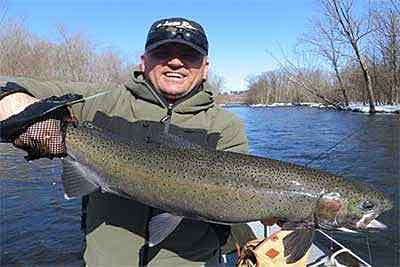 Another one of many, Day for Kings!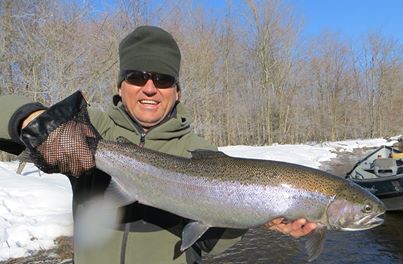 Anton's Nice Silver Bullet Steelhead!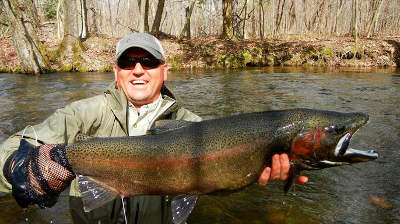 Nice Spring 16 lb. Trophy Male Steelhead!

Holiday Salmon River Fly Fishing in Pulaski NY.
For me, certain fishing days stand out among other's on the Salmon River. Sometimes its the big fish, numbers of fish or the camaraderie we share. Today was different, it was not about numbers or size. But mostly about dad sharing his love for the great outdoors with his son.


By Mike Cavanaugh. (Mike works in DEC's Division of Public Affairs and Education.)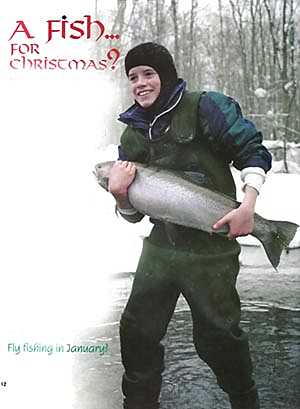 Thomas looked a little puzzled as he picked the brightly wrapped package from under the tree It wasn't heavy, it didn't rattle or anything. In fact, it felt like an empty box. A cruel trick to play on a 12-year old boy. But the sudden appearance of cameras as he unwrapped it meant that this would be something special. He was even more perplexed, however. When the box contained only a single fishing fly and a note that said January 5th.
Salmon River Fly Fishing for Steelhead in January?
The drive up to the Salmon River was filled with fishing questions. What kind of fish will we be after? What's a steelhead? How will we get to the Salmon River in all the snow? What's a drift boat? What if I get cold? Why are we going with a fishing guide, Dad?
The answer to the last fishing question really shed light on all the others. My experience with winter steelhead fishing was limited, to say the least. A Salmon River fly fishing guide would help us be safe and comfortable. And most of all, he'd share his knowledge on the river. After a quick dinner in Pulaski NY, we settled in.
I had met Randy Jones at an outdoor show the previous spring. While helping with the fly casting demonstrations near Randy's booth.
After a few friendly exchanges about my fly fishing technique, or lack thereof. We started talking about Salmon River fly fishing for steelhead.
This guy seemed to have a compatible personality. The right approach to steelhead fishing and a good attitude about protection of the resource. And ethical behavior on the Salmon River. All important fishing considerations that I wanted to share with my son. More importantly, he really seemed to enjoy what he did, a quality I've found to be contagious. I had wanted to get Thomas out fishing during the winter run of steelhead on the Salmon River. But had never ventured into the cold and ice to try. A chat with Randy made up my mind.
That night, I dreamt of dancing steelhead and the excited smiles of a boy who is growing up too quickly. We hopped out of bed in the pre-dawn darkness. To find 4 inches of fresh snow and a temperature of about 20 degrees. Promptly at 6 AM, Randy, with his drift boat in tow, pulled up. We got Thomas outfitted with some 5 mm Neoprene waders, korkers (safety spikes for the slippery bottom.) And grabbed a bite to eat on our way to the drift boat launch in Altmar. Just downstream from the DEC's Salmon River NY fish Hatchery.
Before launching the drift boat, Randy and I talked about my steelhead fly fishing objectives for the day.
I told Randy that this was Thomas's fishing trip and, with that in mind. To devote most of his attention to making sure my son learned a bit of fly fishing technique. And how to be a courteous and ethical angler. While catching a steelhead was important, a good day on the water was the goal.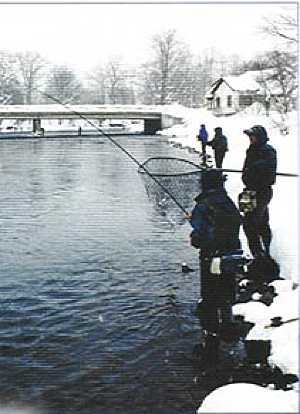 We steelhead fished for a while in the Salmon River fly fishing only area upstream of the Altmar bridge. My third cast-WHAM! A silver rocket steelhead took the fly and gave me the fight of my fishing life. For all of about 30 seconds. That is, 'til I got too aggressive and it broke the tippet. Oh well! Under our fishing guide's tutelage, Thomas was doing much better. Getting the hang of fly casting to the right spot. Feeling the drift and cooperating with the handful of other fishing anglers in the pool. When all of sudden-BAM-Fish On! Thomas managed to hang on to it and after a 5 minute battle, landed a nice Salmon River 6 lb. steelhead.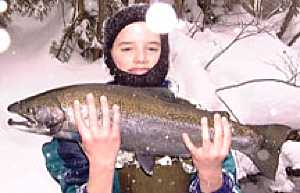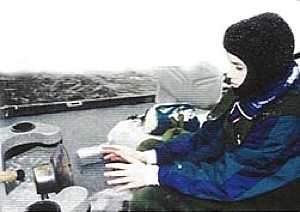 After 45 minutes, Randy decided it was time to jump in the drift boat and move downstream a bit.
Riding in the big fishing drift boat was quite an experience for both of us on the Salmon River.
Randy steered us around some rocks; we bumped over others. The fresh snow, combined with the steam rising off the Salmon River. And the bright gray of January overcast made it a surreal picture. Other anglers shivered in their waders. As we drifted past and warmed our hands in the red glow of the propane heater on the drift boat. While drifting Randy spoke to Thomas about his experiences fishing the Salmon River and his love of fishing.
We drifted for a few minutes and landed at a fishing hole just upstream from the popular trestle pool. We got out of the drift boat and waded into the icy Salmon River water. There were a few other anglers and some real promising steelhead fly fishing water.
The promise was kept within a few fishing minutes. As Thomas hooked into a large and very energetic Salmon River steelhead.
I put down my fly rod, picked up the camera. And enjoyed watching my son get dragged around 100 yards of Salmon River real estate. With Randy running close behind! The big steelhead was netted and Thomas got a close look at a 16-pound silver beauty. High-fives all around, a picture or two from the proud dad. And the steelhead was released back into the Salmon River unharmed to hopefully brighten the day of another fishing angler.
As we drifted and fished for the rest of the day, we learned about the Salmon River. We visited with other fishing anglers, we talked about the steelhead we were seeing, we had a lot of laughs. And, oh, by the way, Thomas caught another steelhead or two. Randy felt bad that the "old man" hadn't caught any steelhead, but I assured him it didn't matter.
After all, that wasn't the objective of the trip.
Just look at that smile!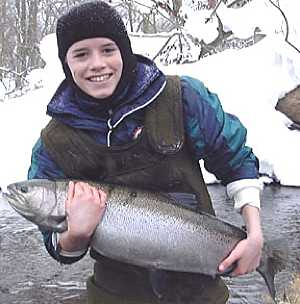 Trophy Salmon and Steelhead

Salmon River Fly Fishing Testimonial:
Randy, even though there were relatively few salmon and steelhead caught up and down the Salmon River by others. Due to low water and Salmon and Steelhead volumes. It was amazing how effective our fly fishing group was! I did not see anyone even come close to the amount of fish we handled. And, in many cases, landed. Thanks for your patience and consistent sharing of fly fishing techniques. Bottom line; best guide, best location, best dates, best gear,—big fish! See you next year if not before. Thanks! Clint Woods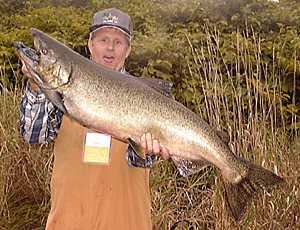 Clint lands a fly fishing beauty King Salmon of approx. 30 lb's!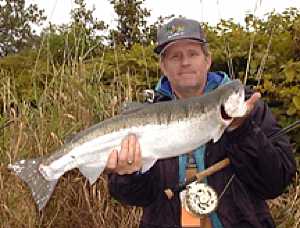 Salmon River Steelhead too! Congrats!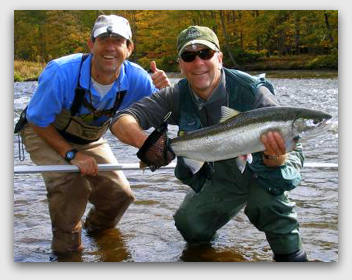 Thumbs up from this Fishing Guide with a Very Happy Salmon River Fly Fishing Steelhead Guest.
The Steelhead and Salmon fly fishing of your dreams……

………… we'll mak'm reeeeeeeeeeeeeel.

The Salmon River, where Memories are Made!
SALMON RIVER FISHING REPORTS
EXPERT Salmon River Fishing Videos
Salmon River Fish Pictures Photos
Book a Salmon River Fishing Trip
INFORMATION| The Yankee Angler
Randy Jones is a Full-Time Professional Drift Boat Spin - Fly fishing Guide with over 35 years of Experience.
Yankee Angler
Phone: 315-963-2065
87 Clark Road
Mexico, NY 13114

Rates, Reservations and Deposits:
$275 for 1 angler $350 for 2 anglers Your reservation is confirmed upon receipt of a $100 check deposit (per day) within 7 days of booking to hold your date. Check Payable and Mailed to: Randy Jones 87 Clark Rd. Mexico, NY 13114  No credit cards being excepted at this time.