Salmon River Fishing Testimonials for Pulaski NY fishing guide.
Enjoy my Salmon River Fishing Testimonials for Steelhead, King Salmon, Coho Salmon and Brown Trout in Pulaski NY. I'm Randy Jones and have over 35 years of Professional Guide fishing Experience.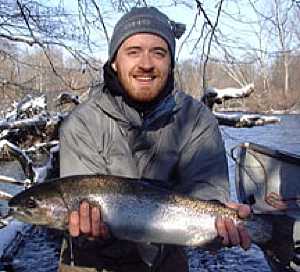 Dear Randy, I wanted to thank you again for such a great steelhead drift boat day on Sunday.
Steven and I are convinced that we learned as much about Steelheading and the Salmon River itself in one day. As we would have in 10 years of our own wading and exploring. Landing those Steelhead made the day a grand success! Thanks again, all the best and tight lines, Roger Murphy
Roger with just one of a number of steelhead that came to hand off the drift boat on this day. Congrats!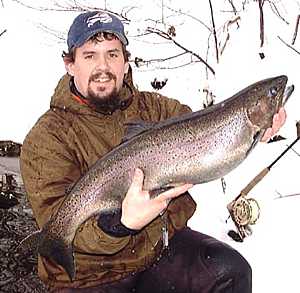 Randy, I just wanted to thank you for one of the greatest Steelhead Fishing days of my life. You are a true master of your craft. Bill Cody
Randy, I really appreciate your time and efforts, as I'm sure many others do. You define what I think all fishermen should be: thoughtful, courteous, and respectful not to mention friendly!
Great Fun! Photos! Great Story! Great Memories!! Now that's fishin'!!!!
SALMON RIVER FISHING REPORTS
More Salmon River Fishing testimonials for Steelhead and Salmon Guide Randy Jones.
Good day Randy, What a great day, just when I thought I knew a little something about steelhead fishing. I had to fish with you. You really are a class act. I really appreciate you sharing your expertise and patience as well as some of your "honey" holes with me. I would encourage any steelhead fisherman, novice or expert, to fish with a guide even if it's just once. And if they can get Drift Boat Guide Randy Jones they're in for a great day. There is so much to learn about this sport. And you can trim years off the "learning curve" by fishing with a real pro such as yourself. Thanks again for the fun and truly a learning fishing experience. Thanks again! John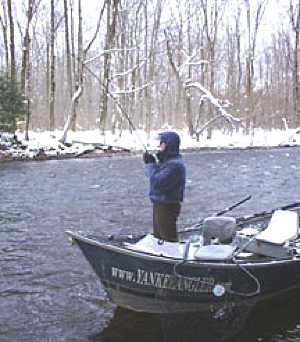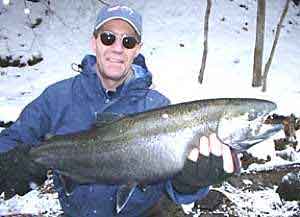 John's tight to his first Steelhead and lands this beauty!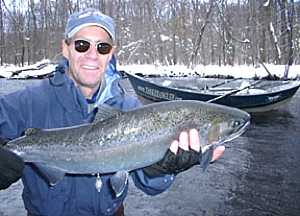 Another Steelhead for John!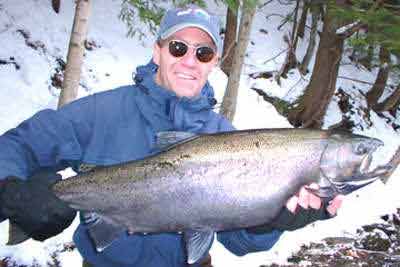 John's honk'a off the drift boat! Approx. 16 lb. Steelhead! Great way to end the Fishing Day!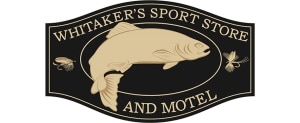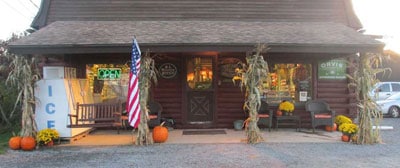 Dear Whitakers Sports Store and Motel,
Rob Martinsen and I engaged Randy Jones' Drift Boat Guide services to fish for Salmon on the Salmon River NY. This was the second time this year we had been guided by Randy, the first time was for steelhead. Both outings proved very productive in regards to both fish hooked and fishing knowledge gained. We can count on one hand how many we would have caught on our own. Most importantly were the skills we were taught and the insights into the Salmon River and its fish.
Randy was both professional and knowledgeable. He intimately understood the topography of the river and the fish's behavior within it. And was open in sharing his knowledge with us. He tailored his help to our individual skill levels. He was prompt and dedicated to teaching us as much as we could absorb. His endurance was remarkable. We began at five in the morning and would still have been fishing. If we hadn't called it a day from exhaustion. We enjoyed your accommodations and plan on staying with you next spring. Best regards, William Au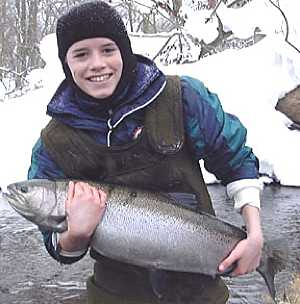 Hello Randy, Just to let you know that Thomas and I had a great time. Steelhead fishing with you yesterday off the drift boat on the Salmon River.
You have a particularly good way of explaining things to kids that help them understand. However, the most valuable thing to me was. That he (and I) got to steelhead fish with someone who understands and respects the resource. And takes the time to explain the fish, it's life cycle, conservation and on stream courtesy and sportsmanship. It's a lesson that I hope sticks long after the memory of that 16 pound steelhead has faded. Look forward to fishing with you again. Mike
Thanks Mike! It's always fun to try to hook something other than a fish. I think we succeeded!
Just look at that Smile!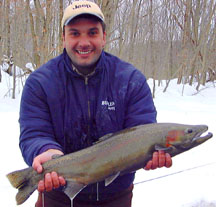 Hi Randy, had another great fishing trip with you recently. Your knowledge, patience, and professional attitude gave us everything we had hoped for and more. We had a great time fishing for steelhead, and we are both still so impressed! We learn something new every time we fish with you. 4 years and 7 trips on the Salmon River. And you still have the same drive and desire we saw the first time you took us out! You are a true professional, and you have customers for life.
Until the next fish bites, Garry
(Salmon River Fishing Testimonials)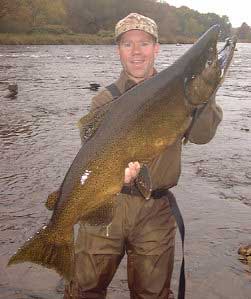 Randy, Just wanted to say thanks for a great day of fishing! We also appreciate you encouraging not only an ethical approach to fishing. But a considerate approach to other fisherman around us. I look forward to our Drift Boat trip in November for Steelhead. Great job Randy! Stan
Stan lands a Salmon River 30 plus lb. King Salmon that's going on the wall. Congrats!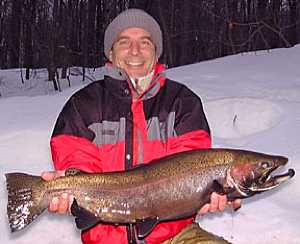 Randy, Thank You for a wonderful Drift Boat trip on the Salmon River. I had a great time Steelhead fishing with you. If I would have just fished the Salmon River (with the techniques I know) I would have been skunked!!!! Thanks Again, Mickey
Holy Cow! What a Trophy Steelhead Mickey! Congrats again!!
(Salmon River Fishing Testimonials)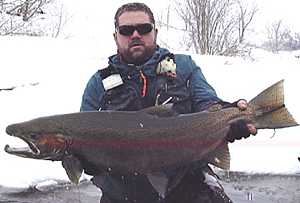 HELLO RANDY I just wanted to take a minute to thank you for an incredible day of steelhead fishing. I have fished with you twice and I have hooked a total of 19 steelhead. I know people who have been fishing the Salmon River in Pulaski NY for five years. And haven't hooked that many Steelhead. As I was driving home I was laughing. The Salmon River was at 1200cfs, the weather was bad. And the Steelhead fishing had been slow for five days. Still I had the best fishing day of my life.
As a registered Maine guide and a person who has fished all over the world. I have never met anyone who works as hard to get fish as you do. Anyone who is thinking about fishing the "Salmon River" should book a Drift Boat Guide trip with you. If the dates aren't available they should change there plans to get an open date. Its the closest you can get to a sure thing in Steelhead fishing. Thanks again! I'll see you next March and hope the river is high and the weather is bad. Capt. William Griffin
Capt. Bill lands a

Trophy 20 lb. Steelhead

of a Fishing Life-Time!

HOLY COW'A BUNG'A!!

(Very Rare)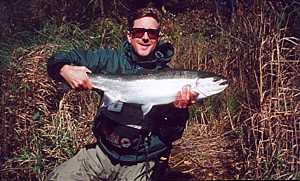 Randy: Just wanted to let you know that we all had a good time Fishing. And being Guided by you off the drift boat. We learned a lot too.The next day, I re-rigged my reel with a Cortland shooting line. Went back to where we fished yesterday and hooked a lot of fish! I hooked a bunch of kings (over 10) and I landed two steelhead. One of which was 30 inches and perfectly silver! Thanks for all your help! Steve Saliga
Steve's Steelhead is as bright fresh as they get. Now you know why we call them Silver Bullets. Congrats Steve!
(Salmon River Fishing Testimonials)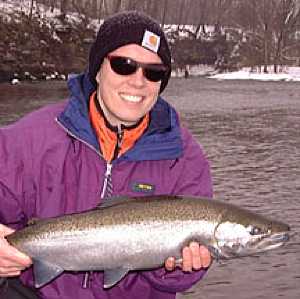 Hi Randy, Thank you for a truly great outing. Basically, I knew nothing about the Salmon River. In previous trips I would usually end up somewhere in Altmar. Following other fishermen around like a sheep. Now, I feel confident that I can approach the Salmon River with a strategy. And a technique that will at least afford me the opportunity to identify and access "fishy" water. And present my fly to fish for as long and as naturally as possible. Additionally, we studied numerous slots and runs that I never would've even considered stumbling around on my own.
As I learned, it really is as precise as fitting a key into a lock.
I cannot stress enough how invaluable this guide experience was. From the stand point of a guy that lives a couple hours away. And simply cannot devote the time necessary to develop on my own a comfort level with such a complex fishery. I hope you will be able to find some room for me in March. Thanks again. Andy Romanow
Andy fish's over a mile of the River and is 3 for 6 on Steelhead for the day. All dime bright freshies! SUPER!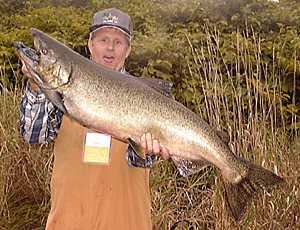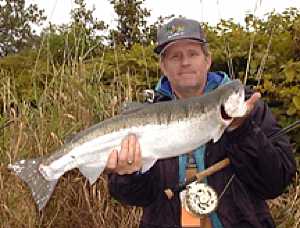 Randy, even though there were relatively few fish caught up and down the river by others. Due to low water and fish volumes, it was amazing how effective our group was. I did not see anyone even come close to the amount of fish we handled and, in many cases, landed. Thanks for your patience and consistent sharing of techniques. Bottom line; best guide, best location, best dates, best gear,—big fish! See you next year if not before in Pulaski NY. Thanks! Clint Woods
Clint lands a beauty King Salmon of approx. 30 lb's. Steelhead too! Congrats!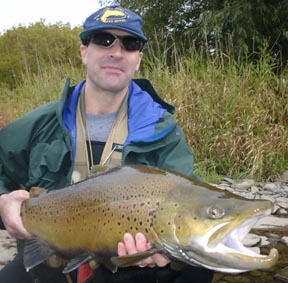 Fished w/guide Randy Jones, who as usual helped us figure out what it took to get some hook-ups. (no fresh fish / existing fish very spooky). Ended up (2 anglers) w/around a dozen hook-ups with about half landed, better than anyone else we saw that day.
Next day fished w/o Randy but used his tips on patterns, spots, presentation, etc… – had a very hot morning w/surprise fresh fish. Afternoon slowed considerably but did land a monster brown. Wish I were up there right now!!
Strongly recommend Randy Jones- excellent Salmon River drift boat fishing guide/nice guy. Who always teaches me something new each steelhead trip! (Salmon River Fishing Testimonials)
1999 Salmon River fishing testimonials:
Re: Seeking advice on a Salmon River NY drift boat salmon and steelhead guide?
Posted by Jim Richenderfer on Sunday, October 31, 1999 Recommend Drift Boat Steelhead Guide Randy Jones for first time visit to Salmon River NY. Was out with him on Oct. 28th. Hard working, knowledgeable, friendly. He spends much time on the water, will get you into salmon and steelhead.
Posted by Glenn D. on Monday, November 1, 1999 I second the information from Jim. I was out with Randy on Oct.16. He gives 110% to make your Steelhead Fishing trip successful.
by Ken Link on Monday, November 1, 1999. I second what the other people have said – go w/ Drift Boat Guide Randy Jones. I have used him the last two years and find him to be the best Salmon River Guide by far. You will learn a lot from Randy and catch fish as well. Enjoy!
Posted by Dave Hromowyk on November 02, 1999 Report. Truly amazed and no longer frustrated! Fished the Altmar section 10/28 and had two hook-ups with salmon. No steelies for the day.
On 10/29 fished same area only this day I had booked Randy Jones. A Salmon River Guide, to show me how it's done. Fantastic day! Hook-ups were numerous enough to enjoy a superb day on the river. They were everywhere we walked.
Randy showed me places where the Salmon River steelhead were, that nobody else was even fishing.
And we are talking steelhead with blue skies and 70 degrees. You want to LEARN something AND catch fish legally; this guide can do the job! Anyway, 3 steelhead for the morning (8 – 14 lbs.), and three more Steelhead hook-ups in the PM. Changed my whole fishing trip on the Salmon River NY. Thanx Randy
New York Fishing Message Board Posted by Ross on November 09, 1999
Steelhead fished last Thursday with Drift Boat Guide Randy Jones on the Salmon River NY. We had hook-ups on Steelhead thru out the day. This was very exciting Fly Fishing for these beasts, many took me deep into my backing. We landed 3 steelhead with one being in the 17 pound range. Randy is a hard-working guide who can put you onto fish. I highly recommend him if you are new to steelhead fishing. He loves to teach and share his vast knowledge of the Salmon River.
Wanted: Salmon River NY Drift Boat Guide for Steelhead Fishing – Dec-1999
Can anyone provide a recommendation? Thanks.
I suggest you try Randy Jones I spent a day with him earlier this year. HE got me into steelhead on day when few anglers were catching. He will also share his knowledge and teach how to do it on your own. To top it off he is nice guy too.
I've never used a salmon river drift boat guide, but from what I hear Randy Jones is the man. There was a lot of talk about him and everyone recommended him. He seems to be interested in helping everyone catch fish legally.
Randy Jones gets glowing remarks from everyone.
I've had the privilege of corresponding with Randy Jones via email. On a range of different issues related to the Salmon River fishery from conservation to fishing techniques. He is an absolute first-rate guy. You'd be hard pressed to find anyone who has as much knowledge about the Salmon River as Randy. And even more hard pressed to find someone who is as eager and willing to share it. If I were to use a guide again, he'd be Randy Jones. Most folks who have had any contact with him would say the same. Unless of course they were competing with him for business.
So beware, there are guides out there who, for lack of a better word, suck. I know from experience. If you don't know the Salmon River well and you want a quality experience, call Randy Jones.
If you do know it well and want to learn even more, call Randy. He's a guide with integrity that always puts his clients first. But will never do it at the sake of the fish or the fishery.
---
Salmon River Guide Rates for 1 person $300. Rates for 2 people $400 total.
Included in Guide Rates – All Salmon River Spin or Fly fishing equipment, gear and tackle.
Book Your Fishing Trip
Email: [email protected]
Phone: 1-315-963-2065 CLICK TO CALL
Trips are 8 hours from the time we meet – 2 person Max. on boat.
Reservation and Deposits – Your Reservation is confirmed upon receipt of a $150 Check deposit (per day). It MUST be received within 7 business days from time of Booking. Failure to do so will result in LOSS of BOOKING.
I'll confirm receipt of Deposit with you by email.
Check payable and Mailed too: – Randy Jones, 87 Clark Rd., Mexico, NY 13114. (Sorry, no credit cards excepted).
Then 1 to 2 Months before your fishing trip, I'll email you with meeting time and place. Usually Whitakers Sports Shop and Motel (Rt. 13 in Pulaski) in the dark.
---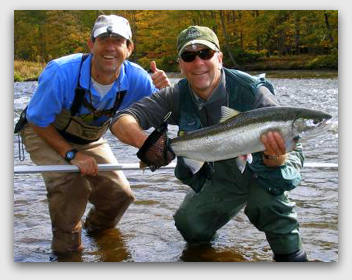 Thumbs up from this Fishing Guide with a Very Happy Salmon River Steelhead Guest.
The Steelhead and Salmon fishing of your dreams……

………… we'll mak'm reeeeeeeeeeeeeel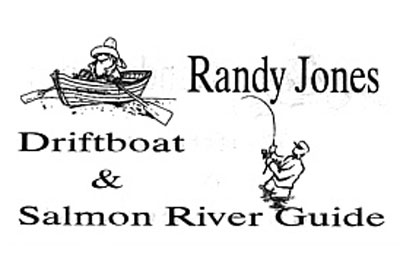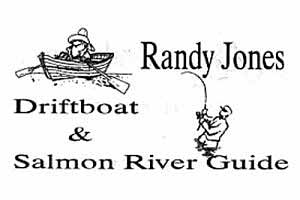 The Salmon River, where Memories are Made!
Win a new car! – click below. 😉
Catch MORE Fish! VIEW ALL
INFORMATION| The Yankee Angler
Randy Jones is a Full-Time Professional Drift Boat Spin - Fly fishing Guide with over 35 years of Experience.
Rates, Reserv. & Deposits:
Salmon River Guide Rates for 1 person $300. Rates for 2 people $400. Included in Guide Rates – All Salmon River fishing equipment.
Your reservation is confirmed upon receipt of a $150 check deposit (per day) within 7 days of booking to hold your date.
Check Payable and Mailed to: Randy Jones, 87 Clark Rd., Mexico, NY 13114. (Sorry, no credit cards excepted).