About Yankee Angler Salmon River Guide Randy Jones fishing Pulaski NY.
Meet the Salmon River Fishing Guide Business Owner in Pulaski NY.

(About Yankee Angler)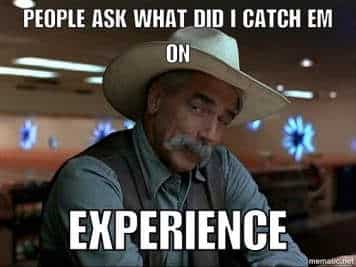 About Yankee Angler – Established in 1980
I started off guiding in VT. for Trout for 10 years. Then split my fishing season's by guiding Here for 31 yrs. and Cape Cod for Stripers and Blues for 12 yrs.
I'm a full-time professional spin fly fishing guide with over 35 years of experience. I run drift boat trips on the World Class Salmon River in Pulaski NY for Steelhead, Brown Trout and Coho-Atlantic-King Salmon.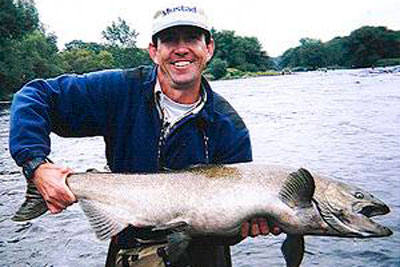 Myself with a BIG'ol Chinook King Salmon.
There is no Nookie like a Chinookie!
SALMON RIVER FISHING REPORTS
Salmon River NY Fishing Guide's job is his life. (About Randy Jones the Yankee Angler)
by Morgan Lyle For The Daily Gazette.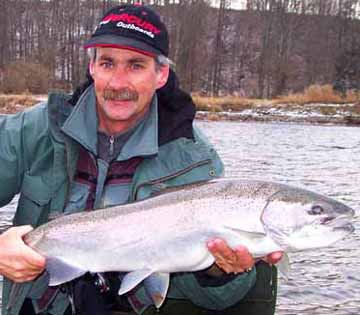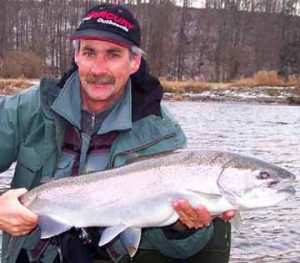 Reeeeeel hum-dinger of a Steelhead. Nice!
Want an idea of the demand for a good "Full-Time" steelhead and salmon fishing guide on the Salmon River?
"I have already had to start scheduling my days off. A year in advance, believe it or not" said Randy Jones, aka, "the Yankee Angler". One of only a handful of "Full-Time" guides who take people fishing on the Salmon River NY. From the start of salmon season in September right through to the end of steelhead season in the spring.
There are good reasons to envy the lives of fishing guides. They make a living doing what the rest of us do for fun. Their workplace is a drift boat on a river, and their only boss is Mother Nature.
But most fishers also realize it can be a tough life. One that could burn a person out on fishing altogether. Jones used to work every weekend and holiday. Now, because his guide business is so successful and popular. He takes those days off and only works mid-week. He's in bed every night at 8 and up every morning at 3.
All through the winter. Long before most people have clicked their remote car starters and sat down to a cup of coffee. He's backing his boat-trailer into the inky river in the frigid dawn. With an anxious, bundled-up client dreaming of leaping silver.
Even at the slowest times of the year, Jones is competing with dozens or hundreds of anglers for fish. The Steelheads are tricky to find, difficult to fool and very challenging to land.
When he's not out with clients (some of whom have precious little fishing experience). He's working on his web site or lining up the speaking engagements at Trout Unlimited functions. And other gatherings that help promote his business and keep his schedule full.
So it was nice to learn that the daily grind hasn't blunted Jones' passion for the sport. When I asked him when would be a good time to get some pictures of him on the river. He said,"I've got a day off scheduled Wednesday. Let's go out in the boat."
"It takes an enormous amount of time and energy," he said. "But what originally got me into the sport as an angler is still there. The love of being outdoors, the excitement of the fight, the challenge of it all. Basically just having a love of the sport that I haven't lost after 35 years. And sharing that passion with others who have the same interest's as I do.
Jones, 57, an Iowa native. May be one of the best-known of the hardy Salmon River guide corps. Randy has 35 plus years of experience as a fishing guide. Which has helped him to acquire a vast and diverse knowledge base. While he's relaxed and good-natured with clients, as a good guide should be. He is also very much a hard-nosed businessman. Always on the lookout for an advantage or a new way to promote his name.
His Social Media sites offer expert informative articles. Based on Jones' years of daily experience on the river. About flies, spin fishing, rigging, techniques and finding fish.
As free as he is with general advice. Jones keeps things like honey-holes and productive fly-patterns secret, to be shared only with his clients. He doesn't waste a client's time on a hole that was pounded the day before. And he watches each cast carefully. To make sure the sport has covered a good lie thoroughly before moving on.
Most of Jones' clients seem to land fish. But of course, there is more value to fishing with a guide. Than simply being chauffeured to a good spot in a heated boat. You learn things it would have taken you years to learn by yourself. And you can come back confident and informed on your own.
What's it like to be a fishing guide?
"It can be a variety of different things. From total satisfaction that you've taken someone with lots of experience to no experience. And brought their fishing ability level up to meet their expectations or above. The same way a teacher would feel when their students get an A on a test. To the thrill and the excitement of the fight. The rewards of running a profitable business. To sometimes the feeling of inadequacy when you have a slow day on the river," he said.
Jones can be reached at (315) 963 – 2065. Along with his own business, he offers a referral service to 6 other local top guides. That he keeps busy while taking his client over flow. The Schenectady Gazette.,Schenectady, NY. All rights reserved. Reprinted with permission. – (About Randy Jones the Yankee Angler)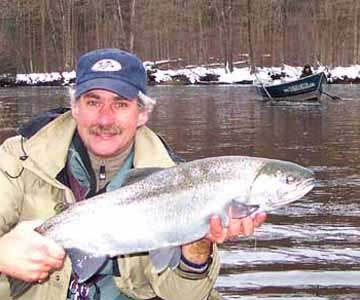 About Yankee Angler – Randy Jones – Author Biography –

Established in 1980

.
Randy Jones is the Owner, Author and Publisher of YankeeAngler.com. A Salmon River Guide based Service and Marketing Agency. Specializing in Expert Salmon and Steelhead fishing – Professional sales and marketing of his vastly successful Salmon River Guide fishing business and local fishery – SEO and Social Media.
Randy Jones, 87 Clark Rd., Mexico, NY 13114
Guest Speaker at most Trout Unlimited Chapters, fly tying, tackle and Orvis shops around New England and beyond.
Finger Lakes Trout Unlimited NY. Iroquois Trout Unlimited NY. Chenango Valley Trout Unlimited NY. Scranton Trout Unlimited PA. Catskill Mt. Trout Unlimited NY. Tug Hill Trout Unlimited NY. Southeast T.U. MA. Greater Boston T.U. MA. Northeast T.U. MA. Croton Watershed T.U. NY. Clearwater TU, NY. Mid-Hudson TU, NY. Iron Furnace TU, PA. Stan Cooper TU, PA. Thames Valley TU, CT. Hammonasset TU, CT. Chittenango TU, NY. Also: Orvis-Manhattan, NY. Orvis-Boston, MA. Green Mt. Fly Tiers Assoc. VT. Rivers Edge Trading Co.(Orvis) Central NY Fly Fishers, NY. Oysterville Yacht Club, MA.
Paid Featured Guest Speaker at Sports Shows, Fresh and Saltwater fishing.
Rochester Sportsman Show, NY – 2 ½ day show, guest speaker on numerous subjects and fly casting demo's.
Albany Outdoors Show, NY – Wilmington Sportsman Show, MA.   – (More not listed here)
Bragging Rights – Professional Affiliations:
Distributed World Wide Books: Simon Gawesworth, Spey Casting, First and also Second Editions. Rich Murphy, Fly Fishing for Striped Bass. (More not listed here)
Covers, feature articles and guide profiles in. Saltwater Fly Fishing Magazine, Fly Fishing in Saltwater Magazine, Albany, Syracuse, Utica and N.Y. Times Newspapers, N.Y. Sportsmen, N.Y. Fishing and Hunting and Salmon River Success Magazines. (Many more not listed here, some World Wide Distribution in different languages.)
Many World Wide Internet Fishing Sites and News Feeds.
Represented the Orvis Corporation as a guide and chief instructor of their 2 1/2 day Cape Cod Saltwater Fly fishing Schools.
(P.S. I don't discriminate. I also enjoy guiding you spin anglers too! – yukyuk)
Salmon River Guide Steelhead Testimonial:
Hi Randy, Thank you for a truly great outing. Basically, I knew nothing about Salmon River Steelhead. Now, I feel confident that I can approach the Salmon River with a strategy. And a technique that will at least afford me the opportunity to identify and access "Steelhead" water. And present my fly to Steelhead for as long and as naturally as possible. Additionally, we studied numerous slots and runs that I never would've even considered stumbling around on my own.
As I learned, it really is as precise as fitting a key into a lock.
I cannot stress enough how invaluable this guide experience was. I now have the confidence to return and fish the Salmon River on my own. I hope you will be able to find some room for me in March. Thanks again. Andy Romanow
Andy fish's over a mile of the Salmon River and is 3 for 6 on Steelhead for the day. All dime bright freshies! SUPER!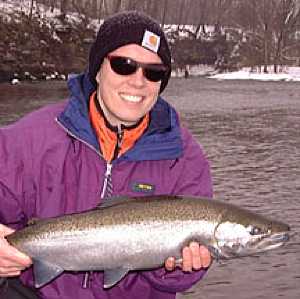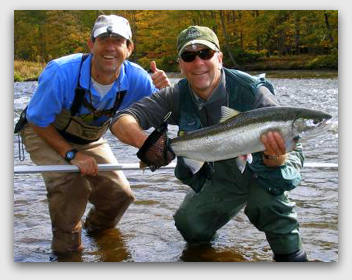 Thumbs up from this Fishing Guide with a Very Happy Salmon River Steelhead Guest.
The Steelhead and Salmon fishing of your dreams……

………… we'll mak'm reeeeeeeeeeeeeel

The Salmon River, where Memories are Made!
Join me for a guided drift boat fishing trip on the World Renowned Salmon River in Pulaski NY for hard fighting Salmon or Steelhead during our Fall, Winter and Spring seasons. Enjoy learning Advanced fishing techniques and Exact fish habitats. I always enjoy sharing my wealth of knowledge with all my guest's.
Randy Jones is a full-time professional Spin and Fly fishing guide.
Yankee Angler Salmon River Guide Rates for 1 person $300. Rates for 2 people $400 total.
Included in Yankee Angler Guide Rates – All Salmon River Spin or Fly fishing equipment, gear and tackle.
Book Your Fishing Trip
Email: [email protected]
Phone: 1-315-963-2065 CLICK TO CALL
Trips are 8 hours from the time we meet. – 2 person Max. on boat. – Please bring your own Lunch, Polarized Glass's and Chest Waders.
Reservation and Deposits – Your Reservation is confirmed upon receipt of a $150 Check deposit (per day). It MUST be received within 7 business days from time of Booking. Failure to do so will result in LOSS of BOOKING.
I'll confirm receipt of Deposit with you by email.
Check payable and Mailed too: – Randy Jones, 87 Clark Rd., Mexico, NY 13114. (Sorry, no credit cards excepted).
Then 1 to 2 Months before your fishing trip, I'll email you with meeting time and place. Usually Whitakers Sports Shop and Motel (Rt. 13 in Pulaski) in the dark.
Win a new car! – click below. 😉
Catch MORE Fish! VIEW ALL
INFORMATION| The Yankee Angler
Randy Jones is a Full-Time Professional Drift Boat Spin - Fly fishing Guide with over 35 years of Experience.
Rates, Reserv. & Deposits:
Salmon River Guide Rates for 1 person $300. Rates for 2 people $400. Included in Guide Rates – All Salmon River fishing equipment.
Your reservation is confirmed upon receipt of a $150 check deposit (per day) within 7 days of booking to hold your date.
Check Payable and Mailed to: Randy Jones, 87 Clark Rd., Mexico, NY 13114. (Sorry, no credit cards excepted).