Salmon River Fishing Report for King Salmon and Coho Salmon from this Drift Boat Guide in Pulaski NY.
Steelhead, King Salmon, Coho Salmon and Brown Trout.
I hope you find my Salmon River fishing report's entertainingly informative or mildly educational.
The Salmon and Steelhead Fishing of your Dreams….   ….We'll Mak'm Reeeeeeeeeeeeel.
A great indication on how good this Salmon season will be is to see how they are doing on Lake Ontario now.
All my Capt. friends are reporting GOOD fishing!
Currently on the Salmon River, It's mostly Bass with a few Brown Trout around and a chance for a Trophy Atlantic Salmon!
Our first King Salmon and Coho Salmon up the Salmon River is near. Time to double check all your knot's, bolts, screws, washers, drag's and all the rest of your gear. These King and Coho Salmon are BIG and well put your gear, BUT mostly yourself… to the test.
Our King Salmon average 15 to 20 lb's. with some smaller but many larger!
I'm always amazed that an angler can simply walk to the rivers edge and pull out a 30 lb. King Salmon.
No Reports of any King or Coho Salmon yet. But…. Any Day!
2013 Aug. 7th Email:
Randy, Went this AM fished the Salmon River till 8:30, saw three, hooked two, both broke me off. Joe
HI Joe, Thanks for the report! Waters so warm, they would have been fully cooked by the time you landed them. Would have made for a nice shore lunch! – yukyuk.
Mark your Salmon River Calendar.


Possible (?) Good Run of Salmon Aug. 31-Sept. 1.
The Salmon River is going to a scheduled "Forecast" of a White Water Release of 750cfs over the Labor Day Holiday Weekend. Usually, but not always. The increased water release of 750cfs over the weekend can help entice a few more Salmon to make the run into the Salmon River!
BUT, you will also see an increase of anglers fishing due to the Holiday. Sometimes this weekend can be good if your in the right spot (lower river) and sometimes this weekend can be a dud. (more anglers than salmon)
(FYI – This  is a water forecast, so check before making your trip up here).
Open Dates to Take you Fishing – Salmon – Sept. – 16, 20. Steelhead Open Dates – Oct. 30. Nov. 4-5, 14-15, 18, 21-22, 25. Dec. 2-3, 5-6, 9-10, 12-13, 20, 23-24, 26-27, 30-31.
SALMON RIVER FISHING REPORTS
When will the

BIG RUN

of King and Coho Salmon

happen this year on the Salmon River?
When fishing for King and Coho Salmon on the Salmon River. There isn't a Guarantee for when the BIG RUN of Salmon well happen. When looking at the past 40 years, it only "suggest's" what Monthly time period is normally, but not always, the most consistent year after year for the BIG RUN or Bulk of King and Coho Salmon to enter the Salmon River.
Early to mid. Sept. Salmon fishing "usually" means less anglers and normally less fish. But we've had early BIG RUN's mid. Sept. with the balance of Salmon entering thru the rest of Sept. into Oct.
Normally, Prime Time is the last week of Sept. and first week of Oct. for the BIG RUN to happen. But years ago, the Bulk of Salmon came in later and mid. Oct. was great on the Salmon River!
Normally, the 2nd and 3rd week of Oct. your targeting all the King and Coho Salmon that have already entered and settled into their primary Fall Habitats. Top to Bottom of the Salmon River, spread out.
So its tuff to forecast, but late Sept. and early Oct. is over all. Normally the best most consistent 2 weeks for the BIG RUN of King and Coho Salmon to happen on the Salmon River. Don't be surprised if there are a couple other anglers fishing during these 2 weeks. – har har.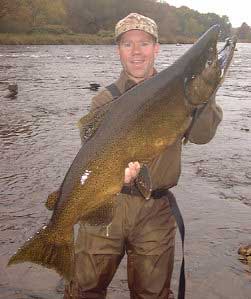 Fishing King Salmon avg. 10-20 lbs. (Sept.-Oct.)
Our tackle busting King Salmon are known for Rod Breaking EXPLODING fishing excitement! King Salmon will amaze you with their freight train runs on the Salmon River. Its like your hooked to the back of a bus, that isn't stopping! There is no Nookie like a Chinookie!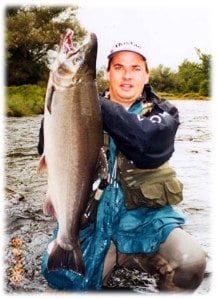 Fishing Coho Salmon avg. 8-12 lbs. (Sept.-Oct.)
Trying to harness the raw power of a zippy 12lb Coho Salmon screaming at high speeds. In 20 different directions will keep you on your fishing toes (and hopefully not on your fishing back!)
There is no HO like a Coho!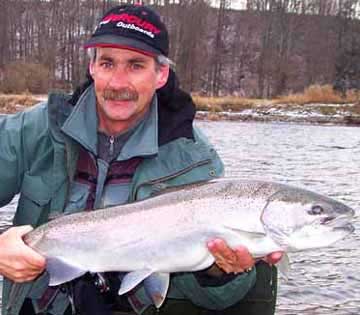 Fishing Steelhead (avg. 8 to 12 lbs.) – (Nov. thru April.)
Our Steelhead are without a doubt. One of the hardest fighting and most acrobatic fish that swims in the Salmon River in Pulaski NY. Torpedo – Silver Bullet runs and changing direction in a blink of an eye. While taking your line 100 to 200 feet out in seconds. This well surely jump start your fishing heart! Tarpon jumps, like a rocket ship 3-4 feet in the air. Somersaulting like a jugglers baton back to earths atmosphere before splash down. Sounding like a cinder block with water spraying 20 feet in all directions. Steelhead Tail Walks across the pool for 40 to 60 feet, will live in your Salmon River memory forever!

Interesting Email Q's about Most Exciting Fish and Best Time to Target Salmon and Steelhead on the Salmon River NY.
Hi Randy, I am looking to get into some some salmon/steelhead fishing this fall on the Salmon River. I was checking out your website and it looked like something I definitely want to do. I am looking to book a drift boat trip for my self and a friend. We are both fairly experienced anglers, however we've never really fished for salmon/steelhead. What time of year would be best to book a trip? Also what type of trip would you recommend? Thanks, Drake
Hi Drake, Super! All you need are chest waders plus a fishing license. I'd recommend we take the Drift Boat to cover-fish more water and to learn more water. So you'll have plenty of spots to fish on your own when you return to the Salmon River.
Salmon – Best is normally last week Sept. and first week Oct. (Crowded.) These dates book a year in advance for me. I could refer you to one of my endorsed guides who has more open dates if this interest's you?
Steelhead – Best is anywhere from Nov. all Winter into April on the Salmon River. There really isn't any best time, just personal preference. Mid-week is always best! (not on or around a holiday) Best Fish's, Randy
Randy, Do you think one is more exciting than the other? We both like to cast, and would love to hook into fish with a good fight. They both look like awesome fish, just wanted to see if you thought one was more fun. Drake
Drake, Great King – Coho Salmon and Steelhead Q!
King Salmon pull steady and HARD! Rod doubled over and sometimes EXPLODING due to their sheer power! They are bigger than the steelhead and sometimes reach over 30 lbs..
But….
For EXCITING, then Steelhead would be my top choice! They are visually exciting to watch and fight as they tend to rocket 4 feet out of the water. Somersault a few times, re-enter earths atmosphere with a BIG splash down. With water spraying 20 feet in all directions. Maybe do a lil dance – tail walk across the pool for 30-40 feet with the sun reflecting off its silvery sides. And zippy, speeding silver bullet runs with water spraying off there backs. In a blink of an eye these Steelhead can be up, down and across the pool.
Pretty exciting stuff! Recommend Late Oct. – Nov. thru Mid. Dec. for Steelhead for this type of fight. Winter and Spring they slow down a tad but are still good fight's.
Since your new and if you have the time, you could book 2 trips. One for King and Coho Salmon and a later date for Steelhead? Pretty amazing stuff!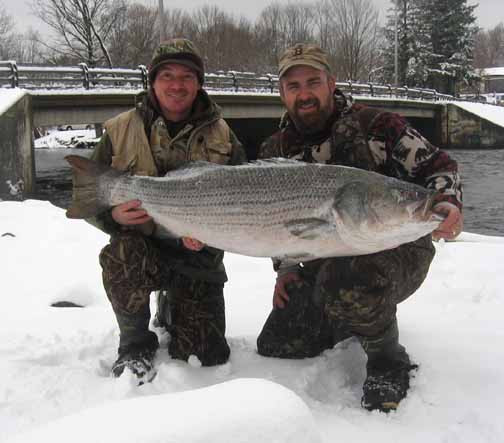 Today's Salmon River NY Fishing Report News!
A/P Wire – WORLD RECORD Striped Bass caught in the Salmon River NY this Winter!
NY State Fish Biologists have determined by Scale samples that this fish started in the Pacific Ocean. Crossed the Panama Canal, swam up the Atlantic East coast shoreline. Entered the Hudson River, crossed the Erie Canal using a Easy Pass. Entered Lake Ontario and then swam up the Salmon River.
Be on the look out! The NY D.E.C. are looking for these individuals for Leg Pulling offenses.

King Salmon Humor 2016 – Anxiously Awaited! – First Salmon River Internet Awards Ceremony.
The first King Salmon to be spotted in the Salmon River rooster tailing up the shallow rapids at the mouth goes to – Paul Moore on Aug. 23.
There seems to be a 3 way Tie for the First King Salmon to be landed on the Salmon River on Aug. 24 with Pic. proof on all.
1. Guide Shane Muckey Reported – first King Salmon of 2016, caught by Craig in Pulaski.
2. Salmon River Sports Shop Reported – First King Salmon out of the Salmon River, picture provided by one of our customers.
3. DSR Reports – One of their anglers caught the first King Salmon of 2016!
Presently, there is a discussion on the Net of who caught theirs first….. to take the Grand Prize!

FIRST 2019 King Salmon landed

on the Salmon River in Pulaski NY!

World Record too!
Look what I caught yesterday, it even made the papers!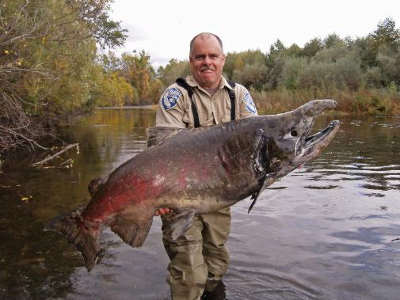 AP Wire – 2019 – Pulaski man lands the World's Largest I.G.F.A. Record Fish on the Salmon River!
The biggest confirmed fish ever caught on rod and reel belonged to Randy Jones, who was the inspiration for Captain Quint in Jaws. It was a 3,427 pound great white King Salmon caught yesterday that took him 20 hours to land on the Salmon River. This beast started towing him in his drift boat from the Upper Fly Zone down the Salmon River 12 miles into the Estuary. Then out to Lake Ontario, up to Canada and then back. (approx.100 mile journey.) Then all the way back up the Salmon River 12 miles to the Upper Fly Zone before he was able to land it.
When interviewed for this article Jones said, It blasted off towards the heavens like a rocket ship. That King Salmon was sooooo big, that when it jumped the water level in the Salmon River dropped by @ least 5 feet!
Then cart wheeled back to earths atmosphere, like a jugglers baton. Then Splash down, sounding like a big cement truck with water spraying in all directions for a good 100 feet!
All the Salmon River anglers with in 10 miles could hear it and looked on in disbelief! Some even ran scared to their cars, the Fish was that BIG!
Then it did a majestic, distinguished, solemn, magnificent, grand, splendid, resplendent, glorious, sumptuous, impressive, august, noble, awe-inspiring, monumental, palatial; statuesque, Olympian, imposing, marvelous, sonorous, resounding, heroic –
jaw dropping tail walk across the Salmon River pool for 500 feet!
(Reprinted with permission, Syracuse Gazette Times, Mike Silly – Outdoor Writer)
Late to bed, early to rise; fish all day, make up lies………. You lie about the size of your fish and I'll swear to it!
FUNNY Salmon River Steelhead STORY! – Sound Familiar?
John told me a funny story about his wife and a 15 lb. Steelhead in April on the Salmon River NY. Turns out that as John rushed for the net he ripped a big hole in his waders and cold water rushed in. When he dove for the Steelhead with the net, he fell in. When he tried to net the Steelhead for the third time he smashed his watch to pieces on a rock. Steelhead was netted, picture was taken and Steelhead was released back into the Salmon River.
I'm sure John's wife was very appreciative of his efforts.
---
There is a chance you could hit a

Trophy Atlantic Salmon

 Now!
Atlantic Salmon are making a re-bound on the River. A guide friend who was targeting Atlantic Salmon over the summer off his drift boat landed 9. A weekend Atlantic Salmon fishing Friend of mine landed 3 in 3 trips up here. Another friend counted 4 jumping in different parts of the River in 1 day.
Plus, the DEC. are seeing better returns over the last few years. In all their methods to count Atlantic Salmon.
Still not a lot of'm, but you never know. The Bonus is your at least guaranteed to find some Bass along the way. Some reaching 5 lb's.
If you lived locally or were not traveling far. The River might be a fun fishing option for you this summer.
Never know, FISH ON!
OLDIE but GOODY – Reintroducing Atlantic Salmon to the Salmon River.
What many here don't know is that the salmon they're catching and the salmon that gave the river its name are not the same fish.
Lake Ontario was once known as the world's greatest freshwater fishery for Atlantic Salmon. And the Salmon River was one of its best spawning streams, says Fran Verdoliva of the New York state Department of Environmental Conservation.
"Through the colonization period and the settlement of this area… you saw the Salmon River commercial records showing as many as 3,000 salmon a night taken out of the river, average weight almost 15 pounds," said Verdoliva.
But the Atlantic salmon were gone by the end of the 19th century, victims of over-fishing, pollution, and the mill dams that kept them from getting upstream to spawn. By the 1960s, Lake Ontario was dominated by alewives — a small, invasive fish whose population exploded with no larger fish to eat them.
Enter the very hungry and prolific Pacific salmon.
"Pacific salmon at that time were still readily available from the northwest… it was a fish that could grow to a very large size quickly," said Verdoliva.
Cohoes, chinook and steelhead salmon were introduced. They're still stocked today, but they also reproduce in tremendous numbers on their own. With so many large fish now in the lake and river, the fishing industry took off, to the tune of almost $30 million a year in the Salmon River alone. And those salmon being pulled out — they're all the non-native Pacific variety.
Well, almost all.
Volunteers now help stock Salmon River tributaries with thousands of Atlantic salmon fingerlings.
Each fish has a fin clipped for identification. It is part of a federal research project to find the best way to reintroduce Atlantics to their native habitat.
Jim Johnson runs the Tunison Lab of Aquatic Science in Cortland, where the fish were hatched.
"Right now the sole effort in New York is in the Salmon River drainage," said Johnson.
He says having Atlantics in the mix can help the ecosystem resist the next nasty invasive species that shows up. Plus, there is an added benefit because Atlantics start their spawning run earlier than the Pacific varieties.
"There's real hope it can be an economic boost to the upstate New York economy. Especially in Oswego County. To have thousands of Atlantic salmon returning and providing a fishery in the summer months. Which is really not a very viable time right now," Johnson said.
And that has already begun to happen. Because New York state itself has been stocking a few Atlantics for the past 15 years. Six hundred adults were caught last year. And recently the DEC's Verdoliva has started to see what had not happened here in more than a century.
"For three years we found natural reproduction of the Atlantic salmon in the Salmon River," said Verdoliva.
They did not find any this year. But Verdoliva thinks the eggs may have hatched early because of the warm winter. Still, he hopes to one day see a self sustaining population of Atlantic Salmon on the Salmon River.
"Having a fish that through man's use disappeared from this system. And being back there, we should be very proud of that," said Verdoliva. "We're very proud of what we've done with the introduction of other species into the system. We've been very successful. This would be like the crowning jewel on top of it."
The U.S. Geological Survey is also studying the possibility of reintroducing small forage fish for the Atlantic salmon to eat. Another step in establishing a healthy, sustaining population of what was once known as the king of fish.
Credit – http://wrvo.org/post/reintroducing-atlantic-salmon-salmon-river#stream/0
---
Salmon River King and Coho Salmon, Brown Trout and Steelhead Fishing Seasons.
Sept. – Oct.
King and Coho Salmon. Every Fall the Salmon River sees epic runs of King Salmon and Coho Salmon from September through October when anglers can try their hand at some of the Largest freshwater game fish in the world. Our King Salmon range up to 30 pounds, with many Salmon pushing past 20 pounds. Our Coho Salmon average 8 to 12 pounds, with many larger.
Nov. Best – but also Year Round.
Brown Trout. They have entered the Salmon River to spawn in Nov. and will weight from 3-5 lbs. with some reaching 10 pounds!
October 20 – May 1.
Steelhead 8-15 lbs. The Fall Steelhead is without a doubt, one of the hardest fighting Fish that swims in the Salmon River. They'll take most of your line out in seconds, then jump start your heart with tail walking antics that will live in your memory forever.
Winter Steelhead Fishing on the Salmon River.
This is one of my favorite fishing times of the year. With colder temperatures the crowds disappear. Steelhead continue to come into the Salmon River from the lake. A Winter Drift Boat trip aboard our heated Drift Boat is a great way to learn the Salmon River and experience it's beauty.
The end of February, March and April are great Steelhead Fishing days as new Fish move into and out of the Salmon River on a daily basis. As the river temperatures rise, so does the aggressiveness of the Steelhead. Often, sight fishing is possible as they move into the shallows.
We can Spin or Fly Fish for Steelhead either by wading or using the Drift Boat.
I invite you to join me and enjoy what is an unquestionably one of the finest fresh water fisheries in the eastern United States.
---
When is the

BEST

time to fish for 

Steelhead?
Mid-week is always best, but not on or around a holiday.
There really isn't any BEST for Steelhead, as we always have them in the River from Oct. thru May. Its all angler personal preference.
I start guiding for them at the end of Oct. Which means Less Anglers targeting Steelhead = more opportunity for you.
In Nov. we start to see more Steelhead and more River anglers. It's the busiest angler Month. Temps. aren't to cold yet and its also when the steelhead fight the hardest. With speeding bullet runs, tail walks and somersaults.
In Dec. we start to see even more Steelhead and less River anglers. Most folks are doing business and family holiday stuff. And its a lil colder = Less anglers = more opportunity for you.
The middle of the Winter can be magical with only the most die hard River Steelhead anglers out. During these colder Mo's. = Less anglers = more opportunity for you.
Spring Steelhead. (Feb., Mar. and April.) With higher Spring "Run-off" water levels, this brings in the balance of our Steelhead. It starts to warm and we see a few more anglers out, but not as many as November. The Steelhead's appetites are on fire as they slowly drop back down the River to lake Ontario. Sight fishing is an optional treat.
---
Where is the

BEST

place to Fish on the Salmon River for Salmon, Steelhead and Brown Trout? Enjoy my

Expert

YouTube Fishing Tutorial Video's for your Guaranteed 

BEST

fishing opportunities.
3 Basic fishing ways to locate and target Your Salmon River Salmon and Steelhead.
1. When the Salmon and steelhead are running the Salmon River. Fish there "Temporary Transitional Resting Spots" as they make there way up the Salmon River. Otherwise, you are fishing to Salmon or Steelhead that are not stopping, decreasing your odds greatly. Tutorial Video on Temporary Transitional Resting Spots.
2. Once the Steelhead or Salmon stop running the Salmon River to hold during the middle of the day. – (From approx. 9:30am. to 5:30pm.) Fish these "Prime Transitional Holding Spots".
Tutorial Video on Prime Transitional Holding Spots.
3. Once the Salmon or steelhead have stopped running the Salmon River. And have found a spot that satisfies all their survival instincts. Fish these "Prime Holding Spots" – (Pools). Normally, the most fish and they aren't going anywhere soon. Tutorial Video on Prime Holding Spots – Pools.
4

Advanced

 fishing ways to locate and target Your Salmon River Salmon and Steelhead.
Tutorial Video on EXPERT Fish Locating Habitat. – (These are areas I look for on the Salmon River when guiding folks like yourself.)
4. Find a spot that is a combination of all 1 thru 3. (Or, a spot that has all 3 in close proximity. So you can jump around according to what the Salmon or Steelhead are telling you to do.)
5. Combine 1 thru 4 and find a spot above a looong stretch of rapids. The fish get tired after running these Salmon River rapids and will hold here for an extended period of time.
6. Include 1 thru 5 and make sure that your spot has 98% of the Salmon or Steelhead in a transitional stage. Move into it. (Funnel or Pinch point in the river.)
7. My #1 Spot! Combine 1 thru 6 and pick a spot that compresses and or concentrates them. On a dime, like a sardine can, trash can lid or the size of a Volkswagen beetle or bus. This cuts down on all the guess work. And it allows to to present your offering to all the Steelhead and Salmon on every drift.
8. The VERY BEST place to Salmon or Steelhead fish? Is anywhere I'm not! yukyuk
By utilizing the above. You will have the most Steelhead or Salmon in front of you for the greatest period of time. In a concentrated area offering you the greatest opportunity to present your offering to ALL of them. Fish ON and ON and ON! Now you know what "This Salmon River Fishing Guide" look's for normally.
Clint's Pulaski NY King Salmon Fishing Testimonial.
Randy, even though there were relatively few fish caught up and down the River by others. Due to low water and fish volumes, it was amazing how effective our group was. I did not see anyone even come close to the amount of King Salmon we handled and, in many cases, landed. Thanks for your patience and consistent sharing of techniques. Bottom line; best guide, best location, best dates, best gear,—big fish! See you next year if not before in Pulaski NY. Thanks! Clint Woods
Clint lands a beauty King Salmon of approx. 30 lb's. Congrats!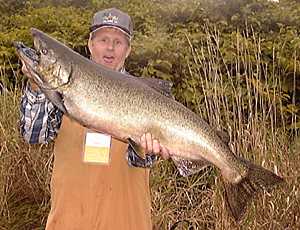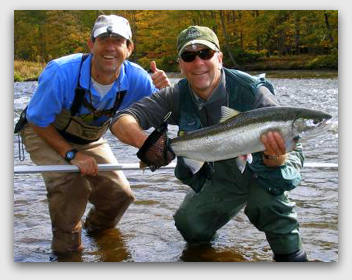 Thumbs up from this Fishing Guide with a Very Happy Salmon River Steelhead Guest.
The Steelhead and Salmon fishing of your dreams……

………… we'll mak'm reeeeeeeeeeeeeel

The Salmon River, where Memories are Made!
Join me for a guided drift boat fishing trip on the World Renowned Salmon River in Pulaski NY for hard fighting Salmon or Steelhead during the splendor of our Fall, Winter and Spring seasons. Enjoy learning Advanced fishing techniques and Exact fish habitats. I always enjoy sharing my wealth of knowledge with all my guest's.
Randy Jones is a full-time professional Spin and Fly fishing guide with over 35 years of experience.
E-mail: [email protected] – Phone #315-963-2065 – Booking Form on here.
Rates:
$275 for 1 angler – Spin or Fly Fishing, Salmon or Steelhead, I supply everything but the chest waders.
$350 for 2 anglers –  Fly or Spin Fishing,  Salmon or Steelhead, I supply everything but the chest waders.
All Spin fishing equipment – All Orvis fly fishing equipment – All tackle provided. Please bring your own Lunch, Polarized Glass's and Chest Waders.
Author Biography –

Established in 1980

.

Randy Jones is the Owner, Author and Publisher of YankeeAngler.com. A Salmon River Guide based Service and Marketing Agency. Specializing in Expert Salmon and Steelhead fishing – Professional sales and marketing of his vastly successful Salmon River Guide fishing business and local fishery – SEO and Social Media.
Distributed World Wide Books: Simon Gawesworth, Spey Casting, First and also Second Editions. Rich Murphy, Fly Fishing for Striped Bass.
Covers, feature articles and guide profiles: Saltwater Fly Fishing Magazine, Fly Fishing in Saltwater Magazine, Albany, Syracuse, Utica and N.Y. Times Newspapers, N.Y. Sportsmen, N.Y. Fishing and Hunting and Salmon River Success Magazines.
Many World Wide Internet Fishing Sites and News Feeds.
Paid featured guest speaker at numerous Sports Shows, Fresh and Saltwater fishing.
Guest speaker at most Trout Unlimited Chapters, fly tying, tackle and Orvis shops around New England and beyond.
Represented the Orvis Corporation as a guide and chief instructor of their 2 1/2 day Cape Cod Saltwater Fly fishing Schools.
(P.S. I don't discriminate. I also enjoy guiding you spin anglers too! – yukyuk)
Salmon River Guide Randy Jones – 87 Clark Rd. Mexico, NY 13114 – Phone: 315-963-2065.