Salmon River Fishing Links – Pulaski NY YouTube Salmon Steelhead Fishing Videos.
I made some special

Expert and Advanced

Salmon River fishing links YouTube Videos just for you. I hope they get you

PUMPED

to go fishing! And help you CATCH MORE Salmon and Steelhead 

on the Salmon River in Pulaski NY

.

Enjoy!
SALMON RIVER FISHING REPORTS
Salmon River fishing links Endorsements: I believe in providing my Salmon River NY guests with only the finest Steelhead and Salmon fishing equipment and accessories available. Orvis fly fishing rods and reels, Mustad hooks, Cumming nets, Cortland running line, Seaguar fluorocarbon, Ande monofilament. Penn reels, Noodle rods, Float fishing rods, Raven floats, Guide Egg sacks, Beads, Water Gremlin split shot. Guide Slinkies, Guide Flies and Spro micro swivels.
Orvis – The best in fly fishing clothing, schools, equipment and accessories. Need I  say more?
Mustad Signature Series Hooks – CO68 Wet/Nymph Caddis – 2x Heavy / 2x Short – Their quality is unsurpassed! I exclusively use these hooks whether spin fishing or fly fishing.
Cumming Nets – I know a lot of Guides on the Salmon River NY and all agree that Cumming Nets are quality tools. They have a wide variety of choices for all species of fish and fishing styles.
Cortland Running Line – My #1 choice when drift fishing with a fly rod on the Salmon River Pulaski NY. Cortland specializes in Fly Fishing running lines in all different diameters. That I need for different Salmon River NY conditions and species of fish. Whether Salmon or Steelhead.
(Salmon River fishing links)
Seaguar Fluorocarbon – While guiding on the Salmon River NY for steelhead or Salmon I exclusively use their Fluorocarbon for all my spin or fly fishing needs. Most of the TOP Fishing Guides in the World use this. Tuff, strong, almost invisible and hard to beat in the Floro. market. Their Grand Max is, if not the BEST, at the very top of the line for top shelf fluorocarbon lines. This is not my opinion, but comes from un-biased scientific study, research from laboratories. Who have compared it with all of the other top fluorocarbons in the market place. Concerning breaking strength, visibility in the water and more. Compare Seaguar's diameter and breaking point with your favorite Floro. and you will see what I mean.
Ande Monofilament – Ande has a superior line of mono to satisfy all your spin fishing needs.
Salmon River fishing links Endorsements:
Silver Hook Fishing Charters on Lake Ontario for Salmon, Steelhead and Browns – Sodus Bay, NY. Capt. Jerry Zalucki.
Vermont Trout Bum Fly Fishing Drift Boat Guide Service:
Matt and myself started off Guiding in Vt. over 30 years ago. I cant say enough about Vt's. quality fishery. My good friend Matt Stedina is one of the finest around.
Whether you want to cast from a drift boat or explore a mountain stream. Matt has the trip just for you. Troutbum's premier guide service is located in the heart of the Killington Vt. region. Enabling them to guide as far North as the Winooski River. South to the Battenkill and all points in-between.
National and New York Trout Unlimited Chapters – Enjoy fishing in New England and beyond? Trout Unlimited plays a major role in stream restoration. Purchasing land for public access and environmental studies to ensure a clean, vibrant fishing future. You, your children, and grand children. Will enjoy many years of hard work this incredible organization is responsible for.
(Salmon River fishing links)
Advanced Bassin' Plus – For any of you who enjoy Bass fishing, whether spin or fly. You can find Mark working Lakes and Rivers in the Quebec part of Canada. He has a great bass boat! And all the fix'ns to make your guided fishing trip with him a grand success in many ways. Bass Angling at it's finest!
Tail Waters Lodge – Salmon River World class angling by day & true Adirondack Lodge experience by night.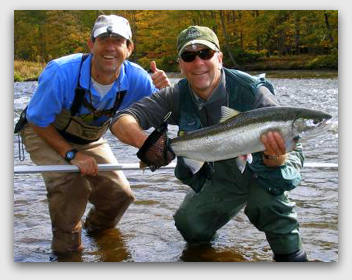 Thumbs up from this Fishing Guide with a Very Happy Salmon River Steelhead Guest.
The Steelhead and Salmon fishing of your dreams……

………… we'll mak'm reeeeeeeeeeeeeel

The Salmon River, where Memories are Made!
Win a new car! – click below. 😉
Catch MORE Fish! VIEW ALL
INFORMATION| The Yankee Angler
Randy Jones is a Full-Time Professional Drift Boat Spin - Fly fishing Guide with over 35 years of Experience.
Rates, Reserv. & Deposits:
Salmon River Guide Rates for 1 person $300. Rates for 2 people $400. Included in Guide Rates – All Salmon River fishing equipment.
Your reservation is confirmed upon receipt of a $150 check deposit (per day) within 7 days of booking to hold your date.
Check Payable and Mailed to: Randy Jones, 87 Clark Rd., Mexico, NY 13114. (Sorry, no credit cards excepted).