Salmon River Drift Boat Fishing Guide Pulaski NY.
Greetings! I'm Randy Jones with 32 years of Professional Salmon River drift boat fishing Guide Experience in Pulaski NY.
Join me for a Salmon River drift boat fishing guide trip in Pulaski NY. Enjoy Steelhead or Salmon fishing off this Salmon River guides drift boat.
Salmon River Drift Boat fishing guide. For Steelhead, Salmon and Brown Trout in Pulaski NY.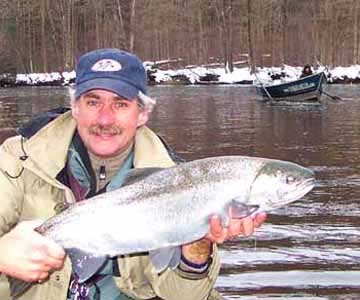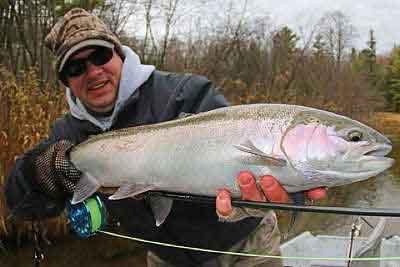 Jeff with a Bright Fresh Chrome Steelhead while Salmon River Drift Boat fishing in Pulaski NY.
Learn this Salmon River drift boat guides Best fishing spots in Pulaski NY. Along with my EXPERT Salmon River NY drift boat guides fishing Techniques and Tips. To help you catch MORE MONSTER Fish!
A Salmon River drift boat fishing trip is a Great way to get you to my Best steelhead and salmon fishing spots. Enjoy float fishing, spin fishing or fly fishing from this Salmon River guides drift boat in Pulaski NY.
I always enjoy sharing my wealth of Salmon River fishing knowledge with all my guest's off the Drift Boat.
(Especially if you are planning a return Salmon River fishing trip on your own, without a Drift Boat).
The Steelhead and Salmon Drift Boat Fishing of your dreams….   ….well mak'm reeeeeeeeeeel
Best Fish's, Salmon River drift boat fishing guide Randy Jones.
Salmon River drift boat fishing guide steelhead rate. 1 pers. $300. Fishing rate for 2 ppl. $400.
Included in steelhead drift boat trips.
Salmon River steelhead spin fishing, float fishing and fly fishing equipment, gear and tackle.
BOOK Your Salmon River drift boat fishing guide steelhead trip in Pulaski NY. – With additional Booking Info.
Email: [email protected]
Phone: 1-315-963-2065
Randy Jones, 87 Clark Rd., Mexico, NY 13114.
SALMON RIVER FISHING REPORTS
There is a Salmon River drift boat seat reserved and waiting for

you

… This Salmon River drift boat Guide Steelhead and Salmon fish catching machine awaits

you

in Pulaski NY.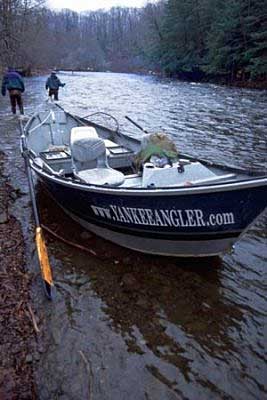 Using the Salmon River steelhead fishing guides drift boat. To get you to a productive fishing spot for steelhead in Pulaski NY.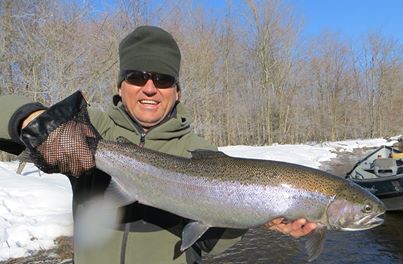 Fresh steelhead from this Salmon River fishing guides drift boat.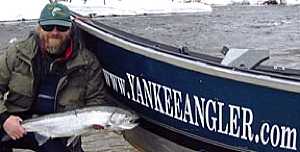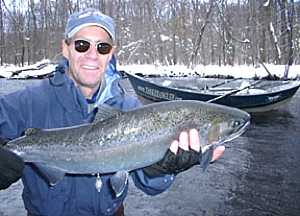 Out on your Salmon River drift boat in Pulaski NY. Enjoying a steelhead and salmon fishing filled day off the Salmon River guides drift boat. Drift boat fishing during the Fall, Winter and Spring on the Salmon River in Pulaski, NY.
Drift boat steelhead fishing Fall, Winter and Spring.
Your guides drift boat steelhead fishing season starts in October. Drift boat fishing for steelhead in the Fall is Superb! With daily steelhead runs.
While your drift boat fishing for steelhead in the Fall. These fresh steelhead will be entering and running the Salmon River to eat all the brown trout and salmon eggs.
When your Winter drift boat fishing for steelhead. Winter steelhead fishing off the drift boat is a Great Time!
You will have Winter drift boat steelhead fishing from the lower river to the upper Salmon River.
Whenever the water level goes up on the river. You will have will have Fresh Winter steelhead enter and run the river. To prepare for their Spring spawn.
Spring steelhead fishing is Superb! With Great Spring steelhead fishing during their spawning runs. February, March and April are great months for Spring steelhead fishing.
April drift boat steelhead fishing Pulaski NY is one of my favorite Months. When your April drift boat fishing for steelhead in Pulaski NY. Most of the Fall, Winter, Spring steelhead will spawn. Its a good time fishing for April drop-back steelhead. These are hungry spawned out steelhead that will drop-back down the river to Lake Ontario.
An optional drift boat fishing treat is to sight fish to April steelhead in Pulaski NY.
Drift boat fishing for steelhead in the Fall, Winter, Spring and April are the Best Times.
Even BETTER is mid week drift boat steelhead fishing. With this Salmon River steelhead fishing guide.
Enjoy my FUN Salmon River Drift Boat Steelhead Fishing Story

 – You Never Know!
Sometimes finding a pod of steelhead is only a foot step down the Salmon River, or the next hole around the bend on the drift boat. Well,  today we took that one step. We Steelhead fished that next hole around the bend on "The Salmon River drift boat where Memories are Made."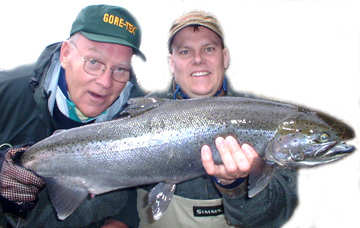 "Fish ON" were the first words Al shouted after his first cast of the morning off the drift boat. Then another and another. Long story short, Al by himself played with a BUNCH of Salmon River drift boat Steelhead today and one small Brown Trout. We got lucky and found a pod of mostly dime bright Steelhead. I kept complaining that I could not get any rest today! That every time I'd just get comfortable in my drift boat chair, I'd have to get up to try to net his next fish. Darn, I hate when those Steelhead are stacked up like that. Can't a drift boat fishing guide get any rest around here? I'm going where there are not so many Steelhead next time. That annoying sound of the drag screaming all day long really started to bother me after awhile. To top it off, one of those steelhead splashed me and got my hair all wet!
Al told me he had been Steelhead fishing the Salmon River since 78. And that he had never – ever played with so many Steelhead in one day!
I explained to Al that Steelhead fishing was not supposed to be this easy. And for that reason, I thought that there were just too many Salmon River Steelhead here. And we should take the drift boat someplace else. Someplace where there may or may not be any Steelhead and if so, maybe just 1 or 2. Someplace where we would really have to work hard for them, like we have been doing all week on the Salmon River.
Al agreed that

"I should GO"

and he would stay there and Steelhead fish.
Last time Al Steelhead fished with me he brought a note pad and pen. With the average being that most folks only retain 20-30% of what they hear or read. He wanted to make sure he did not forget a single Steelhead hold'n spot. Over the entire 3 miles of the Salmon River I stopped at and explained in great detail.
All was written down with a exciting, feverish, fishing exactness.
One of the highest compliment's was paid to me by AL as he stated. Randy, you know that Salmon River spot you showed me by such a such a tree. You said stand here, cast there and the fish sit there. And you can expect a Steelhead to bite anywhere from 10 to 25 feet off the bank in a 30 foot length?
I went back to that spot and every time I go there I get into some Steelhead.
One day alone I hit six steelhead in that one spot. And I was the only one there. I've never seen a single drift boat or person stop and fish it.
Al didn't know this……. but that one lil (no name) spot. My guest's went 21 days in a row hitting 1 to 5 Steelhead in it each day. And the same for the hole directly below it.
For MORE – Salmon River Steelhead and Salmon Fishing Pulaski NY.
Steelhead Addiction Affliction!

– Enjoy the Thrills and Spills of a 3 day Salmon River Drift Boat Trip w/ Dave.
Catching a Bunch of fish, sub-freezing temp's, swimming in 33 degree water and a Humorous drift boat experience.
12/14 – Guiding Dave brought back found memories of our best day of Salmon River drift boat Steelheading ever. Last March we started out the morning fishing through the slush. By days end we had landed a BUNCH of fresh run Steelhead!
Today was a combination of re-learning, fishing, catching and having a lot of laughs. I kept reminding Dave to cast @ 12 O'clock. And that 12 O'clock was straight across the river and not up river! I think he must a been on West coast time, forgot to turn his clock back, uses a digital watch, uses a sun dial or flunked "when the big hand is on the 12."
Dave hooked an even combination of fresh and older Steelhead off the Pulaski NY drift boat today. Unfortunately, Dave took a nice fall into the water while he fought his last steelhead of the day.
(We call it a Salmon River Baptism and I "proudly" get mine every single year).
He managed to keep his tip up and was rewarded with this Salmon River Steelhead. Congrats Dave!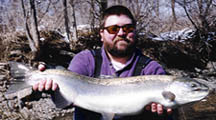 12/15 – Dave joined me again, for another incredible non-stop adventure filled day aboard the Pulaski NY drift boat. Where do I begin…….. Well, how about the very first cast of the morning resulting in a steelhead! We had a fresh 25 lb. King Salmon on, that took us under a log jam and broke us off. Then a Brown Trout was an unexpected treat, it was a female and full of eggs.
Dave was in Chrome heaven by landing a bunch of steelhead – Ya-hoo! 
I guess all that learn'n yesterday paid off for Today's feast of Tantalizing Jumps, Galvanic Runs, Bent Rods and Exhilarating scream'n reel's. Nice one Dave!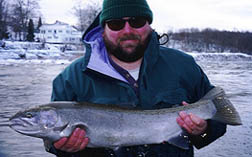 12/15 Continued – End of the Day. This

HUMOROUS

Salmon River drift boat highlight will be one I will not forget, nor hope to repeat anytime soon.
Remember the old saying, up a creek with out a paddle? How about up a creek with out 2 drift boat paddles.
There is a spot in the Salmon River called the trestle hole. You drift and drop through a slot of fast white water rapids before digging heavy on your drift boat oars. To miss an intimidating 20 foot high by 6 foot wide cement pillar dead ahead. As we made the drop I was on my second BIG dig on the oars.
When SNAP went my left wooden oar blade.
With the white water rapids taking control of our fate and with 1 second before IMPACT! I YELLED – (Politely) – HOLD ON!, were going to hit the Trestle!
I noticed a slight jump in Dave's normally calm disposition.
I then jumped into a phone booth, spun and turned into "Super Guide Man." I used my right wooden drift boat oar blade to fend off and break the impact. Of an aluminum drift boat crunching into a solid pillar of "I hope my life insurance policy is paid up" cement.
Yup, you guessed it, there went my second Salmon River drift boat wooden oar blade with a SNAP!
I dropped anchor and retrieved the broken blades from the Salmon River water. The balance of the drift boat ride down, was one of positioning the drift boat at the top of the runs. And then drifting with the current w/ my anchor slightly tapping bottom. And me poling the drift boat with my 10 foot net handle safely to the drift boat ramp.
Today was just another dull day in this never ending boring virtual ho-hum Adventure aboard the drift boat.
P.S. I no longer use wooden drift boat oar blades. I went to those nice expensive light high modular graphite ones. In case you were worried about your next drift boat trip with me.
12/16 – After yesterday's drift boat trip. I was not sure if Dave was going to be a willing participant for another adventure aboard the Pulaski NY fishing drift boat with new oars.
He came along with me at 6:00 A.M. with out much fuss. We left earlier than planned after yesterdays success's. We wanted to lock-up the HOT spot. By getting there early and staking our claim to some PRIME Chrome hold'n real-estate! It worked in spades as Dave out did himself from the previous 2 days of steelhead fishing.
Dave only fell in once today, but boy was it a good one! He went up to his ears while fighting a Steelhead in the 33 degree water. He came out of it sounding like a choir boy, but with the biggest grin from ear to ear.
That's Steelhead fishing for ya, it can be addicting.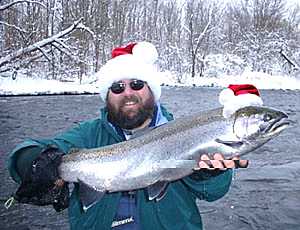 Dave's Holiday Steelhead. Congrats!
More funny Salmon River drift boat guide fishing 

Humor.
First person on the spot gets it. I've been beat'n to special drift boat spots by seconds. The funniest one was when I was floating down the River in the drift boat. Relaxed, enjoying the early morning stars and the tranquility of it all. I notice a shore angler walking on a trail thru the woods. Leading to the Salmon River fishing spot I had hoped to get for my guest's. (Sometimes where these steelhead lay is as exact as fitting a key into a lock.)
I can see the angler walking with a flashlight as it moves to the rhythm of his stride. I start to get nervous and push the drift boat faster and faster thru the white water rapids, as my drift boat slapped the water loudly. I can see the rhythm of the walking angler's flashlight speed up as he increases his pace. It almost look's like a strobe light, he is walking – jogging sooooo fast.
He hears me coming…… I'm pushing the drift boat fast'rrrrrrr……….. Its a race to the finish!
He lands on the spot seconds before me. First person on the spot….. gets it. Turns out we were both drift boat guides and knew each other well. We both laughed out loud until our stomach's hurt at what had just transpired. He was nice enough to share his fishing spot with my guest's and everyone caught some fish.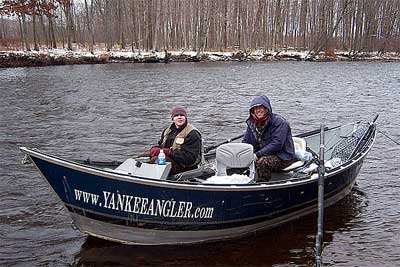 So much….. for floating down the River in the drift boat, relaxed, enjoying the early morning stars and the tranquility of it all – har har.
Trophy Steelhead

Salmon River Drift Boat Fishing Testimonial:
Hello Randy, Just to let you know that Thomas and I had a great time steelhead fishing with you yesterday on the Salmon River. You have a particularly good way of explaining things to kids that help them understand. However, the most valuable thing to me was. That he (and I) got to steelhead fish with someone who understands and respects the resource. And takes the time to explain the fish, it's life cycle, conservation and on stream courtesy and sportsmanship. It's a lesson that I hope sticks long after the memory of that 16 pound steelhead has faded. Look forward to drift boat fishing with you again. Mike
Thanks Mike! It's always fun to try to hook something other than a fish. I think we succeeded! Just look at that Smile!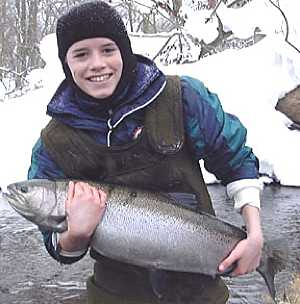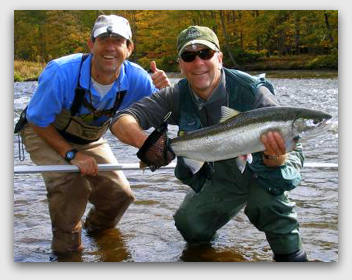 Thumbs up from this Salmon River Drift Boat Fishing Guide with a Very Happy Steelhead Guest.
The Steelhead and Salmon fishing of your dreams……

………… we'll mak'm reeeeeeeeeeeeeel

The Salmon River, where Memories are Made!
Catch MORE Fish! VIEW ALL
INFORMATION| The Yankee Angler
Randy Jones is a Full-Time Professional Drift Boat Spin - Fly fishing Guide with over 35 years of Experience.
Rates, Reserv. & Deposits:
Salmon River Guide Rates for 1 person $300. Rates for 2 people $400. Included in Guide Rates – All Salmon River fishing equipment.
Your reservation is confirmed upon receipt of a $150 check deposit (per day) within 7 days of booking to hold your date.
Check Payable and Mailed to: Randy Jones, 87 Clark Rd., Mexico, NY 13114. (Sorry, no credit cards excepted).