Salmon River Guide Rates for fishing Pulaski NY – Planning your Trip Rates.
My Salmon River Guide Rates.
Salmon River Guide Rates for 1 person $300. Rates for 2 people $400.
Included in Guide Rates – All Salmon River fishing equipment, gear and tackle.
Salmon River Guide Rates are for Drift Boat fishing Salmon or Steelhead in Pulaski NY.
Trips are 8 hours from the time we meet. (May run over)
Salmon River Guide Rates – Reservations and Deposits.
Reservation is confirmed upon receipt of a $150 (U.S. funds) Check deposit (per day). It MUST be received within 7 business days from time of Booking. Failure to do so will result in LOSS of BOOKING. No date will be booked or confirmed without a deposit.
Check Payable and Mailed too:
Randy Jones, 87 Clark Rd., Mexico, NY 13114
No credit cards being excepted at this time.
I'll confirm receipt of Deposit by Email. Then 1 to 2 Months before your fishing trip, I'll email you with meeting time and place. Usually Whitakers Sports Shop and Motel (Rt. 13 in Pulaski) in the dark.
Final payment preferred in cash. No personal checks, please.
2 person Max. on Boat. – Fishing License required. – Chest Waders or Hip waders are required. – Please make your local lodging reservation A.S.A.P.
Enjoy learning Advanced fishing techniques and Exact fish habitats.
Randy Jones is a full-time professional Salmon River fishing guide with 30 years of experience in Pulaski NY.
Book Your Fishing Trip
Email: [email protected]
Phone: 1-315-963-2065 CLICK TO CALL
The Salmon River is located on Lake Ontario's Eastern shore, near Syracuse NY.
35 minutes drive North of Syracuse on Interstate 81. (Pulaski Exit 36)
Approx. 5-½ hour drive from Boston and approx. 4-½ hour's from N.Y. City.
Salmon River Fishing Pulaski NY.
If you have any special needs, please ask. Your enjoyment and comfort are important to me!
What to bring along on your Salmon River Fishing Trip:
N.Y.S. fishing license: Just about all of the local fly/tackle shops in the Salmon River Pulaski NY area sell licenses.
The DEC now allows you to order your fishing license over the phone or internet. http://www.dec.ny.gov/permits/6101.html 
Rain gear,clothing suitable for conditions
Chest waders with cleats
Polarized sunglasses and hat w/ visor
Lunch / beverages
Camera
Wading staff optional
Small Flash Light or Head Lamp. We normally meet and launch the drift boat in the dark. So we can be anchored on a productive spot early, before anyone else gets it.
Small Back Pack for your personal clothing, food, etc.. For storage on the boat or in case we do a hike in.
Very Small Cooler if you'd like.
What if I don't have the right equipment? I'll supply all your Rods, Reels and Rigging Tackle. From Orvis fly rods and reels, noodle Spin rods and Float rods.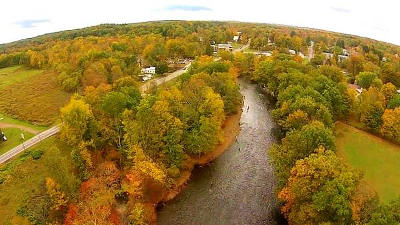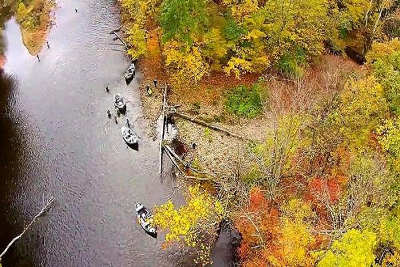 Canceling your Trip – Rescheduling your Trip – Deposit Return.
60 day notice of cancellation required for a refund of Deposit. (I'll need your address).
If you need to Cancel or Reschedule your trip, you must do so 30 days in advance of your trip date or your subject to lose deposit. Please contact and I'll happily re-schedule you with a Deposit Credit. If your not sure on a future date, I'll hold your deposit until you decide.
Anything LESS than 30 days notice and you risk losing your deposit. No matter the reason.
Dangerous Wind Chills – Extreme High Water – Cancellations. If I'm concerned, I will always contact you approx. 1 week in advance of your trip with my future probable predictions. So you don't make a wasted trip up here. Your safety and comfort level is my Primary concern. I reserve the right to cancel trips due to weather conditions or safety concerns of any kind.
Disclaimer:
Booking and payments for a fishing trip with Yankee Angler Guide Service. Is deemed acknowledgement and acceptance of the following disclaimer. You hereby release to the full extent of the law, Yankee Angler Guide Service and its sub contractors. From all actual or contingent liability in respect of such personal injury, death, loss or damage. All participants agree to the aforementioned statement of disclosure, responsibility and liability.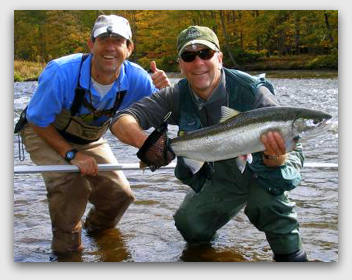 Thumbs up from this Fishing Guide with a Very Happy Salmon River Steelhead Guest.
The Steelhead and Salmon fishing of your dreams……

………… we'll mak'm reeeeeeeeeeeeeel

The Salmon River, where Memories are Made!
Catch MORE Fish! VIEW ALL
INFORMATION| The Yankee Angler
Randy Jones is a Full-Time Professional Drift Boat Spin - Fly fishing Guide with over 35 years of Experience.
Rates, Reserv. & Deposits:
Salmon River Guide Rates for 1 person $300. Rates for 2 people $400. Included in Guide Rates – All Salmon River fishing equipment.
Your reservation is confirmed upon receipt of a $150 check deposit (per day) within 7 days of booking to hold your date.
Check Payable and Mailed to: Randy Jones, 87 Clark Rd., Mexico, NY 13114. (Sorry, no credit cards excepted).