Book a fishing trip on the Salmon River, Pulaski NY.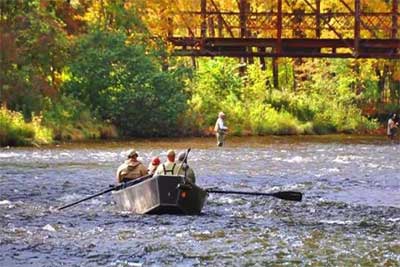 Salmon River fishing Information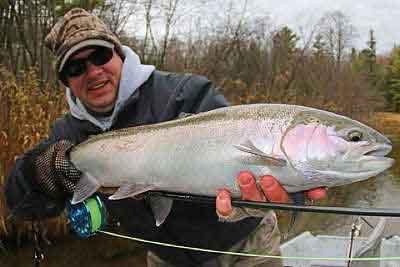 If you have any special needs, please ask. Your enjoyment and comfort are important to me!
Final payment preferred in cash. No personal checks, please.
Canceling your Trip and your Deposit Return. Please contact me 2 weeks before your scheduled trip. And I'll happily return your deposit or re-schedule you.
Anything less than 2 week notice and you risk losing your deposit. No matter the reason.
Weather or Water Cancellations:  I always contact you with my concerns and to discuss. Your safety and comfort level is my Primary concern. These cancellations are ultimately at my discretion.
Disclaimer:
Booking and payments for a fishing trip with Yankee Angler Guide Service. Is deemed acknowledgement and acceptance of the following disclaimer. You hereby release to the full extent of the law, Yankee Angler Guide Service and its sub contractors. From all actual or contingent liability in respect of such personal injury, death, loss or damage. All participants, by submitting this booking agreement, agree to the aforementioned statement of disclosure, responsibility and liability.
LOCATION| The Yankee Angler
Pulaski, NY — USA
The Yankee Angler - Pulaski, NY
Enjoy a

Scenic 

drift boat trip down the Salmon River.


Fun and Fast

– Covering 4 miles in 4 minutes during the Fall and Winter.
What helps to cause a

BIG RUN

of Salmon or Steelhead?
This might help plan your Salmon River fishing trip.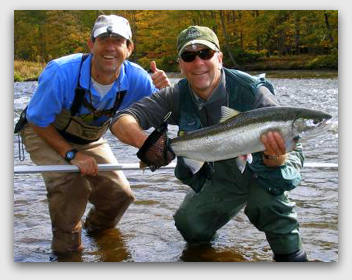 Thumbs up from this Fishing Guide with a Very Happy Salmon River Steelhead Guest.
The Steelhead and Salmon fishing of your dreams……

………… we'll mak'm reeeeeeeeeeeeeel.

The Salmon River, where Memories are Made!
SALMON RIVER FISHING REPORTS
EXPERT Salmon River Fishing Videos
Home- Salmon River NY Fishing Guide
Salmon River Fish Pictures Photos
INFORMATION| The Yankee Angler
Randy Jones is a Full-Time Professional Drift Boat Spin - Fly fishing Guide with over 35 years of Experience.
Yankee Angler
Phone: 315-963-2065
87 Clark Road
Mexico, NY 13114

Rates, Reservations and Deposits:
$275 for 1 angler $350 for 2 anglers Your reservation is confirmed upon receipt of a $100 check deposit (per day) within 7 days of booking to hold your date. Check Payable and Mailed to: Randy Jones 87 Clark Rd. Mexico, NY 13114  No credit cards being excepted at this time.