Salmon River Fish Pictures Photos Gallery for Steelhead and Salmon fishing in Pulaski NY.
Enjoy my Gallery of Steelhead, King Salmon, Coho Salmon and Brown Trout Salmon River fish pictures photos. From this Salmon River drift boat fishing guide.
The Steelhead and Salmon Fishing of your Dreams….   ….We'll mak'm Reeeeeeeeeeeeel.
Enjoy a

fast forward and fun

drift boat fishing trip video down the Salmon River in Pulaski NY. Covering 4 miles in 4 minutes during the Splendor of our Winter and Fall fishing seasons.
CHECK OUT the World Record Steelhead we caught that day @ end of drift boat video! 😉
BEST FISHING MONTHS 

For Chinook (King Salmon), Coho Salmon, Steelhead, Atlantic Salmon and Brown Trout.
The following fishing Months and Species are general and depend on temps and water levels:
Credit – Jeff Pierce of https://www.scientificanglers.com/
June – August
Skamania (a summer run strain of Steelhead)
Atlantic Salmon in small numbers.
Chinook also start to show as early as July on high water. But number's grow with good water conditions in late August.
September – Chinook (King Salmon) and Coho Salmon start coming in in good numbers
Steelhead start coming in in decent numbers.
A few Brown Trout start showing.
October – This is the prime month for Chinook-King Salmon. They come in in large numbers now. Coho Salmon are also coming in in good numbers.
Steelhead really begin showing in good numbers now.
Brown Trout also start coming in in decent numbers but Nov. is peak for them.
November Steelhead and Brown Trout!
Most of the Chinook King Salmon are dead or near dead but a few fresh stragglers do come in. While the Coho Salmon run is over for the most part. They remain in decent shape and hold up longer than the Chinook. This is a great time for Steelheaders! As the Salmon crowds are gone and the numbers of Steelhead are normally good.
The Brown Trout fishing is also pretty good, although not as good as tribs more to the west.
Dec – Feb.
This is obviously the coldest period. The fishing can be great for Steelhead depending on water temps and levels. You are best off fishing from late morning through the afternoon at this time of year. As the suns rays help to warm the water slightly, making the fish a bit more active. Brown Trout are often caught this time of year as well.
March – April Steelhead.
The water starts warming and the Steelhead start coming in in greater numbers. The spawn begins as the temps rise and often a small run of Brown Trout come in to feed on bait fish and Steelhead & Sucker eggs. Don't be surprised if you hook a Chrome freight train that takes you for a ride! This is a GREAT time to target drop-back Steelhead! These are spawned out Steelhead who are now eating everything in sight. As they work their way back to the lake. The numbers of fish caught in a day at this time of year can be amazing. There are SPRING run Chinook in small numbers that show up at this time.
May
Usually some Drop Back Steelhead still around. Great time to fish if you enjoy solitude.
The first Skamania and Atlantic's can be caught at this time as well.
Fishing the Salmon River Pulaski New York. 

Chinook (King Salmon), Coho Salmon, Steelhead, Atlantic Salmon and Brown Trout.
Credit – http://www.dec.ny.gov/outdoor/37926.html
The Salmon River, located in Oswego County. And stretches 17 miles from the Lighthouse Hill Reservoir in Altmar. To where it empties into Lake Ontario at Port Ontario. There are 12 miles of Public Fishing Rights along the river. The Salmon River offers some of the finest sport fishing in the country. Two major fish records have been set in the Salmon River: the Great Lakes record Chinook salmon (47 lbs. 13 oz.) and the world record Coho salmon (333 lbs 4 oz.).
General Fishing Information:
Chinook (King Salmon) and Coho Salmon
Maturing Chinook and Coho salmon returning to the Salmon River. Usually begin to stage off the Salmon River mouth in late August. Chinook (or King) salmon are the main attraction this time of year. The fish range in size from 15-30 lbs., averaging around 18 lbs. The Great Lakes record Chinook salmon, caught in the Salmon River, weighed 47 lbs. 13 oz. Coho salmon are generally smaller and range in size from 3 to 10 lbs., averaging around 8 lbs. The world record Coho salmon, caught in the Salmon River, weighed 33 lbs. 4 oz. Trolling in the estuary with spoons, dodgers/flies, cut-bait and plugs works well for these staging fish.
Salmon usually begin entering the Salmon River around Labor Day.
Once salmon enter the river they are no longer actively feeding. Despite this, they do exhibit behaviors that make them vulnerable to traditional sport fishing techniques. One of these behaviors is aggression, or territoriality. And the other is their attraction to fish eggs or egg shaped lures. The peak of the spawning run. Usually doesn't occur until the latter half of September and the first half of October. Fish are generally spread throughout the river depending on the spawning stage they are in. Some fish will be making their way upriver (often referred to as running), holding in deeper pools and actively spawning. Fish engaged in the first two activities can be caught on egg sacs, egg imitating flies or plastics and streamers. Fish that are spawning, especially the males. Can become very aggressive and will strike gaudy streamers swung past their spawning redds.
Steelhead
The Salmon River offers the opportunity to fish for two strains of steelhead. The Washington strain and the Skamania strain. The Washington, or winter run, begin entering the Salmon River in late October and continue through Spring. They feed aggressively on the abundant salmon eggs in the Fall. Thus making it a very good time to go steelhead fishing. Using egg sacs or egg imitating flies and plastics are your best options. Fish that entered the river in the fall. Will hold over in the deeper pools of the river throughout the winter. Fishing the deeper pools with egg sacs, egg imitating flies or nymphs works well this time of year. Warming periods during the winter may bring new fish into the river.
Spawning usually takes place during mid-March and through early April. After spawning the fish begin to drop back to Lake Ontario. These fish can be very aggressive. These fish feed heavily because they are hungry and finished spawning. They can be caught on plugs, spinners, flies, egg sacs and night crawlers. Summer run skamania steelhead begin entering the river around June. They tend to run during periods of increased flow. Your best chance to encounter fish is after a heavy rain or planned water release from the hydro plant. The fish remain in the river until they spawn the following spring.
Atlantic Salmon
Atlantic salmon were native to Lake Ontario. They are fall spawners and start their spawning run as early as July. Atlantic salmon can range from 5 to 20 lbs. Fishing techniques are similar to steelhead fishing methods.
Brown Trout
Brown trout enter the river from mid-September to mid-November. They are also on a spawning run, but will feed heavily on salmon eggs. It can be difficult to target brown trout. But one option is fishing down stream from actively spawning salmon with egg sacs and egg imitating flies and plastics. Brown trout range from 2 to 20 lbs.
Fisheries Management – The five major game fish are Chinook (King Salmon) and Coho Salmon, Atlantic Salmon (or landlocked salmon), Brown Trout, and Steelhead. Smallmouth Bass are also found in the Salmon River in Pulaski NY.
The Salmon River is stocked yearly with around 300,000 Chinook salmon. 80,000 Coho salmon. 120,000 Washington strain steelhead. 40,000 skamania strain steelhead and 30,000 Atlantic salmon. Natural reproduction does take place in the Salmon River. But to what extent this adds to the fishery is not known. The Salmon River is an important part of the Lake Ontario salmon and trout fishery. Some of the returning salmon and steelhead to the Salmon River make their way to the Salmon River Fish Hatchery in Altmar. These fish are then used for egg collection. And the resulting fish are stocked into many Lake Ontario tributaries, along with the Salmon River. A total of 1.76 million Chinook salmon are stocked annually by NYSDEC into Lake Ontario.

Salmon River Steelhead Fishing Testimonial:
Dear Randy, I wanted to thank you again for such a great steelhead drift boat day on Sunday.
Steven and I are convinced that we learned as much about Steelhead fishing. And the Salmon River itself in one day. As we would have in 10 years of our own wading and exploring. Landing those Steelhead made the day a grand success! Thanks again, all the best and tight lines, Roger Murphy
Roger with just one of a number of steelhead that came to hand off the drift boat on this day. Congrats!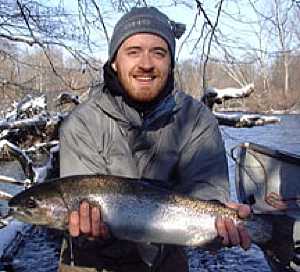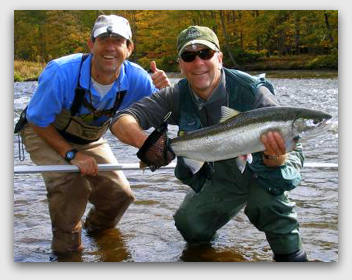 Thumbs up from this Fishing Guide with a Very Happy Salmon River Steelhead Guest.
The Steelhead and Salmon fishing of your dreams……

………… we'll mak'm reeeeeeeeeeeeeel

The Salmon River, where Memories are Made!
SALMON RIVER FISHING REPORTS
Home- Salmon River NY Fishing Guide
EXPERT Salmon River Fishing Videos
Book a Salmon River Fishing Trip
INFORMATION| The Yankee Angler
Randy Jones is a Full-Time Professional Drift Boat Spin - Fly fishing Guide with over 35 years of Experience.
Yankee Angler
Phone: 315-963-2065
87 Clark Road
Mexico, NY 13114

Rates, Reservations and Deposits:
$275 for 1 angler $350 for 2 anglers Your reservation is confirmed upon receipt of a $100 check deposit (per day) within 7 days of booking to hold your date. Check Payable and Mailed to: Randy Jones 87 Clark Rd. Mexico, NY 13114  No credit cards being excepted at this time.