Salmon River Steelhead Salmon fishing guide in Pulaski NY.
Salmon River Steelhead Salmon Fishing is some of the most Exciting drift boat guide spin fly fishing you can do. September through April in Pulaski NY!
Steelhead, King Salmon, Coho Salmon and Brown Trout
The Salmon River's reputation for Large Runs of Steelhead – Salmon and Incredible Average Size of all species is unsurpassed by any other fishery in the North East.
Every Fall the Salmon River sees epic runs of King Salmon and Coho Salmon from September through October when anglers can try their hand at some of the Largest freshwater game fish in the world. Our King Salmon range up to 30 pounds, with many fish pushing past 20 pounds.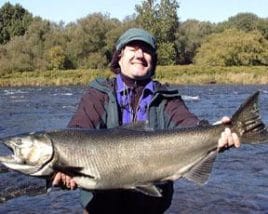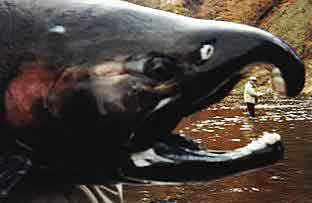 As the Kings and Coho Salmon begin to spawn, our dime-bright Steelhead begin to enter the Salmon River. These acrobatic Steelhead bring fishing anglers from all over the world trying to land one of these Trophies. Our Steelhead season lasts from October until late Spring, when the steelhead slowly drop back down the Salmon River into Lake Ontario after spawning.
Some Trophy Steelhead awaiting your arrival!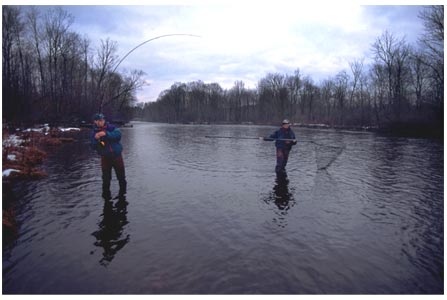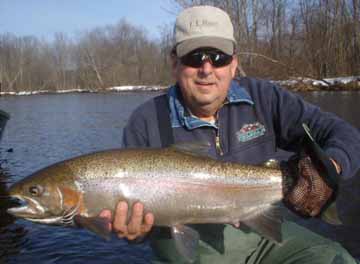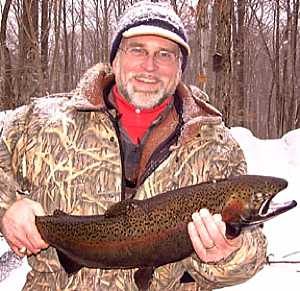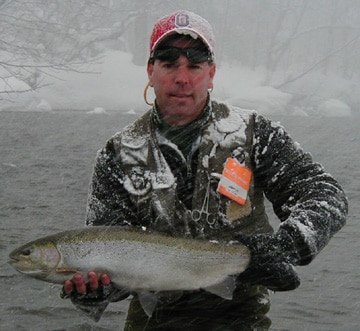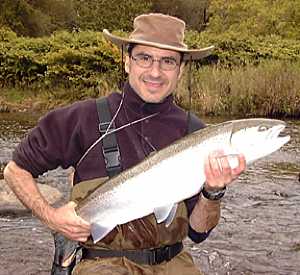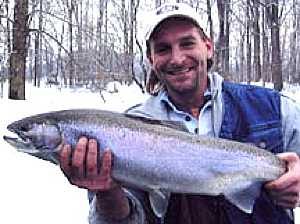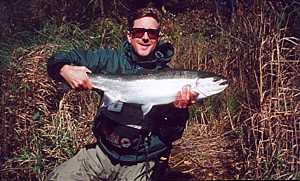 Enjoy my Salmon River steelhead salmon fishing Photo Collages of Steelhead, Brown Trout, King Salmon and Coho Salmon. All caught on the Salmon River in Pulaski NY. During our Fall, Winter and Spring Salmon and Steelhead fishing seasons by fishing folks like yourself.
Family Fishing Fun! Salmon River Steelhead Salmon Fishing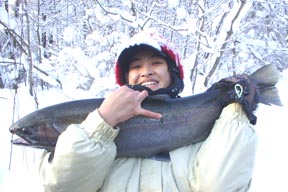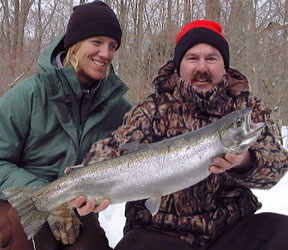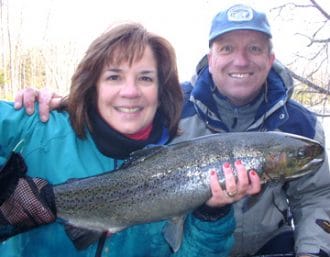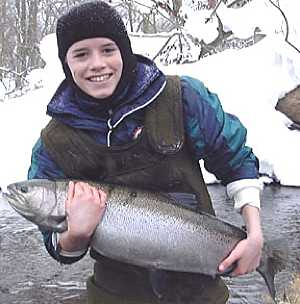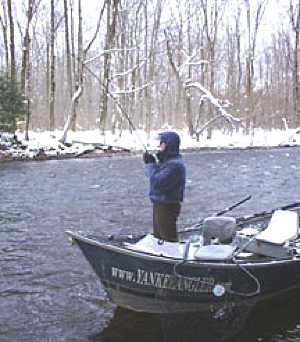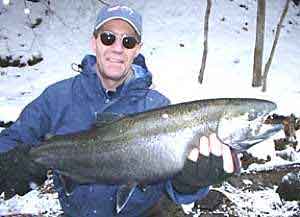 John's tight to his first Steelhead and lands this beauty!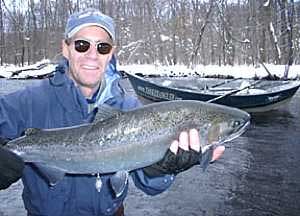 Another Steelhead for John off the drift boat!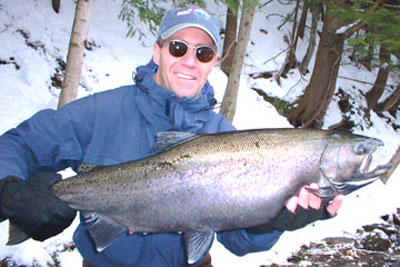 John's honk'a off the drift boat! Approx.

16 lb. Steelhead!

Great way to end the Fishing Day!

Todd's Anticipation of what the Steelhead day would bring?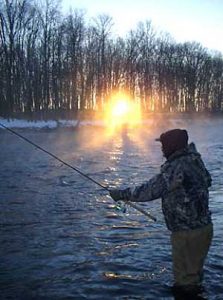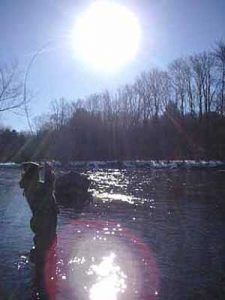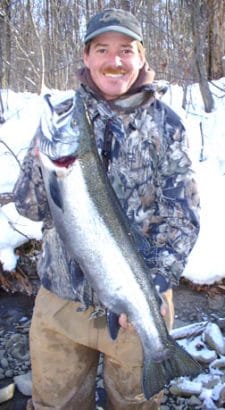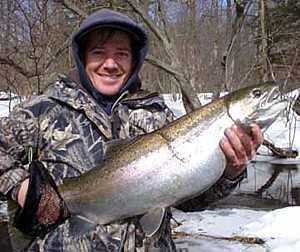 Todd's Biggest was this 16 lb. Fatty Salmon River Steelhead!
The Steelhead rewards were many! Congrats Todd!

Anton was my 1 fly fishing guest on the drift boat today fishing for Steelhead on the Salmon River.
It wasn't long before Anton had his first fly fish Steelhead on for the day off the drift boat.  We decided to get out of the drift boat and work this productive Salmon River fly fishing spot 5-6 feet at a time. Working our 30 foot window of fishing opportunity. We picked away at the Steelhead. I watched Anton's fly fishing presentation thru out the day and suggested a few reminders and tips.
Every time I would say, Try this, then like magic, "FISH ON" – We both would chuckle. 🙂
At one point we were hitting Steelhead on almost every drift. WOW!
(Salmon River steelhead Salmon Fishing.)
Another Steelhead, Day for Kings for Anton!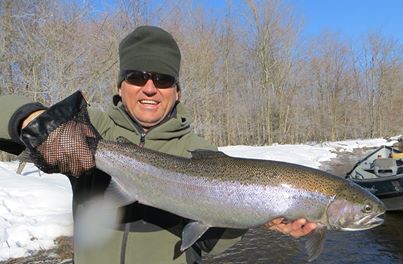 Anton's Nice Silver Bullet Steelhead!
Anton's Spring 16 lb. Trophy Male Steelhead!

Skip and John said – The Knowledge you taught us. Has given us the Confidence to find the Steelhead and Catch them on our own on the Salmon River.
Skip and John display several nice bright
10 lb. Steelhead
off the drift boat on the
Slam'n
Salmon River NY.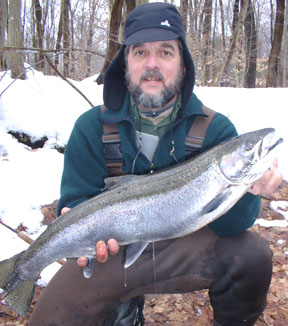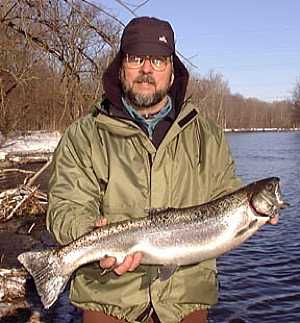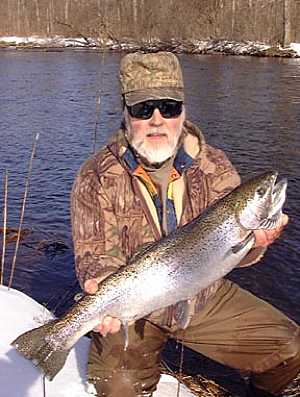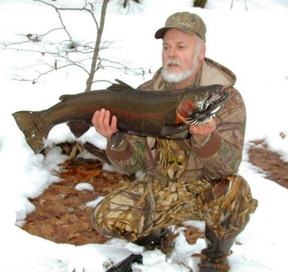 John lands a nice 16 lb. Steelhead off the drift boat.
WOW!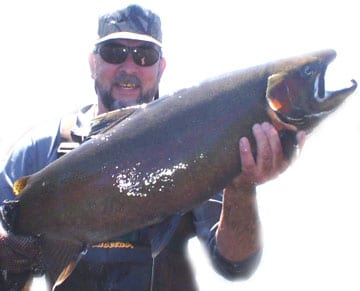 Skip lands a Trophy 20 lb. Steelhead of a Fishing Life-Time!
OUTSTANDING!
(Very Rare)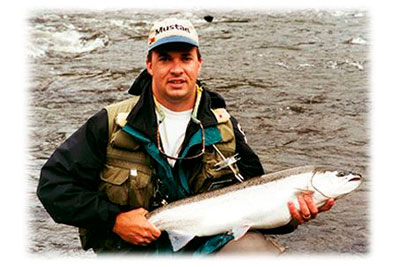 Jeff Pierce hit a "Rare" Grand Slam on the day this Steelhead photo was taken.
(Grand Slam = All by yourself in a single fishing day. You land a Brown Trout, Steelhead, Coho and King Salmon on the Salmon River.) 
Not easy to do, but FUN fishing to try!

Sorry, your Salmon River WORLD RECORD TROPHY Suckers don't count. 😉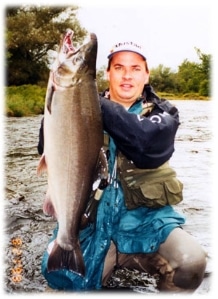 Jeff also would have had a new line class record for this 22 pd. Salmon River Coho Salmon. (average 8 to 12 lb's.) But didn't have his I.G.F.A. hand book with him to know it qualified.
There is no HO like a Coho 😉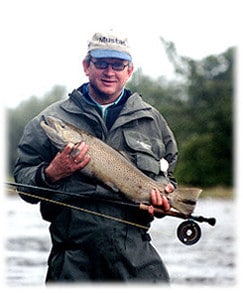 Nice Brown Trout for Geir Sivertzen caught on the Salmon River NY. (average 3-5 lb's.)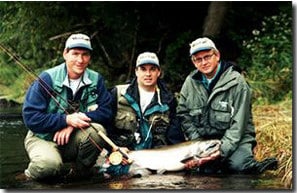 Group fishing photo of Bob, Jeff and Geir with a
Big Salmon river Coho Salmon

.

Congrats!
Today was one of those Magical Days we all wish and fish for. BIG RUN of Coho Salmon and King Salmon, with a few Steelhead and Brown Trout in the mix.
Check out the Below – BIG RUN Video – Its exactly what happened for us on this AMAZING fishing day!
(Salmon River steelhead Salmon Fishing.)

Enjoy my Complementary Salmon River Steelhead Salmon Fishing Drift Boat Guide

Tips and Humor.
TIPS: What helps to cause a BIG RUN of Steelhead or Salmon?
This might help you plan your Salmon River Steelhead Salmon fishing drift boat guide trip.
What's the very-very best way to keep your rod from EXPLODING! When fighting and doing battle with a BIG Salmon or Steelhead?
Im glad you asked, Just hand me your rod. 😉
((Great, after my sarcastic joke….. now I feel obligated to write the below for you.))
TOP 3 WAY'S to avoid exploding your rod. On any fish, of any BIG Salmon or Steelhead size and weight.
I'm talking from Salmon River Steelhead Salmon fishing experience folks. 😉
#1 Rule – Rods will easily explode on you. When you put your hand ABOVE the cork (hand grip) for extra leverage on rod blank. Sure, on lil trout you measure by the inch, it's never broken. But, how about a 30 plus pound Salmon River King Salmon. Even a 10 pound Salmon River Steelhead will cause your rod to break – explode if it's mishandled by you.
Don't blame the manufacture, its your fault! These fish are equal opportunity rod breakers. And don't care how much or how lil you spent on your rod. Rods are meant to be flexed fully. So by placing your hand above the cork, it isn't and it will EXPLODE!
2. Check your ferrals thru out the day. (A ferrel is where the pieces of your rod join together.) No matter the price you pay for your rod, they do come loose thru out the day. By checking them every few hour's you should be ok.
If your ferrules are loose. And your rod is doubled over on a BIG Salmon or Steelhead, it will break Every time.
3. Remember when your rod fell off the roof of your car? Or, got a nick in it from a split shot or lead eyes on your streamer? Even if you do all of the above, that nick, is your weakest link. I will guarantee you. That that is where it will break when your rod is doubled over on a Salmon or Steelhead!
In Closing,
When you drop your grandmas finest china on the floor, it breaks. Her china was not made to be dropped on the floor. Your fishing rod is no different.
If you remember that your fishing rod is similar to your grandma's finest china. And follow rules #1 and #2, you'll be ok.

(Many anglers bring 2 rods when Salmon or Steelhead fishing on the Salmon River.)

Salmon River Steelhead Salmon Fishing Guide 

HUMOR

 – SEE IF YOU CAN FIND THE FISH IN THE PICTURE? 😉
Salmon River Steelhead Salmon Fishing Guide Reports.
Fisherman loses 4 front teeth while doing Battle with a MONSTER King Salmon while fishing on the Salmon River NY.
(Before and after his Dental Surgery)
He lost all four of his front teeth as a result of a King Salmon fishing related accident. In October 2014 on the Salmon River.
When he was fishing the Salmon River the water level was way up. And had several heavy split shot sinkers on his line to get his bait down.
He hooked a "HUMONGOUS" King salmon. As he reeled in the Salmon and got it close to shore. Rodriguez's line snapped and the sinkers on the line flew at his face. Hitting him squarely in the mouth.
"It completely knocked me out!" he said in an interview last year. "I fell in the water and all I remember was this old guy dragging me to land. If it hadn't been for that old guy, "I would have been dead that day!"
He tried to get used to having no front teeth, but suffered silently, said his wife, Tracy. He was reluctant to smile.

Salmon River NY

Trophy Steelhead Fishing Testimonial:
HELLO RANDY I just wanted to take a minute to thank you for an incredible day of fishing. I have fished with you twice and I have hooked a total of 19 steelhead. I know people who have been fishing the Salmon River in Pulaski NY for five years. And haven't hooked that many Steelhead. As I was driving home I was laughing, the Salmon River was at 1200cfs. The weather was bad, and the Steelhead fishing had been slow for five days. Still I had the best fishing day of my life.
As a registered Maine guide and a person who has fished all over the world. I have never met anyone who works as hard to get fish as you do. Anyone who is thinking about fishing the "Salmon River." Should book a Drift Boat Guide trip with you. If the dates aren't available they should change there plans. To get an open date, Its the closest you can get to a sure thing in Steelhead fishing. Thanks again! I'll see you next March and hope the river is high and the weather is bad. Capt. William Griffin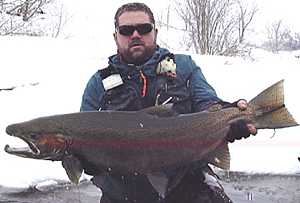 Capt. Bill lands a Trophy 20 lb. Steelhead of a Fishing Life-Time! HOLY COW'A BUNG'A!!
(Very Rare)

Thumbs up from this Salmon River Steelhead Salmon Fishing Guide with a Very Happy Steelhead Guest.
The Steelhead and Salmon fishing of your dreams……

………… we'll mak'm reeeeeeeeeeeeeel

The Salmon River, where Memories are Made!
SALMON RIVER FISHING REPORTS
EXPERT Salmon River Fishing Videos
Salmon River Fish Pictures Photos
Book a Salmon River Fishing Trip
INFORMATION| The Yankee Angler
Randy Jones is a Full-Time Professional Drift Boat Spin - Fly fishing Guide with over 35 years of Experience.
Yankee Angler
Phone: 315-963-2065
87 Clark Road
Mexico, NY 13114

Rates, Reservations and Deposits:
$275 for 1 angler $350 for 2 anglers Your reservation is confirmed upon receipt of a $100 check deposit (per day) within 7 days of booking to hold your date. Check Payable and Mailed to: Randy Jones 87 Clark Rd. Mexico, NY 13114  No credit cards being excepted at this time.