Salmon River Fishing Report for King Salmon and Coho Salmon from this Drift Boat Fishing Report Guide in Pulaski NY.
Steelhead, King Salmon, Coho Salmon and Brown Trout.
I hope you find my fishing report's, articles, tips and videos entertainingly informative or mildly educational.
The Salmon and Steelhead Fishing of your Dreams….   ….We'll Mak'm Reeeeeeeeeeeeel.
The Salmon River has King and Coho Salmon from the Top of the River to the Bottom. And from one side of the River to the other, within reason.
Every day this last week we have been receiving Good Runs of fresh King and Coho Salmon into the Salmon River.
We have King and Coho Salmon currently running the river.
We have running Salmon Holding in their middle of the day resting area's.
We have Salmon Loaded up in all the Major Pools.
Seeing an increase of Salmon on the Gravel.
We have a combination of fresh and older Salmon around.
You can fish almost anywhere now and have a good shot of catching that Trophy King or Coho Salmon. With a chance of a Steelhead or Brown Trout.
The Entire River is alive with Fish! These are the "Salad Days".
---
One for the Record Books!
Shane Muckey – Who owns a lodge and cuts fish in Altmar Reports:
Broke a lot of records this September, angler success at my lodge has only been greater once in last 24 years, in the mega run of 1998, this run has eclipsed both 2012 and 2013 now and could end up beating 1998, making it the biggest run in recent memory. broke 2 straight September fish cleaning records the last 2 days, only once have I cleaned more fish then yesterday in the last 24 years.
---
Latest

on Your Steelhead and Brown Trout.
Seeing a few more Steelhead and Brown Trout around. With Spawning Salmon dropping eggs in the River. We will start to see an increase of Steelhead and Brown Trout. The Browns are also entering the River to Spawn in Nov. A 18 lb. Brown Trout was landed recently.
Steelhead Open Dates:
Oct. 25-27, 30-31.
Nov. 1-2, 6, 14-16, 27-29.
Dec. 1, 4-5, 8, 13-15, 19-22, 25-29.
Jan. 1-4.
---
Today's Salmon, Steelhead and Brown Trout Tip.
Fish any deep water that has a Major Gravel influence above, even with or below it. When Spawning Salmon get spooked, they 100% go into the closest deep water. Many of your Steelhead and Brown Trout will often hold in this same area, while feeding on the Salmon Eggs. If the deeper water, pocket or run has a chop or is rippled on the surface. It makes it even more conducive for a Steelhead or Brown Trout to hold in it.

Todays video is about the 3 Main, Basic and

Critically Important

Current Breaks in every Pool that ALL species of fish in the Salmon River NY use whether they are in a transitional stage or a holding stage. These areas well

Produce fish for YOU

on a daily basis when your fishing up here.
The 3 main, basic and critically important C.B's in a pool are:
1. Head of hole-pool
2. Gut, deepest part or hole within the hole of the pool.
3. Tail of hole or pool.
1 – The head of the hole-pool is a current break. The deepest part of the head of the pool is where you'll find a LOT of fish.
Other important current breaks in a pool are the Seam and any Big Boulders.
2 – The Gut or deepest part of the hole-pool is like a magnet to fish.
3 – Lastly, we have the tail of the hole-pool. IF the deepest part of the hole is in the tail of the pool, then keep that spot to yourself!
Sooo, why are these 3 C. B.'s so important to you as an angler? Im glad you asked!
Primarily as an angler's, we are hunters.
Our goal when fishing is to find our quarries weaknesses and then exploit them to help you to catch more fish.
Since all fish in the Salmon River use these critically important C.B.'s in a pool to rest and survive. Then so should you when your fishing up here.
For additional Video's, please see my Video Page @ https://www.yankeeangler.com/salmon-river-fishing-report/salmon-river-fishing-videos/
Or my YouTube Page @ https://www.youtube.com/channel/UClgsjJbH_nloBgp7eIWrwyg



BIG SALMON RUN! I made this Video for you. It explains what helps and encourages the Salmon to make a BIG RUN! – (Might help you plan your trip?) 
(Salmon River NY fishing report).

ENJOY a fast forward and fun guide drift boat trip down the Salmon River in Pulaski NY. Covering 4 miles in 4 minutes during the Splendor of our Winter and Fall Salmon and Steelhead fishing seasons. CHECK OUT the World Record Steelhead we caught that day @ end of Salmon River drift boat video! 😉
(Salmon River NY fishing report).

With a Few Steelhead and Brown Trout around. Its a good time to try for a Grand Slam!
(Grand Slam = All by yourself in a single day. You land a Brown Trout, Steelhead, Coho Salmon and King Salmon). 
Not easy to do, but FUN Salmon River fishing to try!
Sorry, your WORLD RECORD TROPHY Suckers and Dace don't count. 😉
Latest on our Steelhead and Brown Trout.
We have a few Steelhead and Brown Trout here and there being caught. Nothing to get excited about this early. But you never know.
Shane Muckey who runs a lodge in Altmar and also runs a fish fillet station reported. – Already cleaning steelhead, and with stockings numbers up for salmon river 3 years ago, and more guys targeting salmon on the lake this past summer, expect a very good October threw December steelhead run, mostly cookies probably 4-7lb fish, but they should be plentiful.
Once again, the Capt's on the Lake are reporting decent #'s. Better than the last 2 summers. Should see mostly 6 to 10 lb. Steelhead in the river this season. From the big stocking they did a few years back. Fingers crossed! 🙂
Lots of Steelhead Open Dates presently – Starting the Last Week of Oct. thru the Winter into April.
When is the

BEST

time to fish for Steelhead?
Mid-week is always best, but not on or around a holiday).
There really isn't any BEST for Steelhead, its all angler personal preference.
I start guiding for them at the end of Oct. Which usually means less anglers and normally less fish. Later in Nov. it means more anglers and more fish, so it all sort'a even out's.
In Nov. we start to see more Steelhead and more anglers. It's the busiest angler Mo.. Temps. aren't to cold yet and its also when the steelhead fight the hardest. With speeding bullet runs, tail walks and somersaults.
In Dec. we start to see even more Steelhead and less anglers. Most folks are doing business and family holiday stuff. And its a lil colder = Less anglers = more opportunity for you.
The middle of the Winter can be magical with only the most die hard steelhead anglers out. During these colder Mo's. = Less anglers = more opportunity for you.
Spring Steelhead (Mar. and April) it starts to warm and we see a few more anglers out. But not as many as Nov. The Steelhead's appetites are on fire as they slowly drop back down the river to lake Ontario. Sight fishing is an optional treat.
(Salmon River NY fishing report).

Where is the

BEST

place to Fish on the Salmon River for Salmon, Steelhead and Brown Trout? Enjoy my

Expert

YouTube Fishing Tutorial Video's for your Guaranteed 

BEST

fishing opportunities.
3 Basic fishing ways to locate and target Your Salmon River Salmon and Steelhead.
1. When the Salmon and steelhead are running the Salmon River. Fish there "Temporary Transitional Resting Spots" as they make there way up the Salmon River. Otherwise, you are fishing to Salmon or Steelhead that are not stopping, decreasing your odds greatly. Tutorial Video on Temporary Transitional Resting Spots.
2. Once the Steelhead or Salmon stop running the Salmon River to hold during the middle of the day. – (From approx. 9:30am. to 5:30pm.) Fish these "Prime Transitional Holding Spots".
Tutorial Video on Prime Transitional Holding Spots.
3. Once the Salmon or steelhead have stopped running the Salmon River. And have found a spot that satisfies all their survival instincts. Fish these "Prime Holding Spots" – (Pools). Normally, the most fish and they aren't going anywhere soon. Tutorial Video on Prime Holding Spots – Pools.
4

Advanced

 fishing ways to locate and target Your Salmon River Salmon and Steelhead.
Tutorial Video on EXPERT Fish Locating Habitat. – (These are areas I look for on the Salmon River when guiding folks like yourself.)
4. Find a spot that is a combination of all 1 thru 3. (Or, a spot that has all 3 in close proximity. So you can jump around according to what the Salmon or Steelhead are telling you to do.)
5. Combine 1 thru 4 and find a spot above a looong stretch of rapids. The fish get tired after running these Salmon River rapids and will hold here for an extended period of time.
6. Include 1 thru 5 and make sure that your spot has 98% of the Salmon or Steelhead in a transitional stage. Move into it. (Funnel or Pinch point in the river.)
7. My #1 Spot! Combine 1 thru 6 and pick a spot that compresses and or concentrates them. On a dime, like a sardine can, trash can lid or the size of a Volkswagen beetle or bus. This cuts down on all the guess work. And it allows to to present your offering to all the Steelhead and Salmon on every drift.
8. The VERY BEST place to Salmon or Steelhead fish? Is anywhere I'm not! yukyuk
By utilizing the above. You will have the most Steelhead or Salmon in front of you for the greatest period of time. In a concentrated area offering you the greatest opportunity to present your offering to ALL of them. Fish ON and ON and ON! Now you know what "This Salmon River Fishing Guide" look's for normally.

Fishing Report Testimonial: 
Randy, You Rock!! Your writings resonate with so many. The humor, the professional P.O.V. and experience you share is invaluable. Hope to secure a spot with you soon. Jim
Thanks for your many kind and generous words Jim! Randy
Looking for a place to Stay in Pulaski NY?
Pulaski Condo Lodging Avaiable from Sept 15 thru Nov. 15. for Anglers.
Fully Furnished, 200 yards from the Ball Park, sleeps 4.
Phone – Laurdon Heights 315-450-4800.
(Salmon River NY fishing report).
Randy Jones the Yankee Angler.
35+years of Pro. Fishing Guide Experience.
Author and Publisher-Salmon River NY Fishing Report.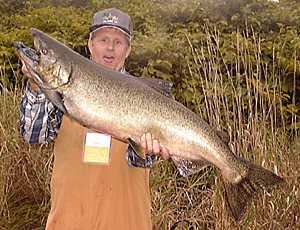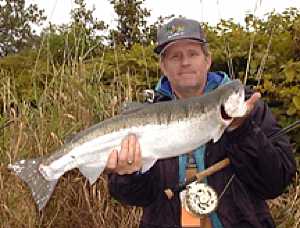 Guest Testimonial.
Randy, it was amazing how effective our group was. I did not see anyone even come close to the amount of fish we handled and, in many cases, landed. Thanks for your patience and consistent sharing of techniques. Bottom line; best guide, best location, best dates, best gear,—big fish! See you next year if not before in Pulaski NY. Thanks! Clint Woods
Clint lands a beauty King Salmon of approx. 30 lb's. Steelhead too! Congrats!

Thumbs up from this Fishing Guide with a Very Happy Salmon River Steelhead Guest.
The Steelhead and Salmon fishing of your dreams……

………… we'll mak'm reeeeeeeeeeeeeel

The Salmon River, where Memories are Made!
Join me for a guided drift boat fishing trip on the World Renowned Salmon River in Pulaski NY for hard fighting Salmon or Steelhead during the splendor of our Fall, Winter and Spring seasons. Enjoy learning Advanced fishing techniques and Exact fish habitats. I always enjoy sharing my wealth of knowledge with all my guest's.
Randy Jones is a full-time professional Spin and Fly fishing guide with over 35 years of experience.
E-mail: randysjones@earthlink.net – Phone #315-963-2065 – Booking Form on here.
Rates:
$275 for 1 angler – Spin or Fly Fishing, Salmon or Steelhead, I supply everything but the chest waders.
$350 for 2 anglers –  Fly or Spin Fishing,  Salmon or Steelhead, I supply everything but the chest waders.
All Spin fishing equipment – All Orvis fly fishing equipment – All tackle provided. Please bring your own Lunch, Polarized Glass's and Chest Waders.